Een heerlijk 3 kamer hoek appartement op de 7e verdieping in een 50+ complex. Voorzien van TV, internet en een prachtig uitzicht. Een perfecte plek om bij te komen van alle drukte. Tevens een prima uitvalplek voor bezoekjes aan de historische binnenstad van Dordrecht.
De woning is gelegen nabij de a16 en dus ook prima geschikt om een uitstapje naar Breda of Rotterdam te maken (beiden 20 minuten met de auto)
Het appartement is gelegen in de wijk Wielwijk. diverse winkels waaronder een poolse en Turkse supermarkt bevinden zich op ongeveer 1 minuut lopen. Ook is er een schitterend park vlakbij. Ook is winkelcentrum crabbehof (oudste overdekte winkelcentrum van Nederland) goed aan te lopen. 6 minuten als je het heel rustig aan doet.
Huonetyyppi
Koko talo/asunto
---
Majoituspaikan tyyppi
Huoneisto
---
Majoittujien määrä
2
---
Makuuhuoneet
Dordrecht, Zuid-Holland, Alankomaat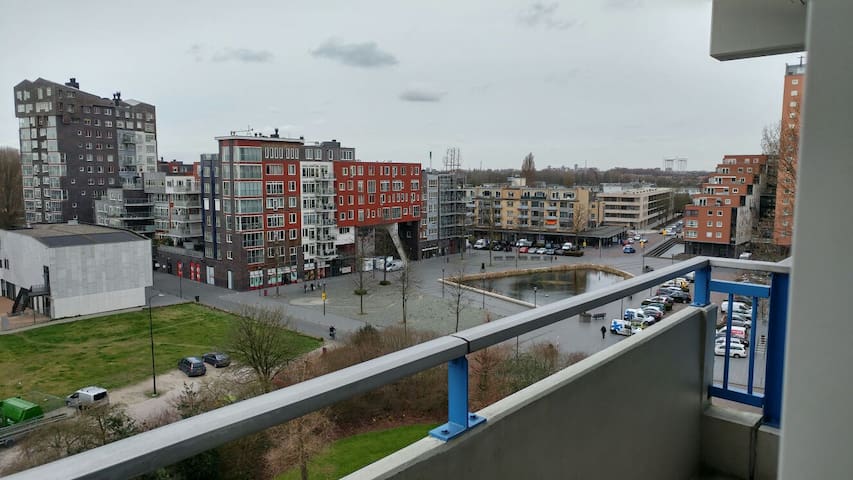 Located at 3rd floor, the white attic has a real queen bed with a 240cm x 200cm blanket. The rest sharing amenities are in 2nd floor. It's +/- 10 minutes walk to the Dordrecht Station, Dordrecht Centrum and Weeskinderendijk (FREE PARKING) . Albert Heijn supermarket is only a 2 minutes walk away. A16 highway is also nearby. Street parking in front of the house is for €1.70/hour.
The attic is located at 3rd floor. Our closet room is beside it. However, nobody is sharing the floor with you. We prepare clean towels and you can use our shampoo in the bathroom. The attic has enough light and electric sources. Recently, we have built a wall and a sliding door to our lovely attic, in hoping to bring privacy and coziness to our guests. Major parts of the house is retained to keep its unique character. We adore its timeless interior and it's a rare treasure nowadays! If you also love the style of old European houses, our house was built in 1898.
Street parking is €1.70/hour as follows: ~Monday to Saturday 09:00-22:00 ~Sunday 12:00-17:00 (Parking spots are selling fast here! Please be reminded that the authority always check the ticket.) . Free parking space: Weeskinderendijk (10 minutes walk) . The house is located in a quiet and safe residential Dutch neighbourhood. Dordrecht is one of the oldest city in Holland. Walking is the most beautiful way to explore Dordrecht. Of course public transportation is also easily accessible. On Sunday morning, you might be awakened by the pleasant peal of church bells.
Fijne zolderkamer!
Tibbe
2017-03-07T00:00:00Z
Bedankt voor de gastvrijheid!
Jeroen
2017-03-22T00:00:00Z
Koen, dank weer voor je gastvrijheid, kamer is nog mooier geworden !
Erwin
2017-03-14T00:00:00Z
Met alle egards ontvangen....dat gebeurt je in een hotel dus niet. Zeer ruime, netto, schone studio in een rustige buurt op loopafstand van het centrum. Wat wil je nog meer. Complimenten aan de gastheer en gastvrouw.
wim
2017-03-12T00:00:00Z
Our stay in Holland was more than we could have expected and alot of it came down to the house we lived in. Cadence and Koen are great hosts who tend to surprise you at every turn. Flowers, candles, privacy and the general atmosphere leaves you out of breath when the stay is over. We cannot recommend this appartment more. It will be your holy day home...
Goda
2017-02-23T00:00:00Z
Een mooie grote zolderkamer in een prachtig oud pand. De ruimte heeft geen deur wat het iets gehorig maakt. Een warm onthaal en een prettig verblijf gehad.
Jeroen
2017-02-10T00:00:00Z
Endroit très romantique avec un acceuil professionnel. Digne d'un hotel pour le prix qu'il propose. Toujours de la place pour se garer dans la rue et balcon pour les fumeurs. A 20 minutes de Rotterdam. On aurait clairement dit que la maison était conçu pour un Airbnb. Je recommande!
Steven
2017-02-12T00:00:00Z
Koen is a very nice person! We had a good time staying at his place and Dordrecht is a very nice little city, worth to be visited.
Laurent
2017-03-26T00:00:00Z
Huonetyyppi
Yksityinen huone
---
Majoituspaikan tyyppi
Huoneisto
---
Majoittujien määrä
2
---
Makuuhuoneet
Dordrecht, Zuid-Holland, Alankomaat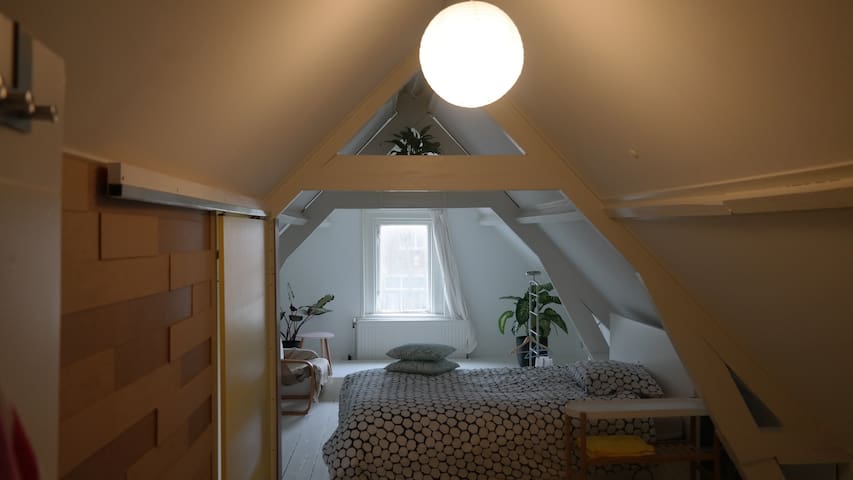 Our spacious apartment is located in a green piece of Dordrecht. Near the nature park the Dutch biesbosch and is centrally located to make excursions.
Our apartment is spacious and fully equipped . There is a nice view of greenery from the balcony and from the bedroom.
Adjacent to our house there is a beautiful park. Through the park you can walk to the grocery store. Bus stop at 2 minutes walk. Near Biesbosch Natural Park and roads to Rotterdam and Breda.
Sehr liebe und herzlich Gastgeber. Der Kühlschrank war mit Kleinigkeiten bestückt und man konnte sich direkt in der Wohnung wohlfühlen. Wir würden immer wieder diese Unterkunbft mieten wollen.
Kierspel
2016-11-10T00:00:00Z
Cindy and Rob were fantastic hosts. Nothing was to much trouble for them. From the train station pick-up to the groceries and bottle of RSA wine. The apartment is modern, spacious and very well equipped. We enjoyed a meal out together and was taken to the most important spots for our "Dutch Oddesey" Wonderful wonderful time in Dordrecht and we hope to be back soon. Made new friends for life...
Hendrik
2015-07-17T00:00:00Z
Nous avons passé un très bon séjour ( 1 semaine ) dans l'appartement de Cindy et Rob. Leur accueil fut très agréable et très attentionné. Cindy et Rob sont très gentils et disponibles. L'appartement est parfaitement équipé, propre et spacieux. La literie est impeccable. On y trouve absolument tout ce dont on peut avoir besoin. De plus, le logement est idéalement situé, au calme , les commodités sont à proximité ainsi que les accès aux grands axes, pour rejoindre Rotterdam par exemple. Pour notre premier séjour à l'étranger en famille, nous sommes totalement ravis et recommandons vivement cet appartement ! We had a great time ( one week ) in Cindy and Rob 's apartment. Their welcome was very pleasant and very attentive. Cindy and Rob are very friendly and available. The apartment is perfectly equipped, clean and spacious. The bedding is impeccable. It includes absolutely everything you could need. Moreover , housing is conveniently located , quiet, supermarkets are nearby as well as access to major routes, for example to reach Rotterdam . On our first trip abroad as a family, we are totally delighted and highly recommend this apartment!
vincent
2015-08-16T00:00:00Z
Cindy made us feel really welcome by greeting us on arrival, showing us around the hoise and giving us lots of information about the local area, how to get around etc. The house was lovely and surpassed expectations. We had everything we needed, everything was clean and there was ample space for 3 of us. Cindy was great to communicate with before and during our stay, replying promptly to all my messages. We also met Rob who was very friendly and quickly came to fix something in the house that had broken. We would definitely come back again and recommend this house to our friends!
Sarah
2016-04-05T00:00:00Z
wir wurden von cindy und rob sehr freundlich empfangen ,die wohnung ist sehr schön eingerichtet ,sehr sauber und mit viel liebe zum detail. rob hat sehr viel technische spielerei eingebaut ,die spass machen . tolles tv ,tolle soundanlage. in der küche ist alles zu finden was man braucht. die wohnung war sehr schön weihnachtlich dekoriert und wir bekamen jeder ein geschenk !! es stehen kostenlos handtücher und bettbezüge zur verfügung . es hat uns sehr gut gefallen und wir kommen sicher wieder. cindy und rob kann man mit gutem gewissen weiter empfehlen !!! bedankt und tot sienz
Petra
2015-12-31T00:00:00Z
Heerlijk geslapen. Het huis is ruim en van alle gemakken voorzien. Inchecken na middernacht ging in overleg soepel. Parkeren voor de deur. Cindy bood nog aan om boodschappen te halen hetgeen in ons geval niet nodig was, maar toch, kortom een warm welkom en voor herhaling vatbaar.
Kees
2015-10-05T00:00:00Z
Prima verblijf!
Joery
2015-10-15T00:00:00Z
Cindy was an excellent host, very willing to offer help & assistance. The apartment was warm & clean and just as shown in the photos. Wifi was good & TV had channels in English, there was a supermarket nearby & it was quite close to access the motorway. All in all we had an enjoyable stay.
John
2016-01-30T00:00:00Z
Huonetyyppi
Koko talo/asunto
---
Majoituspaikan tyyppi
Huoneisto
---
Majoittujien määrä
4
---
Makuuhuoneet
Dordrecht, ZH, Alankomaat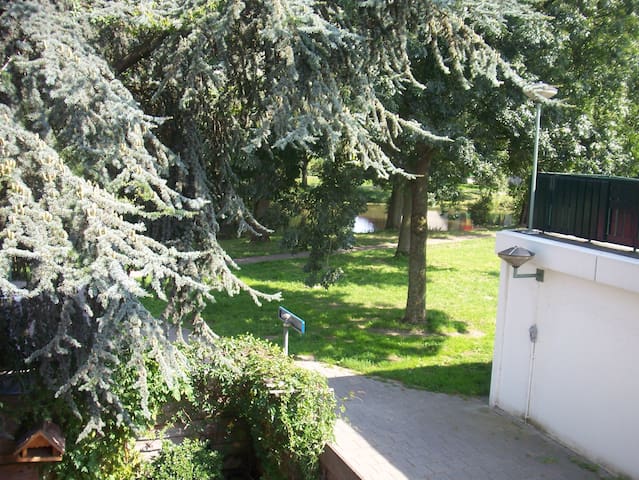 Dordrecht is an old city, with a mostly beautiful old citycenter, with cathedral, many buildings and houses from the middle ages. All restored ! Dordrecht city is build on a island in the big Dutch river delta. Amsterdam by train 1 h Antwerp 1h
Kingsday in Dordrecht 27 april 2015 and if you like nature... Biesbosch National Parc if you like to have also options to visit interesting cities, like Rotterdam, The Hague, Amsterdam, Antwerp or Brussels, etc. Highway A16 is near, Railwaystation 1.4km/0.9ml
Dordrecht is the oldest city of Holland.. but the neighbourhood is like a village, and very quiet with the biggest national Parc "Biesbosch" The appartment is build in 2003, the area has houses over 100 years old.
Huonetyyppi
Yksityinen huone
---
Majoituspaikan tyyppi
Huoneisto
---
Majoittujien määrä
2
---
Makuuhuoneet
Dordrecht, Etelä-Hollanti, Alankomaat
A very nice bright and spacious apartment, feels like your home.... 5 minutes walk from Central Station (within 13 minutes in Rotterdam Center) and in the center of Dordrecht. Within walking distance you will find everything you need.
The apartment is very spacious (120m2) super fresh and light, with playful touches and in the evening very warm and cozy. Equipped with a full kitchen; combi / microwave, dishwasher, stove and refrigerator. Coffee and tea is provided, so feel at home. An attractive spacious double sleeping loft with a bed of 160x200m. A separate room with one bed. In the living room can also sleep two people on the sofa bed. Bedding is provided. Enjoy the city or take a rain shower and enjoy anything. Wifi is excellent!
My apartment is in the so-called 19th century periphery of Dordrecht. The historical center is very close within walking distance, also is central railway station. There are two parks nearby. Around the corner are several restaurants, shops, supermarket etc.
Huonetyyppi
Koko talo/asunto
---
Majoituspaikan tyyppi
Huoneisto
---
Majoittujien määrä
5
---
Makuuhuoneet
Dordrecht, Zuid-Holland, Alankomaat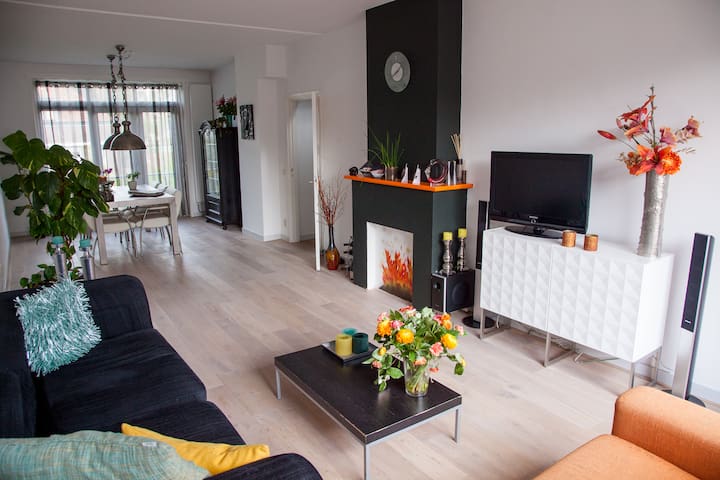 Nice appartment near the centre of Dordrecht. In 20 minutes you walk to the old citycentre, but there is also a busstop around the corner. The beach and big cities as Rotterdam and The Hague only take 30-45 minute by car. The appartment is set on the third floor, good for a nice view. Sleeping: - Double boxspring - Sunny balcony Kitchen: - fridge/freezer - stove (4 burners) - Electric oven living: - Nice couch - Flatscreen tv (free netflix) - radio free parking in front, supermarket in 5min
- Free Wi-fi - Netflix - Full kitchen equipment - laundry machine If you have any question, please do not hesitate to ask.
We recommend the old city centre, as Dordrecht is the oldest city in Holland including canals.
Huonetyyppi
Koko talo/asunto
---
Majoituspaikan tyyppi
Huoneisto
---
Majoittujien määrä
2
---
Makuuhuoneet
Dordrecht, Zuid-Holland, Alankomaat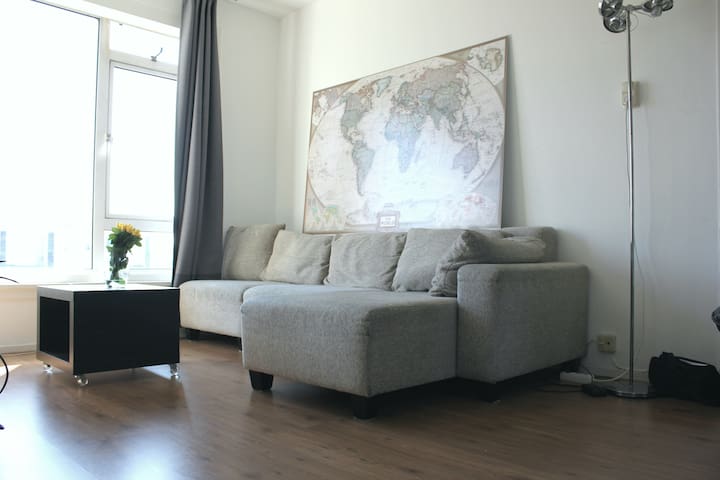 On a splendid location in the historical centre of Dordrecht we offer you our groundfloor appartment. More than 60 square meters consisting of a living room, kitchen, bathroom, bedroom and conservatory. Parking is possible on a private and secluded terrain. Public transport, shopping malls and restaurants are nearby and within walking distance. The touristic sites, such as the mills of Kinderdijk and national park the Biesbosch are reachable by car, as well as the cities Breda and Rotterdam.
Dordrecht is een fantastische stad om te ontdekken en te beleven.
We had a wonderful time here and only wished we could have stayed longer. The apartment is beautifully finished, immaculately clean, full of daylight and with all the mod cons you could wish for. Jan and Helga were very warm, friendly and welcoming. Breakfast was also delicious! We'll hope to go back!
Claire
2014-04-22T00:00:00Z
Helga en Jan hebben een top B&B. Op een ontzettend leuke en centrale plaats. Voorzien van alle voorzieningen die je maar wil. What you see on this site is exactly what you get. En da's altijd fijn. Jan en Helga bovendien vriendelijke, flexibel en behulpzaam. Wat wil een mens nog meer. Van harte aanbevolen dus.
Taco
2017-03-19T00:00:00Z
Wij hebben genoten van ons verblijf! Heel mooi gelegen en mooi appartement, proper en zeer goed bed. Zeer rustig, het was top!
Laurence
2016-10-30T00:00:00Z
The flat was really nice, and located so perfectly in the old city of Dordrecht, with a lovely view of one of the small harbours out front. Helga and Jan were very friendly and supplied all of our needs. There were lots of supplies, including coffee and towels etc. The parking space was just right.
Corine
2014-05-04T00:00:00Z
Helga heeft een prachtig appartement, midden in het centrum van Dordrecht. Het is van alle gemakken voorzien en Helga zorgt ook voor ontbijt. Wij sliepen er van zaterdag op zondag en werden 's nachts twee keer wakker van wat passerend luidruchtig uitgaangspubliek, maar dat hoort erbij in het centrum. De auto konden we al vroeg op het afgesloten terein kwijt, erg handig. Ik zou deze locatie zeker aanbevelen aan anderen.
Leontine
2016-08-21T00:00:00Z
Absolutely gorgeous flat with a breathtaking view of the docks. The layout of the flat is very open, making it feel larger than it actually is. The open garden/patio area in the back is very detailed and beautiful. The bed and sofa are very comfortable, and there is enough seating to accommodate a few friends if you happen to know people who live in the area or meet people to hang out with. Dordrecht is an old city with old architecture, but has been immaculately maintained. One of my favorite things to do was just walk around the docks and walk through the city to see the local sights and visit local shops. A few blocks behind the flat you'll find a very large food court with a variety of shops and restaurants. It's a great place to socialize and find good food. The bottom line is - if you're visiting Dordrecht and plan to relax and enjoy the local sights, rent this flat! Helga is very helpful, very nice, and recommended several local sights and activities.
Michele
2014-06-06T00:00:00Z
A perfect stay (nicely furnished appartment, location, welcome). Many thanks!
Helene
2014-04-07T00:00:00Z
Prachtig appartement op een top locatie! Liefdevol bereid ontbijtje, geserveerd in een mand, was als een kers op de taart.
Jeroen & Judith
2014-06-07T00:00:00Z
Huonetyyppi
Koko talo/asunto
---
Majoituspaikan tyyppi
Huoneisto
---
Majoittujien määrä
2
---
Makuuhuoneet
Dordrecht, Etelä-Hollanti, Alankomaat
All Exclusive Compact Apartment (1-4p) This well-appointed apartment on our groundfloor offers a view over the 3-rivers from our accommodation in historic Dordrecht. Bedroom 2 sleeping. Flexbed in living 2 sleeping. Complete with all comfort. Also for disabled. Near City Centre. Easy reachable by car, bus and waterbus. Breakfast is not included in the price.
This apartment on our groundfloor is easy accessible. Wheelchair accessible, so also for disabled guests. A complete apartment on streetlevel of the quay of our accommodation on historic Kuipershaven. From this apartment you have a view on the 3-rivers . A quiet and cosy bedroom with double bed assures a good rest. (There are no windows in the bedroom, but there is ventilation). The sofa in the living can betransformed in to a large double bed (160 x 200). You have your own private bathroom with modern shower. Kitchenette has dishwasher, combimicrowave, fridge and basic induction cooking device.
A very nice historical neighborhood in the oldest part of the centre of Dordrecht on the 3 river crossing. Enjoy the constant movement of water and ships as also the people in the streets. This without having a too crowded experience.
The reservation was canceled 29 days before arrival. This is an automated posting.
Katalin
2015-03-28T00:00:00Z
Geweldige ontvangst door Jeanette die je meteen helemaal thuis laat voelen. In Dordrecht één van de mooiste plekken die je kunt vinden, midden in het oude hart en met prachtig uitzicht over het drie-rievieren-punt.
Bram
2016-12-24T00:00:00Z
Had a very warm welcome. A well appointed apartment in an excellent location, loved watching the boats on the river.
Gwenan
2016-06-30T00:00:00Z
Très beau logement au calme Superbe petit déjeuner le matin
Marie-José et Jean-Paul
2016-12-12T00:00:00Z
Jeannette was very responsive, great location too!
Lieve
2016-12-28T00:00:00Z
We were heartily welcomed by Jeannette and her husband Kase. They couldn't have been more accommodating and helpful throughout our stay. The apartment is nicely furnished in an excellent location in the heart of the old town. Good restaurants around the corner and a great view of the ships going by on the river. We highly recommend this fantastic place for anyone wanting to explore the charming town of Dordrecht and as a base to visit many places in Holland - Kinderdyke, the beach at Katwijk, flower auction at Aalsmeer and the beautiful town of Gouda.
Anne
2016-07-16T00:00:00Z
Thank you so much Jeanette and Case. We rented this apartment for a quick stay in Dordrecht to tour the old town (including the beautiful market - gorgeous flowers, yummy croquettes, baked goods and herring!) and to visit with our family. We had a terrific time at this apartment in Dordrecht. We really appreciated the warm welcome that Jeanette and Case gave us. The apartment was perfect and is in an unbeatable location! The view from the front overlooking the harbour was great! Thanks for the home made apple cake Case, it was so good and made for a great departing breakfast! We would definitely recommend the apartment to anyone looking for a stay in the old centre of Dordrecht. In fact we are sure to be back again! Thanks again.
Heidi
2015-11-09T00:00:00Z
Schoon en mooi appartement, alles is aanwezig. Mooie ligging aan het water. Goede slaapbank. En zeer vriendelijke eigenaren!
Caroline
2016-07-10T00:00:00Z
Huonetyyppi
Koko talo/asunto
---
Majoituspaikan tyyppi
Huoneisto
---
Majoittujien määrä
4
---
Makuuhuoneet
Dordrecht, Etelä-Hollanti, Alankomaat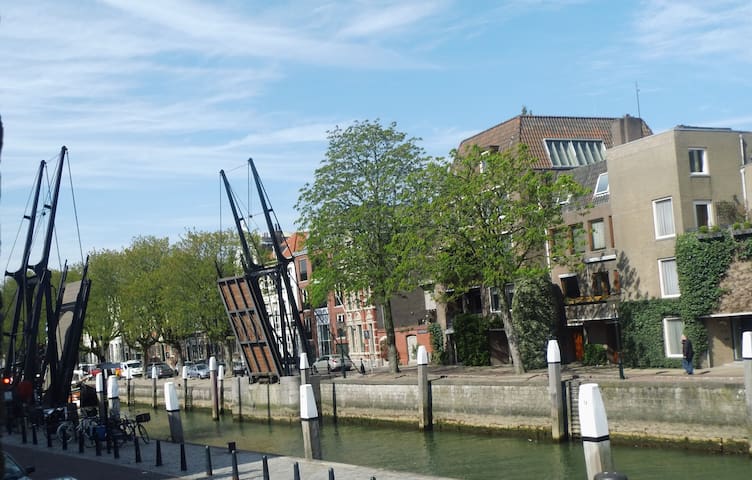 A lovely light, spacious and modern furnished three - room apartment, designed by an interior architect, located in the oldest city center of Holland, Dordrecht. Includes free parking and breakfast.
Fantastic luxury apartment, ideal for 2 persons. The apartment is situated perfectly in the middle of the characteristic city centre of Dordrecht. The apartment is on the first floor of the building and accessible by stairs or elevator. It is a 90 square meter three-room apartment, ground floor, with a beautiful balcony facing south. The unique building consists of 7 apartments, is built in 2007 in the style of the ancient sites around the old center. The apartment is styled and decorated by an interior architect. It has a modern style with beautiful design items from brands such as; Moooi, Arco Arper, Bulthaub, Fritz Hansen, Iittala, etc. Bedroom: The bedroom has a comfortable double box bed (king size bed 1.80 x 2.00m) with hotel quality linens. The Eijfinger wallpaper gives the room a retro feel. The window decoration consists of white luxaflex with heavy velvet curtains. 'Sleep like a baby' guarantee! Bathroom: The bathroom has a large bathtub, shower and sink and under floor heating. Towels, shampoo and shower gel are included in the price. In the same style as the bathroom there is a separate toilet. Kitchen: The modern white Bulthaub kitchen is fully equipped with a 5 burner stove, oven, refrigerator, dishwasher, sink, Nespresso machine. Also there are pots and pans, glasses, cutlery, crockery, and much more… Living room: The living room is light and spacious. The amount of windows give you wonderful panoramic views of the beautiful old town. Laundry room: It is possible to make use of the washing machine and the dryer which are to be found in the laundry room. Overall, the apartment provides all the comforts. It is a quiet and clean place, right in the city center, where you can unwind and relax after a long day.
Dordrecht, the waterside city. Holland's eldest city is located on an island, surrounded by wide rivers. Around one thousand monuments, historic inner city harbors and a fantastic atmosphere determine the character of this age-old port. The historic city centre can be found at the intersection of the rivers the Oude Maas, Noord and Merwede. The nature of the Biesbosch holds sway over the green rural area around Dordrecht. The apartment is centrally located and within ten minutes away from all the highlights. Just wander around the city, follow the sign for the 'Rondje Dordt' city walk or view the monuments from the water? Choose for yourself how to discover Dordrecht. We recommend the VVV tourist office, around the corner, where you can find all the highlights as historic Harbours, musea, monuments, events, nice places for eating and drinking, etc. A few suggestions of places were we like to come for a delicious cappuccino, breakfast, lunch, dinner or evening drink are; Coffeelicious (best cappuccino ever!), Villa Augustus (delicious breakfast, lunch or dinner, with vegetables and herbs from their own garden), Nobels Bread (for a very fine and fresh breakfast), DeliCees (where you can certainly enjoy a culinary evening), Khothinsky (for a cozy drink at their beautiful bar). Dordrecht is also a good base for day trips towards the surrounding cities such as Rotterdam and Breda. By train you visit these cities within twenty minutes. Amsterdam is also easily accessible from Dordrecht. By train you'll be there in a hour.
The host canceled this reservation the day before arrival. This is an automated posting.
Malia
2015-12-31T00:00:00Z
Everything was awesome... and I would Def recommend it to anybody. Lovely flat and perfectly located! If you are looking for a place to stay in Dordricht... This is the place!!
Gregory
2015-12-14T00:00:00Z
The apartment of Angela is stylish and sunny! We enjoyed our stay, especially the delicious breakfast and the sunny balcony. The apartment was very clean. Angela was very flexible, hospitable and provided some good information about the city. The apartment is in the centre, you can easily walk to restaurants and shops. Would definitely recommend this place!
roos
2015-10-12T00:00:00Z
This is the ideal place to stay. Great design, centrally located and very clean. Angela is a great host in every way.
Susan
2015-08-24T00:00:00Z
Angela and her husband were extremely nice and prompt. The apartment was great and very spacious and modern. Everything functioned correctly. The location was fantastic and extremely close to a major supermarket there. The apartment was walking distance from the beautiful marina and city center. The apartment was very clean and had nice views as well! I would stay here again for sure, highly recommended!
Alberto
2015-10-31T00:00:00Z
Huonetyyppi
Koko talo/asunto
---
Majoituspaikan tyyppi
Huoneisto
---
Majoittujien määrä
2
---
Makuuhuoneet
Dordrecht, VG, Alankomaat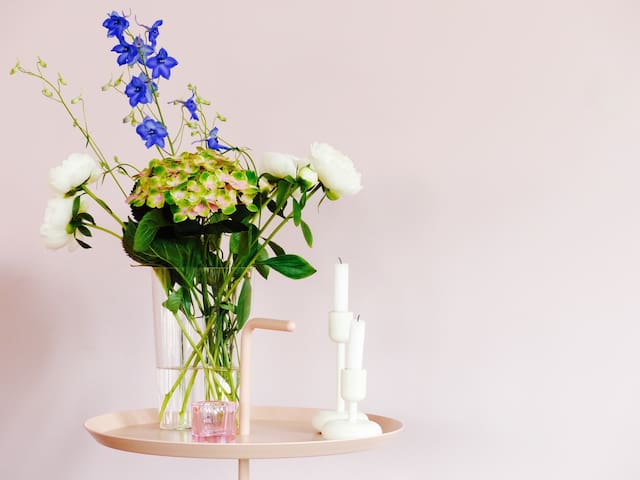 Klein appartement in centrum van Dordrecht, rustig gelegen aan de haven.
Nice bathroom, small kitchen, perfect bed and perfect view. Very quiet.
In the old city at the harbor. 3 minutes walk to restaurants and cafe's. 15 minutes to the railway station.
Huonetyyppi
Koko talo/asunto
---
Majoituspaikan tyyppi
Huoneisto
---
Majoittujien määrä
2
---
Makuuhuoneet
Dordrecht, Zuid-Holland, Alankomaat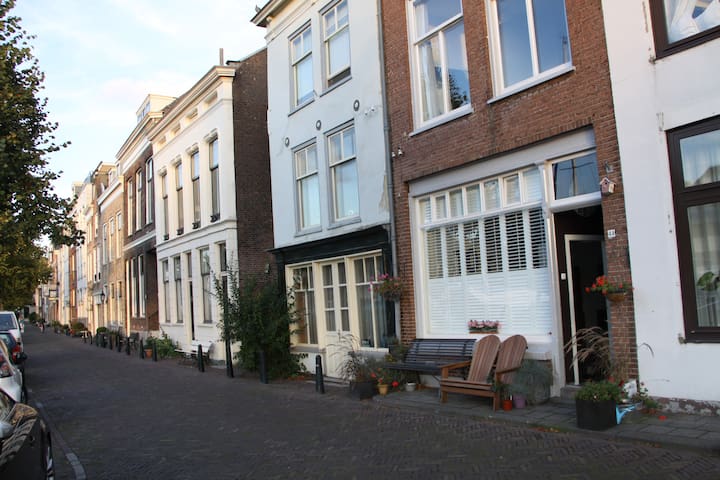 From our house it is a 15 minutes walk from central station and 15 minutes to the city center. With the train you will be in 10 minutes in the city center of Rotterdam (train stop Rotterdam Blaak). Close to: Khotinsky (restaurant,1 minute walk) Villa Augustus (restaurant and great garden, 5 minutes walk) Cinema (3 minutes walk)
De kamer heeft een bed van 140 cm breed, nachtkastje, een bureau en een kledingkast waar gebruik gemaakt van kan worden.
Goede locatie. Simpel maar prima. Vriendelijke host!
Manon
2016-11-28T00:00:00Z
Zeer gastvrije en behulpzame mensen. Plekje met alle basisvoorzieningen vlakbij het centrum.
Jeroen
2017-03-08T00:00:00Z
A perfect place for a great shower, good sleep, peaceful stay. Claudia was very helpful and great to talk with. Wouldn't hesitate to book again. Thanks Claudia!
Andrew
2017-04-08T00:00:00Z
Logement agréable et bien situé, possibilité de se garer gratuitement juste à côté et de se restaurer facilement. Possible de se rendre aisément à Rotterdam pour visiter la ville.
Julien
2016-12-29T00:00:00Z
Claudia was so helpful and nice. The room was so confortable. Good place to spend the night in Dordrecht.
Elena
2017-01-20T00:00:00Z
Claudia war sehr unkompliziert und hat uns Tipps zum kostenlosen Parken in der Nähe ihrer Unterkunft gegeben. Sehr zu empfehlen, wenn man nochmal eine Nacht vor der Fähre pausieren möchte.
Petra
2016-12-20T00:00:00Z
nice room and the location is accessible from Rotterdam by train.
Mohammad
2017-04-09T00:00:00Z
Very nice host. She waited for me to check in late at night. The place is very close to the city center in a quite aerea. I suggest it for business trip or vacation.
Tito
2017-01-06T00:00:00Z
Huonetyyppi
Yksityinen huone
---
Majoituspaikan tyyppi
Huoneisto
---
Majoittujien määrä
1
---
Makuuhuoneet
Dordrecht, Zuid-Holland, Alankomaat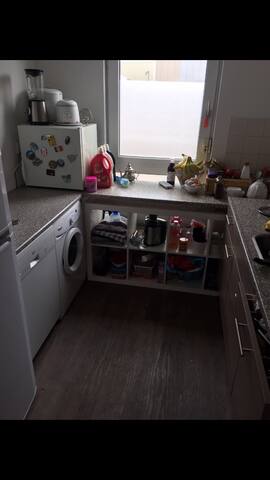 Unique spacious apartment with the most beautiful riverview in Dordrecht. This well-appointed spacious apartment on our second floor offers a splendid view over the 3-rivers at our historic quai of Dordrecht. Completely furnished. Bedroom 2 persons to sleep. Extra double bed available in living. Fifth person possible to sleep on roundseat. City centre on walking distance..
A very complete and luxury apartment on the second floor of our house on the quay of historic Kuipershaven. From this apartment you have a splendid view on the 3-rivers and the historic Wolwevershaven of Dordrecht. A quiet and cosy bedroom with double bed assures a good rest. Bathroom with steamshower and tub. Toilet is separate. An extra double bed near the living is available. This means 2,3 or 4 persons without extra charges. Washingmachine, dryer, dishwasher standard. A complete breakfast is charged extra. Breakfast will be served on trolley at your door at agreed tim in the morning.
A very nice historical neighborhood in the oldest part of the centre of Dordrecht on the 3 river crossing. Enjoy the constant movement of water and ships as also the people in the streets. This without having a too crowded experience.
Altijd weer leuk om een Airbnb in Nederland te nemen. En wat een plek deze keer. Hartelijke en attente gastvrouw en gastheer. Flexibel en meedenkend voor het plannen van onze reis met z'n vijven. Goede ambassadeurs van Airbnb. Een aanrader dus. Wij komen nog een keer terug voor een verblijf op de bovenste etage.
Willem
2016-06-10T00:00:00Z
My family and I had a lovely stay at Jeannette's place in Dordrecht. Cees was very kind and picked us up from the train station. Both were attentive in showing us around the well equipped apartment and ensuring we had a comortable stay. A lovely few days at a fantastic location; highly recommeneded.
David
2017-01-05T00:00:00Z
This wonderful apartment has astounding views over the old canal and 3 rivers point of Dordrecht. You will not want to leave. It is spacious and has everything you may need. The hosts are very helpful and friendly. Highly recommended.
Louisa
2015-07-19T00:00:00Z
Jeannette and her husband have been absolutely fantastic hosts. The apartment was squeaky clean, exactly as described and really really cute. They even greeted us with homemade warm (delicious) apple/blueberry pie. We will definitely recommend their lovely apartment to anyone who would wish to stay in Dordrecht
Alexandra
2016-07-14T00:00:00Z
We had a wonderful stay in an amazing apartment! Super clean with a beautiful view. We had a very warm welcome. We will defenitely come back for another stay.
Simone
2016-10-17T00:00:00Z
she is good host , and wonderful and very cooperative and hospitable and clean apartment , the flat items is available , I recommende(URL HIDDEN)regards Khaled
Khalid
2016-08-08T00:00:00Z
Nous avons été tres bien accueillies avec des petits chocolats pour Paques! L'appartement est idéalement situé, avec une vue hyper sympa. Appartement parfait pour 4 personnes, pas plus. Je recommande vivement.
Sophie
2016-03-29T00:00:00Z
Samen met mijn vier vriendinnen heb ik genoten van de warme ontvangst van Jeanette en het gezellige appartement dat inderdaad een prachtig uitzicht biedt op de Dordrechtse wateren. Het appartement is gezellig ingericht, doet zeer huiselijk aan en is voorzien van alle gemakken. Zeker een plek om nog eens naar terug te gaan. Bedankt Jeanette.
Joan
2016-04-05T00:00:00Z
Huonetyyppi
Koko talo/asunto
---
Majoituspaikan tyyppi
Huoneisto
---
Majoittujien määrä
5
---
Makuuhuoneet
Dordrecht, Etelä-Hollanti, Alankomaat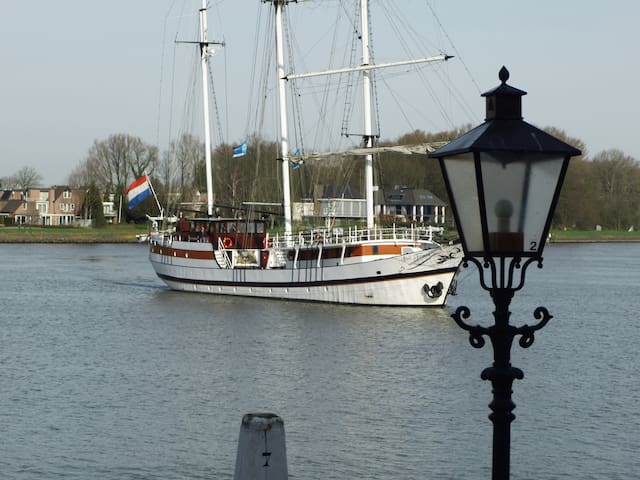 The guesthouse is located at the back of our house and has a private entrance. You have your own bathroom and toilet.
5 km from the Center of Dordrecht and adjacent to the national Park 'De Biesbosch' is our guesthouse on the back side of our house. The accommodation has a separate entrance, a private shower and toilet. Furthermore there is a small kitchenette in the living room.
We live in a quiet neighborhood that is next to the national Park 'De Biesbosch' ideal for making boat tours. Dordrecht is the oldest city of Holland and has a beautiful historic city center. From Dordrecht you can take the watertaxi to the center of Rotterdam, the largest port of Europe.
We had had email contact before i actually got there and it felt very fiendly.
Rene
2016-12-31T00:00:00Z
I had a very nice stay at Renee's Guesthouse. Its located at a wonderful location in a quiet surrounding with a beautiful garden. The guesthouse is nicely decorated and the facilities are well maintained and very clean. Renee and here family are very friendly and she is a wonderful host doing her best to make your stay as comfortable as possible.
b
2016-06-04T00:00:00Z
We hebben een heerlijk weekend gehad. Renée heette ons hartelijk welkom en heeft haar best gedaan het ons naar de zin te maken. We konden met alle vragen bij haar terecht en ze liet ons zeer welkom voelen in haar huis. Het verblijf was netjes verzorgd en gezellig. Bedden, badkamer, toilet, keuken, alles zeer nieuw en netjes aan kant. Het ontbijt stond al klaar in de koelkast. Het was erg uitgebreid met brood, ei cruesli, verse jus 'd orange, allerlei beleg, croissantjes, erg lekker. Er stond zelfs een fruitschaal voor ons klaar! We konden gebruik maken van koffie en thee (en kregen zelfs een stuk taart, mmm). Ook hebben we fijn gebruik gemaakt van de fietsen. Dank je wel Renée voor je uitgebreide zorg en hartelijkheid!
Daniëlle
2015-11-15T00:00:00Z
We had our friend stay with Renée for the weekend of our wedding and heard only good things about her and the listing. She greeted us at arrival, showed us around and arranged breakfast for the following morning(s). My friend felt spoiled with fresh orange juice in the morning and had a great time, if it wasn't for the wedding I think we'd barely would have gotten her outside! She said she felt like she was on a mini holiday and looked fresh cheeked and energized the morning we drove her to the train, I think when you have a four year old you need a good rest from time to time and she definitely had a good stay with Renée.
Patrick
2016-10-09T00:00:00Z
Me and my boyfriend stayed at Renee's guesthouse for a month. Our stay was very pleasant and comfortable. Renee was a great host. The best we've had so far with Airbnb. Renee was always there to answer our questions; we could borrow her bikes which was very nice and she even brought us fresh pressed orange juice and fruit sometimes. The guesthouse itself is spacious and has everything in it you need. The house is on a good location with a supermarket and a bus stop in walking distance. We really enjoyed our stay and would definitely recommend everyone to stay here too!
Charlaine
2017-03-06T00:00:00Z
Uitstekende kamer, van alle gemakken voorzien met prima bedden en lekker ontbijt. We konden de auto op het terrein parkeren en fietsen lenen om in een kwartiertje naar het centrum te fietsen. Renée is een fantastische gastvrouw. Wim & Sjanet
Wim
2016-09-18T00:00:00Z
Wij hebben Renee ervaren als zeer klantvriendelijk en service gericht. De service ging zo ver dat Renee ons naar het centrum van Dordrecht heeft gebracht. Niets is teveel voor haar. Het gastenverblijf was keurig schoon en van alle gemakken voorzien. Mooie rustige lokatie. Lekker ontbijt. Was gewoon top!
Ellen
2016-04-25T00:00:00Z
Wir hatten wunderschöne drei Nächte und Tage in dieser Unterkunft! Die Gastgeber waren zwar anfangs noch selbst in Urlaub, wir bekamen jedoch den Schlüssel vorab geschickt, so dass wir problemlos das Quartier beziehen konnten. Wir haben alles genauso vorgefunden wie beschrieben. Das Zimmer ist wunderbar gemütlich und geschmackvoll eingerichtet, Bad und WC und das Zimmer tiptop sauber. Die Matratzen sind gut, deshalb haben wir einwandfrei geschlafen. Das Haus liegt in einer sehr ruhigen Gegend, nahe dem Naturschutzgebiet Biesbosch und trotzdem nahe an der historischen Innenstadt. Renée hat uns zwei Fahrräder geliehen (die Schlüssel dafür im Raum hinterlassen), die super leicht fuhren. Es war ein Genuss, damit die schöne Strecke über den Noordendijk in die Innenstadt zu fahren. Eigentlich hatten wir das Quartier in Dordrecht ausgesucht, weil wir Rotterdam besichtigen wollten, unser Auto aber nicht dort parken. Dordrecht selbst ist aber so sehenswert, dass wir lieber 2 Tage dort zugebracht haben, in Rotterdam waren wir dann nur einmal. Allerdings ist auch Rotterdam leicht von Dordrecht aus zu erreichen, per Wasserbus oder per Zug. Ein Tagesausflug nach Den Haag oder selbst nach Amsterdam wäre mit dem Zug problemlos möglich gewesen. Die Fahrräder konnten wir im fietsenstalling am Bahnhof unproblematisch und günstig (1,30€ pro Tag) bewacht abstellen und sind dann mit dem Zug weitergefahren nach R. Am letzten Tag kamen die Gastgeber aus dem Urlaub zurück und wir konnten uns noch kennen lernen. Renée ist eine sehr nette, freundliche und hilfsbereite Frau. Wir können ihre Unterkunft nur weiterempfehlen.
Margarete
2016-08-11T00:00:00Z
Huonetyyppi
Yksityinen huone
---
Majoituspaikan tyyppi
Huoneisto
---
Majoittujien määrä
2
---
Makuuhuoneet
Dordrecht, Zuid-Holland, Alankomaat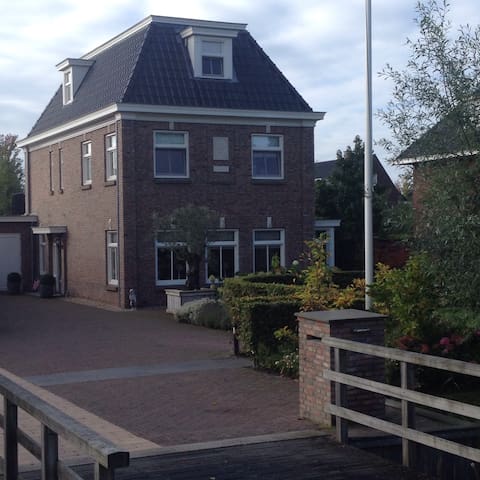 Situated around the corner from the river-side restaurants and bars and the Fast Ferry connection to Rotterdam. Apartment (6m2) with living room, kitchen. toilet, bathroom and balcony. Including bed linen, towels and wifi. Ample street parking.
Huonetyyppi
Koko talo/asunto
---
Majoituspaikan tyyppi
Huoneisto
---
Majoittujien määrä
2
---
Makuuhuoneet
Dordrecht, Zuid-Holland, Alankomaat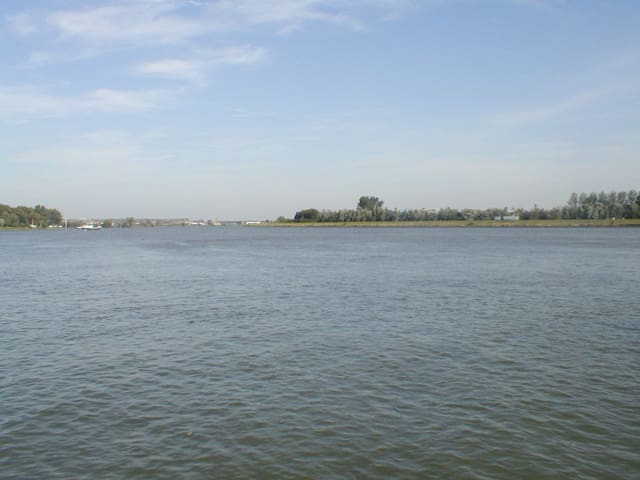 Secluded studio, privacy, tranquility and unobstructed view of the polder. Kookgel., Microwave, toaster. 2 a p. Beds and possibly for 3rd pers. a sleeper chair. Wifi. Supermarket at 4 km. A V. eatery at 1 km. Restaurants 4 + 7 km sunny terrace Minimum 2 nights!
Een fijn welkom , een bloemetje op tafel , een hapje en een drankje . Zeer fijne mensen die je graag wat raad geven
Rita
2016-07-17T00:00:00Z
Absolutely wonderful - we got lost and Dirk came and found us. The house is beautiful and is in a wonderful location. Thank you so much!
Lyndsey
2016-12-25T00:00:00Z
Great communication. The place was very comfortable, clean and well-equipped! Hosts are very friendly and welcoming, provided us with useful information and tips which helped us with our trip planning. Also very kind! Everything was fantastic. We enjoyed every moment of our stay. Thank you for making us feel so welcomed and comfortable!
wai ka
2016-06-14T00:00:00Z
We hebben eigenlijk alleen maar lof over deze plek! Super schoon. Heerlijk rustig. Eigen parkeerplaats. Goede bedden en perfecte WiFi. Dirk kan misschien een badkamer ventilator inbouwen? De kraan bij de wastafel maakt een raar geluid (lucht in de leiding?) Deze puntjes stellen niks voor tegenover de voortreffelijke nachtrust die men in Heijningen heeft! Kortom een 9,5!
Amarens
2016-08-06T00:00:00Z
Une super nuit passée dans le charmant studio de Dirk au milieu de la campagne hollandaise. L'accueil par ce couple très gentil fut parfait avec de petits fruits et légumes du jardin, un vrai régale!
Tristan
2016-09-24T00:00:00Z
The studio looks exactly like in the pictures (even the sheep is there). It's a quiet cozy place where you feel like home and you have your privacy. The kitchen and the bathroom are clean and well equipped. The place is in a very quiet countryside, and the closest supermarket is only 5 minutes away by car. You also have a parking place right next to the house. The hosts are very friendly and willing to help you. We didn't need any help as everything was OK, but they anyway prepared a nice letter for us with places to visit. The only regret we have is that we couldn't stay longer.
Pradeep
2016-03-30T00:00:00Z
Eén nacht zijn we te gast geweest bij Dirk & Goverien. We hebben genoten van hun huisje met terras en tuin. Alles is tot in de puntjes verzorgd, schoon en compleet. Het is ook heerlijk rustig in en rondom dit verblijf bij Heijningen. We proefden de warme liefde die ze leggen in het zorgen voor een comfortabel verblijf. De hartelijkheid waarmee ze ons ontvingen en uitzwaaiden deed ons goed. Dank voor al het goede dat jullie geven! We hopen dat nog heel veel mensen daarvan komen genieten!
Bart
2016-07-22T00:00:00Z
Eine süße und gemütliche Unterkunft für ein verlängertes Wochenende. Haben uns sehr wohl gefühlt, tolle Gastgeber!
Kamila
2016-10-03T00:00:00Z
Huonetyyppi
Koko talo/asunto
---
Majoituspaikan tyyppi
Huoneisto
---
Majoittujien määrä
2
---
Makuuhuoneet
Heijningen, Noord-Brabant, Alankomaat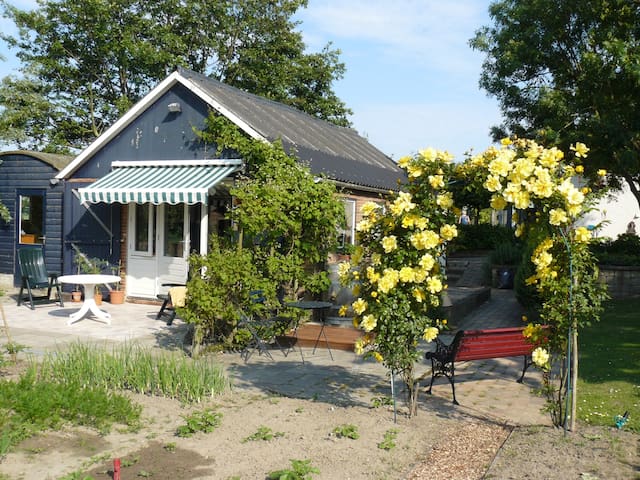 From our house it is a 15 minutes walk from central station and 15 minutes to the city center. With the train you will be in 10 minutes in the city center of Rotterdam (train stop Rotterdam Blaak). Close to: Khotinsky (restaurant,1 minute walk) Villa Augustus (restaurant and great garden, 5 minutes walk) Cinema (3 minutes walk)
De kamer heeft een bed van 140 cm breed, nachtkastje, een bureau en een kledingkast waar gebruik gemaakt van kan worden.
Villa Augustus Coffeelicious
Huonetyyppi
Yksityinen huone
---
Majoituspaikan tyyppi
Huoneisto
---
Majoittujien määrä
2
---
Makuuhuoneet
Dordrecht, ZH, Alankomaat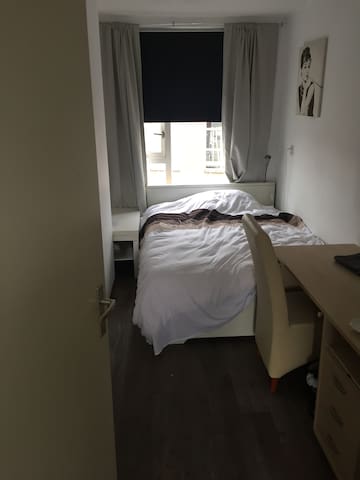 Studio Sweet Dreams ligt in hartje Dordrecht, Hollands oudste stad. Dit sfeervol appartement, is onderdeel van een monumentaal pand in het historisch centrum. Het biedt een prachtig uitzicht op een van Dordrechts rustieke havens. Met een eigen ingang aan de kade is privacy volledig gewaarborgd. Vrijwel alle bezienswaardigheden bevinden zich op loopafstand.
I was collected from the station which was lovely on a cold day. Communication was excellent in general
Pauline
2016-11-13T00:00:00Z
Ik heb 7 weken in Studio Sweet Dreams gezeten als overbrugging tussen twee koopwoningen. Bij aankomst stond er een gezellig flesje wijn en zoutjes klaar. Ik voelde me meteen thuis! Met de kerstdagen werd er door Brigitte kerstversiering neergezet en elke week werd mijn was gedaan. Het appartement heeft ook alles wat je nodig kunt hebben voor een langer verblijf. De ligging midden in het centrum van Dordrecht is ook ideaal. Je loopt zo even de stad in. Ik kan het iedereen aanraden.
Linda
2015-01-18T00:00:00Z
Ik heb twee maanden in deze fijne studio doorgebracht. Tijdens mijn hele verblijf heb ik prettig contact gehad met Brigitte. Ik heb genoten van de mooie locatie aan het water, midden in het historische stadscentrum! Met maar één pitje is koken in de kitchenette een beetje behelpen, maar er zijn genoeg leuke, goedkope restaurantjes in de buurt. Het bed slaapt prima en de wifi is goed geregeld.
Tanja
2016-11-06T00:00:00Z
Knus en zeer centraal gelegen. Ideaal voor een paar dagen Dordrecht.
Arjen
2016-12-18T00:00:00Z
Huonetyyppi
Koko talo/asunto
---
Majoituspaikan tyyppi
Huoneisto
---
Majoittujien määrä
1
---
Makuuhuoneet
Dordrecht, Etelä-Hollanti, Alankomaat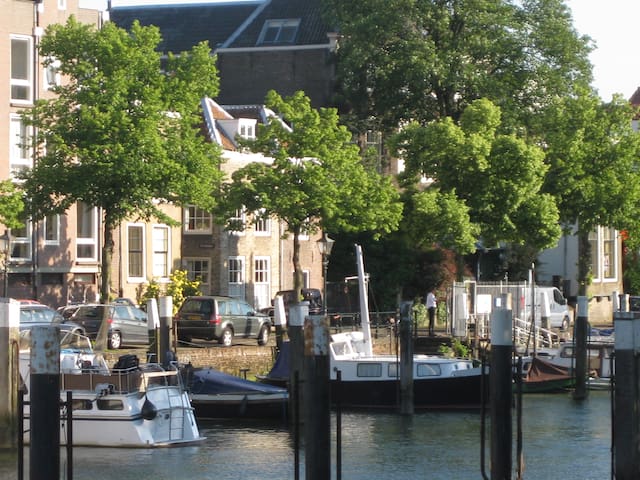 Vores lejlighed! En unik hollandsk og hyggeligt soveværelse med masser af privatlivets fred under alle arrangementer i byen Rotterdam. Et afslappende sted med valgfri brug af jacuzzi og sauna. (Leveres med ekstra omkostninger) At nyde vores fulde service, kan du bruge minibar samt Breakfast & Vask kan bestilles under dit ophold
Lejligheden har et stort værelse med en dobbeltseng, og 2 separate enkeltsenge. Den komfortable stue med fuldt udstyret 'åben' køkken, er et dejligt sted at lave mad og dele et dejligt måltid eller bare slappe af, læse eller se fjernsyn. Free Wifi er tilgængelig Komplet lejlighed med: - Køkken - Gratis kaffe / thee faciliteter - Gratis Wi-Fi - Valgfri brug af sauna og / eller jacuzzi - Privat badeværelse - Valgfri morgenmad og Vaskeservice - Gratis parkeringsplads - Anvendelse af haven og terrassen - Tæt på offentlig transport (. Bus 100 mtr sporvogn 200 mtrs tog 10 min.)
Tæt på Ahoy, City Center i Rotterdam, de Kuip, Markthal etc. Vi leverer en stor arrangement af MiniCards, der kan bruges til ekstra rabat på flere aktiviteter i og omkring byen Rotterdam!
The host canceled this reservation 204 days before arrival. This is an automated posting.
barbera
2016-12-15T00:00:00Z
I liked the place. Its convenient to see around the known places.
Mallikarjun
2016-09-11T00:00:00Z
It is lovely apartment in a garden, surrounded by plants and herbs. Very villagie atmosphere, good for relaxation. It takes around half an hour to get to centre of Rotterdam - 10-15 minutes walk to the train, 10 minutes by the train which arrives to Rotterdam Blaak - next to cubic houses and a market. Train is every half an hour so check the schedule. Apartment has everything, bed is very comfortable and plenty of sitting outside in the garden. If you are intending to use sauna or jacuzzi be aware that it's 35 euros each (or both for 60 euros). Charlotte was lovely and welcoming. She explained everything and we felt very comfortable there.
Elena
2016-06-25T00:00:00Z
Pros: First off, I want to say this was my first experience with Airbnb and it was exceptional. Charlotte and Frank, are just two great people. I myself, am a very reserved person and I just loved this room. It's just more than I ever expected. From the very moment I arrived, I was greeted by both Charlotte and Frank,cleaning up the room. Charlotte gave me a quick view of the room and some quick tips of activities I could do while I was in rotterdam, then I headed out. Later during the day when I returned the room was super clean and felt like home away from home. I like to sit back and relax after a long day of exploring the town. And this room is just perfect for that. The location is great, you could get to the city center in 20 minutes or less. The bus and tram stops aren't too far away.They have nice lighting at night and plenty of space where u can relax outside if thats your thing.The bed was super comfortable, there is a mini fridge that has water and other drinks you can have for a small fee(worth it)(snacks too). The bathroom is filled with towels and soaps etc. Wifi is great, and best of all they have a smart TV with netflix built in so you can just catch up on your favorite shows. I felt so at home I even ordered some pizza, which arrived super quick because there really close by. Yea, I had a great time. Also,Charlotte made sure to message me to make sure I was content with everything. I can't speak well enough about this room. Just book it if available, you won't regret it. Cons: none that come to mind.
Charly
2016-03-13T00:00:00Z
Charlotte was a very great host. She was nice and courteous. The apartment was clean, lovely decorated and fully equiped. The neighborhood is quiet and safe. The connection to bus and train is well located. Also a good opportunity to arrive with your car. we highly recommend this apartment! :)
Joachim
2016-02-15T00:00:00Z
Beautiful B&B and great location - very easy access to the City Centre. Charlotte was away when we arrived and there was a bit of miscommunication with the person filling in. However, I still HIGHLY recommend this B&B. Everything was still lovely.
Sarah
2016-09-20T00:00:00Z
Wij hebben een fantastisch verblijf gehad. De wellness was heerlijk, de kamer was netjes en schoon, Charlotte is vriendelijk en behulpzaam en het ontbijt was uitgebreid (verse broodjes, vers fruit, verse slagroom etc) erg lekker!
Tony
2017-01-04T00:00:00Z
Geweldig appartement. Erg verzorgd, comfortabele bedden, veel privacy en een schitterende tuin. Zeker een plek om x terug te komen. Heel erg bedankt voor jullie gastvrijheid. Groetjes, Marjon
Marjon
2016-05-05T00:00:00Z
Huonetyyppi
Koko talo/asunto
---
Majoituspaikan tyyppi
Huoneisto
---
Majoittujien määrä
4
---
Makuuhuoneet
Rotterdam, Zuid-Holland, Alankomaat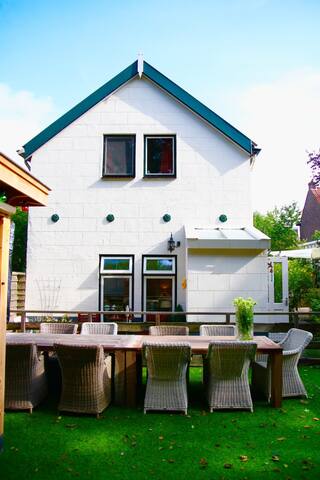 Strijen - Airbnb
:
Keskimäärin

4.68

tähteä yhteensä

5

227

vierasarvostelusta
1

–

18

hakutuloksista

300+ vuokrahuoneistoa
Anna päivämäärät nähdäksesi kokonaishinnoittelun. Lisämaksuja sovelletaan. Veroja saatetaan lisätä.