My place is close to Chard High Street with nightlife till 4am on Weekends and very close to public transport, the city centre, parks, Blackdown hills, South Coast (30min drive), Exeter/Bristol airport. You'll love my place because of the views, the location, the people, the outdoors space, and the ambiance. My place is good for couples, solo adventurers, and business travellers.
Huonetyyppi
Koko talo/asunto
---
Majoituspaikan tyyppi
---
Majoittujien määrä
3
---
Makuuhuoneet
Chard, Englanti TA20 1LW, Britannia
We love our spacious and sociable home set in the heart of the beautiful Somerset countryside. With a playroom full of toys for the children and two sets of bunk beds it's a perfect place to explore Somerset, Devon and Dorset.
An open plan kitchen/dining is perfect for large families or two families holidaying together. The Garden is perfect for children and there is plenty of space for at least 8 people. We also have a hot tub available in the summer months!
Our house is situated at the top of a large housing estate about half a mile from Chard Town Centre. There is parking for two cars on the drive and plenty on the road. Our property is detached and we have very nice neighbours!
What an amazing family home!! Thanks so much to nina and her family for letting us stay in their lovely home on our stopover on our way to Cornwall. The home is perfect for a family and has everything you could ask for. The hot tub was a great added bonus!!! Thanks and we will be back!!
Sarah
2016-06-08T00:00:00Z
Thanks so much for a great stay at this property. Being a family of 8 with two children under 12 this house was perfect for a stopover on our down to Cornwall for a week holiday. The host couldn't do enough for us, the house was gorgeous and the hot tub was a real added bonus!!!! Thanks again xx
Sarah
2016-05-31T00:00:00Z
The property is, if anything, rather better than described. The living areas are spacious and very well equipped. It is obviously a family home and is beautifully decorated. It is close to the town centre which has a couple of supermarkets and other shops. Although we visited a supermarket on our way, on arrival we found that the essentials had been provided and in addition scones strawberry jam and clotted cream! Although the weather was frightful during the first morning of our stay this was not a problem because there was plenty to entertain us, in particular my 3 year old grandson. It is within easy reach of the coast and the beautiful countryside of Somerset, Dorset and East Devon. It was an ideal base for the short break with my children which I had planned. I can't recommend the property and the owners too highly.
Philip
2016-09-12T00:00:00Z
Nina was a great host, good communication, lovely clean house with everything you could ask for available. Lovely breakfast left and a bottle of wine. Would highly recommend Nina's place for a lovely stay.
Hannah
2016-11-05T00:00:00Z
Huonetyyppi
Koko talo/asunto
---
Majoituspaikan tyyppi
---
Majoittujien määrä
8
---
Makuuhuoneet
Chard, TA20 1DD, Britannia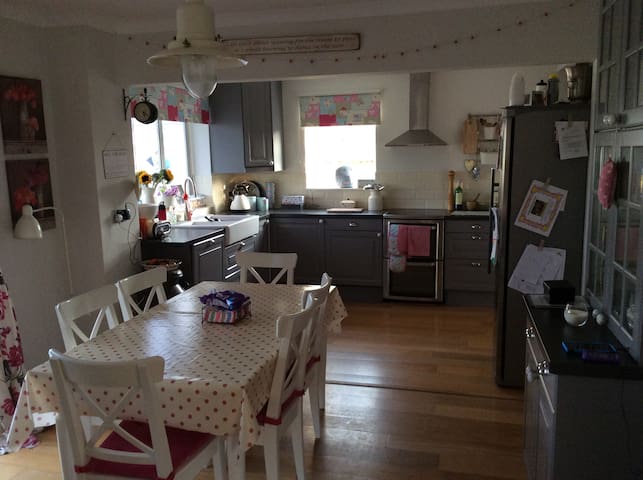 Bluebell Cottage is newly converted at Pole Rue Farm on a no through lane surrounded by beautiful countryside yet only a 5 minute walk into the village of Combe St Nicholas which has a pub, a shop & a regular bus service. Our location is perfect for exploring the counties of Somerset, Dorset & Devon. Near to Lyme Regis, Taunton & Exeter. There are many attractions within a short drive & pubs serving great food. This lovely cottage is suitable for families or couples & one well behaved dog.
Bluebell Cottage has a lovely homely feel. The open plan downstairs is light & airy. A wonderful space for cooking whilst chatting with family or friends. A very cosy cottage in the winter months with the log burning stove as well as full central heating. Outside there is plenty of space to relax or play family games & picnics.
Our cottage is on the edge of the charming & friendly village of Combe St Nicholas, just a 10 minute walk along a pretty country lane. We have no close neighbours except for the sheep in the field, some horses & our pet chickens.
Absolutely lovely place, the photos don't do it justice. We weren't sure it was exactly what we were looking for when we booked it, but it was perfect. Immaculate cottage with lovely hosts and we'd love to come and stay again. Our 2 year old loved it, a great place for people with young children but also would be just as great for a romantic getaway. Can't think of anything that could improve it.
Anna
2016-09-21T00:00:00Z
Very comfortable, clean, nicely decorated and cute cottage. Lovely scenery and a great host that made you feel at home straight away. Will be visiting again.
Kate
2017-02-18T00:00:00Z
Bluebell cottage was everything we wished for, with everything provided. Very relaxing and comfortable we will certainly come here again when we are next in the UK.
josephine
2017-01-02T00:00:00Z
Huonetyyppi
Koko talo/asunto
---
Majoituspaikan tyyppi
---
Majoittujien määrä
4
---
Makuuhuoneet
Somerset, Englanti TA20 3LZ, Britannia
Our recently renovated cottage has spacious rooms on one level, excellent facilities, both bedrooms have wonderful king size comfy beds with good linen, and there are fluffy towels in immaculate wet rooms. One bedroom can be set up as a twin. The views are far reaching, and on a clear night without any light pollution perhaps try some star gazing. There are great walks around, or use us as a base to explore the Jurassic Coast. We are a mile or so from Chard but could be in the middle of nowhere!
This is a lovely little self-contained cottage next to our farmhouse. It is ideal for families - no stairs and child locks on the kitchen cupboards. There are slate floors with underfloor heating that make it cosy all year round. Rugs and wooden beams throughout the cottage give it a very homely feel. It has an open plan kitchen and living room with lots of light. Patio doors lead out to your own private garden where there's a small seating area with table and chairs. It is ideal for anyone with mobility problems as it is all on one level and the bathrooms are wet rooms (no baths). There are two good sized bedrooms with ample wardrobe space. One has the option of being set up as a twin or as a king size bed depending on your requirement. There is Wifi that reaches all the rooms, and the TV with connected blu-ray player has online streaming services.
Wreath Farmhouse was the perfect place for my friends and I to stay whilst we were in Somerset for a friend's wedding. Helen was friendly, helpful and hugely accommodating to us (particularly when our numbers changed last minute!) so that was greatly appreciated. The cottage itself was better than the photos portrayed - it was clean, modern, well-equipped and very comfortable. Would definitely recommend this place if you're looking for a peaceful spot in Somerset - thanks Helen!
Caroline
2016-09-06T00:00:00Z
A beautiful place to stay in the middle of the Somerset countryside. Everything you could wish for in a cottage and more. Homemade bread and jams, warm and cosy, very friendly and helpful host. Exceptionally well equipped and a lovely place to escape to the country!
Juliet
2016-11-06T00:00:00Z
We (Nigel, Rosie and daughter Flora) had a lovely stay in Helen's absolutely immaculate converted farm building. The recent conversion to a 2 bed unit has been beautifully done and has light, spacious and relaxing rooms. There was every convenience you could wish for plus some luxuries we weren't expecting and thoughtful touches such as phone charging sockets, underfloor heating, blue ray dvd etc. Helen had left fresh bread in the bread bin with home made marmalade, choice of cereal, tea, milk and fresh coffee. We had a particular reason for being in the area but would also recommend for a relaxing break as the location is peaceful and rural but close to many great places to visit. Absolutely recommended.
Nigel
2016-10-30T00:00:00Z
We spent a wonderful week at Wreath Farmhouse. The cottage is situated in a picturesque, peaceful location with its own private back garden, perfect for letting our children explore. The interior is finished to an extremely high standard with all the home comforts and appliances. Helen and John were so helpful and accommodating, we were especially appreciative of the homemade bread on arrival and the gift of delicious home grown courgettes. During our stay we were able to explore Devon, Dorset and Somerset attractions due to the convenient location of the cottage, we also had a brilliant day out based on a recommendation from John. We would highly recommend Wreath Farmhouse and hope to visit again soon.
Emmaline
2016-08-25T00:00:00Z
Helen and John gave us a warm welcome on arrival and Helen then talked us through the workings of this lovely cottage. A welcome homemade loaf had perfumed the whole cottage! Delicious with Helens homemade preserves! The cottage is decorated and furnished to an excellent standard. I visited with my mother (82) and 2 dogs. Mum has mobility difficulties but this cottage was ideal for her! No steps to manoeuvre as there is a ramp into the cottage. The beds are a good height and extremely comfortable! The bedrooms have masses of wardrobe space with a super bonus of being well lit. Each of the bedrooms have bedside cabinets with bedside lamps and the whole cottage has an excellent selection of plug sockets! The patio area with dining set is a bonus for al fresco secluded dining. Having wet rooms made it a very accessible bathroom space for mum. The location was ideal as there were good dog walks around but we were well placed for visiting Devon, Dorset and Somerset. One of the highlights of the cottage are the visiting roe deer!! What a wonderful sight, looking out over the rear fields to see them grazing so closely to the house! The wifi signal was good and easily supported 3 pieces of equipment. The kitchen had a good selection of cutlery, crockery and glassware and everything needed to self cater. Helen has also thought of wet weather days. There are games, books, colouring pencils and dvds. Everything about Wreath Cottage has been carefully considered and is an absolute credit to Helen and John. I shall endeavour to visit again, as soon as possible! Many thanks from Mum and I and my two canine princesses!
Ann
2016-10-02T00:00:00Z
Great place to stay with very welcoming hosts. We'll definitely go back!
Nigel
2016-10-24T00:00:00Z
Beautiful cottage with high end fixtures and fittings. The beds/bedding was so comfortable we have all taken the company name to order some for our homes! The underfloor heating is lovely. Helen is great at communicating regarding the booking and replies very quickly. The added touches like homemade bread on arrival, were just wonderful. The road leading up to the property is a bit bumpy and needs to be driven with care. My Golf was fine but I can imagine some cars might find the potholes troublesome. This part of the journey does only last for a few minutes though! We all loved staying here and it made a perfect base to explore the local area because even though you feel in the depths of countryside it's only 10/15 mins into the nearest town. We would definitely like to return!
Rachael
2017-02-27T00:00:00Z
The cottage is absolutely stunning, everything finished to the highest quality. The little touches like fresh bread, homemade Jam etc were so lovely. The location is quiet and very scenic, close to places like Lyme Regis. Highly recommend.
Rebecca
2016-11-20T00:00:00Z
Huonetyyppi
Koko talo/asunto
---
Majoituspaikan tyyppi
---
Majoittujien määrä
4
---
Makuuhuoneet
Somerset, TA20 4DT, Britannia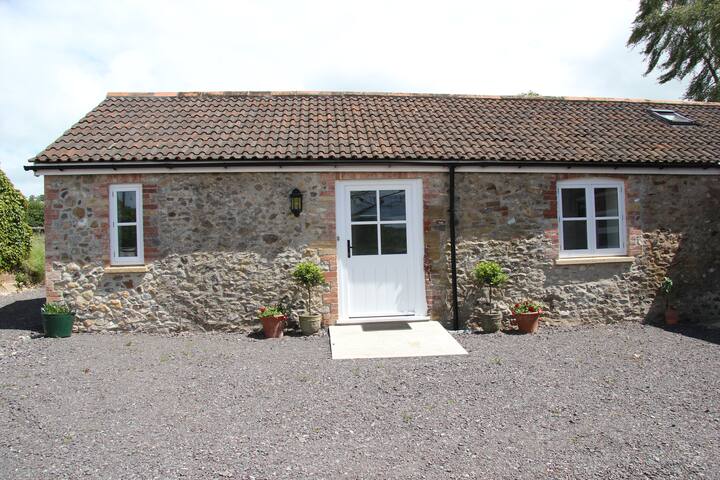 20 mins from Lyme Regis part of the Jurassic Coast . Excellent restaurants locally in a county known for its local produce . After a busy day come back to relax in a lovely garden by the stream .
Fantastic stay with Penny and Noel, we were made to feel especially welcome and would definitely stay again.
Jonny
2016-06-12T00:00:00Z
A wonderful stay at Penny's,she was away but we were looked after admirably by her very kind husband. Very comfy bed and wonderful tea. I would highly recommend this idyllic stop over
Stefanie
2015-07-01T00:00:00Z
We had a lovely stay with Penny and Noel, fantastic welcome and very comfortable bed along with a delicious breakfast. Not far from A303 for a stop over, would definitely recommend.
Jodie
2015-08-17T00:00:00Z
We loved Penny and Noel's house. It is beautiful and clean inside and out. The garden is stunning and our 2 year old still talks about wanting to go back to "Penny's house." Would love to visit again if they'll have us!
Heather
2016-08-30T00:00:00Z
We had a wonderful stay at Penny's. The house is even better than in the photographs, a very nicely decorated quirky traditional cottage. Everything was very clean and we felt completely welcome and at home. The house is also very convenient to drive to Lyme Regis/Exeter and other interesting spots. Penny cooked us a fantastic breakfast and was extremely kind in helping us with what ever we needed. We were very sorry to leave! Will definitely be back and stay longer. Totally recommend Penny's!
Gala
2015-09-01T00:00:00Z
We stayed here as we were attending a wedding in the village, and it was absolutely perfect! Not only do they have a lovely home but Penny and Noel made us feel so welcome, and went above and beyond to help us while we stayed with them. Lovely breakfast, comfy bed, but when the welcome is this warm we would have been happy sleeping on the floor!
Melanie
2015-08-09T00:00:00Z
Penny and Noel were amazing hosts! I was only staying for one night on a business trip, so I didn't have long enough with them. But I was welcomed on arrival with a cup of tea! Penny made me eggs on toast for breakfast (my favourite) and sat and chatted with me! Lovely room, great being in the countryside. I highly reccomend :)
Rachel
2016-10-20T00:00:00Z
Penny is a superb hostess and made us feel very welcome from the moment we arrived until we sadly had to leave. The cottage is perfectly situated for visiting River Cottage (which is what we were in the area for) and the local coastline, which is stunning. The bed was comfy, gorgeous bath and a sunny spot for breakfast. All in all a really great spot. Thank you Penny, I hope to be back to visit one day.
Nicci
2015-08-18T00:00:00Z
Huonetyyppi
Yksityinen huone
---
Majoituspaikan tyyppi
---
Majoittujien määrä
2
---
Makuuhuoneet
Tatworth, TA20 2SN, Britannia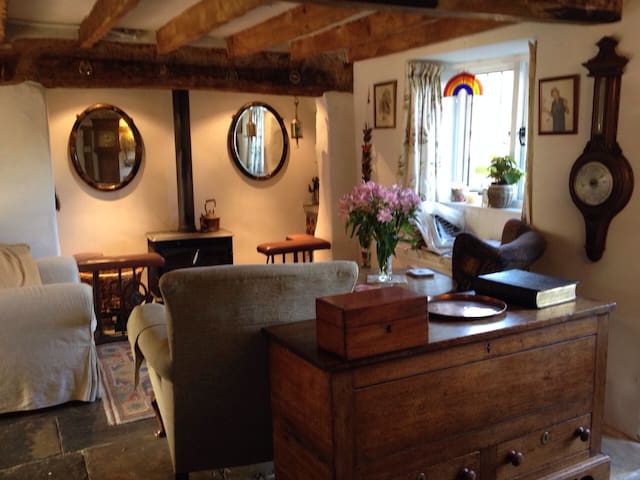 Lovely converted barn hidden away up a short farm track, within easy walking distance of great village pub. Large open plan living/dining /kitchen with vaulted ceiling and Woodburner. Doors to garden. 1 double , 1 twin bedroom, shower room. Within easy reach of Jurassic coast and many other attractions
Quiet Rural area surrounded by gardens and countryside with views. Private parking outside property. All on one level. Set well off of road up a short farm track.
Beautiful Somerset village with fantastic pub 'The Five Dials' within walking distance serving great food. Walk to the river or ancient bluebell woods through lovely country lanes. The pretty market town of Ilminster is 5 mins drive away and has a great deli, butchers and quirky vintage shops and cafes as well as supermarkets. Not far from Lyme Regis and other wonderful places to explore along the Jurassic coast. National Trust properties, famous gardens, Cider farms, fabulous cafes, farmhouse cream teas and wonderful walks nearby. Great for foodies! The Pig near Honiton, Hix restaurant in Lyme, Hugh Fearnley's River Cottage and Canteen in Axminster.
Excellent in every way, great location, building and value, with extremely generous and attentive hosts.
John
2017-02-19T00:00:00Z
Sue and Barry made us feel very welcome during our long weekend down in Horton. They were happy to recommend local attractions and provided a lovely cosy base for myself and my family. The barn was extremely well presented and had everything we needed. It has been loveingly converted and is absolutely spotless. We couldn't fault it at all. Sue treated us to a lovely welcome with cookies and some other treats were also provided. The space is very well planned and there is more than enough room for four. We would definitely recommend a stay!
Wendy
2016-11-20T00:00:00Z
Sue and Barry's barn was the perfect escape we needed for a short break. On arrival there was a gorgeous roaring fire already lit, fresh cookies, croissants, apple juice and milk for us which made the kids very happy! The cottage was spotless and homely with beautiful decor and thoughtful touches like coastal pictures and cosy blankets. We loved our holiday and would definitely recommend to others.
Emily
2017-02-26T00:00:00Z
We had a wonderful stay. Sue was a great host, leaving us plenty of instructions, as well as a lovely welcome not, cookies and breakfast items in the fridge. A beautiful part of the world, a beautiful home from home to stay in. We will most certainly be back for another visit .
Katie
2016-12-06T00:00:00Z
Amazing place thank you!
Morgane
2017-02-16T00:00:00Z
A lovely stay with extremely welcoming, friendly hosts. When we arrived the fire was lit, there was milk, juice, croissants and jam and tea bags all there waiting for us. The accommodation in well appointed and spacious. A great place to stay with lovely hosts.
Hugh
2017-03-05T00:00:00Z
Our hosts, Barry and Sue, were very accommodating and made us feel completely at home. The property itself is a beautifully converted barn with a modern feel and all the comforts of home. We stayed during February half-term so temperature was low but the wood-burning fireplace kept us toasty warm. Kitchen kitted out very well and nice garden space for playtime. Very quiet and peaceful area. About 40 minutes to Taunton and only 30 minutes to Lyme Regis. We would definitely visit again and recommend to others without hesitation.
David
2017-02-18T00:00:00Z
Sue made us all feel very welcome and the barn conversion was gorgeous. We were welcomed with some local apple juice and cookies which were lovely. The place was ideal for what we needed and was furnished to a high standard. The surroundings were pretty, with the place being very quiet and set back from the road. We had everything we needed and enjoyed our stay.
Amelia
2016-11-07T00:00:00Z
Huonetyyppi
Koko talo/asunto
---
Majoituspaikan tyyppi
---
Majoittujien määrä
4
---
Makuuhuoneet
Horton, Englanti TA19, Britannia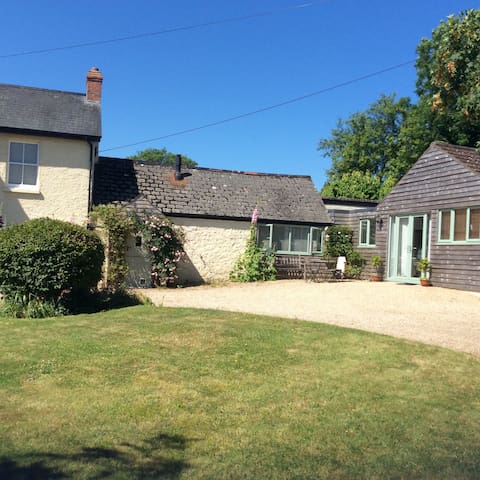 Apple Cottage is an 18th century converted Barn. It is semi detached, and sleeps 2 people comfortably. It has a fully equipped kitchen and is totally self contained. Good to hide away or return to after a day of exploration.
Huonetyyppi
Koko talo/asunto
---
Majoituspaikan tyyppi
---
Majoittujien määrä
2
---
Makuuhuoneet
South Chard, England, GB, Somerset TA20 2SA, Britannia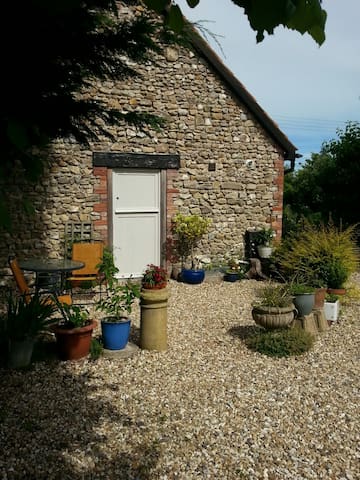 Beautiful eco friendly shepherds hut in peaceful location on edge of Blackdown Hills with views over donkey paddock. Log burning stove, solar powered lighting. Stunning garden room with hot shower and loo nearby. Jurassic coastline 20 mins
Donkey lovers paradise, this is glamping with style. This beautiful hut is powered by solar, with lights and radio provided. The hut comfortably sleeps two people. There is a small basic outside kitchen area but we recommend you eat out at the stunning pubs available in the Blackdown Hills or bring a picnic! The garden shower room has a fabulous shower, fluffy towels provided with shampoo and soaps. Your scrummy breakfast will be provided in a tiffin carrier with croissants/rolls, local preserves and honey from our own bees- when available, eggs from the hens who free range in the garden. You'll discover locally produced milk and West Country butter in your cool bag. Swimming pool in summer months by arrangement only.
Peaceful neighbourhood in walking country in Blackdown hills. Friendly village with well stocked shop and Post Office. Barleymows Farmshop nearby. Norman Church, good pubs nearby with excellent food.Close to Donkey Sanctuary, Sidmouth. World Heritage site Jurassic Coast. Perry's Cider Mill and Cafe at DowIish Wake. Sea 20 mins drive. Neroche Forest Trails. NT Properties Barrington, Dunster, Montacute nearby. Bring your walking boots to enjoy hikes in the hills or a gentle stroll in nearby public footpaths. Hen keeping and beekeeping introductory courses available on site. Please enquire re costs when booking.
What an awesome place to stay! Cosy but not too small! Comfy bed and log burner - donkeys to say hi to outside. Will definitely be staying again!
Steve
2016-10-20T00:00:00Z
Me and my girlfriend stayed here on 6-7th of June for a night. It was absolutely fantastic. The hut was clean and tidy with literally everything you could need or want! It really was a sweet little hut, a very comfortable bed and very warm with the log fire. Deborah was lovely, she showed us around and helped us with all of our questions! We didn't get a chance to ask but we would of loved to take some of her homemade honey, it was just delicious! The breakfast was well thought out and really tasty. The pod was great, we had our Indian takeaway and watched a movie! The shower was amazing, so powerful and warm and the cleanliness of the shower room was excellent! The animals on site are fantastic, it was a real treat for us both to spend one night away and what a perfect place to do it! Would definitely recommend to a friend and will definitely return!
Lewis
2015-06-08T00:00:00Z
We had an incredible few days staying in this beautiful hut! We really couldn't fault the place, if you want to really get away from it all but still have all the little comforts you need them this place is perfect. Deborah is a great host, she is attentive but in no way overbearing and we loved exploring her truly beautiful garden. We will definitely be staying here again!
Charlie
2016-08-27T00:00:00Z
My sister and I spent a brilliant night in Deborah's charming shepherds hut. Deborah was a friendly and attentive host and Onkey and Brian were great neighbours. The hut itself is well kitted out with everything you could need during your 'glamping' experience and the bathroom facilities a short walk through the garden were much more luxurious than expected. Great shower! A perfect spot for a bit of peace and quiet and a much needed catch up. All topped off by a great breakfast, such a treat to wake up to a pair of fresh eggs. We'd love to come back!
Katie
2016-06-13T00:00:00Z
We had a lovely, post-Glastonbury stay at Donkey Lovers Retreat. Deborah was very friendly and accommodating as soon as we arrived and told us everything we needed to know in order to make the most of our stay. The hut was nice and cosy, and it was great to be able to make us of the Pod and pool as well!
Ami
2016-06-30T00:00:00Z
We loved our stay at the hut! Deborah is a great host and left us some lovely eggs and honey for breakfast. The donkeys are adorable! Very comfortable bed and the hut is cosy and warm. Lovely to sit outside in the evening with a little fire and a beer! Hope to stay again and would definitely recommend to anyone.
Kirsty
2015-06-09T00:00:00Z
Deborah and Michael were very welcoming and very gracious hosts. They went out of their way to make us feel comfortable and at home. The Shepherd's Hut was a wonderful, peaceful, and charming retreat. Onkey and Brian (the donkeys) were perfect gentlemen and kept us company. In sum, we had a great little holiday and will hopefully be back again.
Michelle
2015-08-24T00:00:00Z
We had such a wonderful weekend at the donkey lovers retreat, so relaxing, just what we needed after a tough week at work. Deborah was very welcoming but gave us total space and freedom to enjoy the beautiful property. A very nice experience indeed!!
Gareth
2016-06-02T00:00:00Z
Huonetyyppi
Koko talo/asunto
---
Majoituspaikan tyyppi
---
Majoittujien määrä
2
---
Makuuhuoneet
Combe St. Nicholas, Somerset TA20 3NA, Britannia
Rose Cottage is newly converted at Pole Rue Farm on a no through lane surrounded by beautiful countryside yet only a 5 minute walk into the village of Combe St Nicholas which has a pub, a shop & a regular bus service. Our location is perfect for exploring the counties of Somerset, Dorset & Devon. Near to Lyme Regis, Taunton & Exeter. There are many attractions within a short drive & pubs serving great food. This lovely cottage is suitable for families or couples & one well behaved dog.
Rose Cottage has a lovely homely feel. The open plan downstairs is light & airy. A wonderful space for cooking whilst chatting with family or friends. A very cosy cottage in the winter months with the log burning stove as well as full central heating. Outside there is plenty of space to relax or play family games & picnics.
Our cottage is on the edge of the charming & friendly village of Combe St Nicholas, just a 10 minute walk along a pretty country lane. We have no close neighbours except for the sheep in the field, some horses & our pet chickens.
Absolutely beautiful cosy cottage. Its located in a scenic location surrounded by fields but still convenient for seeing the sights. Spotlessly clean, beautifully decorated and well appointed. The log burner was a very welcome feature this time of year, and the teens were very happy with the wifi! Only wish we could have had longer there. Thanks again.
Kelly
2017-01-02T00:00:00Z
When we had a flat tire debacle on the way, Leigh and her husband waited up for us late that night to see us into the cottage and get us set up. They were extremely helpful, flexible and easy to communicate with. There was coffee, tea, and milk in the fridge for us to enjoy a cup of coffee in the morning, it was a nice touch. Everything is fresh, new and clean which made the stress of travel wash away. It's a very lovely place.
Celia
2016-09-07T00:00:00Z
Leigh and Poppy (the dog) met us upon arrival which was a nice personal touch and showed us round the cottage and all the amenities within it. The inclusion of plenty of tea and coffee, with milk in the fridge and shortbread on the side show how friendly the hosts were. The location was perfect for what we wanted - a pub and post office within a 5 minute walk. Plenty of country walks for us and the dog made this a very relaxing stay. We will be back soon!
Ben
2016-09-28T00:00:00Z
Huonetyyppi
Koko talo/asunto
---
Majoituspaikan tyyppi
---
Majoittujien määrä
4
---
Makuuhuoneet
Somerset, Englanti TA20 3LZ, Britannia
Comfortable self contained room with tea making facilities, separate from house . Local shop and pub. Ideal for overnight or long holiday stays for those visiting the Jurassic coast area of the west of England. Own parking and access to major routes.
Comfortable bed and living space with use of a fridge, microwave and kettle. Ensuite has a bath with shower over, a basin and WC.
It was a great pleasure to meet Marie. She is such a lovely, lovely lady, very welcoming and friendly. The room was perfectly clean and as described, fit for purpose for our short stay of three nights. The location was perfect for us - 1 hour drive to both Exmoor National Park and coast of South Devon/Dorset.
Kaori
2016-08-30T00:00:00Z
Marie was an amazing host and made us both feel very welcome. The place was perfect and very clean and tidy. I would stay here again!
Sam
2015-08-16T00:00:00Z
A very nice room with everything you need in a lovely part of the UK. A friendly and hospitable host who makes you very welcome.
Graham
2016-08-22T00:00:00Z
Perfect stop over for a quick Somerset visit. We stayed one night as we were attending a wedding.
Claire
2016-09-19T00:00:00Z
We really appreciated the warm welcome we received on our arrival. The accommodation was very well equipped and Marie gave us good advice on where to eat. We can also now recommend the Tyverleigh Arms Sadly, we were only able to stay for one night. Many thanks Marie.
David
2014-09-03T00:00:00Z
Excellent. Good communication, cam to greet us, lovely place, good value. Recommended.
Ben
2015-07-12T00:00:00Z
Marie was a lovely host, the room was perfect for our needs and she very kindly came and picked us up after the wedding (at 12:30am!!) as well as dropping us back to our car the next day. Very clean and tidy and completely removed from the house so we didn't disturb the hosts in the morning.
James
2015-06-28T00:00:00Z
Marie very kindly met me with an umbrella (as I arrived by car in a brief downpour) and showed me the immaculate room and en-suite. It was every bit as good, indeed better, than I had expected. We only spoke briefly as I had things to do but Marie explained everything and made me feel really welcome. Very comfy bed and the whole place is so beautifully quiet - and a delightful place to stay. Everything I needed and more was there and all provided. That included parking very close to the room which is great for loading and unloading luggage etc.
Mike
2016-06-27T00:00:00Z
Huonetyyppi
Yksityinen huone
---
Majoituspaikan tyyppi
---
Majoittujien määrä
2
---
Makuuhuoneet
Tatworth, TA20 2SH, Britannia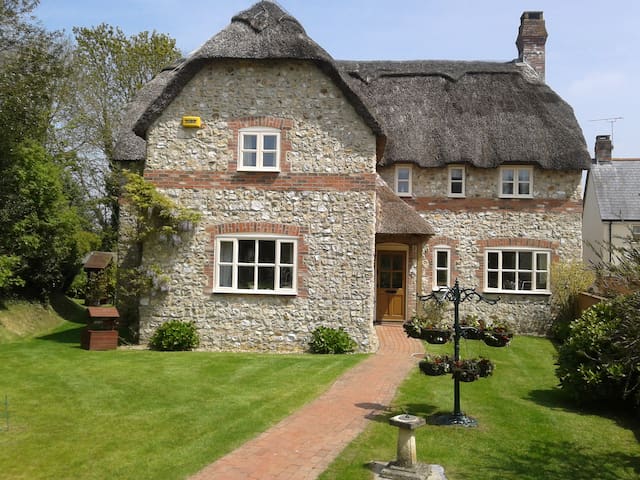 Our Listed Cider Barn has been converted into a comfortable two bedroom cottage. Fully equipped to lock yourselves away , or to explore the Somerset/Devon countryside and coast (20 mins away) we are on a smallholding with chickens. Goats, and pigs
Huonetyyppi
Koko talo/asunto
---
Majoituspaikan tyyppi
---
Majoittujien määrä
4
---
Makuuhuoneet
England, GB, Somerset TA20 2SA, Britannia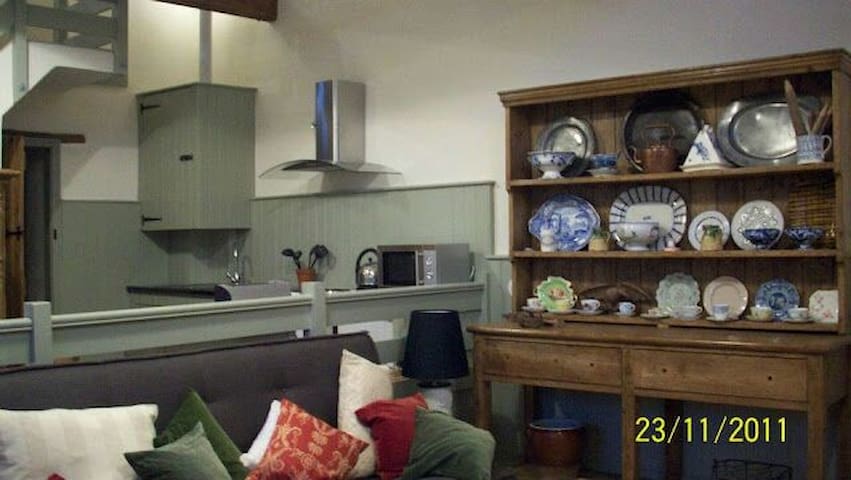 Beautiful medieval Manor House which has been completely modernized with accommodation stretching to nearly 6000 square feet. The very spacious accommodation is on four floors with two ensuite rooms and one with family bathroom/ensuite. Large country kitchen with central island cooking and seating area is linked by arches to the large Dining Room and new Summer Lounge. There is a separate Drawing Room. An extremely homely and very comfortable house awaits your visit. We have recently
The landscaped gardens extend for some three acres with seating and sun lounging areas. There is a Saxon pond and we have a medieval Leat at the front and the River Isle flowing to the rear of the property. There is a games box and a croquet lawn. The Summer Lounge completely opens on to the Courtyard Garden which has further sun loungers, barbecue area, alfresco dining area and a hot tub. You will not be disappointed by the house and gardens.
We are in beautiful South Somerset and the house enjoys a very quiet location on the edge of the Blackdown Hills, an Area of Outstanding Natural Beauty. Yet is just five minutes from A303 at Ilminster and 20 minutes to the South Coast at Lyme Regis. The gardens are extensive and their are also many walks nearby, with the "Stop Gap Railway Line" accessible at Manor Farm bridge. This is a level walk and cycle path linking Seaton with Burnham on Sea.
Huonetyyppi
Koko talo/asunto
---
Majoituspaikan tyyppi
---
Majoittujien määrä
16
---
Makuuhuoneet
Knowle St Giles, Englanti TA20 3DA, Britannia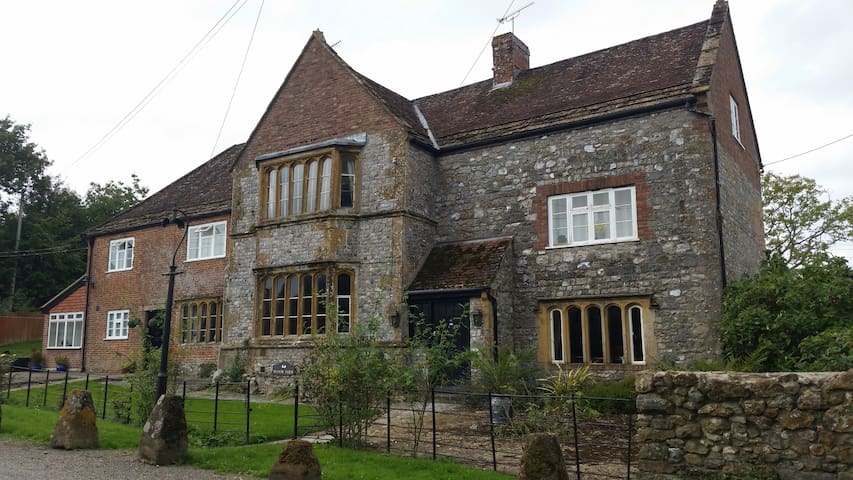 In Somerset , 20 minutes from Jurassic coast town of lyme Regis . Many lovely places to eat out within short driving distance . Come back and relax in lovely cottage garden with stream at the bottom .
Lovely old cottage with plenty of character , dine in the conservatory overlooking the garden . Car parking off the road .
Village with great walks from the door . Good restaurants within short driving .
We really enjoyed staying in this cosy family home. Very well located for trips to the sea. Very helpful hosts. I would highly recommend a stay in Penny's cottage.
BERYLL
2016-09-26T00:00:00Z
Penny & Noel made us feel instantly at home and had clearly prepared for our arrival. The cottage was everything you would desire from a West Country location with a beautiful farm house style kitchen, breakfast room and glorious garden. It is conveniently situated for great days out on the coast whilst being in a quietly secluded village with a nice pub in walking distance. The cottage was tidy and clean but it's homely atmosphere instantly put us at ease, even with two young children to cater for! Penny & Noel had good knowledge of the area which was really helpful in order to get the most from our stay. Such is its versatility, we would thoroughly recommend this cottage to all!
Becci
2016-08-18T00:00:00Z
Penny was fantastic in finding the cottage and answered all questions very fast
Julia
2016-08-08T00:00:00Z
It was a real privilege and pleasure to stay in this delightful home, which is even nicer in reality than the photos and description. The host made us very welcome and was very understanding after we arrived several hours late. It was a perfect set-up for us as we could stay cosy in the house when it rained and then dash down to Lyme Regis when the sun came out. Beautiful garden for kids and adults alike too!
Jonathan
2016-08-21T00:00:00Z
Lovely place and kind hospitality from Penny. Enjoyed our stay in a lovely thatched house near great beaches. The house has good facilities and a lovely atmosphere.
Su
2016-08-30T00:00:00Z
We had a lovely stay at Penny's cottage. It's so charming and full of character the bed is super comfy , and we slept well here. We had a delicious breakfast sitting in the garden. Penny was helpful and very friendly throughout. We would highly recommend this place and will defiantly stay again, it's the perfect spot for exploring Lyme and the coast.
beccy
2016-08-01T00:00:00Z
Huonetyyppi
Koko talo/asunto
---
Majoituspaikan tyyppi
---
Majoittujien määrä
4
---
Makuuhuoneet
Tatworth, Somerset TA20 2SN, Britannia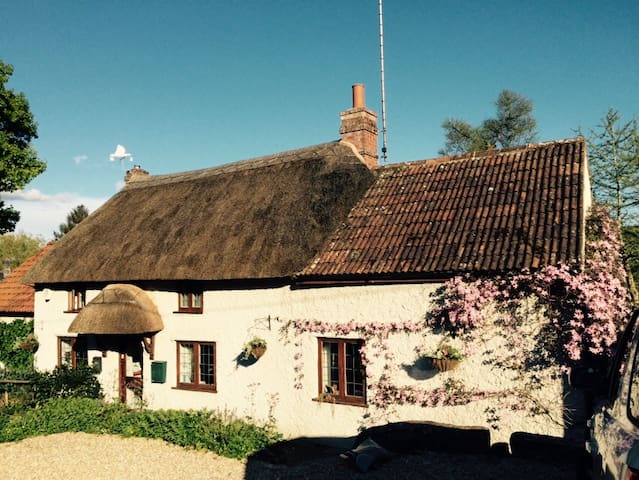 We are close to the Devon and Dorset borders and are a great base for the seaside and many local attractions. We are a working dairy farm, set in a rural location with the accommodation backing onto woodland. Cost includes use of Hot Tub. Small farm shop on site. My place is good for couples, families (with kids), and furry friends (pets).
We were visiting friends in the area and travelling with a baby and a four year old. The moo motel was perfect for us - they loved the animals and we loved having multiple bedrooms! Unfortunately we forgot swimming costumes so couldn't use the hot tub, but it looked great. There is also a nice outdoor sitting area with BBQ.
Justin
2016-09-02T00:00:00Z
Me and my family had a great stay at the Moo Motel. Lynne met us on arrival and gave us a thorough run through of everything we needed to know. The caravan is huge! Great space and in a lovely setting . You have your own private garden which my boys loved and they used it the entire weekend. Lynne also gave them scooters and ride on tractors to play with - and they were in their element! The hot tab is fab and such good fun. Lynne shows you how to use it and off you go. The freedom you have is excellent. The facilities are excellent. We had such a good time and we would definitely recommend the Moo Motel.
Nina
2016-09-26T00:00:00Z
We had a moo-velous time at the moo motel! Lynn was a fantastic friendly host and welcomed us with some tasty raw milk produced that morning on the farm. The hot tub was brilliant after a day exploring the beautiful Somerset countryside. And we will definitely be staying again :)
Jack
2016-07-20T00:00:00Z
The moo motel is such a fantastic place to stay if you want to experience life on a working dairy farm with the two kindest people, Lynne and Merv. They really allow you to be very hands on. The location is superb, the hot tub was a great bonus and the motel warm and comfortable. We spent lots of time around the farm and locally visited Barrington Court, Willow and Wetlands trust and Fearne Animal sanctuary - all good for a few hours out and not far from the farm. I amd my family would highly recommend a visit here.
Jo
2016-10-30T00:00:00Z
Location excellent. Easy to access Jurassic coast with beautiful Lyme Regis and bodyboarding at Sidmouth. Sandy and pebbly beaches. So much nearby for kids to enjoy like Maize Maze, Quad World to name a couple. Accommodation is ample, comfortable and clean. Static has plenty of space for a large family, garden is lovely with a BBQ, provisions for outside fire and plenty of seating. Hottub clean and large enough For family. Best bit being in hearing distance of the children sleeping so can relax in peace. Farmer Lynne and Farmer Merv couldn't have been more accommodating. The Kids had the best time on the farm with the Farmers taking time out of their working day to show the kids around, explain what they're doing and they both have endless patience. They have put a couple of chickens in the static garden so the boys loved checking for fresh eggs to eat everyday. The farm has a small shop with ice cream, eggs, potatoes and their staple raw milk. We would recommend to anyone. Best week :)
Jodie
2016-08-21T00:00:00Z
Lynne was the most warm and welcoming host - she did so much, bringing us kitchen utensils, offering a lift into town... Even made a fire for us one evening! The hot tub was superb and being near the cows was great fun. I have to say I didn't realise it was a static caravan from the pictures but it didn't detract much from the stay - very spacious lounge and dining for the 7 of us to cozy up! We also bought some raw milk on our way out, so creamy! This is a great place to stay for relaxing time with family. :)))
Dan
2016-12-30T00:00:00Z
We had a great time. What a bargain with the hottub! Hosts helpful and friendly and replied readily to messages/questions about our booking. Caravan clean and tidy. A little chilly but you expect it in a caravan in winter! An electric blanket in the double room and extra blankets in the others were provided. Thank you
Kathryn
2017-02-06T00:00:00Z
Compact and showing its age a little but otherwise provided us with a very comfortable and quiet base to explore the srea. We would stay again.
Peter
2016-09-20T00:00:00Z
Huonetyyppi
Koko talo/asunto
---
Majoituspaikan tyyppi
---
Majoittujien määrä
6
---
Makuuhuoneet
Somerset, TA20 3AF, Britannia