Anna päivämäärät nähdäksesi kokonaishinnoittelun. Lisämaksuja sovelletaan. Veroja saatetaan lisätä.
4 vuokrakohdetta
· Taylor
4 vuokrakohdetta
· Taylor
Our relaxing and cozy one bedroom loft with private balcony has everything you need to make your stay a true "home away from home" experience! The Loft is close to many parks, the city center, the airport, the west river community center, pools, Medora and Theodore National Park. The cozy feeling of home is in every detail so you will be relaxed and well rested to continue your adventures. The Loft is great for couples, solo adventurers, and business travelers.
The host canceled this reservation 79 days before arrival. This is an automated posting.
Tom
March 2017
Beautiful family and home! The Loft was the relaxing way station we sorely needed on our road trip. Comfortable and cozy and private, with a very welcoming atmosphere courtesy of our hosts. We were able to do laundry while we watched a movie on fabulous recliners in front of a huge television screen. I would definitely recommend this stop to anyone traveling through Dickinson. Thanks to Dayna and her family for having us!
Miranda
April 2017
Dayna was an excellent host! Her and her family were very welcoming upon my arrival and gave me a nice tour. They checked up throughout the week to make sure everything was good and to make sure I had everything I needed. Dayna was always on top of all the communication and I felt very comfortable reaching out whenever I needed. And the place was beyond my expectations; very cozy and roomy. Definitely a home away from home. I enjoyed my stay at the Loft very much!
Ivan
March 2017
Huonetyyppi
Koko talo/asunto
---
Majoituspaikan tyyppi
Loft-asunto
---
Majoittujien määrä
2
---
Makuuhuoneet
1
Dickinson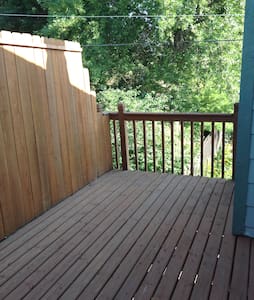 Medora & TR National Park, Assumption Abbey, and the Enchanted Highway are all within 20-40 minute drive. In less than ten minutes you can reach shopping, medical facilities, numerous parks, and Dickinson State University. Day passes at The West River Community Center include water park, climbing wall, classes, and equipment. The municipal golf course and airport are each about 20 minutes away. The River is great for couples, solo adventurers, business travelers, and furry friends (pets).
Sunlight through large wall-to-wall windows overlooking the Heart River make this an exceptionally pleasant place to stay and relax. Private and large kitchen, dining room, bedroom with TV, and bathroom. Separate fenced yard for one house-trained dog. Semi-private living room has an electric fireplace, and access to the semi-private yard and deck. Laundry facilities and gas grill may be used after receiving instructions. We have two kayaks and a canoe which may be rented by special arrangement. I am generally available by text until from 7am to 9pm. In an emergency, please phone.
The neighborhood is residential, within walking distance of tennis court, outdoor pavilion, and dog park. Dickinson has at least one or two cab companies and car rental outlets. Two gentle labs live on premises, but can be kept from private space, and even shared spaces if needed. No smoking is allowed in or outside of the premises; if you are a smoker, please find other accommodations, as host has a severe smoke allergy.
Huonetyyppi
Koko talo/asunto
---
Majoituspaikan tyyppi
Huoneisto
---
Majoittujien määrä
2
---
Makuuhuoneet
1
Dickinson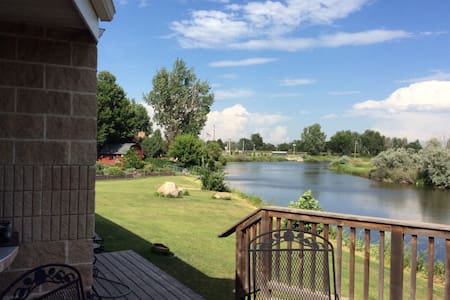 The Lodge is a large A-Frame house with an open floor plan that is decorated with hunting and rustic decor. It is located 4.5 miles east of exit 64 in Dickinson. It is a perfect place for a quiet get away or for a family get together.
This home offers space to relax by the fireplace or sit by the large A-Frame windows and appreciate the view. Families could also gather at the lodge to play pool or other games. The wrap around deck and outside area provides lots of space to relax and have fun. You will have access to all rooms in the house. You will be able to reach us on our cell phones and we will be able to assist you during your stay.
The lodge is located in a rural setting 4.5 miles from Dickinson. Unlimited parking is available at the lodge. The home is located minutes from Dickinson. In Dickinson, you will find shopping, restaurants, a golf course, a community center with swimming pools, basketball, tennis, and racquetball courts and a walking track. There are a couple of cab services in Dickinson if you need assistance with transportation.
Huonetyyppi
Koko talo/asunto
---
Majoituspaikan tyyppi
Talo
---
Majoittujien määrä
10
---
Makuuhuoneet
5
Dickinson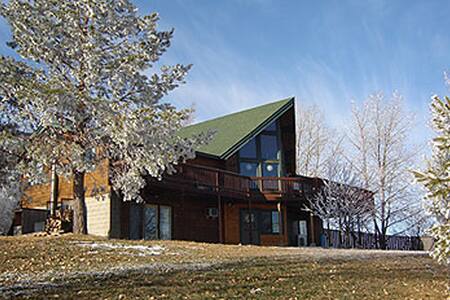 This is a lovingly refinished 1910-era folk victorian rescued from demolition and relocated to the banks of the Cannonball River near Mott, N.D., near the Badlands, Black Hills and in grassland prairie country. The west view to sunsets is so restful and wildlife abounds on the river.
This is a "saved" property, circa 1920, that was scheduled for demolition and moved to the present location. Every attempt was made to renovate this wonderful property and maintain the existing character of the dwelling _ there are some signs of its age _ chips in the old enamel sink, for example _ but those are part of the charm. The entire property is available for guest use. I'm very available by cell phone, but do not live in the community where the property is located. Please feel free to reach out with any questions, or if you need localized information.
You'll find that you have plenty of privacy, but feel to walk around and stop in a say hello to whoever you meet. The downtown is small, but friendly. Be sure to plan an extra day to take in Theodore Roosevelt National Park, or get local directions to Lake Tschida, a lovely fishing and recreation lake not far away. The Cannonball River is fun for fishing and guests have access, upon requests, to a pair of kayaks. Mott is a sweet little North Dakota town and the cottage overlooks the Cannonball River that runs through it. Lovely and very pastoral. The local grocery closes at 5:30 p.m. and is not open on Sundays. The local Pheasant Cafe serves wonderful breakfasts and is open through supper. Nearby Regent (15 miles west) has a Cannonball Saloon with a good steak and burger.
Lauren was a great hostess (though we never met). She communicated well via email and gave us a lot of information about the area, which was helpful. She even let us borrow her brothers kayaks, which we did not end up using. The cottage was just what the pictures describe. The locations is remote and quite. It was a very enjoyable place to stay. We would recommed it!
Krystal
September 2014
The Cannonball Cottage is a very cute, warm little house that is just perfect for a get away. It was clean, well maintained, and comfortable. Lauren is extremely accommodating. We had a blast, and you will too. Enjoy your stay!
John
October 2016
Lauren is an amazing person and ideal host. Her cottage is so full of warmth and comfort we instantly felt at home. This is a true haven. The scenery is gorgeous, the cottage clean and comfortable. We couldn't have wished for a better place.
Tanya
December 2016
Great place to homestead for the night or a couple of days. Beautiful porch and view.
Liz
April 2017
The place was great!
john
December 2016
The stay at the Cannonball Cottage was just fine. Lauren provided us with ample information and precise directions and we found the place without difficulty, even in the dark. The place itself is a charming, converted farm house that reminded me of my grandma's. The town itself doesn't offer many food options, though, so make sure and bring your own.
Lindsay
November 2015
This was a great cottage on the Cannonball River. There was great original artwork, comfortable beds, and funky 50's decor.
Monica
November 2016
The Cannonball Cottage was absolutely adorable and was everything we hoped it would be. It is very difficult to find, if you are arriving from a different direction. We were hoping our GPS would help us find it, but it ended up taking us into the "wild." We decided to back track and knock on some doors before we lost the last bit of light. We ended speaking with the host's cousin's husband, and he graciously pointed us in the right direction. We knocked on another door, and were finally able to find the cottage. I am not sure what happened with the host, but having no communication with her, we were lucky to cfind the key near the cottage and stay the night. Otherwise, as my best friend joked, we would have to spend the night in the car. I understand things happen, so I will give the benefit of the doubt based on other reviews. It would have been very helpful if we could have reached our host.
Adriana
June 2015
Huonetyyppi
Koko talo/asunto
---
Majoituspaikan tyyppi
Talo
---
Majoittujien määrä
4
---
Makuuhuoneet
2
Mott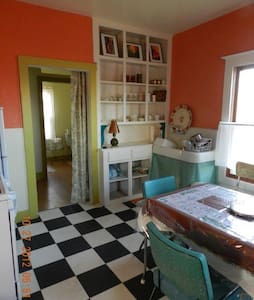 1

–

4

hakutuloksista

4 vuokrakohdetta