Syötä sisäänkirjautumispäiväsi muodossa pp.kk.vvvv
Syötä sisäänkirjautumispäiväsi muodossa pp.kk.vvvv
Kohteet, jotka voit varata odottamatta majoittajan hyväksyntää.
7 vuokrakohdetta
· Tilden
7 vuokrakohdetta
· Tilden
Anna päivämäärät nähdäksesi kokonaishinnoittelun. Lisämaksuja sovelletaan. Veroja saatetaan lisätä.
Heinä- ja elokuussa voit kokeilla yhtä näistä 100 arvostetusta kohteesta eri hintaluokissa ja kokea Sonoman paikallisen näkökulmasta. 24 tunnin sisäänkirjautuminen, Pikavaraus sekä paikallista viiniä ja välipaloja, jotta voit vain istahtaa ja nauttia matkastasi.
Our camper trailers are well maintained and very clean. The park is small, clean and peaceful. Each camper has cable tv w/ premium channels and wifi.
Bailey's Hideway Lodging & RV is located just 1.5 miles from Downtown Three Rivers and only 6 miles from Choke Canyon Reservoir.
Things to do include: World class fishing at Choke Canyon Reservoir Historic Rialto Theater - only operating movie theater in 3 counties Trophy quality whitetail deer hunting Several local bars offering billiards and live music A variety of local shops and restaurants
Huonetyyppi
Koko talo/asunto
---
Asuntotyyppi
---
Majoittujien määrä
3
---
Makuuhuoneet
1
Three Rivers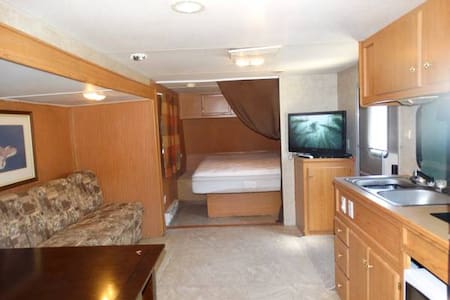 Iam loonks of root to rent
Huonetyyppi
Yksityinen huone
---
Asuntotyyppi
---
Majoittujien määrä
1
---
Makuuhuoneet
1
Los Angeles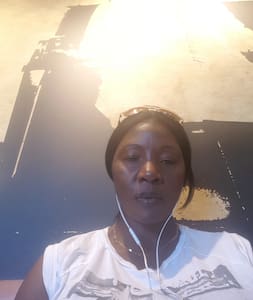 A relaxing stay in charming surroundings with excellent service and a convenient central location. Comfortable large rooms, an on site laundry mat, and Oak trees with BBQ pits and picnic tables for relaxation. That's what you can expect.
I'll be around to assist we any needs you may have.
We are just off the beaten path so its quite and peaceful. However, less than a half mile down the road and you can find all the stores and restaurants you may need. Everything you may need is in the cabin other than your own food and clothes.
We stayed at the lodge for 10 days and our stay was great! The room and grounds were very quiet and clean. The staff were very friendly and attentive to our every day needs. We had an unexpected family emergency and Rex came through for us in a big way, even though it was last minute notice. Rex we thank you kindly for your hospitality and the kindness you showed us. You run an awesome place and employ a good staff. Pleasanton was a nice place to relax and get away from the city. Texas should be known for it's hospitality not just for it's size :), while it may be big in Texas, the warm welcome you get when you visit is even BIGGER!! Thank you, D. Maldonado Family
David
August 2015
We stayed for one night at one of the cabins. The cabin was clean. Cable and wifi worked perfectly. I was traveling with my kids and feel safe here. And our dog enjoyed the stay as well. We will definitely stay again if we are in the area.
Mandy
March 2016
I have a great time. They are super nice
Mayra
January 2017
Rex and his dad run the cabins. They were both awesome and made my family feel very welcome. The cabin is in a lodge area with multiple cabins. There is a pavillon with BBQ grills, horseshoes, darts, picnic tables, and a laundry area. The inside of the cabin was clean and had everything you could need, aside from your personal belongings and food. The area around the cabin(Pleasanton) wasn't super nice but overall it was peaceful and quiet. It is about 30-40 minutes from San Antonio so it worked out for being outside of the city and driving in for the day. I would definitely stay here again!
Karissa
September 2015
Great host to client communication. Very clean at arrival. Very quiet area
Jessie
December 2016
The Brush Country lodge was just what we needed! All the amenities of a nice hotel suite, but in a private cabin. Laundry, grills, vending, ice, and your own private kitchenette. It's perfect for a short term or extended stay by yourself or with a small family. I would definitely recommend this place to travelers looking for more privacy than what a traditional BnB offers.
Jennifer
March 2016
Our stay was wonderful. We were in town for a family wedding where everyone was staying at a local motel. My four children and I, plus another person, were able to stay here in two cabins, and have our two dogs. The cabins were way more spacious and comfortable for us than the enclosed motel would have been---Plus the price was cheaper. I would highly recommend staying here, and would love to return. It would be an awesome place for a family reunion as it is so welcoming and so well set up. Thank you Rex!
Cris-Ann
July 2016
Rex & his dad are great to deal with. Super helpful. Clean cabin. Plenty of space. Great value. Stayed with family, felt safe. Great alternative to a hotel. Close enough to San Antonio. Ice machine. Vending machine. Grills & picnic tables. Full kitchen was a plus. Rex responded immediately to any question. Rex met us personally, even though we ended up not getting in until late.
Ronny
July 2016
Huonetyyppi
Koko talo/asunto
---
Asuntotyyppi
---
Majoittujien määrä
4
---
Makuuhuoneet
0
Pleasanton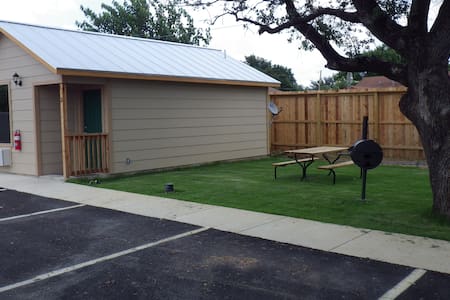 Relax and unwind in a charming house on 33 acres. Wild flowers , horses and cows are your neighbors. Large front deck to have a great BBQ, glass of wine, or a cup of coffee. Short walk to pool to cool off on hot summer days. Great star gazing at night. Fully stocked kitchen for all your cooking needs. Restaurants within a 10 minute drive. For Christmas holidays, there is a tree for decorating and lights around house. Plenty of cook ware to prepare your holiday feast!
Swim, play horse shoes, or corn hole ( bean bag toss for you city slickers :) We want you to have a fun, exciting yet relaxing vacation. Don't hesitate to ask any questions or special requests. This is a working ranch. Please only look, don't touch livestock. Do not go into fenced area where the animals are for your safety. If you prefer, we will give you a quick tour upon arrival so you will know where you have access to, and all safety information. This will be e-mailed to you as well. Let me know if you have any special requests and we will try to accommodate.
Quiet country house with all the privacy you need, yet a short drive to shops and restaurants. 5 miles to the small town of Jourdanton. McBees BBQ is wonderful and Rock House cafe has the best Mexican food! Lowes grocery store is in center of town. Pleasanton, Tx is only 4 more miles and it has a WalMart, many restaurants, movie theater. 35 miles to down town San Antonio and The Riverwalk. If you want a gym, hot tub, pool and crowds, this is not the place for you. However, I can help you find a rental that meets that criteria.
Had a Great Stay at this peaceful residence!
Allen
October 2016
Wonderful
Dominic
April 2016
Amazing one of a kind property! Quiet, safe and peaceful. Stayed for a week during a recent business trip to nearby Pleasanton, TX. Couldn't have asked for a more comfortable and inviting place to stay. I would definetly recommend to anyone in looking for a rental in this area.
Allen
August 2016
Huonetyyppi
Koko talo/asunto
---
Asuntotyyppi
---
Majoittujien määrä
8
---
Makuuhuoneet
3
Jourdanton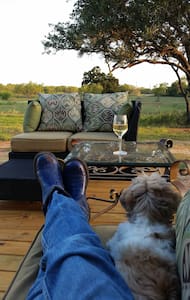 Eagle Ford Village is truly a resort-style village setting, complete with recreation center including, fitness center. Our 1 bedroom ensuite bathroom featuring pillow-top queen bed, large walk-in shower, walk-in closet, work stations, HD 32" LED TV.
Premises were clean and quiet, and the units were well appointed. Management was very friendly and accommodating. I would highly recommend as an alternative to a hotel.
Brett
February 2016
Huonetyyppi
Yksityinen huone
---
Asuntotyyppi
---
Majoittujien määrä
2
---
Makuuhuoneet
1
Dilley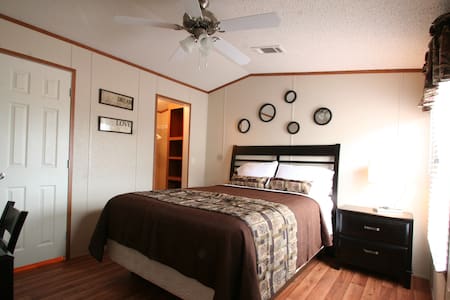 Our 2 bedrooms fully furnished homes with whisper quiet air conditioning, fully equipped kitchens with an optional 2 twin size or queen size pillow top mattresses in each bedroom, a private bathroom. Onsite fitness and recreation center.
Had a great stay at Eagle Ford Village. Darla was very hospitable, she lent me additional cook ware during my stay and had a thanksgiving day dinner planned for all the guests there. I'd have no qualms staying there again. It was nicely appointed and very comfortable.
Keith
December 2015
If you're staying in Dilley, I literally have no idea why you wouldn't stay here. I was with a group that had many people coming for a week or two at a time, and they had negotiated a "special rate" with the Days Inn. Well I found this place for cheaper, so decided to give it a shot. OMG I was blown away. We didn't only save money, but we also got a gorgeous, spacious house with a full kitchen (complete with cookware and dishes) and W/D. There's also a full chest of drawers and closet in the bedrooms, and a fitness center in the complex. The maintenance guy lives in the complex, and came over in under 5 min when we heard a noise that we couldn't figure out. (Boy did we feel dumb when it turned out to be the ventilation fan that the cleaning lady had turned on LOL.) Oh, and it gets cleaned once a week. Ok, so I guess technically that's worse than a hotel, but who needs their place cleaned every day?
Beckie
January 2016
Was volunteering at the Dilley Family Detention Center. The accomodations could not have been better. We had three of us in a two bedroom, we were able to cook daily, and the place was more than we expected.
Joe
December 2016
Huonetyyppi
Koko talo/asunto
---
Asuntotyyppi
---
Majoittujien määrä
4
---
Makuuhuoneet
2
Dilley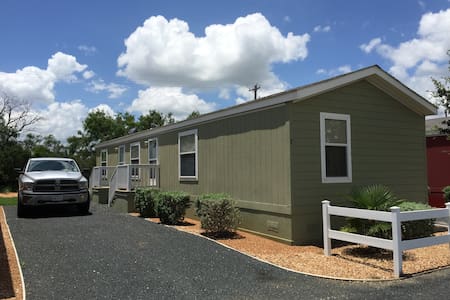 1

–

7

hakutuloksista

7 vuokrakohdetta