Dieses große Doppelzimmer in unserer Familie zu Hause zur Verfügung steht, ein (sehr) alten Stein gebaut ehemaligen Bauernhaus-in Broadclough, etwas außerhalb von Bacup. Das Haus verfügt über einen einfachen Zugang zu den schönen East Lancashire Moors, lokalen Annehmlichkeiten und Autobahnen.
Dieses große, saubere Doppelzimmer über ein Kingsize-Bett und ein Frisiertisch mit Schubladen für die Verwendung enthält. Wir haben auch ein Reisebett und Doppelluftmatratze, die für Kinder und ein anderes Zimmer frei verwendet werden könnten, die für einen zusätzlichen Gast verwendet werden könnte, falls erforderlich; Bitte kontaktieren Sie uns für weitere Informationen. * 1 weitere Person im gleichen Raum nicht, aber eine zusätzliche Gebühr erhoben wird für zusätzliche Gäste oder wenn ein zusätzliches Zimmer erforderlich berechnet. * Darüber hinaus enthält das Zimmer über einen Doppel-Kleiderschrank, und aa große Kommode und einem tallboy. Normalerweise von uns, werden diese verwendet, aber wir können sie leer lassen, wenn die Lagerung erforderlich ist. Eine gemeinsame Familie Bad ist unmittelbar neben dem Zimmer. Es kostenfreien Internetzugang im ganzen Haus verfügbaren WLAN ist (denken Sie daran, es gibt keinen Fernseher im Zimmer, sehen die meisten Gäste Filme und TV durch ihren Laptop, aber Sie sind willkommen TV bei uns im Wohnzimmer zu sehen). Getränke und Snacks können zur Verfügung gestellt werden, in den Raum genommen werden, wie gewünscht. Wir bieten keine ein warmes Frühstück, aber Sie werden selbst zu helfen, Toast und Müsli und andere Mahlzeiten können bei Bedarf zur Verfügung gestellt werden können. Vegetarier und Veganer können bewirtet werden. Saubere und frische Handtücher und Bettwäsche werden zur Verfügung gestellt. Haustiere sind willkommen (innerhalb Grund!).
* Bitte beachten Sie: AirBnB unbedingt Sie am nächsten Ihren Suchkriterien die Eigenschaft nicht zeigen, so überprüfen Sie bitte, dass Broadclough Farm eigentlich ist, wo Sie vor der Buchung bleiben wollen * Broadclough Farm befindet sich im Herzen der East Lancashire Moors, am Rande des schönen Rossendale-Tal. Das Hotel liegt etwa eine Meile von Bacup richtig, ist Broadclough ein kleiner Weiler, dessen Name bedeutet wörtlich breites Tal; es hat das Gefühl in einem ländlichen Weiler, während nur wenige Gehminuten von den Annehmlichkeiten von Bacup zu sein. Englisch Heritage verkündet Bacup die am besten erhaltene Baumwollstadt in England zu sein. Es ist ein ruhiger und verschlafener Ort mit einer hohen Straße voller Geschäfte. Außerdem behält er viele der schrulligen Volksfeste (wie das Britannia Coconutters die Grenzen zu schlagen), die den meisten anderen Orten haben sich in den letzten 60 Jahren verloren. Für viele wird immer Bacup ein Ziel in seinem eigenen Recht. Die East Lancashire Railway ist eine Museumsbahn liegt etwa 5 Meilen entfernt in Rawtenstall. Die Eisenbahn ist ein großer Tag und sieht Dampfzüge und anderen Lokomotiven Passagiere Heywood in Greater Manchester nehmen (von wo aus man auf der Metrolink in Manchester Center leicht springen kann, wenn man wollte). Innerhalb weniger Minuten zu Fuß vom Haus entfernt, finden Sie einige Dark Age Erdarbeiten finden, genannt Broadclough Dykes. Die Deiche sind mit der Schlacht von Brannaburg verbunden sind, einer der wichtigsten Schlacht in der Geschichte der britischen Inseln. Der Kampf sah angelsächsische König Aethelstan, Enkel von Alfred dem Großen (der die englischen Königreiche regiert), eine Armee aus der walisischen besiegen, Schotten, Iren und Wikinger, im Anschluss an seine Annexion des Königreiches von Northumberland. Führende Aethelstan von den meisten angesehen werden, da der erste König von England. Rossendale hat das dichteste Netz von öffentlichen Wegerechte in Lancashire und Broadclough ist der perfekte Ort zur festgelegten Wandern. So können Sie über den Mooren weitläufig gehen und durch die Cloughs (Täler) nach Herzenslust, wenn das ist, was Sie Lust. Wir sind in einem aus dem Weg, wenn auch leicht zugänglich, die Lage; wenn Sie sich für irgendwo im Herzen einer Stadt, dann sind wir wahrscheinlich nicht der richtige Ort für Sie. Having said that, obwohl wir wieder auf den Mooren zu tun, wir sind nicht in einem völlig isolierten Ort. Egal, ob Sie für einen Sommerurlaub, Winterurlaub oder wollen einfach nur eine Nacht oder zwei weg suchen, hoffen wir, Sie bei uns im Broadclough Farm bleiben werde betrachten und genießen, was wir und die Gegend zu bieten hat.
The best Airbnb place ever - with the nicest people! :D I brought my son to experience the "British way of life" and the language, and this was just perfect! Rachel, Simon and Leon are so welcoming and they do everything to make your stay pleasant. We spent a lot of time with them during the week, and they took us in with complete naturalness. (PC trans.;) Back home I asked my son if he wanted going to England for a week to be an annual thing, and he answered "Sure, and then we have to go to Leon and his family again." He thinks they are the best too, - and he just loved watching TV (laughing) with Simon, spending time playing with Leon - and of course Rachel's delicious food!
Kari
2016-08-09T00:00:00Z
Rachel and Simon are a delightful young couple who were most welcoming and offered to share their evening meal on arrival. We would certainly stay again if in the area. Rosalind & Jeremy
Rosalind
2014-08-20T00:00:00Z
After having dramas with our GPS and not arriving until after 11pm we were so completely happy & blown away by our reception here. Nothing was a problem, we sat and chatted like old friends for 2 hours. The room was so comfortable and spotlessly clean. The next morning we had breakfast and chatted with Rachel again about the home & the area. We were sad we didn't drive back this way as we would have loved to stay again. This was our first AirBnB stay and it couldn't have been better. Thanks guys!
Micaela
2014-03-20T00:00:00Z
Rachel and Simon were unbelievably welcoming. We came to their house just looking for some relaxation and exploration of the countryside and they delivered both in spades. Rachel is so friendly and easy to talk to about anything, really, and Simon has so much to share about local and British history. Rachel's cooking was absolutely fantastic. She cooked delicious meals both nights of our stay and provided plenty for self-serve breakfast. Simon took us on a long walk with their gorgeous dog, Fern, and we actually did some legitimate exploring. He took us out onto some of the public footpaths around Bacup and we wandered down to a part of the river that he had never been to. We found ourselves walking among the ruins of an old dye works next to the river. They were really cool to check out, especially with Simon because he gets so into discovering new things. I highly recommend a stroll with him if you get the chance. In short, it exceeded our expectations by far. The bed was heavenly, as well, and the room was beautiful. I can not recommend this place enough if you find yourself in Bacup. It's actually worth a trip to the town just to visit this marvelous family. Should we find ourselves nearby again, we will definitely be returning.
Ryan and Liz
2014-07-20T00:00:00Z
Many thanks Rachel and Simon for a great stay. When i'm in the area I would definitely stay again, a great experience for a cheap price. Your home is beautiful and you were very hospitable and Leon was a delight.
David
2015-08-28T00:00:00Z
Fantastic host family. Felt like old friends within a couple of minutes. Very relaxed stay. Couldn't have wished for a better weekend away! Rachel and Dally were very friendly and informative about the local area. Their lovely little boy, Leon, was a delight. Big kiss for Leon from Max our dog who loved Leon.
Camilla
2014-06-30T00:00:00Z
Thank you for your kind hosting! All the spaces of your house is beautiful, clean and fragrant. I love your house and your families, Leon including small and big animals:) If I have an oppurtunity in England once more, I will take your house !! Thank you!!
Jong Eun
2014-12-16T00:00:00Z
Lovely farmhouse style room. Friendly hosts. Breakfast was 'do-it-yourself' toast and cereal. Great value.
John
2014-10-02T00:00:00Z
Huonetyyppi
Yksityinen huone
---
Majoituspaikan tyyppi
Talo
---
Majoittujien määrä
2
---
Makuuhuoneet
Bacup, Englanti, Britannia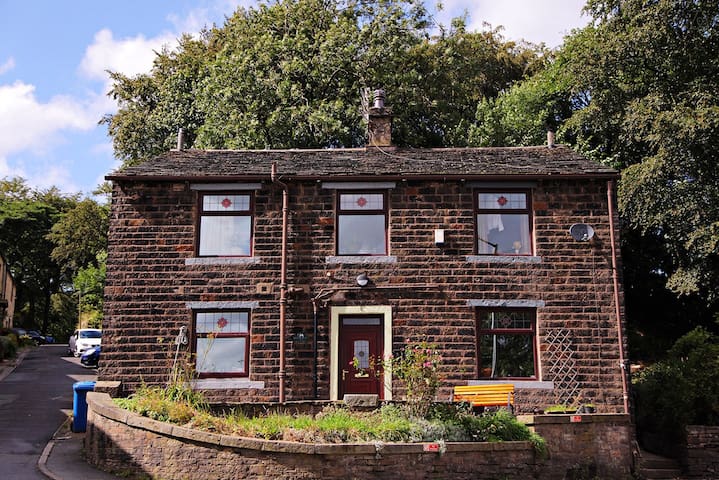 Huonetyyppi
Yksityinen huone
---
Majoituspaikan tyyppi
Talo
---
Majoittujien määrä
2
---
Makuuhuoneet
Bacup, Englanti, Britannia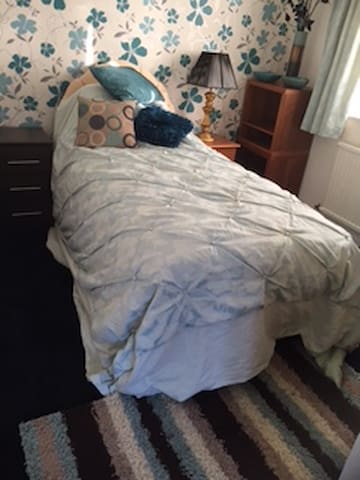 Au coeur de la vallée de Rossendale, 5,6 miles de Burnley. Le gîte dispose d'une cuisine équipée, salle de bains, séjour / salle à l'espace et un jardin privé à l'avant avec des sièges en plein air. Campfire, salle de jeux, WiFi et un parking gratuit.
Loved our stay here, very nice facilities and perfect for us. My only complaint is with the additional 'Service charge' that only appears on the payment page. Can't see any reason at all that this should not be included in the banner price as it is non negotiable and unavoidable. Listen Airbnb, why spoil a good idea by using hidden charge So? You are not Ryanair, yet!
Rob
2016-08-05T00:00:00Z
Villa was beautiful and modern and Rachel was extremely helpful. letting us use the washing machine over night so we could leave early the next day. their Internet was down which was annoying but out of their control. great location for us
Linda
2016-09-15T00:00:00Z
Had a lovely time at the cottage. Everything we needed & beautiful surroundings. Rachel & the other guys were really helpful & friendly. Will be coming back when I get the chance.
Nadine
2016-06-20T00:00:00Z
We had a very nice stay at the Rossendale Holiday Cottages. The cottage was clean and very modern . Rachel was absolutely super checking in if we needed anything and if everything was OK. Great little spot for a quiet get away.
Guviena
2016-03-12T00:00:00Z
Host was very prompt with the short notice booking and all instructions for use of cottage were great.
Nat
2016-04-26T00:00:00Z
A well appointed cottage in a nice rural location with village close by.
Hannah
2016-10-30T00:00:00Z
Lovely
Rachel
2016-11-13T00:00:00Z
Sweet house with plenty of space in a nice farm courtyard area. Very clean and well fitted out and served perfectly for our visit to family in nearby Burnley. Took three guests easily so very good value for money!
Fiona
2016-08-29T00:00:00Z
Huonetyyppi
Koko talo/asunto
---
Majoituspaikan tyyppi
Talo
---
Majoittujien määrä
4
---
Makuuhuoneet
Lancashire, Britannia
Britannia - Airbnb
:
Keskimäärin

4.92

tähteä yhteensä

5

122

vierasarvostelusta