Huonetyyppi
Koko talo/asunto
---
Majoituspaikan tyyppi
Talo
---
Majoittujien määrä
6
---
Makuuhuoneet
Grove Hill, Alabama, Yhdysvallat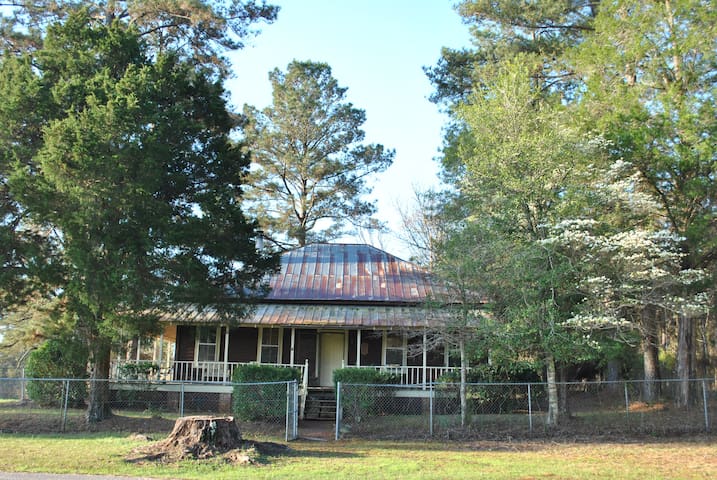 My 1896 circa house is a short walk to the MSU Riley Center, a fully-restored 1889 grand opera house that this season will host Wynton Marsalis, Vince Gill, Melissa Etheridge and others, and is close to restaurants, museums, historic churches and daily passenger trains running from New Orleans to Atlanta to New York. You'll love my place with its 13' ceilings, beveled glass, parkay floors, vintage mantels, and historic neighborhood easily accessible to Interstates 20 and 59.
It was a great place to stay. Lots of room and Jim was very nice. Would stay here again without even thinking about it.
JC
2016-10-23T00:00:00Z
I was able to meet up with Jim prior to arriving. He gave me a brief history of his family home, that added to the charm. We had a lovely stay and we would highly recommend it to others. The house has a lot of yesteryear character. We got to eat at the oldest restaurant in MS not far from the house. Jim recommended it and the food was amazing.
Jean
2016-10-05T00:00:00Z
The house is just what you would expect and has a old south charm. Unfortunately, Jim was not in town when I arrived but corresponded with him via phone and he could not have been nicer. Thanks Jim.
Matt
2017-03-31T00:00:00Z
Jim was waiting on us when we got there. He showed us the space and gave us some history on the house and the area. We really hit it off and spent sometime getting to know one another. This was my first airbnb experience and his first time hosting. The space was incredible and the home had so much history built in. It had a great porch with rocking chairs where me and the hubby spent time sipping coffee and spending some quality time together. I would definitely recommend Jim and his wonderful home to anyone who is in the Meridian, MS area.
Angela
2016-08-20T00:00:00Z
Jim was a gracious host! He was waiting for us when arrived and gave us a tour of his historic family home. The space was even better than we had hoped - very comfortable and spacious.
Sarah
2017-02-17T00:00:00Z
Jim was amazing and his home is beautiful. He met us upon check-in and showed us around his well preserved, historic home. Jim was so welcoming, friendly, and interesting we just sat and chatted with him for a while. Honestly, we could have chatted all night but we needed food. Jim suggested Weidmann's, a really great restaurant nearby (sit on the balcony in the balcony bar!) that has been there since 1870!, and it didn't disappoint. The room is pretty stunning and much bigger than the photos show. You basically have a whole, private wing of the house, including a bedroom, living room (with a daybed separate from the bedroom), private bathroom, and kitchenette. All to yourself! You are also provided with plenty of linens, and a Keurig. We really appreciated how charming and unique this home is. Happy travels!!
Jacob and Ricky
2017-02-25T00:00:00Z
A neat old house, with the kind of cool features you just don't see in modern homes or hotels. Jim's firsthand knowledge of the history of the house and the town was a great bonus for history buffs like my kids and me.
Scott
2017-04-08T00:00:00Z
Beautiful house and very hospitable host!
Karolyne
2016-10-02T00:00:00Z
Huonetyyppi
Yksityinen huone
---
Majoituspaikan tyyppi
Talo
---
Majoittujien määrä
3
---
Makuuhuoneet
Meridian, Mississippi, Yhdysvallat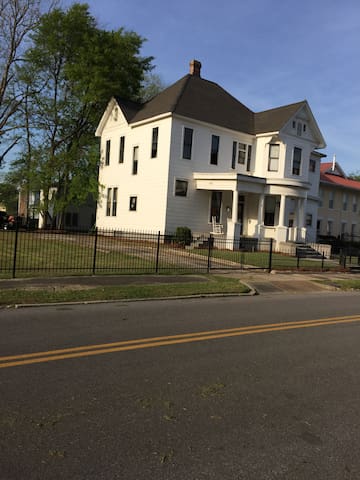 1

–

2

hakutuloksista

2 vuokrakohdetta
Anna päivämäärät nähdäksesi kokonaishinnoittelun. Lisämaksuja sovelletaan. Veroja saatetaan lisätä.