The mountain fills the view from the large window and the landscape shifts dramatically with the seasons. Renovated studio with double bed, bathroom and tiny kitchenette. Modern mountain style with quirky touches. Take a deep breath and relax..
We had a wonderful stay in this beautiful place. The apartment was exactly as described and in very neat condition. José the doorman is a very friendly guy, A+++!
Thomas
2016-07-24T00:00:00Z
Wunderbarer Ort, um sich selbst zu finden...
Brigitte
2016-08-22T00:00:00Z
The apartment was exactly as described, clean as a whistle and getting the keys and checking out was easy. We didn't meet Sarah but she was a friendly and responsive host.
Alex
2016-08-12T00:00:00Z
José, welcher vor Ort war, war äusserts hilfbereit und erkundigte sich regelmässig nach userem Befinden! Sehr sehr netter Kontakt. Die Valser Therme war dank eines abgestempelten Zettels günstiger, was wir sehr zu schätzen wussten, herzlichen Dank dafür.
Anna-Barbara
2017-01-02T00:00:00Z
Wenn man wegen der Therme Vals nach Vals fährt, wohnt man im Haus Zerfreila perfekt. Mit dem Vals-Bus gelangt man direkt zur Bergbahn, wo man Skis und Snowboards mieten kann. Die Pisten sind auch im Frühjahr gut präpariert. Wir haben es genossen und kommen gerne wieder in Sarahs Wohnung. If you drive to Vals because of the Therme Vals, the stay in the house Zerfreila is just perfect. The Vals bus takes you directly to the mountain railway, where you can rent skis and snowboards. The slopes are well prepared. We enjoyed it and would love to come back to Sarah's apartment.
Anna
2017-03-12T00:00:00Z
The location of the place is perfect. Sarah was very helpful to us, promptly responding to all our queries. Getting a discount for the Therme Vals was a cherry on top of our holiday. Will definitely recommend this place!
Song Jie
2017-02-06T00:00:00Z
That was the first time we traveled with airbnb and I'm glad that was in Sarah's place ! She helped us a lot about how it works so we can reserve her place easier. Once there she also helped us having discount for the thermes and told us what other things there is to do ! Her place is great, it's not that big but good enough if the only thing you need is just staring at the mountain from the balcony. Oh and it's soooo close to the thermes, you can almost go there already in bathing suit :D. Well, I'll recommend Sarah's place !
Juan
2015-12-15T00:00:00Z
Das Studio ist gemütlich eingerichtet und hat alles was man braucht. Auch wenn die Küchenzeile klein ist, haben wir jeden einzelnen Abend lecker gekocht, denn die Ausstattung ist sehr praktisch. In Wintertagen ist die Badewanne besonders wertvoll. Zudem konnten wir das WLAN der Therme gratis mitbenutzen. Sarah haben wir leider nicht persönlich getroffen, aber sie hat auf all unsere Fragen schnell, freundlich und sehr hilfbereit geantwortet. Vals ist ein sehr schönes Dorf geeingnet zum richtig Ausspannen. Wir empfehlen insbesondere die Wildtierbeobachtung organisiert von VisitVals. Hier könnt ihr gratis bei Zerfreila Wildtiere beobachten mit einem sehr charmanten und erfahrenen Wildtierkenner.
Regula
2016-01-05T00:00:00Z
Huonetyyppi
Koko talo/asunto
---
Majoituspaikan tyyppi
Huoneisto
---
Majoittujien määrä
2
---
Makuuhuoneet
Vals, Graubünden, Sveitsi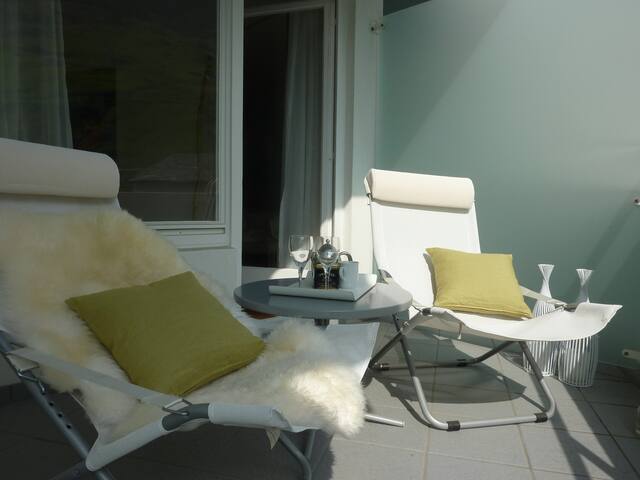 Apartment with mountain view next to the Hotel 7132 Welcome to the cosy village of Vals located in the heart of the swiss alps. Get a great start at the well equipped apartment and dive into the world of Zumthor's Therme and relax while listening to the sounds of the mountain village or get active and hike to the reservoir Zerfreila, skiing the Dachberg or biking next to the Rhine. Enjoy a familiar dinner in the apartment or take your sweetheart to the Restaurant Silver 7132 next door.
Living area about 20 square meters. Large balcony with deck chair. Kitchenette with oven, hotplates, refrigerator and coffee maker. Spacious seating area. Two separate folding beds, which can be used as seating during the day. Shower / WC. Hairdryer. Free Wi-Fi in the apartment. Radio. TV. Phone. Lift.
The Rock Spa can be reached within one minute walk. The village square is within a five minute walk.
Die Wohnung hat allen Erwartungen entsprochen, die ich von den Bildern haben konnte. Das Gebäude liegt sehr schön und ruhig mit schönem Ausblick. Es befindet sich ganz in der nähe vom Hotel und Thermes. Die Lage ist einfach perfekt. Bei der Ausstattung fehlt es an nichts, alles ist sehr sauber und (URL HIDDEN) ist wie ein Hotel. Lisa ist eine sehr gute Gastgeberin und die Kommunikation mit ihr war zu jedem Zeitpunkt problemlos, schnell und präzis. Ich werde dises adresse empfehlen. MERCI!
Yann
2016-01-02T00:00:00Z
Fantastic location, excellent value! Hadn't appreciated that the apartment was next door to Vals. Really superb apartment with stunning mountain view and all the essentials for a home away from home. We shall certainly be back again- Thanks Lisa!
Holly
2016-04-04T00:00:00Z
Die Unterkunft von Lisa ist genau wie beschrieben. Unkompliziert war die Kommunikation mit Lisa und auch checkin inkl Schlüsselübernahme und checkout ein Kinderspiel. Vielen herzlichen Dank Lisa, dass wir hier sein durften. Für ein Wochenende mit viel Therme ist die Wohnung ideal!
Valesca
2017-03-19T00:00:00Z
es hat alles tiptop geklappt. super zentrale lage und direkt neben der therme, ebenso mit einem schönen ausblick. kompakt, sauber und praktisch eingerichtetes appartement. vals ist eine reise wert. absolut störungsfreies, ruhiges tal. wir haben es sehr genossen und wollen wiedermal im valsertal ferien machen.
esther
2016-07-24T00:00:00Z
I absolutely loved this place. Lisa is very kind and wonderful to work with. Her place had everything I needed in a very cozy atmosphere. The 7132 Thermes were the best I have seen in the world. The village of Vals is rich with Swiss culture and character. And the mountains around Vals are beautiful. Just lovely. Thanks Lisa :)
Caitlin
2016-07-30T00:00:00Z
Huonetyyppi
Koko talo/asunto
---
Majoituspaikan tyyppi
Huoneisto
---
Majoittujien määrä
2
---
Makuuhuoneet
Vals, Graubünden, Sveitsi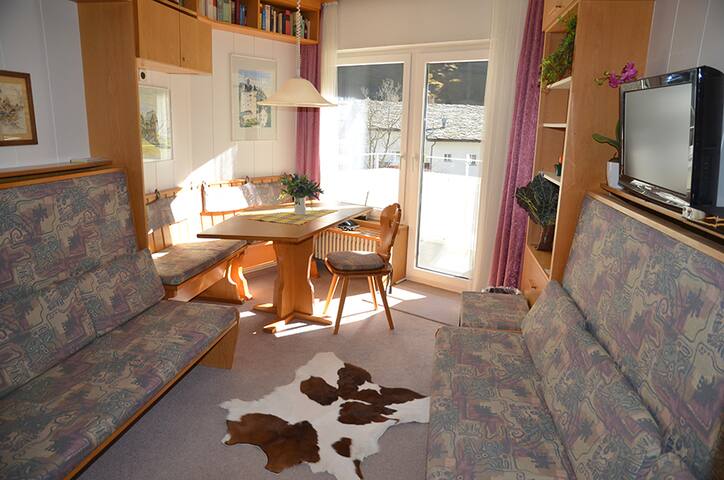 In der Nähe des Hauses befindet sich ein Spielplatz. Von Vals aus kann man viele Wanderungen machen. Vals verfügt über ein Skigebiet mit Skischule, Wanderbus, drei Mountainbike-Strecken, einen Klettergarten im Peiltal, eine Langlaufstrecke, Schlittel- und Winterwanderwege. Im Restaurant Zervreila können Trottinetts gemietet werden. Es gibt viele Freizeitangebote wie geführte Schneeschuh-Touren oder geführtes Wildtierbeobachten. Der Abfüllbetrieb der Valser Mineralquellen kann besichtigt werden.
Das stattliche Haus liegt im alten Dorfkern von Vals neben der Kirche, Einkaufsmöglichkeiten und die Post befinden sich in unmittelbarer Nähe. Das Wisshus ist über dreihundert Jahre (1625) alt und war einst für das Kloster Disentis eine Klosterdruckerei. Zu dem familienfreundlichen Haus gehört ein grosser Garten mit Gartencheminee, der mit Bäumen gesäumt ist. Die Wohnung wird von den unkomplizierten Vermietern ebenfalls als Ferienwohnung genutzt. Sie ist vollständig möbliert, ist hell und zeichnet sich durch ein warmes Ambiente aus.
Die Ferienwohnung liegt optimal im Dorfkern, von hier aus geht es fußläufig zur Therme, zur Gondelbahn und zum Supermarkt und der Sennerei. Die Möblierung ist funktional und gemütlich, die Küchenausstattung mehr als ausreichend, sogar Fondue, Bräter und Küchenmaschine zum Kuchenbacken sind dabei. Ein großer, alter mit Holz zu beheizender Ofen im Wohnzimmer sorgte am Abend für wohltuende Wärme und uriges Ambiente. Die Gegend eignet sich optimal um einen Urlaub mit der Familie zu verbringen. Über Weihnachten bis Neujahr hatte das Dorf tolle Freizeitangebote, wie Ponyreiten, Führungen durchs Dorf, Ziegenmelken u.ä. Die Berge und die Natur in Vals sind natürlich der Wahnsinn- wir sind verliebt in diesen ursprünglichen, zauberhaften Ort. Die Nachbarn und Leute aus dem Dorf sind zugewandt und freundlich. Note 1 für diese Unterkunft und diesen Urlaubsort.
Nikolaus
2017-01-03T00:00:00Z
Sehr schön und ruhig. Sehr empfehlenswert!
Beat
2017-02-18T00:00:00Z
Huonetyyppi
Koko talo/asunto
---
Majoituspaikan tyyppi
Huoneisto
---
Majoittujien määrä
4
---
Makuuhuoneet
Vals, Graubünden, Sveitsi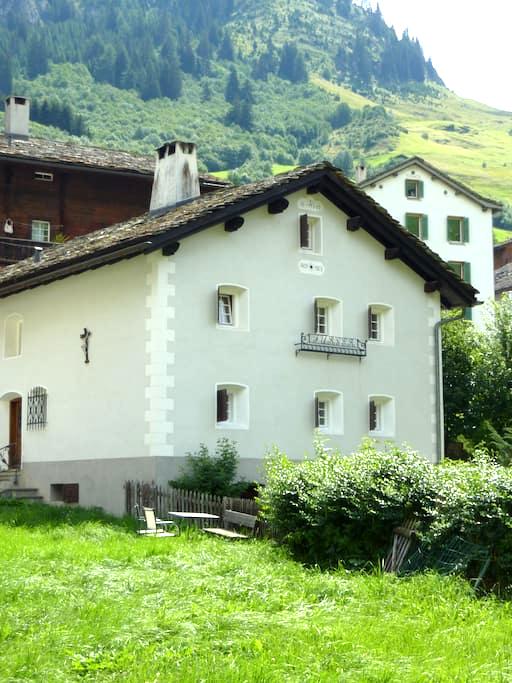 The Vierzimmerwohung in the heart of Vals is located on the 2nd floor of the over hundred-house "in the Gassa". The completely renovated in 2009 Apartment This big charm and the combination of antique furniture and modern elements.
particularities - Quiet location - Sunny, view of the mountains - Non smoking apartment infrastructure - 4-Zimmerwohung with five beds - 2 bathrooms, one with shower, one with bath - Balcony / Terrace - Linen supplied - Kitchen linens - Dishwasher - Cable satellite TV Radio - Washer / dryer - Internet / ADSL connection
The apartment is located in a renovated historic house of the old village of Vals, in the house "In the Gassa". The apartment is slightly elevated, overlooking Vals.
Grossartige Wohnung im Herzen vom spannenden Bündner Bergdorf Vals! Gross, lichtdurchflutet, gemütlich- perfekt. Schöner Mix von IKEA-Möbeln, Design und Vintage. Sehr gute, hochwertige Ausstattung- angefangen bei flauschigen Handtüchern über scharfe Messer (!) bis hin zur 'Nespresso'-Kapsel-Kaffeemaschine. Sehr sauber, sehr gute Betreuung. Wir haben uns rundum wohl gefühlt. Vielen Dank!
Thomas
2016-06-11T00:00:00Z
Beautiful apartment in peaceful location. Had everything needed for the perfect stay. Very clean and tidy with great kitchen and bathrooms. Only a few minutes walk from where the bus drops you off at the Vals post stop.
Marc
2016-07-24T00:00:00Z
What a wonderful place !!!! In the middle of the village, close to shops and easy acces (once you found the road ;-) ) The host was very friendly and helpfull. The place is spacious, clean and very comfortable. We stayed here 3 nights with our 2 children, they also felt at home here. My family and I would really recommend this appartment.
Lut
2016-08-07T00:00:00Z
Huonetyyppi
Koko talo/asunto
---
Majoituspaikan tyyppi
Huoneisto
---
Majoittujien määrä
5
---
Makuuhuoneet
Vals, Graubünden, Sveitsi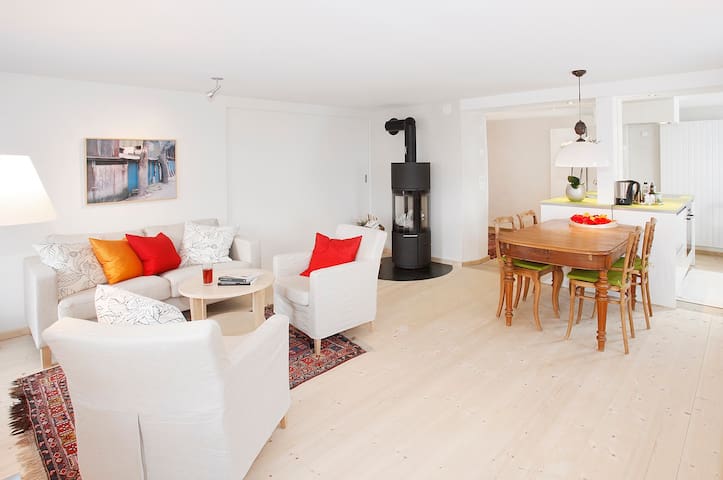 Modern furnished rooftop apartment with large living room with double bed. Complementary domestic small room with 2 beds. Balcony. Parking spot. Living area approx 47m2. Pets allowed. Tourist Tax not included: CHF 3:40 per person elder than 12 years and night! Please pay directly in Vals in the Tourist Office Visit Vals!
Casa comoda y acogedora. 2da planta, apartamento, con todo lo necesario para cocinar y descansar. Magnifico lugar, Vals.
Daniel
2016-08-21T00:00:00Z
Appartement fidèle au descriptif et confortable. Situé au centre du village de Vals, proche des commerces, de l'office du tourisme et des thermes. Accès aux thermes à prix réduit si vous logez sur la commune de Vals. A recommander!
camille
2016-08-08T00:00:00Z
Wir haben die 5 Tage in Vals und in Adrians Wohnung sehr genossen. Wie versprochen, war die Skibus-Haltestelle gleich neben dem Haus und auch sonst war alles so, wie es beschrieben war. Die Küche ist gut eingerichtet, die Wohnung sehr gemütlich. Alles war sehr sauber, die Betten waren bezogen und die Bad- und Geschirrtücher lagen bereit, wie auch der WLAN-Code. Auf alle meine Anfragen hat Adrian schnell, freundlich und kompetent reagiert. Wir haben uns alle sehr wohl gefühlt.
Charley
2016-01-26T00:00:00Z
L'appartement est moderne, spacieux, bien situé dans le village, facilement accessible en transport publics. La communication a été très facile. Nous le recommandons pour un séjour dans le magnifique village de Vals!
Manon
2016-10-23T00:00:00Z
Everything was very accurate as described and depicted - the apartment is on the top floor of a very quiet, safe building and we felt very warm and cozy there. Access was easy as was parking (right outside the building, and free) - we had a restful and enjoyable stay! We even cooked dinner in one night - plenty of pots and pans for making a meal. I would recommend staying here.
Gabriela
2016-10-13T00:00:00Z
Tolle Wohnung, super Aussicht und top eingerichtet, und auch die Kommunikation mit Adrian war sehr unkompliziert - sogar noch mit Wandertips! Kommen gerne wieder!
Valentin
2015-08-30T00:00:00Z
Tolle Unterkunft!!! Adrians Wohnung ist top ausgestattet, alles war sehr sauber und wir haben uns rundum wohl gefühlt! Wir kommen gerne wieder.
Amelie
2015-09-21T00:00:00Z
Very nice, well equipped and cosy apartment. It was a pleasure organising the stay with Adrian who was very communicative and quick to reply.
Daniel
2015-12-06T00:00:00Z
Huonetyyppi
Koko talo/asunto
---
Majoituspaikan tyyppi
Huoneisto
---
Majoittujien määrä
4
---
Makuuhuoneet
Vals, Graubünden, Sveitsi
The apartment use I and my family also himself. One exit leads directly into the garden which is fenced. In an overnight stay you can take advantage of a guest card, with which they receive reduced admission for the spa. (Adults CHF 42.00) The apartment is centrally located. The house was built by my grandfather to 1932nd
D) he house was built by my grandfather to 1932nd The apartment is located on the 1st floor and has 3.5 rooms. One exit leads directly into the garden, which can also be used by other tenants. Parking is available in front of the house. The bus stop is in front of the neighboring house. To gondola you will need about 15 minutes The apartment has a double bedroom, a four-bedroom whom 1 bunk bed, a living room, a large bathroom and a large kitchen. SAT-TV / radio / CD player / docking station for iPhone / Internet. The kitchen and bedding available. Pets are allowed only on request. This is a Non smoking apartment. The living area is approximately 92m2. The towels must be brought. In the laundry room you can use a washing machine which is used only by this flat benefit. The apartment is centrally located. You can reach Vals by car or train to Ilanz then with the postal bus to Vals Station Post.
Wir verbrachten zu sechst ein sehr schönes Wochenende. Die Wohnung hatte ausreichend Platz und hat allen super gefallen.
Manuela
2016-11-07T00:00:00Z
War ein schöner Aufenthalt bei Verena. War unkompliziert und gab auf Fragen auch schnell Antwort (auch spät am Abend noch) War sehr zentral gelegen, geräumig und sauber.
Eduard
2016-12-04T00:00:00Z
Verena was there to welcome us, show us around the apartment, and give us some advice on local restaurants and hikes. She also helped us get a reduction at the Therme Vals and made us feel really welcome. The apartment is well-equipped and cozy, lots of space for our group of 5 people. We had a great stay!
Mike
2016-11-13T00:00:00Z
Huonetyyppi
Koko talo/asunto
---
Majoituspaikan tyyppi
Huoneisto
---
Majoittujien määrä
6
---
Makuuhuoneet
Vals, Graubünden, Sveitsi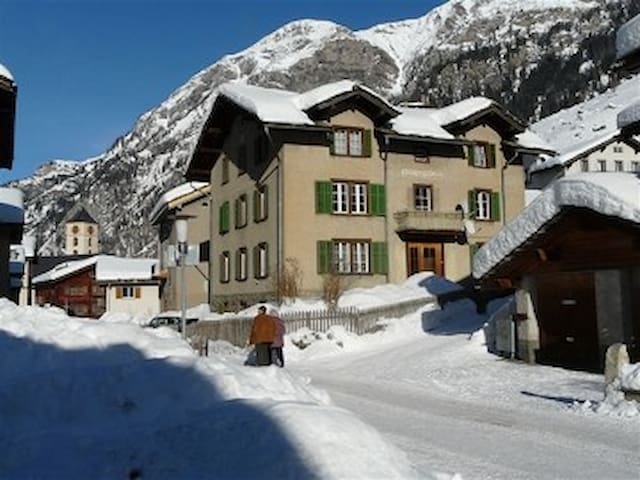 This flat is completely renovated, part of the Vals Therma complex, stunning view all year round from the 8th floor! Discover Vals from this lovely flat, enjoy the world renowed Vals Therma, Ski, Hikes, Swiss country side and so much more!
Awesome hosts! The flat was immaculate and Mo was there to give us the keys right on time, much appreciated after a long trip from California. Vals is heavenly! Definitely coming back in the Summer, and most definitely staying at the same flat for the views from the balcony are quite addictive :) Thanks Mo and Angelika for so much comfort and hospitality!
Ana
2015-12-27T00:00:00Z
Mo and Angelika went out of their way to make our stay at their quiet flat as comfortable and easy as possible. Our intention was to enjoy a quiet weekend in the beautiful valley where Vals and Leis reside, visiting the Peter Zumthor designed Therme Baths in Vals and houses in Leis and enjoying the winter hikes. The location for this was perfect, as the flat is right across from the Therme (a one minute walk or less) and from public transportation which will take you to the Gondola in town to connect to hikes, skiing, snowshoeing, etc. Besides the great location, the flat was beautiful and simple, understated with white painted natural wooden floors. A quiet and comfortable space for two, with a kitchen enough to make any meal and a view to enjoy. We will visit again, and I recommend the apartment to all!
Carly
2016-03-08T00:00:00Z
Great flat for a couple, quiet and very relaxing, the view from the room and the balcony is fantastic and the location of the flat is also great for access to the thermal spa, the heart of the village and the Bergbahn. Angelika welcomed us and was very friendly and helpful with any information we needed to enjoy our stay. We would definitely stay there again on our next trip to Vals.
Corinne
2016-02-21T00:00:00Z
Huonetyyppi
Koko talo/asunto
---
Majoituspaikan tyyppi
Huoneisto
---
Majoittujien määrä
2
---
Makuuhuoneet
Vals, Graubünden, Sveitsi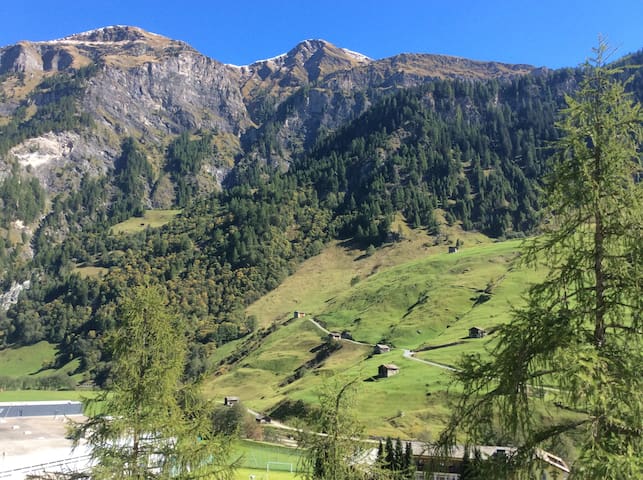 Bright 2 room apartment (living-bed-room and another bedroom with bunk beds), separate kitchen and bathroom with shower and toilet. Southwest balcony Markise.5 min to the spa. Bus stop of the ski bus stop and Postbus- in Winvor front of the house.
The apartment is 5 minutes walk to the spa. It is located on the first floor and has a balcony with mountain views.
In the vicinity there is a spa hotel and the famous spas of Vals.
Huonetyyppi
Koko talo/asunto
---
Majoituspaikan tyyppi
Huoneisto
---
Majoittujien määrä
4
---
Makuuhuoneet
Vals, Graubünden, Sveitsi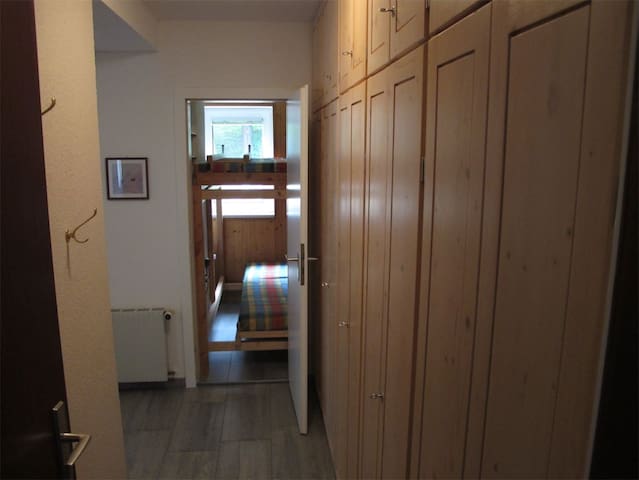 Small larch-panelled Bijou located on the outskirts of Trin. This special studio includes a sleeping loft with two 140 cm beds, bathroom, fully equipped kitchen and a fireplace, and is purposely devoid of WiFi and TV.
Wünschen sie sich Ferien in aller Ruhe und mit unvergesslicher Aussicht? Mit grosszügigen Garten am Rande eines Weltnaturerbes (Vorderrheinschlucht)? Kleines Lärchen-Bijou am Dorfrand von Trin (15 min nach Chur, 7 min nach Flims, 10 min nach Laax). Spezielles Studio mit Schlafnest, Bad und voll ausgerüsteter Küche & Cheminee, ganz bewusst ohne WiFi und Fernseher. Die Wohnung hat 2 Betten (2 mal 140 cm breit), also wäre eine Belegung von 2-4 Personen möglich (max. 2 Erwachsenen, 2 Kinder). Trittsicherheit muss vorhanden sein, da Treppe und Leiteraufstieg vonnöten ist.
Trin is a lovely little place, and close to both Flims and Chur. From here you can go hiking, biking, skiing or just enjoy nature.
Wir verbrachten wunderbar gemütliche Tage in dem kleinen Bijou. Die Lage und Aussicht ist einfach traumhaft. Also ideal, die es gerne romantisch haben. Eine wirklich schöne und liebevoll bis ins Detail gestaltete Wohnung. Die Kommunikation mit Agnes war sowohl im Vorfeld als auch im Nachhinein ganz einfach und gut organisiert. Als wir ankamen hat Sie und Ihr Mann uns sehr nett empfangen und einige wichtige Dinge erklärt. Wir hatten eine wunderbare Zeit und würden definitiv wieder hier buchen, sollten wir nochmal nach Trin kommen!
Gregor
2017-01-05T00:00:00Z
Super tolle Erfahrung! Das kleine Bijou war in Wirklichkeit noch viel charmanter als auf den Fotos. Agnes und ihr Mann Ernesto waren überaus freundlich und sehr sympathisch. Wir können diese Location wirklich nur wärmstens weiterempfehlen!
Sergio
2016-12-23T00:00:00Z
Die Vermieterfamilie war sehr sympathisch und unkompliziert. Alles funktionierte perfekt.
brita
2016-09-30T00:00:00Z
Wir haben uns eine Auszeit gewünscht und wir haben eine Auszeit bekommen. Die Wohnung ist wunderwunderschön gestaltet und eingerichtet und wir haben uns fast zu wohl gefühlt, um überhaupt rausgehen zu wollen. Vielen Dank der lieben Familie, die uns sehr herzlich willkommen geheissen hat.
Karim-Alexandre
2016-11-13T00:00:00Z
We had an absolutely lovely stay with Agnes, Ernesto & their daughters. Agnes and her family are charming, welcoming and super responsive. The flat was built by Ernesto and is decorated in a very traditional Swiss manner. The village is really quiet, with only the tinkle of cow bells and the baa'ing of sheep to be heard at many times. The view is truly stunning, made even more so by the fact that virtually no one else is around. Their property is charming, and the apartment has so many small touches that we loved like the cozy eating area, the gorgeous hand-made shelving, sleek bathroom, the bottle of prosecco chilled in the fridge(!), and the ingenious entrance. This spot is tucked away, but if you are looking for peace and quiet, quintessential Switzerland, or a great jumping off spot for outdoor sports, you will find Agnes, her family, and her flat to be a perfect fit. Thank you again, Agnes!
Liz
2016-05-31T00:00:00Z
Splendid!! We were looking for a cozy mountain hideaway and this was a direct hit. Easily reached by bus from Chur yet still secluded on the cliffside ledge of town. Wonderful hiking in the area, close to a train through the Rhine gorge, great seat for reading by the big window, great kitchen to cook in, wonderful views. Agnes and Ernesto were attentive and helpful. They have created a little home that is modern and intelligent but still warm. Bravo!
Jason
2017-01-30T00:00:00Z
Die Unterkunft ist, toll und mit Liebe hergerichtet. Der Ausblick im Garten ist ein Traum, Agnes ist sehr Gastfreundlich, man fühlt sich sofort sehr wohl an diesem Ort!
Stefani
2016-12-26T00:00:00Z
Von der Ankunft bis zur Abreise alles perfekt. Mein Freund und ich haben es sehr genossen. Sehr liebevoll und schön eingerichtet bis ins kleinste Detail. See you soon lovely Bijou!
Janine
2016-11-30T00:00:00Z
Huonetyyppi
Koko talo/asunto
---
Majoituspaikan tyyppi
Huoneisto
---
Majoittujien määrä
3
---
Makuuhuoneet
Trin, Graubünden, Sveitsi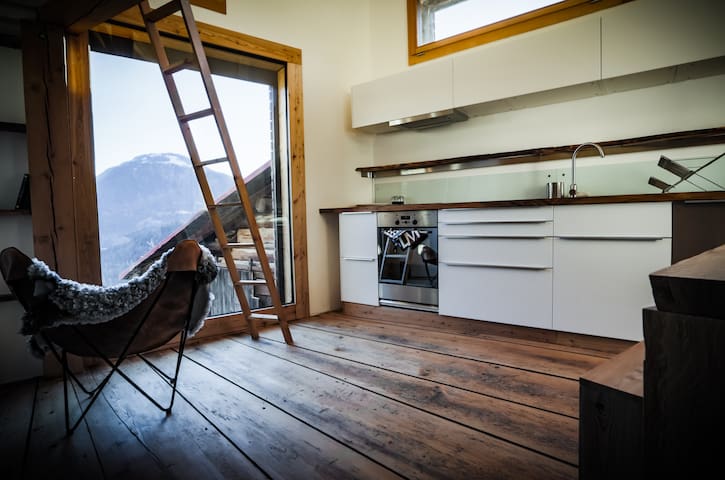 Die elegant und stilvoll eingerichtete Wohnung liegt ideal für erholsame Ferien oder Entspannung nach der Arbeit. Geniessen Sie die nahe Umgebung zum Skifahren (Weisse Arena Laax Flims), zum Joggen, Biken, Wandern oder zum Schwimmen (im Crestasee).
Die 3 1/2 Zimmer Wohnung verfügt über einen Parkplatz in der Tiefgarage, einen Skikeller, eine grosszügige Waschküche und einen sonnigen Terrassenplatz. Der Wohn-/Essbereich, sowie die offene, vollausgestattete Küche sind hell und modern eingerichtet. Zu den 2 Schlafzimmern kommen 2 Nasszonen (Bad/WC und Dusche/WC). Bad/WC-Einrichtungen, Böden, Mobel sowie die el. Geräte (inkl. 55" TV) sind hochwertig und entsprechen dem neusten Standart.
Sehr schöne Wohnung an ruhiger Lage einfach toll
Thomas
2017-02-12T00:00:00Z
Tolles, stylisches und grosses Appartment unweit von Flims. Schöner kann es kaum sein!
Thomas
2017-03-03T00:00:00Z
This was our first experience using airbnb. We had a lovely time staying at Claudia's place. As Claudia was away on a trip during our stay, we were well looked after by her neighbor instead. Claudia was always very quick in replying to all questions. Very flexible and friendly, service minded approach. The apartment was modern, very clean, very well equipped. In a quite location, but very close to the slopes at Flims-Laax ski area. Especially convenient with parking garage and ski-storage close by if you come with own car. All in all we had a great experience and would recommend Claudia as a host.
Bo
2017-02-22T00:00:00Z
Die Wohnung war megaschön, ganz sauber und modern. Trin Mulin ist ein ruhige Ort. Wir haben in der nähe eine Grillplatz gefunden. Alles war tiptop!!!
Ildi
2016-07-04T00:00:00Z
Huonetyyppi
Koko talo/asunto
---
Majoituspaikan tyyppi
Huoneisto
---
Majoittujien määrä
4
---
Makuuhuoneet
Trin, Graubünden, Sveitsi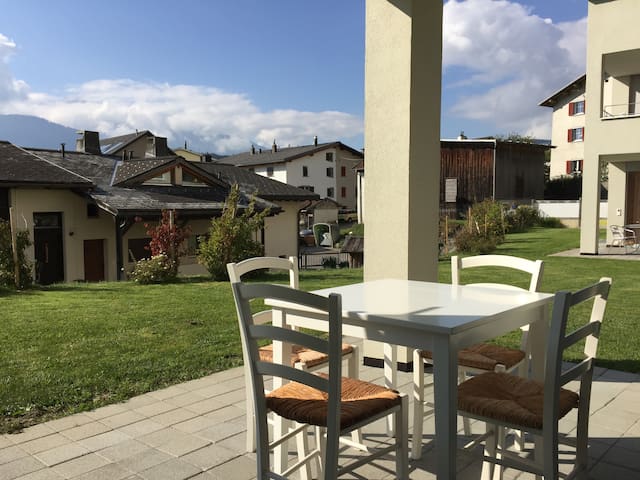 The flats are completely renovated and connect by a shared door! On the Vals Therma complex, stunning view all year round from the 8th floor! Discover Vals from this lovely flat, enjoy the world renowed Vals Therma, Ski, Hikes, Swiss country side!
Huonetyyppi
Koko talo/asunto
---
Majoituspaikan tyyppi
Huoneisto
---
Majoittujien määrä
6
---
Makuuhuoneet
Vals, Graubünden, Sveitsi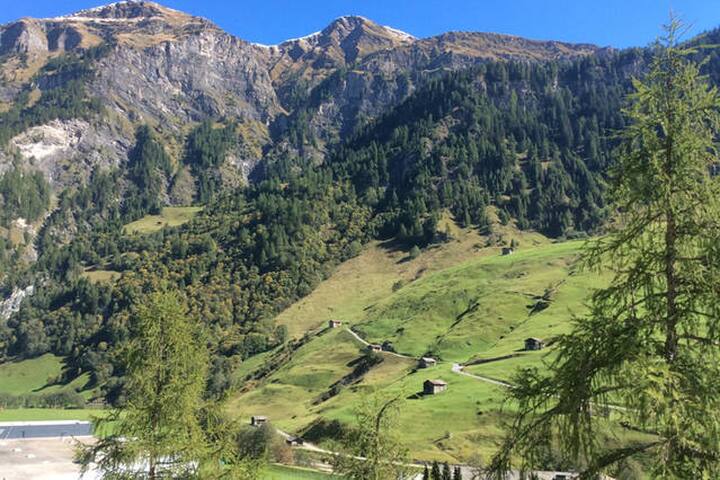 Hineinkommen und Wohlfühlen. Unsere sonnige 4.5 Zimmerwohnung mit 2 Balkonen und einer Dachterrasse wurde in den letzten Jahren liebevoll renoviert. Der Mix aus antiker und moderner Einrichtung sorgt umgehend für eine gemütliche Bergatmosphäre.
Die Wohnung verfügt über 3 Schlafzimmer, 2 Badezimmer, 2 Balkone und eine Dachterrasse. In den letzten Jahren wurde sie renoviert und neu eingerichtet. Charme bekommt die Wohnung durch den Mix aus antiker und moderner Inneneinrichtung, dekoriert mit Details aus vergangenen Tagen. Highlight ist das grosse Panoramafenster im Wohnzimmer, durch das man freien Blick auf den Rheinwald und die Signinagruppe hat. Der nach Süden ausgerichtete Balkon lädt schon im Frühjahr zum frühstücken im Freien ein.
Die Wohnung liegt in Trin Dorf, circa 900m über dem Meer. Der Durchgangsverkehr in die Surselva läuft seit 1994 durch den Tunnel unter dem Ort. Seitdem ist es sehr ruhig geworden. Trotz der unmittelbaren Nähe zur Tourismusdestination Flims Laax Falera ist Trin ein Bündner Bergdorf mit eigenem Charakter geblieben. Vom Trubel der Hochsaison in Flims Laax bekommt man hier relativ wenig mit. Der Grossteil der Trinser Bevölkerung lebt ganzjährig im Ort. In unmittelbarer Umgebung liegt der Caumase. Mit dem Volg gibt es einen kleinen Supermarkt. In der Casa Alva (15 Gault Millau Punkte) lässt es sich ausgezeichnet essen.
We had a great holiday in Trin. The apartment was just perfect for us. Stunning view. Very well organized. Felt very welcomed. We would love to go back!
Hilde
2015-02-22T00:00:00Z
Wir haben zu fünft in der Wohnung in Trin eine Woche Skiferien verbracht. Wir waren begeistert! Die Wohnung ist sehr geschmack- und liebevoll eingerichtet, es fehlt an nichts, wir haben uns sofort sehr wohl gefühlt. Die Küche ist perfekt ausgestattet. Die Betten sind sehr bequem und alles war tip top vorbereitet. Die Hauswartin Claudia ist sehr sympathisch und immer da, wenn was gebraucht wird. Wir sind jeweils mit dem Auto nach Films zur Talstation gefahren, was ca 10 Minuten dauert. Eingekauft haben wir auch in Films. Zudem hat uns das Skigebiet Films/Laax durchaus überzeugt. Die Wohnung entspricht den Fotos und ist sehr zu empfehlen. Wir kommen gerne wieder!
Natalia
2016-02-20T00:00:00Z
Eine grosszügige, sehr stil- und liebevoll eingerichtete Wohnung mit allem was es braucht um sich puddelwohl zu fühlen! Und die Panoramasicht ist echt atemberaubend. Wer gerne kocht wird sich in der Küche sehr wohlfühlen - sie ist mit allem drum und dran ausgestattet. Wohin das Auge auch blickt schöne Materialien, faszinierende Fundstücke oder Antiquitäten und alles mit einem Schuss Modernität. Vielen herzlichen Dank den tollen Gastgebern und auch Claudia - wir haben uns bei Euch sehr, sehr wohlgefühlt!
Anuschka
2016-02-28T00:00:00Z
We loved our stay at Lucas' place in Trin. The apartment is very cozy and tastefully decorated. The place is convenient, spacious and very well equipped. We enjoyed the ski resort of Laax every day and the surrounding mountains for walks.
Isabel
2015-01-04T00:00:00Z
Wir waren mit der Familie eine Woche in der Wohnung von Lucas Weber und waren sehr positiv überrascht. Tolle Aussicht und die Wohnung entsprach genau dem was in der Anzeige zu lesen war. Wir würden diese Wohnung gleich nochmals mieten.
Roman
2015-02-15T00:00:00Z
Huonetyyppi
Koko talo/asunto
---
Majoituspaikan tyyppi
Huoneisto
---
Majoittujien määrä
6
---
Makuuhuoneet
Trin, Grisons, Sveitsi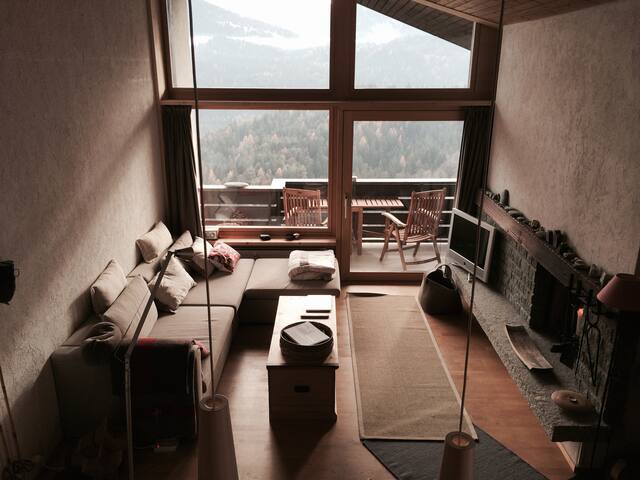 Meine Unterkunft ist in der Nähe: Skigebiet Flims/Laax, Langlauf Trin-Mulin, Wanderregion Surselva (u.a. Caumasee, Crestasee), Öffentlicher Verkehr (Postauto), Einkaufsladen (VOLG). Du wirst meine Unterkunft lieben wegen: Moderne, gemütliche und ruhige 2-Zimmerwohnung mit schönem Bergpanorama. Meine Unterkunft ist gut für: Einzelpersonen oder Paare.
Wir waren für ein kurzes Skiwochenende in der Wohnung und ich kann sie nur weiterempfehlen. Zügige Bestätigung, herzlicher Empfang, schöne Wohnung und eine tolle und ruhige Lage. Trotzdem ist man schnell am Skigebiet. Besonders empfehlen kann ich den Tag auf der Terrasse bei den letzten Sonnenstrahlen ausklingen zu lassen.
Heiko
2017-02-26T00:00:00Z
Huonetyyppi
Koko talo/asunto
---
Majoituspaikan tyyppi
Huoneisto
---
Majoittujien määrä
2
---
Makuuhuoneet
Trin, Graubünden, Sveitsi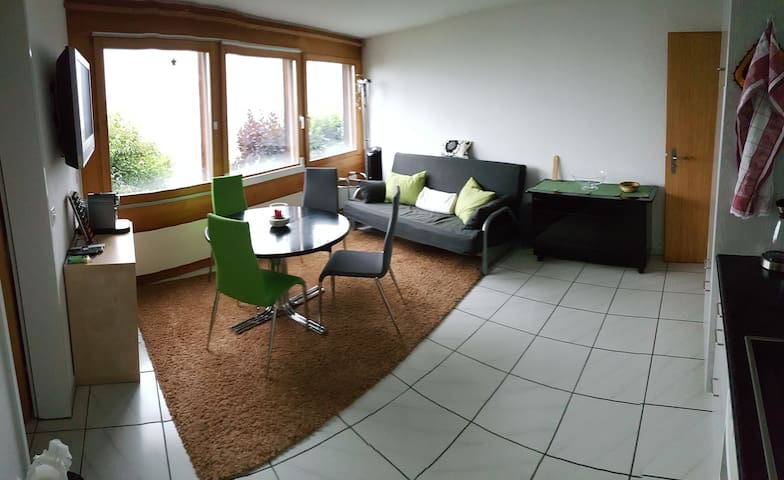 Du suchst... den 180°Panoramablick auf eine spektakulärer Bergkulisse... zahlreiche Sportangebote im Winter, wie auch im Sommer vor der Haustüre. Tagsüber lebhafte Ferienregion Flims/Laax und Nachts erholsame Ruhe... den alpinen Klettersteig oder frischen Bergsee, oder spektakuläre Schlucht ...dann bist Du hier genau richtig! StayBasicAlps !
2013 wurde der ehemalige Werkraum der nahegelegenen Dorfschule in eine Wohnung umgewandelt, indem dem alten Gebäude ein verglaster Anbau hinzugefügt wurde, der einen freien Blick auf die Bergwelt ermöglicht. Das Zusammenspiel aus historischen Holzbalken, roher Betondecke und teils freigelegtem Mauerwerk schafft eine zeitgemäße Atmosphäre, die ganz im Gegensatz zu den regionalen Ferienwohnungen der 70er Jahre steht.
Huonetyyppi
Koko talo/asunto
---
Majoituspaikan tyyppi
Huoneisto
---
Majoittujien määrä
4
---
Makuuhuoneet
Trin, Graubünden, Sveitsi
Einfach und gemütlich.
Mutten the Valserdorf in the canton of Graubünden. The slightly different kind of holiday: Just relax, relax, escape the stress. A hiking tour on a Muttnerhorn, the Grisons passes climb bath in Alvaschein, a bike tour from Thusis to Mutten, the bike or ride in the nearby South Tyrol and Ticino. For Spatziergänger: Which is near Viamala.- and the Rofflaschlucht.Die Lenzerheide with the beautiful heidsee Lake and in an hour's car already in the Ticino. In the winter, rapid toboggan rides, snowshoeing, skiing are possible on the own local mountain in Obermutten, Heinzenberg or in Lenzerheide. Alpine hikes in the summer and catch a glimpse of the marmots (in the wild) or deer say... good nightMutten is just beautiful and a travel value. Obermutten a guest house can be found. Shopping has it Thusis (20 min ) drive. In Mutten you can buy at the farmers eggs, cheese and sausages etc.. A shop is not here. In Rest.Muttnerstübli can dine by appointment. It has a bus which sails only every 3 hours. Our cozy apartment has been furnished with great care , it is out in the mountains , with the farmers , we simply mean herrlich.Sie is old, and some furniture in it , mixed with modern stuff. You can cook for yourself and simply " home " feel that is very comfortable. Weekly fee applies ( not per person / night) for the apartment, no matter how many people , but without Frühstück.Inkl. Taxes ! We look forward to welcoming our guests and wish you a warm welcome.
Mutten liegt auf 1400m und die Nachbarn ist die Natur und die Stille, die wunderbare Aussicht.
Our stay in Mutten was quite pleasant, and the cabin comfortable and cozy. Doris and Heinz made us (and our dog) feel very welcome. They even provided us with bread, cheese, and sausage.
Jeffrey
2014-11-11T00:00:00Z
Die Aussicht war einzigartig. Ich kann sagen, es war Perfekt. Fühlten uns sehr wohl.
Sabrina
2017-01-01T00:00:00Z
We were 7 friends and we have reached the hut on a friday evening. Doris had already told me that I should have asked the potato driver to bring us to the stübli restaurant so everything worked out fine. Heinz then showed us the flat and on each pillow we found a morenkopf for everyone which I found super cute and a huge home made Zopf for our breakfast.
Carmen
2016-02-08T00:00:00Z
Doris and Heinz have created a wonderful little retreat, which is cozy, cute and evidently had a lot of love invested in it. What you see in the pictures is exactly what you get. Our hosts were so thoughtful as to have turned on the heating and provided extra heaters in case the wood burner was not enough - it was perfect. We cooked our own little dinner in the kitchen which had everything we needed (except for a wine opener :) but their restaurant is also available for a meal if you prefer. It was a little tricky to find the exact house, but if you get lost then go to the little restaurant as this is where we found Heinz. Very welcoming and although we speak English and a little Italian, there were really no language difficulties as Heinz speaks Swiss-German (and maybe German, I'm not sure because I don't!), French and some Italian. The only thing I would say is just to know that you need to go outside for the shower (not the toilet - that's inside :) but this was quite refreshing in the middle of winter with the snow!!! We would definitely stay again. Thanks Doris and Heinz!
Rebecca
2014-01-20T00:00:00Z
Doris is one of the greatest host I've even met. She is helpful and kind and her apartment in Mutten is simply what you need to get away from the city chaos! Mutten is really a small village but it will be great for people who want to enjoy the nature and to hike around! thanks a lot and we'll see you very soon!! Laura
Laura
2014-06-09T00:00:00Z
Gemütliche Ferienwohnung mit herrlichem Blick ins Tal und unbeschreiblicher Ruhe. Wir haben unseren Aufenthalt sehr genossen.
Martin
2014-08-11T00:00:00Z
Es war wunderbar bei den beiden in Muten. Für uns drei Jungs aus der Stadt genau der richtige Ort für ein paar freie Tage. Ein herrlich urtümliches Quartier, liebevoll eingerichtet mit einem wunderbaren Ausblick auf die Berge. Kulinarisch ebenfalls eine Besonderheit (Home Made Bread, etc.). Meine uneingeschränkte Empfehlung für jeden der Natur, Ruhe und Gemütlichkeit sucht!
Dirk
2016-02-17T00:00:00Z
Eine sehr herzlich eingerichtete Unterkunft. Es war alles sauber und sogar der Ofen wurde für mich eingeheizt. Das Frühstück mit dem selbergemachten Zopf, dem Bergkäse und Fleisch war grossartig. Ich war ein stiller, zurückgezogener Gast und konnte die Ruhe vollkommen geniessen. Wer zurück zur Natur will, ist bei Doris und Heinz genau am richtigen Ort. Lieben Dank für die Gastfreundschaft.
Melanie
2015-08-24T00:00:00Z
Huonetyyppi
Koko talo/asunto
---
Majoituspaikan tyyppi
Huoneisto
---
Majoittujien määrä
8
---
Makuuhuoneet
Mutten, Grisons, Sveitsi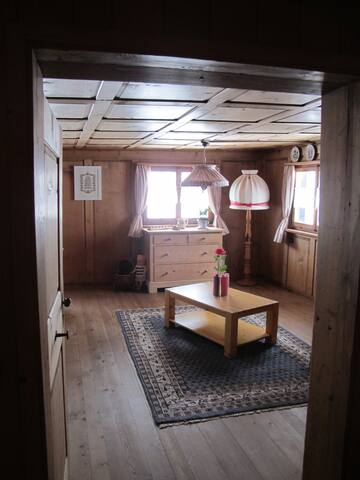 Studio in the mountains, great possibility for winter sports in the resort Laax. The free local bus stops next to the property and takes you in a few minutes to the base station in Flims or Laax. You'll love my property because of the indoor pool, sauna, restaurant in the hotel, possibility to cook themselves, ... It is well suited for couples, solo travelers adventurers, business travelers and families (with children [pullout sofa for 1-2 children]).
Choose yourself if you want to cater for yourself in the restaurant, away the variety or looking myself cook (complete kitchen: fridge freezer and oven). Enjoy the sun on the balcony
The apartment was ideally situated for our needs, very comfortable and had all the necessary amenities plus good internet! Roland was an extremely helpful host and we will definitely be back.
Nina
2017-01-19T00:00:00Z
Great apartment in a very good location, really near the lifts! Just 1 minute by car, and you could also take the shuttle which has a stop in front of the apartment. Everything was clean and comfortable. Besides, due to the fact that it is integrated in the same building that the hotel, you could enjoy easily for extra services for a reasonable price. Roland was really helpful in all the moments.
David
2017-03-05T00:00:00Z
Die Wohnung ist ideal gelegen und mit öffentlichen Verkehrsmitteln sehr gut zu erreichen. Sie schaut genau so aus wie auf den Bildern. Wir haben uns sehr wohl gefühlt. Die Kommunikation mit unserem Gastgeber hat prima geklappt, auf Nachrichten habe ich immer sofort Rückmeldung bekommen. Kennengelernt haben wir unseren Gastgeber nicht, aber die Übergabe war gut organisiert. Wir würden jederzeit wieder kommen.
Balbina
2017-02-25T00:00:00Z
Nice and comfortable apartment in a good location. Flims ski lifts are easily accessible and sauna is like a bonus. Roland´s responses were really fast. Perfect ski holidays.
Tomas
2017-03-20T00:00:00Z
Appartamento ideale per un weekend sulle nevi!
Samir
2017-02-12T00:00:00Z
TIP TOP :-) ...einfache, schnelle Kommunikation.
Eva
2017-01-22T00:00:00Z
Praktisches Studio, empfehlenswert!
Corinne
2017-01-09T00:00:00Z
Great host, and really good communication. Happy overall!
Anna
2016-12-21T00:00:00Z
Huonetyyppi
Koko talo/asunto
---
Majoituspaikan tyyppi
Huoneisto
---
Majoittujien määrä
3
---
Makuuhuoneet
Flims, Grisons, Sveitsi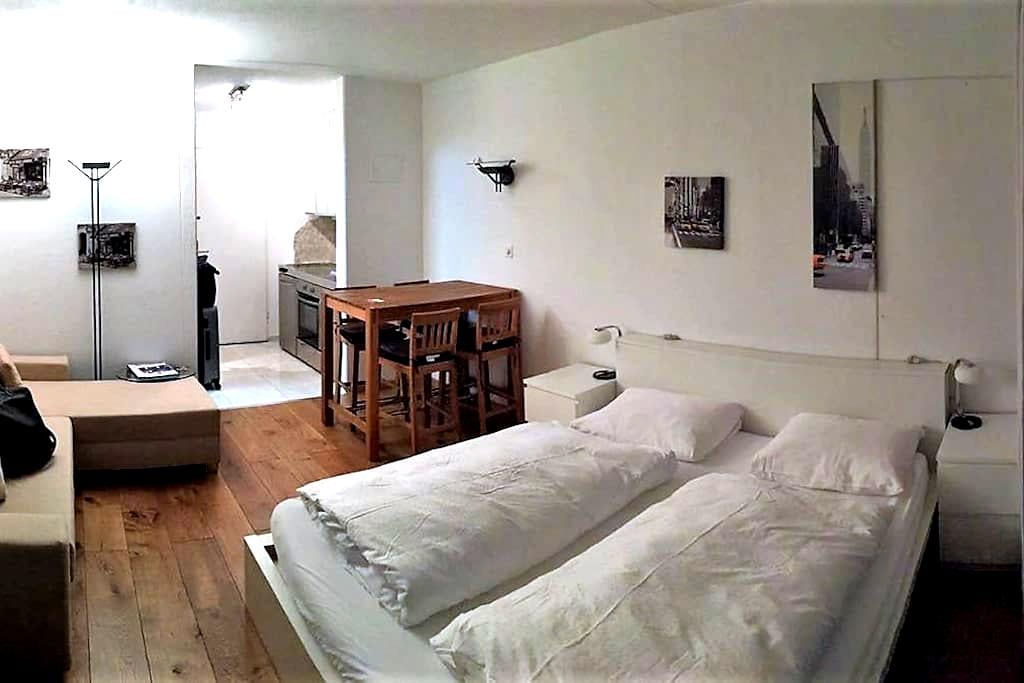 Stilvolle 3 Zimmerwohnung mit kleiner Küchennische, 58 m2 in Jugendstilvilla, 1. OG, optional mit Hotelservice und Schwimmbad/Wellness, Familien willkommen da Gastgeberfamilie im gleichen Haus. Kostenloser Hotel-Shuttle direkt zu den Bergbahnen im Winter.
2 Schlafzimmer mit 4 Betten 90x200 cm, Optional Zusatzbett möglich im Wohnzimmer, 1 Badezimmer mit Badewanne/Dusche & WC.
Haus in sehr ruhiger Lage direkt beim Waldrand. Supermarkt VOLG 50 Meter entfernt. Caumasee 10 Minuten zu Fuss entfernt. Privater Shuttlebus zu den Bergbahnen während der Wintersaison inklusive (Shuttlezeiten beachten) Wanderwege z.B. nach Conn, Richtung Trutg dil Flem etc starten direkt vor der Türe.
I stayed at Christoph's with two friends for a ski weekend at Laax/Flims. It was the ideal location just feet from the bus stop and only two stops from the main Flims gondola (you could also walk). The apartment has everything you need including ski storage and wellness center available at the hotel across the street. Thanks for a great stay, I will definitely revisit for my next Flims ski/hike trip!
Julie
2017-03-19T00:00:00Z
Schöne praktische Wohnung! Malerisch schön und sehr gut gelegen mit Shuttle-Service zur Talstation! Wir haben uns super wohlgefühlt! Familie Steffen
Esther
2017-02-03T00:00:00Z
Extremely nice and comfortable appartment,with all the amenities just perfect.the atmosphere of the place is just incredible and very relaxing! we can only recommend it. Our hosts were very kind and welcoming, and so was the reception of their hotel. 5 star service and amenities!
emma
2017-03-03T00:00:00Z
Tolle, einzigartige Unterkunft. Sehr sympathische Gastgeber. Absolut empfehlenswert, ein richtiges Schmuckstück.
Marion
2017-03-05T00:00:00Z
Very nice apartment, excellent neighborhood, beautiful mountains and very friendly reception. It was real holidays for us!
Georg
2017-01-23T00:00:00Z
Grossartige Gastfreundschaft
Alberto
2017-02-11T00:00:00Z
Die Anbindung ans Hotel mit ausgezeichnetem Frühstück haben wir ebenso genossen wie das Frühlingserwachen in den Wäldern und an den Seen.
Monica
2017-03-26T00:00:00Z
Huonetyyppi
Koko talo/asunto
---
Majoituspaikan tyyppi
Huoneisto
---
Majoittujien määrä
4
---
Makuuhuoneet
Flims, Graubünden, Sveitsi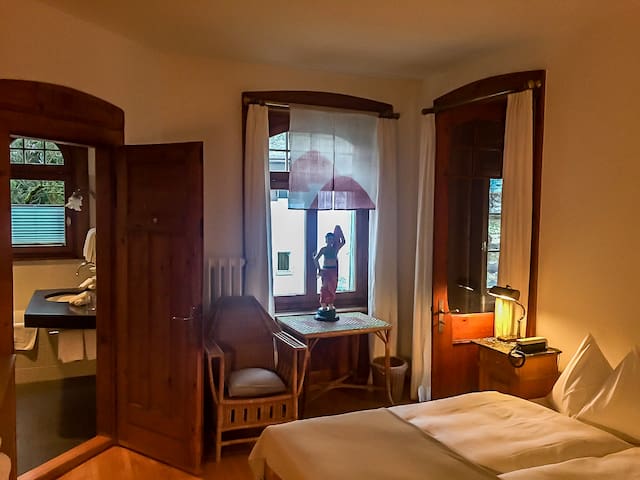 Gemütliche 3 Zimmer Erdgeschosswohnung in freistehendem Privathaus mit grossem Garten an sehr sonniger und ruhiger Lage. Nur ca. 30 m zum gratis Ski Shuttle Bus (während der Hochsaison) und etwa 800 m bis zum Dorfzentrum mit Geschäften, Post, Apotheke, Restaurants etc.. Ideal für Familien und Naturfreunde. Parkmöglichkeit auf dem Grundstück.
Flims/Laax ist eine erstklassige Wintersportdestination, aber auch während den anderen Jahreszeiten sehr beliebt zum Wandern, Biken und für ganz viele weitere Outdoor Aktivitäten. Unsere Wohnung ist dorfnahe und trotzdem sehr ruhig gelegen, praktisch und gemütlich eingerichtet für idealerweise bis zu 4 Personen (bei Familien akzeptieren wir auch 5 Personen, ein Kleinkinder Reisebett ist vorhanden).
Das Haus befindet sich in einem ruhigen Wohngebiet mit sehr wenig Verkehr. Auf der Terrasse lässt sich wunderbar die Sonne und die herrliche Aussicht auf das Signina Massiv geniessen. Flims bietet Geschäfte und Restaurants jeder Preisklasse, sehr beliebt bei Familien ist die Pizzeria Pomodoro mit einer grossen Kinderspielecke in Flims Waldhaus. Ein 'Muss' ist der Abstecher zum wunderschönen Caumasee, im Sommer zum Baden aber auch sonst ein Spaziergang wert!
Schönes Appartement, sauber, schöne Lage, perfekt für 4 Personen. Nicole war sehr freundlich und hilfsbereit. Wir wären gerne noch ein bisschen länger geblieben!
Katja
2015-12-20T00:00:00Z
Wurden herzlichst empfangen, Alles rund rum tip top immer wieder gerne! Nur Empfehlungswert!
Arkin
2016-09-04T00:00:00Z
Bei Nicole und ihrer Familie haben wir uns sofort sehr willkommen gefühlt. Die Buchung hat reibungslos geklappt und Nicole hat sehr schnell geantwortet. Die Unterkunft hat eine schöne Aussicht, es ist ruhig und komfortabel ohne viel Schnickschnack und sehr zweckmässig, gut beheizt und sauber. Wir haben sogar hauseigenes frischgebackenes Zopfbrot und Konfitüre gekriegt. Die Umgebung ist wunderschön, bietet sehr viele Outdoormöglichkeiten. Durch Nicole wurden wir supergut beraten und sie hat viele Info-Prospekte bereitgelegt. Die Kinder waren willkommen, durften im gemeinsamen Garten spielen (Nicole &Fam. wohnen in der Wohnung oberhalb). Wir würden jederzeit wieder bei Nicole die Ferien verbringen!
Susanne
2015-10-17T00:00:00Z
Wir waren zwar nur eine Nacht bei Nicole, aber alles hat reibungslos geklappt. Sie ist sehr sehr hilfsbereit, hat uns informiert über den Ski-Bus, Tickets, Einkaufen... und die Wohnung hat auch alles was man braucht. Wir haben uns sehr wohl gefühlt und wollen gerne wieder kommen - nächstes mal hoffentlich länger!
Anja
2015-12-27T00:00:00Z
Appartamento confortevole, attrezzato con la host molto disponibile e cordiale. Posto magnifico per lo sci e le escursioni. Grazie Nicole per la cordialità e la disponibilità.
Claudio
2017-01-22T00:00:00Z
Great host, nice appartment, felt like home.
Beat
2017-03-05T00:00:00Z
Küche erneuerungsbedürftig, 40-50jährig, sehr alte Schränke. Geschirr und Besteck unbedingt ersetzen, nichts Komplet! Alte Pfannen verkratzt. Wasserhahn in der Küche tropft.
Erja
2015-12-19T00:00:00Z
Die Wohnung und die Gastgeber sind wunderbar. Die Wohnung ist sehr zweckmäßig eingerichtet und gemütlich. Nicole und ihr Mann sind herzlich. Rundum super! Wir würden die Wohnung wieder buchen und können sie nur empfehlen.
Monika
2016-01-10T00:00:00Z
Huonetyyppi
Koko talo/asunto
---
Majoituspaikan tyyppi
Huoneisto
---
Majoittujien määrä
4
---
Makuuhuoneet
Flims, Graubünden, Sveitsi