600 sq ft Basement Suite. 1Bdrm with queen bed. 1 bath and living space that could accommodate 2 smaller people on very nice air mattress. A half bath just up the stairs is for you too. Shared Living/Dining/Kitchen and Patio. 3rd floor is private. We love children however our space is for people aged 7+. Thank you for understanding
600sq ft beautifully finished basement with 1bedroom, 1 bath and large theater room with 70inch tv, Wii and DVD player. 2 single air mattresses that have accommodated single sleepers quite nicely. They are 3ft high off the ground and feel more like a real bed. My typical guests range from 1 to 4 people and everyone has been happy :)
The reservation was canceled 108 days before arrival. This is an automated posting.
graham
2014-12-11T00:00:00Z
Jenifer was a terrific host, warm and welcoming, and went out of her way to be helpful. She made coffee, fruit and nutrition bars available. The space was immaculately clean and comfortable. She had prepared a couple of pages of helpful information about favorite restaurants, attractions. We would highly recommend this place to anyone coming to DC.
Reid
2016-05-17T00:00:00Z
My family of four - including two teens - stayed with Jenifer and her hubby over a long weekend in DC. The visit was a first in many ways; it was a first AirBnB stay for us as guests, for Jenifer as a host, and it was also a first visit to DC for our kids, as well as their first B&B experience! I think we all got of to a great start, but ours was made even better by our special hosts! Jenifer and her hubby are so warm & accommodating, though in a very non-intrusive way! Things were set up for our visit with treats and bottled water at the ready. We had the lower level to ourselves and it was very quiet and serene, but we also had the main floor and kitchen (with single serve coffee maker for our use) to ourselves if we wanted to chill after long days of sightseeing. Since our kids don't like to share a bed, there was an air mattress made up and linens laid out for the double chaise sectional in a roomy space sporting a large TV w/Wii and Netflix for them. We were in an adjoining room separated by a sliding door with queen bed, large TV and work desk (great for my hubby's work check-ins). We also had use of a half-bath up the stairs which was helpful when trying to "get 4 out the door". Jenifer had a prepared list of helpful info for her home, the neighborhood and DC environs, but was also available to answer questions or give additional suggestions as they came up. The townhouse is only 1 1/2 blocks from the Waterfront metro station in a quiet gated neighborhood. There is a very nice Safeway supermarket (w/a Redbox for movies) right at the station for sandwiches & snacks or other essentials, as well as a few local eateries. We didn't rent a car, but instead made use of DC's extensive public transit system - which was great since it rained all day for two of our three! Between the subway & buses, it can literally get you a block or so to most of the must-see sights with a minimum of time spent in the elements. We will definitely be back to DC to enjoy more of the out-of-doors beauty & sites and until then, will be recommending Jenifer's home and hospitality to all who wish to enjoy our capitol the B&B way!
Lisa
2014-04-01T00:00:00Z
The host canceled this reservation 48 days before arrival. This is an automated posting.
David
2016-06-12T00:00:00Z
Jenifer was fantastic! She greeted me upon arrival and helped me settle in. The location is just a dream- three minutes from the Metro, the market, coffee and restaurants. One block from the waterfront, for a morning run or evening stroll. The suite suited us perfectly; my little one was thrilled with the Wii and Netflix. The place look exactly like the pictures, with lots of clean towels, extra pillows, toiletries, anything you need. A full kitchen and a wonderful back patio garden. A great find!
Kate
2014-07-30T00:00:00Z
There is actually nothing to add to what everyone else already said. Jenifer did everything to make our stay at Washington perfect - she had prepared everything with lots of love. She cared so much about our well-being, e.g. organized a cab for us at 6 in the morning! The rooms we stayed at were spacious, clean, modern and decorated nicely. So far, our best airbnb experience!
Ann-Isabelle
2014-08-24T00:00:00Z
We had a amazing stay in DC! Jennifer was an awesome hostess, very knowledgeable and helpful. The location was perfect for us, close to the Metro and supermarket and a short walk to the National Mall. DC was a great city to visit and staying with Jennifer made it that much better!
John
2017-04-04T00:00:00Z
Well what can I say about Jenifer that hasn't already been said. Firstly her house is a dream. It is located in a very nice neighborhood by the waterfront with the metro and shops 5 mins walk away. It is also within walking distance to most of the major monuments as well as the Smithsonian and the Capitol Building. I walked at all hours of the day and night and always felt safe. Jenifer's house is immaculate. The room you will be staying in is very spacious. There is a large bedroom, living room with a huge flat screen TV and a full size bathroom that is stocked with everything you could ever need. It is like another world in there and so peaceful. It's the best I've slept in a long time. Jenifer also gives you access to her living room, kitchen and gorgeous outdoor garden area. Now to Jenifer. I have never been made to feel so welcome by someone in my life. There wasn't anything that Jenifer wouldn't do to help me out. She provided me with maps, a metro card, snacks, water and most importantly a wealth of information. Jenifer's advice to me about absolutely everything was always spot on. What to see, when to go or where to eat. I couldn't have asked for a better stay in DC. Thank you Jenifer.
Steve
2014-08-16T00:00:00Z
Huonetyyppi
Yksityinen huone
---
Majoituspaikan tyyppi
Talo
---
Majoittujien määrä
4
---
Makuuhuoneet
Washington, District of Columbia, Yhdysvallat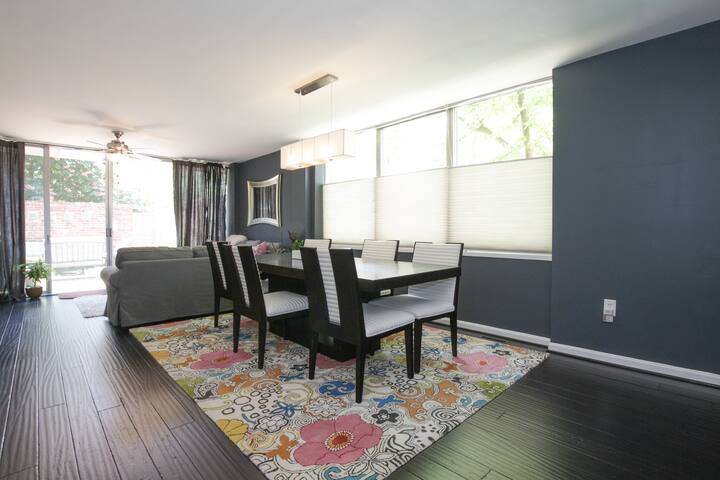 Short walk to 2 metro stations, National Mall, waterfront, and more! The apartment is the full ground level of a rowhouse with one bedroom, comfortable den, private bathroom; minifridge & coffee. Separated from rest of hour with locked divider.
This is a full, private floor all to yourself. Spacious bedroom and den with high ceilings. There is a washer/dryer, which guests may use upon request. No kitchen or microwave, but we have added a minifridge and coffee machine. Separated from upstairs of house with a locked divider (see photo). The den opens up to a small patio.
The Southwest Waterfront is truly a beautiful neighborhood with green spaces and the water nearby. 10 minutes or less and you have the National Mall, monuments, and museums at your fingertips. Just a 5-minute walk away is a grocery store, an upscale restaurant, dry cleaning, fast food, and transportation. There's also a beautiful performing arts center and fun outdoor bar on the water a couple of blocks away. Just a short walk away is the Nationals Baseball Stadium. Yards Park and Haines Point are two great outdoor park spaces nearby too. Additionally, the oldest fish market in the country is in SW, and it's a wonderful, hidden gem.
Everything was clean. Sara thought of everything from beer in the fridge, to metro cards, to even coffee. We really felt welcome with her personalized welcome note as well.
Punal
2015-07-30T00:00:00Z
I arrived later then expected, but everything was ready for me and parking was easy. The location was great, minutes away from the mall. The apartment was spacious and bed was comfortable. I would recommend to any one visiting D.C.
Eric
2015-04-05T00:00:00Z
The apartment was very comfortable and once we figured out directions, the attractions & museums were very accessible by foot or public transit.
Steve
2016-11-02T00:00:00Z
Sara's apartment was comfortable, clean and well situated between metro stops. There was also a great row of shops including Starbucks and Safeway close by, which was very convenient. It was a great choice for an affordable, convenient space in DC.
Meredith
2014-06-26T00:00:00Z
I just stayed for one day and I never met Sara because she wasn't home when I checked in and out. She was flexible and quick with responses. The apartment was clean and everything was ok. I was happy with the provided metro cards. The apartment was spacy and clean The bed good. The appartment might need some refreshing though. Pity that you can't dim the lights, especially in the bathroom and the living everything is a bit old. However it was a good stay, Sara seems friendly and it's great to have your own place so close to the National Mall
Bart
2014-07-19T00:00:00Z
Sara was a truly gracious and great host. The apartment was very centrally located for what we wanted (near Nationals Park and near the Metro). She even lent us fare cards to help save a little bit of money on Metro cards which was a huge plus. The area was private and pretty quiet, and I'd definitely come back if I'm ever in the area again. Thanks!
Dae-Ho
2015-07-06T00:00:00Z
Sara was a great host, so accommodating and sweet. I would definitely recommend her to friends and family.
Arrianne
2016-10-08T00:00:00Z
We had a wonderful experience. The apartment is centrally located, with access to the Metro within an easy walking distance. Sara was a great host, who quickly responded when we had a question or request. We would highly recommend this location and host.
Joe
2016-09-12T00:00:00Z
Huonetyyppi
Koko talo/asunto
---
Majoituspaikan tyyppi
Talo
---
Majoittujien määrä
2
---
Makuuhuoneet
Washington, District of Columbia, Yhdysvallat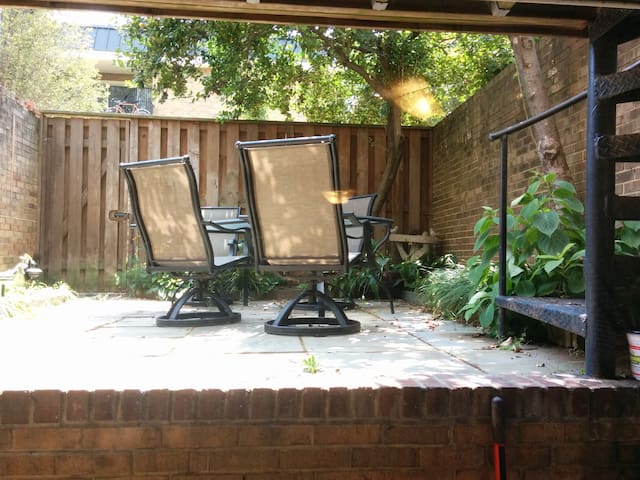 Capitol master bedroom with en suite bath. Our beautiful colonial rowhouse Candlemore is ideal for enjoying DC's iconic cherry blossoms in charming, historic Southwest Waterfront on the banks of the Potomac River in the heart of the District SWDC has it all: restaurants, history, culture, night life, and a quiet place to sleep. Short walk to three Metro stations, Capitol Hill, Nats Park, Smithsonians & the monuments. Convenient to DCA, downtown, and major DC attractions.
See our pictures!! The Capitol master bedroom with an en suite bathroom is elegant and comfortable, featuring a double bed, a twin daybed, a trundle bed, and plenty of space for airbeds (which we provide). The bath is new with a spacious shower. Candlemore is almost 50 years old and most of our furnishings are family antique pieces that do show some wear. The effect is sometimes referred to as "shabby chic"
Fine dining, history, culture, night life, navigable Fine dining, history, culture, night life, navigable water, and a quiet place to sleep, SWDC has something for everyone. See our pictures!! Candlemore is located in Southwest Waterfront is a charming, historic neighborhood on the banks of the Potomac River in the heart of Washington, D.C. Beautiful, friendly, and convenient to most Washington attractions on foot, by car/cab, and by Metro Our charming tree-lined residential street is welcoming and quiet. Within a few blocks, there is a gym, a yoga studio, Health Clinic that accepts out-of-state walk-ins, SWDC Public Library, Southwest Duck Pond (our wonderful neighborhood park with fountains and a small playground), several other parks (including a dog park across the street), The Mead Center for American Theater ((URL HIDDEN) Art Whino (a funky art community/gallery space/concert venue), great restaurants and bars (some riverfront) with outdoor seating, CVS drugstore, an organic dry cleaner, resort quality swimming pool, Subway, All American Burger (a cool, local burger joint with handmade milkshakes) Starbucks, and more. This is a great neighborhood for kids, with three playgrounds, a duck pond, a branch of the public library with a children's floor, and Potomac riverfront activities. Ask us about what's happening during your visit. Dogs are welcome! There are wide sidewalks and two off-leash dog parks. Several delivery services feature dog food, gear, toys and other products you might not want to pack.
I stayed in the ensuite master bedroom over the weekend. The room will comfortably sleep 3 people as is - double bed and daybed. The flat is charming and easy to find. Within 10min walking distance to main attractions (e.g. Museums, Lincoln memorial etc.) but secluded from the hordes of tourists, which was a major plus for me! Andrew the housekeeper was there to receive me even though I arrived by late night bus. Sally is great at communicating promptly. The shower head wasn't working in my ensuite bathroom - they tried to fix it but as it was the weekend, we couldn't get a plumber in time. I wish there was a heads up about this issue when I booked/confirmed my stay.. but we're trying to resolve this with a partial refund. So that's reasonable. There was another shower on the same floor to use.
Jingwei
2017-03-26T00:00:00Z
The place is 8 mins walking distance from the L'Enfant Plaza station (yellow and green line), which is 5 mins ride from Metro Centre and 15 mins ride from Union Station. It's really convenient. The surrounding is quiet and peaceful. I will definitely stay at this place when I visit DC in the future.
Tennison
2017-03-06T00:00:00Z
Good location, but house has lots of maintenance issues (ceiling leak, broken shower soap holder) and a heavy marijuana smell.
Bob
2017-03-10T00:00:00Z
This place can't be beat for location and value!!!!! We felt so safe in the neighborhood. We slept great. Will definitely use again. Sally is so accommodating too.
Leslie S. & John C.
2017-03-23T00:00:00Z
Awesome house and comfy beds! Great location, too. Everything was super clean and nice that you have your own bathroom.
Julia
2017-03-12T00:00:00Z
Sally is great, sally is amazing! Be like sally. The location was great, the room was clean and cosy, and sally is an amazing host! She even let us stay for a day longer without any extra fee after our bus god cancelled due to snow storm.
Samyak
2017-03-14T00:00:00Z
Huonetyyppi
Yksityinen huone
---
Majoituspaikan tyyppi
Talo
---
Majoittujien määrä
5
---
Makuuhuoneet
Washington, District of Columbia, Yhdysvallat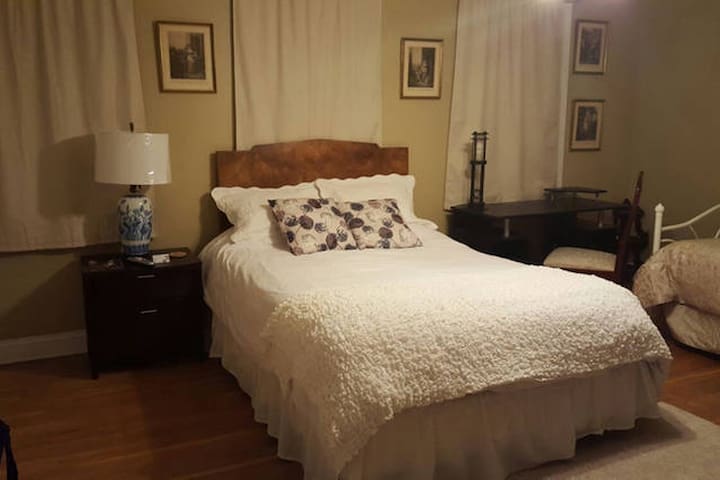 PARKING Pass Available- $10 One block from Nats Stadium, the charming, two story row house is a short walk to the Capitol Building, the National Mall, and just two blocks from the Navy Yard Metro Station. The house was recently renovated to include hardwood floors, granite countertops, modern bathrooms, and exposed brick. The bedroom has east facing windows that provide an abundance of natural sunlight. The three roommates in the house are all working professionals in their early 30's.
This two story, three bedroom, two and a half bath row house is located on a quiet street in the Navy Yard / Southwest neighborhood. The location is ideal for business travelers and vacationers alike, as it is only two blocks from the Navy Yard Metro Station and a short walk to The Yards, which offers a wide variety of new restaurants, cafes, a brewery and fun outdoor activities. Only a few blocks from the house, you can kayak on the Potomac River, take classes at the trapeze school, ice skate at Canal Park, or attend a baseball game at Nationals Stadium. One of the current residents of the house is the owner of the nearby CrossFit gym, so ask us about dropping in during your stay!
While our house is located on a quiet, charming street in the Southwest neighborhood, it is highly accessible to bars, restaurants, outdoor activities, and the tourist attractions. The Southwest Waterfront, only blocks away from the house, provides ideal scenery for a jog or casual walk during the spring, summer, and fall months.
Super nice host, and great location
Leo
2017-03-13T00:00:00Z
George was so nice, and the room was incredibly cozy!
Natalie
2017-03-11T00:00:00Z
The stay was great, and the hosts were awesome!
Leo
2017-03-14T00:00:00Z
Accurate description. Super nice hosts. May be more geared to younger guests. Would have been a 4 overall rating if a bit quieter at night.
James
2017-04-02T00:00:00Z
I would give them an A for cleanliness and comfort. Also the hosts are great! Thanks for the stay
Faith
2017-01-10T00:00:00Z
Everything is like described. George's house is very clean and comfortable.
Paulo
2017-03-21T00:00:00Z
George was kind and very easy to communicate with. The room was nice and the house was great.
Marley
2017-01-09T00:00:00Z
主人非常好客, 家裡環境不錯
Sin
2017-04-08T00:00:00Z
Huonetyyppi
Yksityinen huone
---
Majoituspaikan tyyppi
Talo
---
Majoittujien määrä
2
---
Makuuhuoneet
Washington, District of Columbia, Yhdysvallat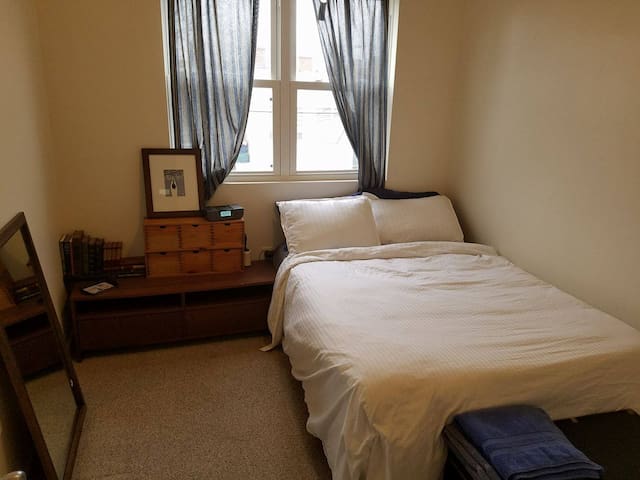 Spend more time seeing the sites of this wonderful capitol, and no time getting to them. Some of the most famous sites in the world are just out your door. Whether it's the Smithsonian Museums, the Capitol, the Whitehouse, the Washington Monument, or the Lincoln Memorial, you can walk to them all in minutes. When you need a break, there is a quiet, inviting room with all the necessary amenities, just waiting for you.
The tastefully decorated room includes a comfortable queen-sized bed for relaxing and getting a good night's rest. A side chair with laptop desk offers a spot to check emails and get a little work done. There is a bureau and closet for settling in and getting organized. A mini-frig stocked with water and soft drinks, coffee-maker, and snack basket keep the munchies at bay. TV and wi-fi keep you connected and entertained. This room is located on the ground floor of our three-story townhome along with another guest room. There is an extra nice bathroom with jacuzzi tub/soothing shower on the same floor, along with a laundry room. It's a cozy, private space where you can make yourselves at home. Guests traveling with family and friends will want to check out our other listing at https://www.airbnb.com/rooms/15149244. The two rooms accommodate a total of 4 guests.
The Southwest Waterfront neighborhood is the best, most convenient place to stay in the District. If you are here tdy with the government or have business with the HUD, the FCC, the SBA, USDA, the Postal Service, the GSA, Homeland Security, or the Comptroller of the Currency, your work is only a pleasant stroll away. If you're here on vacation and want to see some of the most famous sites in the United States, they are ready and waiting. This includes the Lincoln Memorial, the Jefferson Memorial, the Washington Monument, the White House, and the Capitol, as well as the National Mall and the Smithsonian Museum. For nightlife and restaurants, the famous Penn Quarter and the Verizon Center is one mile away on 7th Street. The Navy Yard with dozens of new restaurants and a gorgeous waterfront park is two metro stops away. The Eastern Market and Marine Barracks are 15 minutes away by Uber or the metro. You can also rent a bike from the Capitol BikeShare program and be in Georgetown in 20 minutes.
Garon and Diane's hour is beautiful! The room looked exactly like the pictures when we arrived. Garon and Diane were both incredible friendly and helpful and always up for a chat if we saw them! The house location was absolutely perfect for spending days around the national mall!
Summer
2017-03-05T00:00:00Z
This was my first experience with Airbnb and the hosts, Garon & Diane, did not disappoint. Even though they were not there, they contacted before I was to arrive, the evening I arrived (even though it was late), and throughout my stay just to make sure I had everything I needed. They answered any questions I had quickly! Both the room and location were amazing! So close to everything I wanted to do. Thanks so much! I highly recommend this place if you need to stay in D.C.
Bhavi
2017-02-26T00:00:00Z
The house is very beautiful,comfortable,high quality,quite,and very close to the museums,library,capital hill,chinatown.Garon is handsome and hot hearted。He really helped us a lot!We surely will come back next time!By the way the house has everything you need,coffee,snack,shampoo,also you can cook some noodles……perfect!
平平
2017-02-07T00:00:00Z
Garon and Diane are lovely and correspond very well (and quickly). The quiet neighborhood was pleasant for me, but sort of closes down too early. Much better (and less expensive) than The Mandarin Oriental, with one caveat: having to share a bathroom took me (way) back to my college days. Otherwise, GREAT!
Paul
2017-03-18T00:00:00Z
Garon and Diane are very nice host. I booked the room at 1:30am and they responsed just in 20 minutes!! Although they were out of town, they still checked back with me for everything. Snacks and drinks are available in the room, that is awesome!!!~~its a nice house to stay. If I have to travel D.C again, I would definitely stay with Garon and Diane again. Thank you for hosting us!!
Zhenhua
2016-12-29T00:00:00Z
Room and home were immaculate, just as in photos. My host was available to answer all questions and provide an insider's view of DC. Garon goes the extra mile for his guests. Thanks for making my stay so memorable!
Mauryne
2017-01-22T00:00:00Z
Awesome location and great hosts even when they are out of the city! If you are looking for a convenient location to use as a base to explore D.C. this is a perfect choice.
Will
2017-01-15T00:00:00Z
Garon and Diane's place is very beautiful and comfortable. About 10 minutes walk to major museums and subway station. Both hosts are easy going, willing to offer support, and reply messages promptly. Had a wonderful time there.
Leo
2017-01-03T00:00:00Z
Huonetyyppi
Yksityinen huone
---
Majoituspaikan tyyppi
Talo
---
Majoittujien määrä
2
---
Makuuhuoneet
Washington, District of Columbia, Yhdysvallat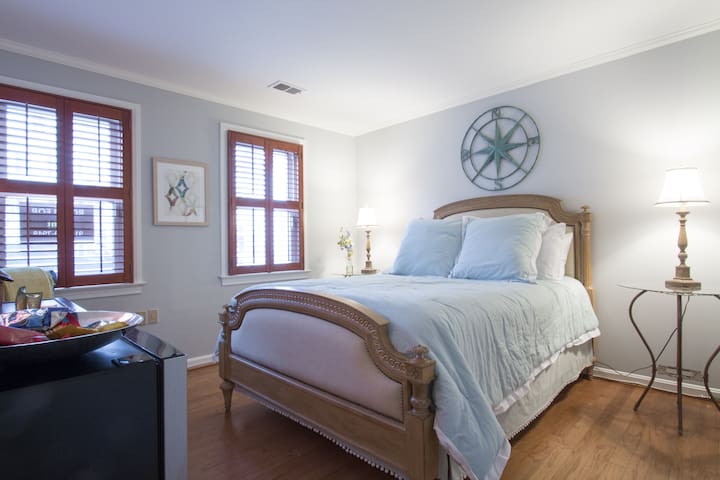 Perfect Location on Capitol Hill! 2 Blocks to US Capitol, Metro, and Monuments! This 3 bedroom/1.5 bathroom boasts beautiful hardwood floors, a remodeled kitchen with granite counter tops and stainless steel appliances.
Our property is located on the closest residential street to the US Capitol Building-you won't be able to beat this location! Enjoy a view of the US Capitol Building from the front of this historic row house on a quiet residential street located only steps from all DC has to offer. This 3 bedroom/1.5 bathroom boasts beautiful hardwood floors, a remodeled kitchen with granite counter tops and stainless steel appliances, and a tranquil full bathroom complete with a claw foot tub. The unit is newly furnished and has a queen sized bed in each of the three bedrooms. Additional amenities include: flat screen television, cable, wireless high-speed internet, and a washer and dryer The most convenient location on the Hill for sight seeing, dining, and entertainment. Two blocks from the US Capitol, Library of Congress, monuments and Metro. Several restaurants, bars, and coffee shops just a short walk away. A ten minute walk or one quick Metro stop away from Eastern Market and popular Barrack's Row with the Hill's trendiest restaurants and bars. Baseball fans will be thrilled with the proximity to the new Washington National's Baseball Stadium. No need to find parking for a game-the stadium is just a quick walk away! Truly the perfect place for a family vacation, business trip or a weekend getaway! Short commute via Metro to the city's other neighborhoods (Georgetown, Dupont Circle, H Street, etc.) and easy access to N. Virginia. (Arlington, Clarendon, Pentagon.)
A truly perfect Hill location on a quiet residential street in the heart of the city. Steps from Congressional Office Buildings, the US Capitol, and amazing restaurants and coffee shops.
Just a great experience. Place was perfectly set up and our hosts provided us with all the information we need. Couldn't have asked for a more centralized location. We could walk everywhere with ease.
Dan
2016-03-15T00:00:00Z
Great location for visiting all mall sites. Easy access to Metro for all else. Great place to share with another couple or family as there was plenty of room and well equipped kitchen. Shawn communicated promptly. Place was new, clean and fresh feeling.
Debby
2017-01-24T00:00:00Z
Great property and perfect location! The host gave us accurate information before arrival that really helped us orient once we were there. It was the perfect set up for a family traveling together. We had a great visit and having a place like this to come home to after being out and abut was nice. I would stay here again and have already talked with friends about it!
Jean
2016-10-18T00:00:00Z
Listing is very accurate and it is a comfortable, well furnished place with ideal location for walking everywhere visit to DC.
David
2016-10-08T00:00:00Z
Huonetyyppi
Koko talo/asunto
---
Majoituspaikan tyyppi
Talo
---
Majoittujien määrä
6
---
Makuuhuoneet
Washington, District of Columbia, Yhdysvallat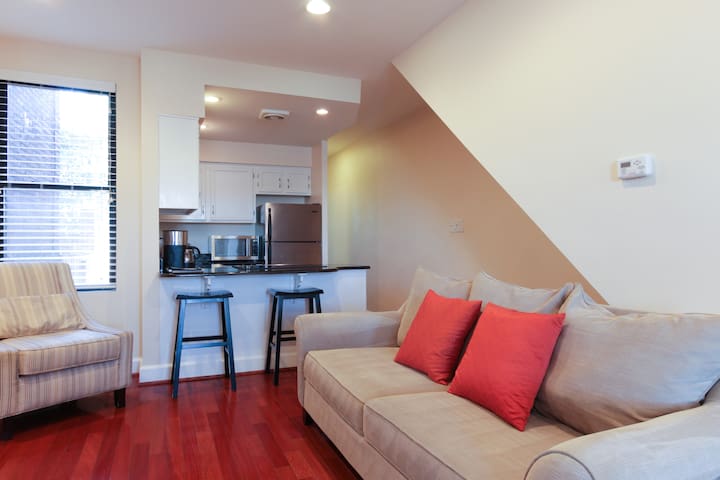 Our place is a 6 block walk to the US Capitol, National Mall, and Smithsonian museums. Also walking distance to Monuments, Nationals Park, and the Fish Market. And a 3 block walk to the Metro and grocery store. You'll love the place because of the coziness, the comfy beds, and the proximity to downtown DC. Our place is good for couples, solo adventurers, business travelers, families (with kids), and groups.
Top floor has two bedrooms and one full bath. Main floor is dining, kitchen, living room which leads to outside patio and grill. Lower level suite with bathroom, which includes shower. Kid-friendly.
We had a really nice stay at Allison's place! The house was cozy and spacious, and everything was clean and functional. The internet was a bit slow, but as there were 7 of us that might explain why. Very close to National Mall (15 min walk), in a quiet neighborhood. We'd love to come back again.
Titinant
2016-12-29T00:00:00Z
Huonetyyppi
Koko talo/asunto
---
Majoituspaikan tyyppi
Talo
---
Majoittujien määrä
6
---
Makuuhuoneet
Washington, District of Columbia, Yhdysvallat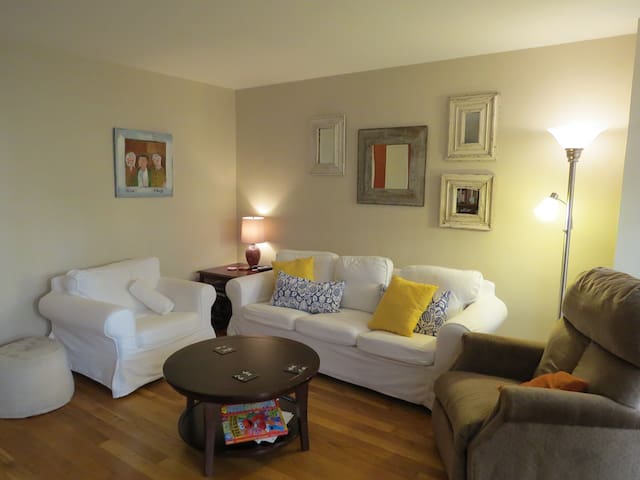 Turn-key set-up, comfortably furnished and fully equipped with an eye to comfort. King-sized beds in upstairs bedrooms, queen-sized bed on ground level. Flat-screen TVs in upstairs bedrooms, the living room and the den. Private patio w/ grill. Off-street parking available.
Mid-century design and non-fussy furnishings lend a sense of ease and space, and allow plenty of room for your things. There are hardwood and carpeted floors throughout, elegant watered-silk wall coverings, floor-to-ceiling mirrors, and beautiful crystal lighting. The kitchen is very well-equipped and has granite counters, stainless appliances, and new lighting. The dining room seats 8-10 and has beautiful MCM furniture that makes entertaining a breeze. There is also a full-sized desk tucked in a corner, to give the large room an added use. The house has south and north-facing windows, ceiling fans, plenty of closets and a private brick patio with a gas grill and plenty of space. There is high-speed internet, satellite TV with premium channels, and a large utility room with full-sized washer/dryer. Flat-screen TVs and leather sectionals are in the living room and the den office. Each room has a sleeper sofa. The two large bedrooms upstairs have king-sized beds, flat-screen TVs, and sitting areas. The master bath is en suite with a step-in shower behind a glass-brick wall. The second bath, across the hall from its bedroom, has a tub/shower. A powder room is on the main floor. On the ground floor are another bedroom with a queen-sized bed, flat-screen TV and other comforts. Plus a full bath, utility room, the den, and an enclosed brick patio.
Leafy green, quiet neighborhood that's midway between the National Mall and the Memorials that line the Potomac Tidal Basin. There is a big grocery store 4 blocks away, and a handful of restaurants, at the Waterfront metro station.
Deborah Was a great host! Her house is really pretty (just like you see in the pictures) and has everything you need to have an amazing time in DC. The metro is just three blocks from the house and you can take almost any line from there... Also you can walk 10 min and get to the national mall and see the Capitol! The neighborhood is really calm, quite and charming. The supermarket is just like four blocks away and you can buy everything there. So, if you are planning to visit DC with family or friends I'll totally recommend this place!! It's great!!!
Juana
2015-02-01T00:00:00Z
Huonetyyppi
Koko talo/asunto
---
Majoituspaikan tyyppi
Talo
---
Majoittujien määrä
6
---
Makuuhuoneet
Washington, District of Columbia, Yhdysvallat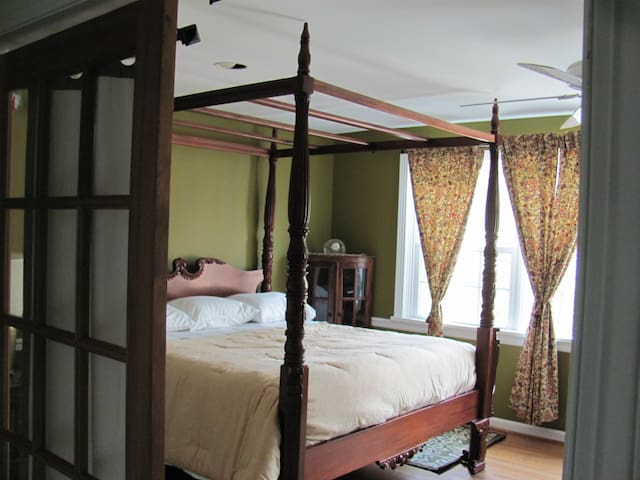 Perfect house for Inauguration weekend! Located right off the Orange / Blue / Silver line and about ~20 minute walk to the Capitol (and ~10 minutes to the National Mall!), this SW DC home is ideal for enjoying the Inaugural celebration. The house has 3 bedroom (3 queen beds), 3.5 bath, fully equipped kitchen, living room, basement, dining room, and a one car garage (at extra cost).
Extra mattress available if needed to sleep in finished basement.
We are about a 5 minutes walk from the DC Fish Market, 5 minute walk from the famous DC Arena Stage, 10 minutes from the nearest grocery store and CVS, and right across the street from a public park. Most importantly, the National Mall is only about a 10 minute walk away with access to the Smithsonians and monuments. We are located in a very quiet and extremely safe neighborhood in DC, anyone would feel comfortable walking around and enjoying the many attractions located here in DC from this location!
Huonetyyppi
Koko talo/asunto
---
Majoituspaikan tyyppi
Talo
---
Majoittujien määrä
8
---
Makuuhuoneet
Washington, District of Columbia, Yhdysvallat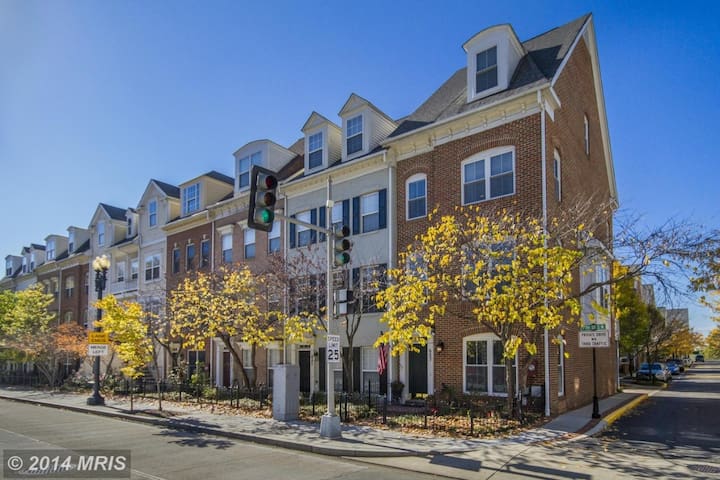 Comfy bright mid-century modern 1 BR in walking distance to the national mall and capitol, three metro stops (green, yellow, blue, orange, silver) within 2-4 blocks. Close to grocery store, restaurants and drug store.
My home is a private 1 bedroom condo with a queen size bed and a queen sized air mattress.
Huonetyyppi
Koko talo/asunto
---
Majoituspaikan tyyppi
Talo
---
Majoittujien määrä
4
---
Makuuhuoneet
Washington, District of Columbia, Yhdysvallat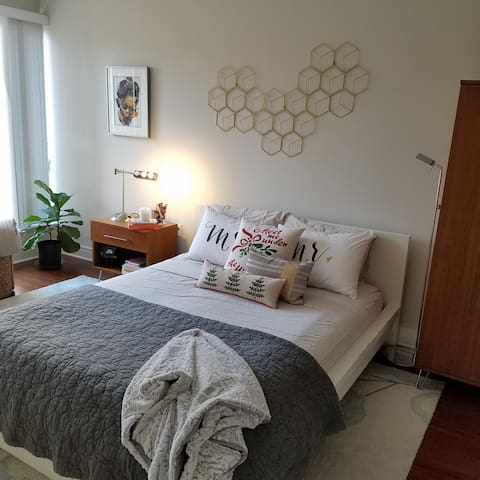 Beautiful 4 bedroom, 3.5 bath rowhouse on Capitol Hill. Screened in porch and a roof-top deck as well! In the back is a fun tree house and big BBQ grill. The house is on three levels with three bedrooms on the 2nd floor and one bedroom located on the 3rd floor. The location is ideal for families exploring the museums and monuments. Please note that this is our house that we are renting while we are traveling.
Three floors and outdoor space enable guests to spread out, relax and enjoy summer evenings.
The location is ideal for exploring the US Capitol, the Library of Congress, the Smithsonian and the Monuments. You can easily walk everywhere, use the bikeshare or take the metro at the end of the block. We are a short walk to the SE waterfront, National's baseball stadium and Eastern Market/Barracks Row which boast numerous restaurants, bars and coffee shops. Capitol Hill is wonderful for families as there are many parks and playgrounds nearby.
I would highly recommend you stay in this home. Here's why. Location: 3 blocks from Capitol, 1.5 blocks from Metro. Style: Capitol Hill row house with 3 levels. Comfort: 4BR/4bath, King size bed in master, well appointed kitchen with le'creset/all clad cookware, henckels cutlery and stainless appliances. CK Towels, Organic soap, wash/dryer were nicely offered and starter paper products provided. Felt safe at night. HVAC works well. Wi-fi quick/easy. Pin neat on arrival. Decor was fun. Host: Gen is responsive and helpful . A printout with recommendations from our host pretty much kept us going in the right direction. A few quick texts was all we needed to have a great time. Overall: our family of five felt quite at home. Thanks for a fun time in DC
Dan
2016-07-18T00:00:00Z
Great size, we had 7 stay there and it was perfect. Great back porch and third level deck. Fast Metro Access big plus but close enough you could walk to the Capital
Rob
2017-01-22T00:00:00Z
A perfect AirBnB experience! Genevieve was a wonderful host, very welcoming and helpful. The house is absolutely stunning; the photos don't do it justice. Huge, very well-appointed, interesting decorations. Even though this is their family home, Genevieve provided more plentiful closet/dresser space than any other rental I've ever had, including family homes as well as full-time rentals! Everything was top-notch: beds, bathrooms, kitchen, furniture. My children were thrilled to enjoy all of the toys. The yard and roof deck are excellent features, though the weather in late November was too cold for us to spend much time outside. The neighborhood is incredible, with restaurants literally across the street as well as many more a few blocks away; the metro less than a block away; the Capitol and Library of Congress only two blocks away. Despite its proximity to all of the tourist attractions, the neighborhood is not touristy at all, and we were able to blend in like locals. It's also one of the safest, if not the very safest, neighborhoods in DC. I would very happily stay in this beautiful house again. Thanks so much!
Angele
2016-11-26T00:00:00Z
Huonetyyppi
Koko talo/asunto
---
Majoituspaikan tyyppi
Talo
---
Majoittujien määrä
9
---
Makuuhuoneet
Washington, District of Columbia, Yhdysvallat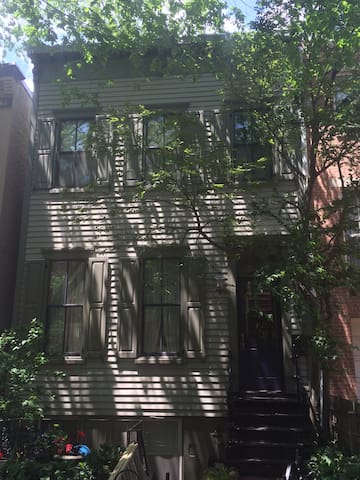 Stay in one of DC's most historic, elegant homes. Built in 1890, but with all modern amenities. Only 1 block to Cap South metro, 2 blocks to Capitol and Library of Congress, and 8 blocks to Eastern Market or Nats Stadium. You can't beat the location!
The unit is located on one of the most prestigious streets in all of DC, New Jersey Ave. This tree-lined street dead ends into the U.S. Capitol Building, only two blocks away. This 750 square foot English basement unit includes a bedroom with a queen size bed, a large living with two futons that fold out into full size beds, a queen aero bed mattress, and a twin aero mattress. You'll also find a full-kitchen, with oven, microwave, stove, and cooking supplies. Moreover, you have access to a large tranquil backyard, to get some R&R after hitting all the nearby sites.
An amazing location in the most beautiful neighborhood. Parking was so easy. The place is so cute and comfy. We will definitely return! Thanks for everything.
Katie
2017-02-05T00:00:00Z
Travis and Holly were great hosts! The private apartment was ideal for my family of five guests. Located close to the Metro and Capitol, everything that the city had to offer was within walking distance at a very reasonable price. Thanks again!
Colin
2016-06-28T00:00:00Z
We had a wonderful time at Travis' apartment, which is very comfy and located at a very central location. We stayed there for a few days with two small kids (2 and 5 yrs old) who had no problems to walk to the Capitol, the Washington Monument and other points of interest at the National Mall. Nice to have free parking in that area. Travis and his family were extremely kind to us, thank you for this great experience!
Gergely
2016-06-03T00:00:00Z
Fantastic location, charming neighborhood and besides the Capitol! A family of five fit comfortably... Loved this place. Thanks Travis! Regards, Octavio
Octavio
2016-07-07T00:00:00Z
This apartment is the basement of a residential building, with the owner upstairs. It easily took 6 of us and there was a washer and dryer that was very handy for doing washing. But the main advantage of this apartment is that it is so close to the usual tourist sights and Mall. We walked everywhere and this was a great central base to plan day trips. Shops, restaurants and bars are walkable as too are grocery markets. Travis was very responsive to all requests and the apartment was well set up and had plenty of sheets, blankets and towels. It comfortably took our family of 6 and I would recommend staying here to anyone wanting to do all the tourist sights in the centre of DC
david
2017-01-19T00:00:00Z
Great apartment! Perfect location for Capitol Hill, only two blocks walk to metro. Very clean and nicely appointed. Travis arranged a parking pass which was really helpful. Would definitely stay again!
Eric
2017-03-01T00:00:00Z
Travis and his wife were great hosts. Their house is perfectly located two blocks from the Capitol. The neighborhood is very quiet and we walked to most all of the places we wanted to visit (White House, Monuments etc.). Would certainly recommend their house to anyone looking for a place to stay while in DC.
Chris
2016-12-03T00:00:00Z
The location of this place was excellent, and the set up is very workable. I did not meet Travis but he was very responsive and obtained 2 parking permits for us, which was a feat. The only issue I had with the place is that we paid a premium for it (above the listing) because it was during the week of the inauguration/woman's march and I expected to be able to sleep there, because Travis mentioned in his comments in response to another review that he both lived above the place and had sound proofed it so that noise above would not reach us. . Apparently, Travis rented out his place above us to quite a few young people who partied until about 4 am every night. There was no sound proofing. I did not sleep at all the first two nights, and only slept a little the third night. So, if you rent this place, get assurances that the top is not rented out too.
Barbara
2017-01-23T00:00:00Z
Huonetyyppi
Koko talo/asunto
---
Majoituspaikan tyyppi
Talo
---
Majoittujien määrä
6
---
Makuuhuoneet
Washington, District of Columbia, Yhdysvallat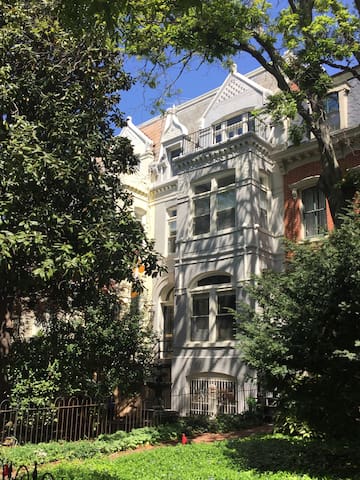 15min Walking distance to Metro, Bikeshare, Restaurants and Bars, Nationals Baseball Stadium 30min walk to the Capital and Museums. Inquire about parking spot availability & cost. If English is not your primary language, I speak Spanish as well.
Great location. Row house with 2 bedroom, 2.5 bathrooms. Guest bedroom has private bathroom. Modern Kitchen with available cookware. Living room entertainment center with surround sound. Nice patio in back to chill. Corn hole set available. Overnight street parking is available, but limited to permitted parking during the day. Inquire about availability of parking spot and price. Usually it will fit two cars, but it will depend on the size of the car. Turning into it from the alley can be tight.
The city of DC can be a block by block situation, like a lot of big cities. With that said, my block and neighbors are the best. Being as close to the stadium as we are seams to bring us closer together with a common cause, to cheer on our Nats. I know many of my neighbors, who include young family's, young couples, and folks that have lived here for over 30 years.
Huonetyyppi
Yksityinen huone
---
Majoituspaikan tyyppi
Talo
---
Majoittujien määrä
4
---
Makuuhuoneet
Washington, District of Columbia, Yhdysvallat
This is the largest room in the house with two huge closets - very rare for DC. The room is in a rowhouse minutes walk away to 2 metro stations, Nats Stadium, War College, Navy Yard, Ft McNair Army base, Waterfront, the Fish market and all museums
This row-house is the perfect blend of fun and work. It is located 2 blocks away from the National's Stadium, or under 5 minute metro ride to the core of the city. Prefer walking? Sure, walking to Chinatown is 30 minutes, I walk it every day. Walking to the Aerospace museum - 15 minutes, the capitol - 15 minutes. Came by car, sure, there are a few free spots just on my street and a few more free spots a block away. The house is also one light away from I-295, I-395 highways easily connecting with Maryland and Virginia. Added bonus is that this house is directly across the entrance of Ft McNair army base and it's War College. Those that come to the base are one minute walk to the front gate. ** How to get to my house for FREE ** Lyft(available on the app store) came to town a year ago, and they are very big in the USA. Use the following code after you sign up for the first 10 rides free, up to $50 in free rides: FREE50INDC Alternatively, if you have not used uber you can use them for $20 off your first ride with promo code uberFREE20ATDC, so your transportation to my house might be free. Due to popular demand if you are in need of a rental you can rent my Toyota Prius 4 2010(fully loaded - GPS/rearview camera/premium sound/leather interior) in perfect condition for a rate of $35 per day. The transaction will be done through a third party and 25% will be required to pay for insurance for the car(mainly to comply with DC laws). Please inquire if you are interested in renting my Prius and I will be more than happy to provide more details. The car is registered in Zone 6 so you can park in Zone 6 Residential zone which includes the Capitol, all SW and Capitol Heights as well as parts of Chinatown. Restrictions apply.
Southwest Washington DC contains the Smithsonian Institution museums along the south side of the Mall—including the Hirshhorn Museum and Sculpture Garden, the National Museum of African Art, the Freer Gallery of Art, the Arthur M. Sackler Gallery, the National Air and Space Museum, the United States Holocaust Memorial Museum, and the National Museum of the American Indian—as well as the United States Botanical Gardens, L'Enfant Plaza and a large concentration of federal executive branch office buildings for departments as well the House office buildings. Southwest waterfront is home to the Maine Avenue Fish Market, Arena Stage, the Washington Marina, Fort McNair, and Hains Point; East and West Potomac Park, a conjunction of two national parks between I-395 and the National Mall that contain the Tidal Basin, the Jefferson Memorial, and the Franklin Delano Roosevelt Memorial (West Potomac Park continues into Northwest and includes the Lincoln Memorial and World War II Memorial, both of which straddle the Southwest/Northwest boundary). Another point of the Southwest is Buzzard Point. Buzzard Point is the home of the U.S. Coast Guard, which is headquartered in a building at the confluence of the Potomac and Anacostia Rivers. The new RFK DC United's Stadium is being built here now, with a projected completion date of late 2017. And the biggest and best attraction is the National's Stadium which hosts Nationals games, and many other events. The nearby Navy Yard neighborhood hosts a number of events and has world class five star entertainment.
A convenient and pretty comfortable place to stay in DC.
Rui
2017-03-26T00:00:00Z
Dennis was a very welcoming host and very receptive to any questions I had. He always responded very quickly and politely. He let us drop off our luggage early too, which was a big help. Location was pretty convenient and close to waterfront, metro station, and a Safeway, but not really a 15 minute walk to the Aerospace museum as claimed (unless you want to spend an hour walking round-trip - taking the metro is much faster). Overall, I would stay at his place again.
Joyce
2017-01-01T00:00:00Z
It was very easy to coordinate with the host. We were able to arrive on our own schedule. After expecting to meet in the afternoon, we had a fun turn of events and were able to come to the place later because Dennis is easy to work with. The room was clean, the bed was comfortable, and importantly the room was warm. Slept very well and was able to be fresh for an enjoyable vacation. The location is close to the capital via a short uber ride. Overall a good deal, would come back again.
Dasha
2016-11-28T00:00:00Z
It is a convinient place which is near White House and other great interests.Dennis is a kind and warm hearted man.He helped us a lot on traveling and everything.
林
2016-11-21T00:00:00Z
Dennis was a great host! Both the moving in and moving out processes were hassle-free. He seems very concerned with keeping everything clean and working and was quick to respond when we had questions. The bedroom was quite spacious with plenty of closet space and the bathroom had everything you'd ever need (including a tall shower which is important for a dude that's 6'4"). The property is in a great location within walking distance of National's Park, public transport, and DC's monuments. I was here for an audition and was happy to be only a short drive from the Kennedy Center. I'll definitely consider staying at Dennis's place should I return to DC!
Asher
2016-03-09T00:00:00Z
I recommend staying here! The house is easily accessible by metro and the neighborhood is pretty safe. The room was comfortable and neat, I love how he arranged the bed. I checked in very late (around 11 pm) but it was not a problem because he provided the code to his house. I was also allowed to leave my bag after check-out, which is very convenient. I would definitely recommend this place!
Gladys
2016-01-17T00:00:00Z
Wir waren vier Nächte bei Dennis. Die Unterkunft ist sehr gut gelegen. So kann man ohne Probleme zur National Mall laufen. Auch die Metrostation ist nur 10-15 Gehminuten entfernt. Wir haben Dennis nie gesehen, aber die Kommunikation über Airbnb war hervorragend. Dennis vermietet mehrere Zimmer, die alle das selbe Bad verwenden. Das war kein Problem, lediglich war das Bad nicht 100% sauber. Aber es war im Rahmen und somit ok. Wir können die Unterkunft empfehlen.
Patrick
2016-12-09T00:00:00Z
Dennis was very quick to respond when we had a question about parking. He is very accommodating.
Patrick
2017-03-16T00:00:00Z
Huonetyyppi
Yksityinen huone
---
Majoituspaikan tyyppi
Talo
---
Majoittujien määrä
2
---
Makuuhuoneet
Washington, District of Columbia, Yhdysvallat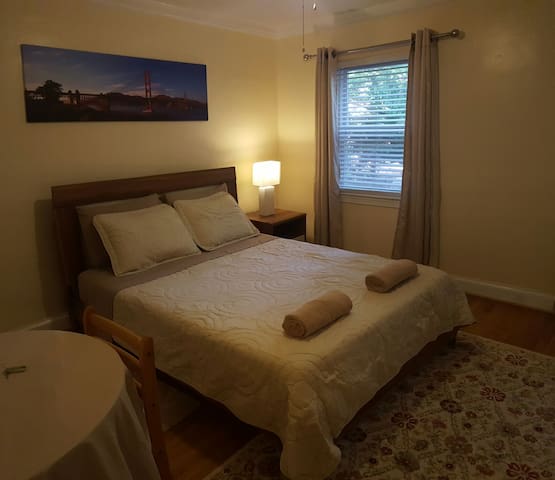 My place is close to A 5-10 minute walk to the National Mall on Capitol side if you're coming for inauguration. You'll have access to one of the rooms in the house with your own bathroom. There are two other occupants in the house but staying on another level. **If you need additional space contact me directly** You'll love my place because of the neighborhood, the comfy bed, the coziness. My place is good for couples, solo adventurers, and business travelers.
It's in a quiet neighborhood that is easily accessible to the National Mall.
Huonetyyppi
Yksityinen huone
---
Majoituspaikan tyyppi
Talo
---
Majoittujien määrä
2
---
Makuuhuoneet
Washington, District of Columbia, Yhdysvallat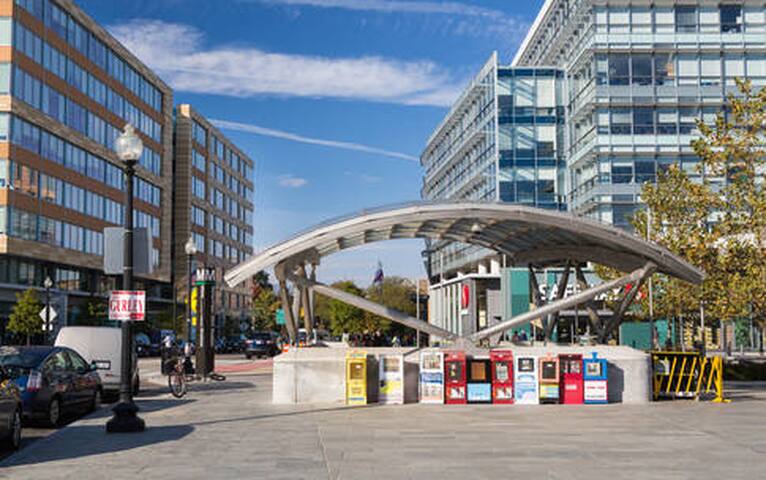 Located in the heart of DC within walking distance of the Smithsonian Museums, Jefferson Memorial, Holocaust Museum, Washington Monument, Capitol and two Metro stations. Elegant townhome with free indoor parking in a quiet neighborhood near the heart of the city. Three bedrooms each with their own full bathroom. An eat-in kitchen and separate dining area, living room with fire place, large TV and surround sound and wifi. Good for couples and business travelers.
This is a recently renovated luxury townhouse in the heart of DC. Free indoor parking for one car is included along with wifi and all the amenities of a nice home. 4K television with surround sound in the living room with fireplace means you can watch history in comfort. 3 Bedrooms each with a queen size bed and private bath and closet means no lines or crowding. While you can easily walk to most attractions it is a breeze to catch a cab, uber or walk 2 blocks to the metro.
Quiet, almost suburban neighborhood, right in the heart of the city. Really a hidden jewel.
Huonetyyppi
Koko talo/asunto
---
Majoituspaikan tyyppi
Talo
---
Majoittujien määrä
6
---
Makuuhuoneet
Washington, District of Columbia, Yhdysvallat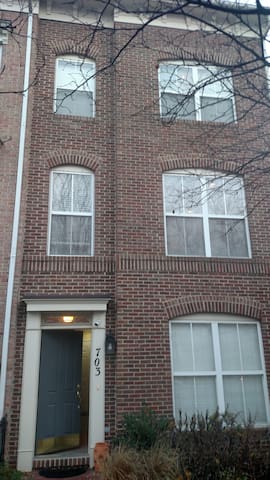 If you are looking to have a wonderful vacation with your family at the Nations Capital, you won't regret about choosing our place. Located at walking distance from museums and monuments, the perfect stay while exploring Washington, D.C.!
We offer a 4 bedroom and 2 bathroom townhouse (2 bedrooms and 1 bathroom on the second floor and 2 bedding and 1 bathroom on the third floor). On the first floor there is a modern kitchen with living and dinning area. A laundry room with washer and dryer, wireless internet and cable. Amazing amazing LOCATION, walking distance from the Air and Space Museum, L'Enfant Plaza Metro Station, National Baseball Stadium and the Jefferson Memorial. A well equipped grocery store (Safeway), CVS Pharmacy, Dry cleaner, Starbucks, Subway, among other restaurants. The Southwest Waterfront (Green line) and the Bike Share Station is just three blocks away. If you prefer to walk, you will be a 10 minute walk from the Air and Space Museum.
Southwest waterfront is a unique neighborhood. Next to the Potomac River and close to the National Mall. A diverse community with parks and big trees, safe and very friendly people lives here.
Great home. I have short-term rentals. And your decor reminds me of how my wife decorates
FRANK
2017-01-15T00:00:00Z
This is a great place. It is well equipped for families. The parking is very close and convenient. We definitely would stay here again on our next trip to DC.
Alberto
2017-01-04T00:00:00Z
Their townhouse location is great!. We enjoyed walking to all the monuments, and not worrying about finding parking for our car. Their place is wonderful for a family. I went with my wife, two little children, parents and mother in-law, and everything was perfect. everyone had their own room/space. Parking for two vehicles was included. We were also able to walk and have dinner at a local restaurant at the bay area and the seafood plate was delicious. I'd definitely go back and stay at their place in the future.
juan
2016-07-02T00:00:00Z
Luisa's house is just lovely. It is in a great safe and accessible neighbourhood just six blocks from Washington's National Mall. It is easy to get to via the nearby Metro and only a short taxi ride from Reagan Airport. The house itself is clean, beautifully decorated and has everything you need. We were there in particularly hot weather and the air conditioning across the whole house was a delight. (in the main rooms it can get a little chilly at night with the AC running, and unfortunately the controls are not assessable to notch it up a few degrees, so bring a jumper if you get cold - however I'm sure this is only in the hottest weather). The facilities are well appointed with a good range of things in the kitchen, comfy furniture, good solid beds and more TVs than you could require! Wifi is good and strong and we gave it a beating, so I know it is good! Would be great to have an information folder showing nearest supermarket, Metro, taxi numbers, coffee shops, attractions that kind of thing, but I know one is in preparation. We had a lovely stay here and would not hesitate to book again as the location is really central, particularly for tourists who want to see what DC has to offer. Thanks Luisa for getting our holiday off to a great start.
David
2016-08-06T00:00:00Z
Great place. Convenient to mall with a bus line that takes you to the mall at the end of the block. Great for our family trip to DC.
Gregory
2017-03-30T00:00:00Z
Gonzalo fue muy atento, contestó todas nuestras preguntas, estuvo muy al pendiente. La casa está muy bonita y bien ubicada. Súper recomendada!
Paulina
2016-10-10T00:00:00Z
The house is very clean, exactly as the the photos. The location is very convenient to Thomas Jefferson memorial and the Capitol Hill. Mr. Ganzalo is very kind to welcome us when we arrived there, even we were there early before the check in time. He gave us a lift to the Pentagon! Definitely we'd recommend this house! Thank you!
Carol
2016-10-05T00:00:00Z
The host was great and answered all of my questions. This was my first Air B n B experience and she knocked out of the park. My family loved being able to all stay together and the homey feeling. The only suggestion I have is for them to put a sofa bed in the living room area so that is one more place someone can sleep. Regardless, great place!
Juanda
2016-11-06T00:00:00Z
Huonetyyppi
Koko talo/asunto
---
Majoituspaikan tyyppi
Talo
---
Majoittujien määrä
6
---
Makuuhuoneet
Washington, District of Columbia, Yhdysvallat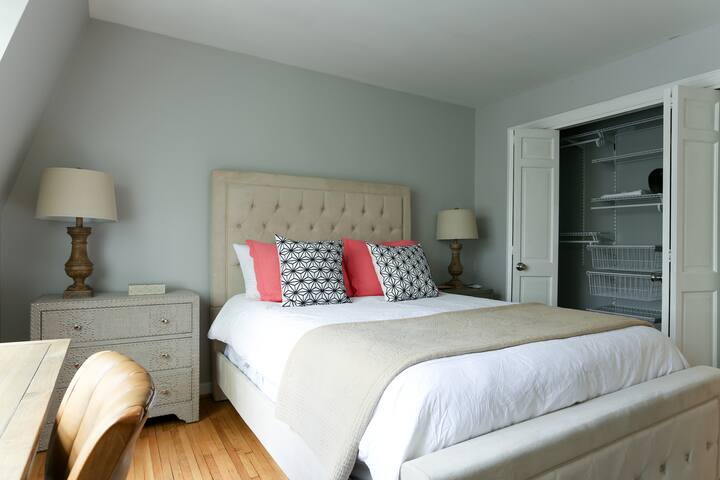 Experience DC from the comforts of the Smithsonian Vacation Property. Located 10 minutes away from the National Mall and two blocks away from the following metro stations: L'enfant Plaza, Federal Center SW & Waterfront Metro.
Why stay at a Hotel, when your entire family can stay in the center of the District of Columbia, only blocks from the National Air & Space Museum in the DC waterfront area for Much less! Absolutely wonderful describes the house, a spacious Three-bedroom, 2 full + 1 half baths, 2-level town home located in Waterfront/SW, Washington DC's beautiful marina district. Just walking minutes from L'Enfant Plaza mall, metro, Smithsonian, museums, and the Mall, this home is close to I-395 going to Virginia and Maryland. Walk to the Cherry Blossoms, the fireworks on the Mall, the WWII & Vietnam memorials. Boasting a fabulous location. The Smithsonian Vacation House is on a quiet cul-de-sac with off-street parking, yet it is in walking distance to shopping and restaurants. Don't delay, book today! We look forward to servicing you.
Leave the car at home. Walk to the Museums and Enjoy the Waterfront!
Wavely was very accommodating and kept me up-to-date on our stay. The Smithsonian Vacation House was perfect for our family of six. We should have made better use of the very practical kitchen, but the location was a convenient walk to places to eat and to see. We felt safe and welcome just a few blocks from the museums and the Capitol Building. I expect we'll be back!
Scott
2016-08-05T00:00:00Z
The reason we rented this listing was the great location, which was terrific for the sightseeing we wanted to do. The National Mall was only a 15 minute walk, and Uber and Taxi's were always minutes away. The neighborhood was very nice and clean. Plenty of dog walkers and parents with strollers. Wavely, our host, provided public street parking permits, so we had free and ample neighborhood street parking for the three day weekend. The apartment was as listed, with a modern well equipped kitchen and nice bathrooms. Everything was clean and orderly when we arrived. The only downside, for us, was that the host chose to leave all the floors bare hardwood, which kind of made it a little noisy and cool looking. The flat TV screen in the master BR didn't work, but we never requested help. I never met Wavely, out host, but had a few phone chats with him and texted a few times. He was always timely and helpful with his responses.
Andrew
2015-10-25T00:00:00Z
Great place. It was everything I expected. There is wonderful Safeway, Starbuck and Metro stop close by. Neighborhood quiet and safe. Only problem I had was with Wifi. Waverly came to fix it on my second night but I was leaving early the next morning and did not get to use it. If I come to DC with family again, this will be my first choice of places to stay.
Wilbur
2016-10-08T00:00:00Z
Fantastic place. Great communication with the host. Host was very helpful and flexible with our needs. We look forward to our next visit to DC.
Gerry
2016-07-18T00:00:00Z
The reservation was canceled 58 days before arrival. This is an automated posting.
Nathan
2015-03-25T00:00:00Z
The host canceled this reservation 6 days before arrival. This is an automated posting.
Stacy
2017-01-12T00:00:00Z
As advertised. Sheets/linens were notably very clean. Walking distance to the mall. Host was great and made himself readily available. Would return!
Yasir
2016-08-25T00:00:00Z
This is has been one of those Great travel experiences. This residence provided very comfortable and secure accommodations for myself and 3 other C Level executives that came to DC to Lobby. Parking is Great, Location is Great (15 min to Capital), beds, linens, housekeeping supplies, hot water, Jacuzzi tub, air conditioning, full and well equipped kitchen, TV's HBO, even a Foosball table on the back indoor porch! Our Host Waverly, extended every courtesy initially through communicating well which built confidence that I would have access when I arrived late in the evening. There was no need to even meet with him as check in and everything is on auto pilot and in excellent condition. Most all communication with Waverly was by text for confirmation instructions and door code. Last but not least, when I requested the check out time in hopes for an extension, I received a personal call and the offer to extend checkout even longer than I would have asked for. Of Course, this was due to a rare vacancy before a busy weekend rental and I would not want others to think that this would apply to their stay. Waverly is a Master Host and Genuine in his willingness to provide an excellent travel experience for his Guests! AAA+++ I will return to The Smithsonian Vacation Home in DC - Clifford J Perry
Clifford J
2015-05-21T00:00:00Z
Huonetyyppi
Koko talo/asunto
---
Majoituspaikan tyyppi
Talo
---
Majoittujien määrä
8
---
Makuuhuoneet
Washington, D.C., District of Columbia, Yhdysvallat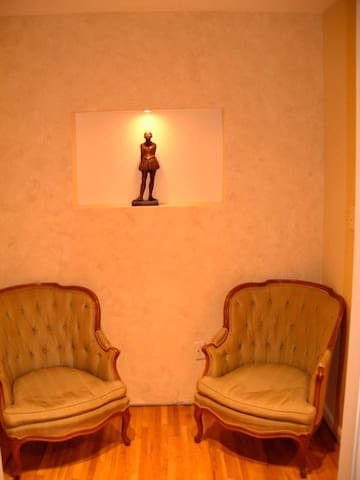 Washington - Airbnb
:
Keskimäärin

4.74

tähteä yhteensä

5

420

vierasarvostelusta
1

–

18

hakutuloksista

41 vuokrattavaa taloa
Anna päivämäärät nähdäksesi kokonaishinnoittelun. Lisämaksuja sovelletaan. Veroja saatetaan lisätä.