Mike is a super easy guy to get along with, truly makes you feel like you're at home, he keeps the house very clean. If you are looking for place with a perfect manufactured feel to it, this isn't for you, there is a train track near by like he says in his listing, however if you are looking for a spacious country home away from home on the beautiful Ohio river with a settled in homey feel, you can't ask for better than the run tavern hops farm, I would absolutely return the next time I am in the West Point area.
Matthew
2016-10-17T00:00:00Z
Tun Tavern Hops Farm was the perfect little get away for my family. Sitting right on the Ohio river, it has a spectacular view! Also, just a quick 20-30min drive to downtown Louisville. Mike was especially considerate going above and beyond to make our trip special. We would love to stay here again.
Jason
2016-10-09T00:00:00Z
Huonetyyppi
Koko talo/asunto
---
Majoituspaikan tyyppi
Talo
---
Majoittujien määrä
4
---
Makuuhuoneet
West Point, Kentucky, Yhdysvallat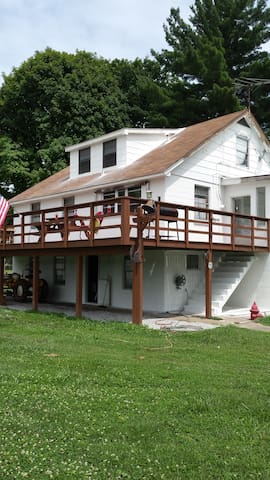 Great place to stay
Israel
2017-04-06T00:00:00Z
Convenient location to downtown. I drove to downtown usually took 12-13min in the morning. Its a quiet neighborhood. I did not meet Chris during my stay but check in was easy and he was very responsive to anything I needed.
Janki
2017-04-09T00:00:00Z
Huonetyyppi
Yksityinen huone
---
Majoituspaikan tyyppi
Aamiaismajoitus
---
Majoittujien määrä
2
---
Makuuhuoneet
Louisville, Kentucky, Yhdysvallat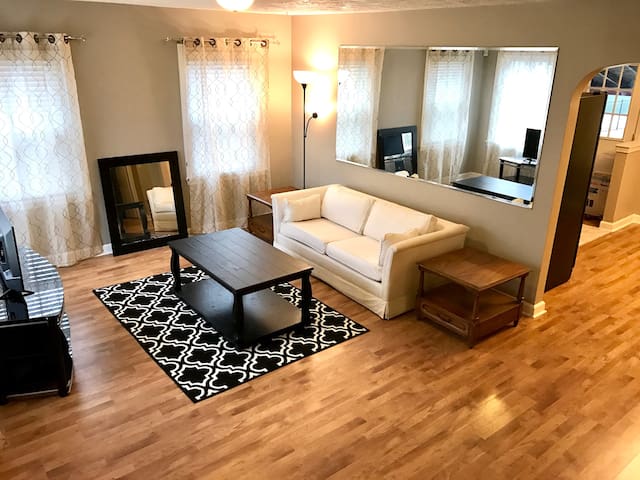 A meno di 5 minuti dal 265 e 65. Viviamo a soli 12 minuti da Churchill Downs, a 15 minuti dal Highlands, a 20 minuti dal centro. Oltre 40 ristoranti entro 10 minuti di auto e diversi outlet e distillerie in 20 minuti. Non siamo nel centro di Louisville, ma che significa che si ottiene 2 volte lo spazio per 1/2 del prezzo in una zona sicura, con facile accesso all'autostrada. Siamo super vicino alle distillerie di bourbon e la maggior parte delle parti della città a 15 minuti o meno di distanza.
Abbiamo due cuccioli in azienda: un laboratorio nero e un Border Collie. Sono super cordiale e sarà il vostro migliore amico per sempre o possono essere mantenuti al di fuori e / o in un'altra stanza, se i cuccioli non sono la vostra passione. Vi preghiamo di darci un testa a testa di 30 minuti prima del vostro arrivo in modo che possiamo ottenere i cani fuori delle aree comuni in modo da poter ottenere il vostro bagaglio a fuggire senza di loro. Grazie in anticipo! Il nostro check-in è quotata alle 6 di sera, ma possiamo essere flessibili se non ci fosse un ospite la sera prima. È elencato a 6pm in modo che possiamo essere sicuri di avere le camere pulite per voi prima di arrivare; se non abbiamo avuto un ospite la sera prima, la sala sarà già pulito. Basta messaggio se volete vedere se siamo in grado di fare un check-in e ci faremo sapere.
Timberbend è una strada senza uscita in modo molto poco traffico passa attraverso il quartiere. C'è un breve 1/2 miglio percorso ad anello escursionistico intorno ai due laghetti del quartiere. Il cortile è recintato e dotato di un ampio patio e un camino. Ci sono più di 40 negozi / ristoranti all'interno di un dieci minuti. Vi è anche un grande locale gelateria meno di sette minuti a piedi che è aperto stagionalmente. Si prega di parcheggiare sulla strada dalla cassetta postale o nel cerchio davanti alla nostra casa.
Andrew was a great host. Cozy room and clean bathroom. Dogs were super friendly! Would definitely come back.
Claire
2017-03-26T00:00:00Z
Nice place, clean 100% recommend
Luis
2016-11-14T00:00:00Z
Very welcoming and very kind, pups were adorable! We had our own tv with Netflix/Hulu/Amazon and in the upstairs area we had an Xbox one and an Xbox 360 with an awesome (and impressive) movie/game collection! Andrew was very knowledgable in the area and was around to answer any of our questions! Great place to stay, if I'm ever in Louisville again... I'm booking with Andrew!
Ricky
2016-08-17T00:00:00Z
The accommodations were exactly as advertised. The host could not have done anything more to make me comfortable and feel at home. Don't miss staying with Andrew and Melissa, you can't go wrong.
Richard
2017-02-25T00:00:00Z
Andrew did a great job making us feel welcome in his home. Though we were only there for one night, Andrew gave us some recommendations for local Louisville cuisine and free parking tips which came in handy throughout our stay. Even after the trip was over, Andrew helped me out by mailing me my Sonicare toothbrush that I accidentally left...what a great host!
Molly
2016-09-08T00:00:00Z
Andrew was great, I needed a place at the last minute and he came through for me. I told him what time I would arrive and he was waiting outside when I pulled up. The room was nice, clean, and organized. The bathroom had all the amenities I could have needed. I would recommend to stay.
Zach
2016-05-14T00:00:00Z
The room is lovely and the bed is VERY comfy and cozy. Even though I was only there for one night, Andrew and Melissa made me feel very welcome.
Sarah
2016-11-11T00:00:00Z
Absolutely beautiful home, stunning, clean & fragrant bedroom! Andrew was so accommodating, especially with working with my late night & sudden booking! I would give him a 15 out of 10 if possible!
Briea
2016-11-16T00:00:00Z
Huonetyyppi
Yksityinen huone
---
Majoituspaikan tyyppi
Talo
---
Majoittujien määrä
4
---
Makuuhuoneet
Louisville, Kentucky, Yhdysvallat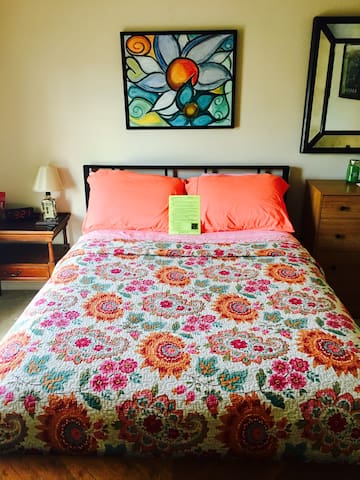 Unser gemütliches 1 BR Wohnung ist zentral in Camp Taylor in der Nähe von Flughafen, Zoo. Nur wenige Minuten von Churchill Downs. auf der Busleitung. Nähe von Restaurants und Lebensmittelgeschäft. Das Gerät hat kleine Waschmaschine / Trockner, saubere und komfortable Queen-Bett, Kabel-TV, WLAN, Klimaanlage, kostenloser Kaffee-Tee und Snacks. Sichere Nachbarschaft. Gratis Parkplätze. Professionell gereinigt.
máquina de lavar roupa na unidade, localização central, bairro seguro. unidade limpa com cozinha equipada e mercearia do outro lado da rua. O retorno dos hóspedes recebem um desconto de 20 por cento em todas as estadias. difusor de ar, profissionalmente limpos, bebidas e snacks fornecidos, wi-fi, TV de tela grande com cabo e tv no quarto, bem como com cabo. rainha confortável cama. Shampoo e condicionador fornecidos, bem como toalhas, panos de lavagem e sabão.
conveniente, seguro, estacionar nas proximidades.
Wonderful communication from Peggy, and only good surprises (cheese and crackers waiting for us upon arrival)!
Jennifer
2016-12-31T00:00:00Z
Comfy condo feels like home
Maurice
2017-03-02T00:00:00Z
Peggy was kind and easily to reach. She was helpful with being flexible in her hosting. Lovely apartment condo. Would highly recommend to anyone.
Jessica D.
2017-03-24T00:00:00Z
Peggy and Mike have set up the coziest, most convenient home-away-from-home. We felt so relaxed and cared for in our time in their apartment. Peggy was amenable to our requests about detergent for sensitive skin (we often have trouble at Airbnb's even when we make this request explicitly), and she stocked the fridge with seltzer and salsa specifically for us! The bathroom is spacious and well-lit, the bed has nicer pillows than most hotels, and the building and the complex were quiet and private. Though we had plenty of privacy, Peggy was extremely communicative and made it clear she wanted us to feel comfortable and have an easeful stay. We did! We will be back!
Kellen
2016-12-29T00:00:00Z
Beautiful home, I look forward to extending my stay! Very communicative and helpful.
Jessica D.
2017-03-19T00:00:00Z
Snacks, $10 dollar uber to downtown, clean, comfy bed, great to hang out and relax or go out downtown.
Lucas
2017-04-02T00:00:00Z
Immaculate clean condo belt like home
Maurice
2017-03-11T00:00:00Z
It was spacious, clean, great amenities, and even snacks. Easy entrance with keypad. Great stay!
Robert
2017-03-13T00:00:00Z
Huonetyyppi
Koko talo/asunto
---
Majoituspaikan tyyppi
Huoneisto
---
Majoittujien määrä
3
---
Makuuhuoneet
Louisville, Kentucky, Yhdysvallat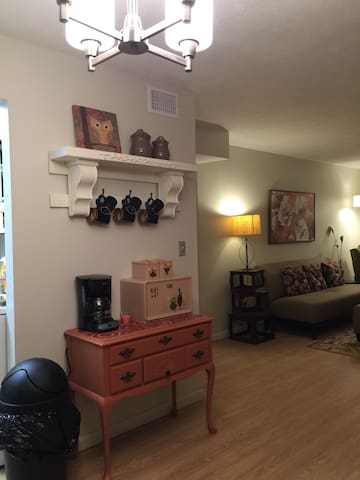 La casa se encuentra a 3 millas del centro de la ciudad ya sólo un par de millas de la U de L y Churchill Downs. Gran oportunidad de caminar a algunos de los mejores restaurantes y parques de Louisville. Dormitorio y baño privado con wifi de alta velocidad y televisión por cable. bañera de hidromasaje
I write for a living and will have a difficult time explaining how much I enjoyed staying with Bob and Mike. Incredibly generous with their home, their dogs and things to do in town. Great people who made me feel incredibly welcome. I could not recommend them more highly.
Tamer
2016-01-18T00:00:00Z
Great house located about 2 miles from where you want to hang out. That was my only complaint, that there weren't some cafes and shops you could zip out to in their hood. But Bob and Mike were super nice, accommodating and fun. Went out to dinner with them and their friends one evening which was a good time. They're ready to help you out with suggestions and it was a great first AirBnB experience for me.
Joanie
2016-03-27T00:00:00Z
Great hospitality. Would recommend to any travelers in the Louisville area.
Dylan
2016-10-30T00:00:00Z
Mike and Bob were amazing hosts, they gave us some great recommendations and had a lovely home. We would stay with them again in a heartbeat.
Melissa
2015-10-30T00:00:00Z
I had a wonderful experience staying with Mike and Bob! They were there to welcome me when I arrived, I had a room and bathroom to myself. Everything was clean and the neighborhood felt safe. They have two very sweet dogs that didn't bark hardly at all. Easy to sit, chat and have a bourbon with at the end of the day. Overall I would definitely stay again
Ashley
2016-12-09T00:00:00Z
The host was very accommodating and very flexible on arrival and departure.This is our second stay and we will definitely be staying again.
Marlene
2015-12-06T00:00:00Z
My experience with Bob was extremely simple and straightforward. He is an outgoing person and very easy to talk with. His home and guestroom and bath were accurately described in his listing. I would recommend Bob's home to anyone who is interested in a hassle-free, clean, quiet, and safe environment!
Hallah
2016-01-03T00:00:00Z
Bob has a great place. He was ready to answer any questions. It was just as pictured. I hope to be back next year!
Mike
2016-08-07T00:00:00Z
Huonetyyppi
Yksityinen huone
---
Majoituspaikan tyyppi
Talo
---
Majoittujien määrä
2
---
Makuuhuoneet
Louisville, Kentucky, Yhdysvallat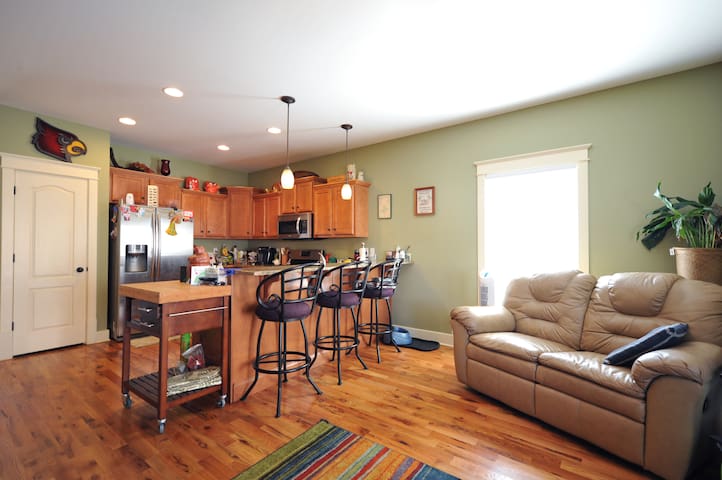 We had a wonderful experience at Katie and Luke's home. The suite was exactly as described and was very comfortable for our group. Luke met us upon arrival and gave us a tour of the suite. We chatted for a few minutes about our plans and Luke gave us some great recommendations for food/drinks. We mentioned that we were going to Hammerheads for dinner and a few minutes before we left, Luke texted us to let us know that Hammerheads was closed for construction. That was so thoughtful and saved us some money on what would have been a wasted Uber ride! The house is in such a nice neighborhood and was convenient to everywhere we wanted to go. We would definitely recommend Katie and Luke's home to anyone traveling to Louisville.
Angela
2016-08-15T00:00:00Z
Audobon park is a nice neighborhood. Close drive to the University of Lousiville campus. Katie and Luke were easy to get in touch with and really nice to offer suggestions on where to eat. You do have to hop in the car to drive to bars and restaurants. Comfortable bed.
Gina
2017-04-08T00:00:00Z
Wonderful neighborhood, very clean, great hosts. Fantastic to communicate. We hope to come back again!
Jeanne
2016-10-23T00:00:00Z
Luke and Katie were amazing hosts to an amazing private suite. In addition to being close to many shops, it was packed with all the amenities in order to feel right at home. If you're going to Louisville, don't bother looking at any other place because this is the one you want.
Cory
2016-07-30T00:00:00Z
My son and I were so blessed with this sweet place and beautiful neighborhood. So accommodating and felt like home away from home. We loved it and look forward to coming back next year.
Andrew
2016-04-24T00:00:00Z
Thank you very much it was a beautiful place to stay. We would definitely would like to stay there again when we visit Louisville. You made us feel right at home
Carla
2016-10-12T00:00:00Z
Luke and Katie were very welcoming and kind. They took the time to show us the place and make suggestions for places to visit in Louisville. The suite was very comfortable and clean. It was decorated with a lot of care, and style. We honestly wanted to stay more than one night!
Anne
2016-07-15T00:00:00Z
I expected a great space based upon the pictures, and it was great, but it also exceeded my expectations in all the small ways too. For example, I know it seems petty, but they had the best towels of any AirBnB I have stayed at (13+). I love a big comfortable, good-smelling towel. Other notable small things: Netflix, Hulu, comfortable seating, cokes/waters, oatmeal, coffee, great wifi, and much more. You can tell that the hosts are great people and will go out of their way to make your stay the best it can be. The whole home radiates peace. Also great restaurant recommendations. Try out El Taco Luchador!!
Isaac
2017-02-05T00:00:00Z
Huonetyyppi
Koko talo/asunto
---
Majoituspaikan tyyppi
Talo
---
Majoittujien määrä
2
---
Makuuhuoneet
Louisville, Kentucky, Yhdysvallat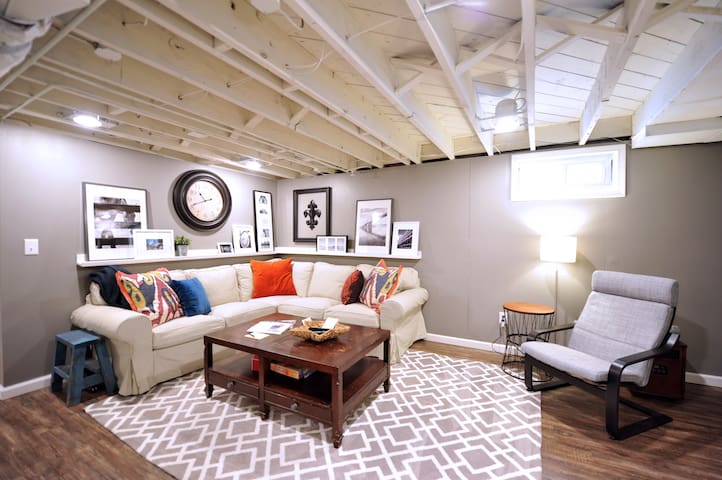 位於市中心,靠近一切,你會想在路易斯維爾體驗!分鐘,從老路易斯維爾,日耳曼,Butchertown,高原,市區時髦的酒吧,商店和餐館驅動。我們是在丘吉爾唐斯10分鐘車程!十分鐘的穆罕默德·阿里中心,棒球博物館,四大步行橋,影劇院,音樂廳,農貿市場,歷史街區旅遊......這樣的例子不勝枚舉和!
關閉的一切!不太步行距離,但非常接近時髦的酒吧,餐館和商店。從丘吉爾丘陵僅有幾分鐘的路程,市中心,高地,老路易斯維爾,日耳曼!這就是,如果你想體驗所有路易斯維爾所提供很大的面積為英寸 這是一個行動和未來的居民區仍處於過渡。家園被很多新裝修和當地企業中移動(檢查出猩紅色麵包店僅兩個街區沿街)。 如果你正在尋找一個小郊區,質樸的鄰里沒有字符,這樣不是很好。
Kelly has an wonderful, warm, homey home! It's in a great location, close to so many cool spots. Her animals are insanely sweet, which I think says a lot about her. The room is very nice, equipped with a television and wii (whoop whoop), there is also closet space (big plus). My stay was short, but I very much enjoyed my time there. I will be back!
Casey
2016-10-09T00:00:00Z
This was a very convenient place to crash for a night as I was traveling from Detroit to Memphis. Kelly thought if everything!! Ask her about the fancy hippie body wash. It's called Jesus and for good reason!! I'll be back anytime I'm in the Ville!!!
ron
2016-10-16T00:00:00Z
The house was incredibly cozy, and Kelly was very accommodating. She made a binder of local cool spots, restaurants, and bars close by (we tried out three suggestions and all were great), and the room we stayed in was very comfortable. She and Rivka encouraged us to make ourselves at home and were very sweet. Kelly's pets were amazing - two cats and two dogs, all very friendly. There was even a pot of French press coffee waiting for us in the morning. Great location and very chill place to come back to after a day or night around Germantown!
Josh
2016-12-06T00:00:00Z
Kelly thought of everything, down to a shelf reserved for guests in the fridge and a sewing kit in the guest room for wardrobe emergencies. She, and her fur babies, were wonderful company when we were all 'home' at the same time, otherwise the house was quiet and relaxing.
Amanda
2016-11-19T00:00:00Z
Had an awesome time here, will definitely choose them again if I find myself back in the area!
Shanise
2017-02-11T00:00:00Z
Our stay at Kelly's place couldn't have been better! Kelly was communicative and welcoming. The house was so cute, clean, and comfortable. We appreciated all the great recommendations for places to eat and drink, and the location was just a short drive from everything. We can't thank you enough for a great stay. Louisville has a lot to offer and we look forward to coming back!
Olga
2017-02-06T00:00:00Z
Kelly's place was warm, clean, and conveniently located for easy downtown access. We only stayed for a night, but it was perfect for our needs.
Shane
2016-11-26T00:00:00Z
It's a very nice house with great hostess, everything is perfect, there is Netflix in your room also. Cats and dogs are obviously well trained,strongly recommend
Ran
2017-04-13T00:00:00Z
Huonetyyppi
Yksityinen huone
---
Majoituspaikan tyyppi
Talo
---
Majoittujien määrä
2
---
Makuuhuoneet
Louisville, Kentucky, Yhdysvallat
2.2mi naar Churchill Downs, onze charmante, artsy huis beschikt over alle voorzieningen, waaronder een eigen jacuzzi, uitgeschakeld straat parkeren, een plafondventilator, open haarden, serre, vuurplaats in de tuin, speelkamer met biljart en darts. Geweldige locatie met slechts enkele minuten van uitstekende winkels en eetgelegenheden, de luchthaven, Olmstead parken, U van L, Downtown (musea Slugger, 21c, Ali, Frazier History, Science. Ook Art eetwaren Convention Center, 4th Street Live !, Nulu, en de Bourbon Trail).
Bedford stenen huisje is gelegen op een van ontworpen parkways Frederick Law Olmstead's. Off straat parkeren en ruime tuin. Geniet van een authentieke en beloopbaar wijk Louisville met een geweldige locatie voor het verkennen van Derby City.
Mijn huis ligt op 5 minuten van de luchthaven, 5 minuten naar Churchill Downs, 10 minuten naar het centrum en ongeveer 10-12 minuten van de Hooglanden, waar zijn er tal van winkels, goede restaurants en bars. Over een 5-6 blok lopen is het grote Iroquois Park met een openlucht theater, tennisbanen, paardrijden, wandelpaden, speeltuin met een waterpark, en frisbee golf. Gewoon op de weg is Central Park, de thuisbasis van gratis zomer toneelstukken van de oudste vrije Shakespeare in Amerika, Kentucky Shakespeare. Straten verderop zijn de University of Louisville honkbal en voetbal stadions evenals de onlangs gerenoveerde Speed Art Museum. Gewoon het centrum, kunt u Envy Angel's, Peerless, Evan Williams en meer Bourbon-distilleerderij tours te vinden met een moeten stoppen op Arteatables waar mijn vriend is de eerste Bourbon gecertificeerde chocolatier in de wereld. Kelly's truffels zijn meer dan geweldig! Niet ver van het centrum in het historische Butchertown is Koper en Kings; ze spelen muziek van hun Brandy tijdens het stookproces. Louisville is een stad van kunst & parken, sport & outdoor entertainment en nog veel meer. Kom bij het plezier van onze prachtige stad.
This is the first time we've used air b&b and we definitely had a great experience! Debbie was super friendly and welcoming! We will definitely stay here next time we are in town!
Cecilia
2017-04-11T00:00:00Z
Debbie is a wonderful person and a fabulous host! She knows the area well and has lots of fun ideas for things to see and do in Louisville. Her home is full of interesting art, but it's not at all cluttered. The cats and dog are sweet and at peace with each other, and the neighborhood feels safe and comfortable. The bedroom is spacious, with plenty of surfaces for storing suitcases, work, toiletries, etc, and the bathroom is comfortable and private. It's especially wonderful to find an airbnb at this price, with a Jacuzzi tub! The house is located within reasonable driving distance of lots of great Louisville sites, but in an area that feels very cozy and out-of-the-way. Loved it!
JenniferRose
2017-02-22T00:00:00Z
Debbie's place was great much better and cheaper than a hotel. She was a very nice and made sure we felt comfortable in her home. The house was very clean and very nice. The picture of the outside of the house makes it look small but once u get inside it seemed much bigger. The basement of the house had a nice tv, pool table and a dart board that is where we spent most of our time. It seemed so cozy in her home and the decorations and art in the house was awsome. Would definitely stay there again if we are back in Louisville.
Brett
2017-02-26T00:00:00Z
Debbies place made us feel right at home . The decor was impressive and she was extremely hospitable . The game room was especially fun with a plethora of card games . Additionally , the pool table and darts were an added source of entertainment. If we visit Louisville , we will definitely stay at Debbie's !!!
Venkat
2017-03-13T00:00:00Z
Good launching point if you are looking it hit up the Bourbon Trail.
Beth
2017-03-19T00:00:00Z
My mom and I loved our stay at Debbie's place! She has a lovely home that was just a few minutes drive from downtown. We came to Louisville to visit a few stops on the Bourbon Trail, and Debbie had so many great tips for us! She was very quick to respond if I had any questions, and her home was very clean, comfortable, and beautiful. Thank you so much for a great stay!
Lane
2017-02-25T00:00:00Z
Debbie's home is beautiful and comfortable. She is a friendly and helpful host. I will absolutely stay here again if I ever return to Louisville!
Audra
2017-03-12T00:00:00Z
My friend and I had a lovely stay at Debbie's house. It is in a great location – an interesting and walkable neighborhood that is convenient to everything. The accommodations are perfect – immaculately clean, Spacious and comfortable. Debbie is a wonderful host – she was very knowledgeable friendly and helpful. I will definitely stay with her if I'm ever in Louisville again!
Alisa
2017-03-26T00:00:00Z
Huonetyyppi
Yksityinen huone
---
Majoituspaikan tyyppi
Talo
---
Majoittujien määrä
5
---
Makuuhuoneet
Louisville, Kentucky, Yhdysvallat
Mi lugar está cerca de la Universidad de Louisville. Te va a encantar mi lugar debido al espacio privado. Mi lugar es bueno para parejas, aventureros en solitario, y viajeros de negocios.
Clarence was easy to work with as a host. Good location close to lots of food. Nice king size bed, very comfortable.
Kyle
2017-01-11T00:00:00Z
Clarence was a great and communicative host. Close to campus andnot too far from other areas of nightlife, you'll be hard pressed to find a better location for the price.
Christopher
2017-03-26T00:00:00Z
Easy to come and go, comfortable. Ok stay for my brother and I for the price.
Matthew
2017-02-19T00:00:00Z
Clarence was an awesome host and quickly responded to my messages. His place was clean and the bed was comfortable. Would stay here again!
Alex
2017-03-19T00:00:00Z
Excellent stay, great service and comfortable bed.
Howard
2017-01-06T00:00:00Z
Clarence was prompt and helpful. Nice place to stay near UofL. Really comfortable stay.
Patrick
2017-03-16T00:00:00Z
Convenient, clean, and private.
Mark
2017-01-30T00:00:00Z
Clarence was kind, polite, and extremely responsive. He was very accommodating and flexible with our schedule, and was a fantastic host. If you had a question or needed to reach out to him, he would respond almost immediately. He was very helpful with providing places to visit and tips for our adventures in Louisville. You get more than the value. Great location.
Karina
2017-02-26T00:00:00Z
Huonetyyppi
Yksityinen huone
---
Majoituspaikan tyyppi
Talo
---
Majoittujien määrä
2
---
Makuuhuoneet
Louisville, Kentucky, Yhdysvallat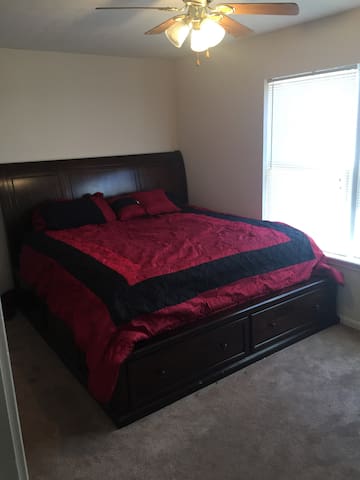 Great price, very central and easy get to. Matt was great with communication and was very accommodating with our arrival and departure. Rooftop is pretty sweet!
ANDREY
2017-04-08T00:00:00Z
Huonetyyppi
Koko talo/asunto
---
Majoituspaikan tyyppi
Huoneisto
---
Majoittujien määrä
3
---
Makuuhuoneet
Louisville, Kentucky, Yhdysvallat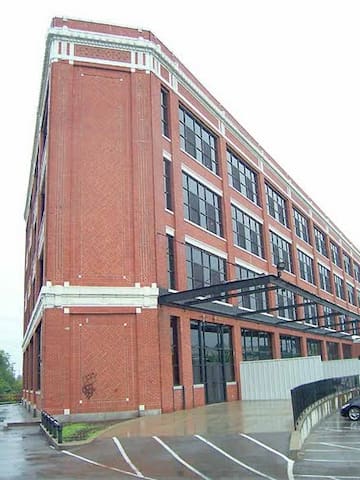 Old Louisville es un distrito histórico y el barrio en el centro de Louisville, Kentucky, EE.UU.. Es el tercer mayor municipio de este tipo en los Estados Unidos, y el mayor distrito de conservación que presenta una arquitectura de estilo victoriano casi en su totalidad. También es único, ya que la mayoría de sus estructuras están hechas de ladrillo, y el barrio contiene la mayor concentración de viviendas residenciales con vidrieras en los Estados Unidos.
TWEEDE verdieping appartement in een historisch 120 jaar oude gebouw. ER ZIJN 4 appartementen in het gebouw. Hardhouten vloeren met tapijten. Geweldig decor.
UN PASEO SUR Y OESTE DE LA UNIDAD desvelará gran tesoro en casas victoriano. Camine hacia el norte y el este a un barrio urbano más.
Nice place
Patricia
2017-03-25T00:00:00Z
Overall great experience. We had a 2 night stay at the Magnolia Place in March of 2017. Upon arrival there was ample street parking. We did not utilize the parking spot in the back as there was always a spot on the street right in front of the house. Self-check in was a breeze, and the host provides his personal number as well as an emergency contact. The living area of the condo/apt is on the second floor. The bedrooms were spacious and comfortable. The living room was cozy with a very comfortable couch and a nice flatscreen TV (approx. 48-55"). The kitchen and dining area were small, but contained all of the necessities. The hardwood floors that were not covered by rugs were very slippery (no complaints here, just an observation). The bathroom was nice but could use a good deep clean. Bath soap, shampoo, lotion, and clean towels were provided. The only flaw with the bathroom was the is window doesn't open and there is not a fan. The pictures provided by the host accurately depict the condominium. The listing states that Wi-Fi is available, but we did not find any instructions on the username or password. We did not really need to connect to Wi-Fi, so this wasn't a big deal. I'm sure if we would have contacted the host, we could have retrieved this information. The thermostat was set to 68F. The weather did get cold during one night of our stay. I tried to turn it up a few degrees but was not able to. I'm not sure if the program was locked or if it was just user error (which is a more likely scenario). The neighbors were polite and friendly. They provided great recommendations for nearby restaurants. We were a little hesitant to stay in Old Louisville rather than downtown. This location turned out to be perfect. Easy access to/from the highway. We took Uber rides to/from downtown and Bardstown Road in the Highlands. Rides ranged from $5-$8 each way, which was much more economical than paying to stay in the heart of downtown. I would recommend the Magnolia Place in Old Louisville to friends or family who are visiting Louisville.
Daniel
2017-03-12T00:00:00Z
Nice two bedroom upstairs space. Old building so stairs are narrow. Quiet, pretty view of tree lined street. Parking in front or back. Big TV in living room. Comfy beds. Bottled water would be great. Host easy to reach.
Joy
2017-04-10T00:00:00Z
This was the perfect place for us to stay while we were in town for a conference. There was tons of parking in the back and always a space right in the front. The condo was in a cool, old house that we loved for its character. This was just what we were hoping for :)
Amy Kay
2017-03-31T00:00:00Z
Great place, would definitely stay again!
Jason
2017-04-03T00:00:00Z
The place is gorgeous you will enjoy your time here I would come back in a heartbeat. Parking is on the street with no problem whatsoever
Frank
2017-03-19T00:00:00Z
The host canceled this reservation 67 days before arrival. This is an automated posting.
Theresa
2017-02-26T00:00:00Z
Huonetyyppi
Koko talo/asunto
---
Majoituspaikan tyyppi
Osakehuoneisto
---
Majoittujien määrä
4
---
Makuuhuoneet
Louisville, Kentucky, Yhdysvallat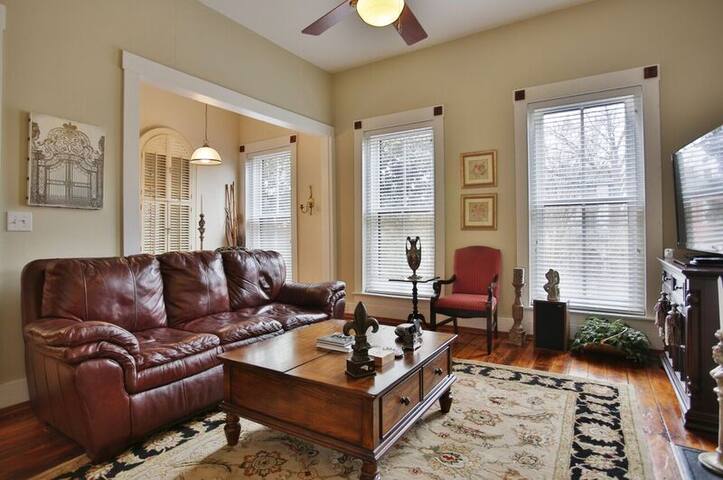 Ned and Joan are top notch hosts. They were very professional and attentive to our needs while allowing us privacy during our visit. The room & bathroom were very nice and clean. The microwave and mini fridge were an added bonus that allowed us to eat one meal (breakfast) in. It was nice to have the entire downstairs to ourselves. The back deck was also very private and a peaceful place to eat breakfast. The only suggestion I would give is for instant coffee or a small 4 cup coffee pot in the room. Next time we are in Louisville we will try to arrange staying with Ned and Joan again
Jim
2016-09-18T00:00:00Z
We arrived early, but Ned greeted us and was ready for our stay. The neighborhood was very nice and we felt very safe. Joan made us feel welcomed and we had some time for conversation, which we enjoyed. The animals were friendly as well. They made the downstairs area of their home available for us. The room was very comfortable. Everything was very clean. We would definitely recommend Joan and Ned as hosts and their home as a great place to stay.
Judith
2016-10-20T00:00:00Z
5/5 all the way. Close enough to downtown for my needs, wonderful house, comfortable beds, and incredibly gracious hosts. Very easy to go to and fro without disturbing the rest of the house-- not that it would be a problem, Ned and Joan are great hosts.
Gabriel
2016-04-11T00:00:00Z
This was a wonderful stay in a beautiful neighborhood. Would definitely stay again if in Louisville. They were very hospitable and welcoming. Nice clean room, and comfortable bed.
Johnny
2016-10-22T00:00:00Z
We thoroughly enjoyed our stay at Joan and Ned's home. It was very convenient to the area we needed, was spotless and comfortable, and they were hospitable and friendly. Privacy was respected and access was accommodating, even with our late evening schedule. We would recommend to friends!! Thanks to you both!
Steve
2016-04-19T00:00:00Z
Staying at Ned and Joan's was a true pleasure! The two of them were very accommodating with our arrival being very late, allowing us to bring our dog, and and giving us a key to come and go as we please. They were very friendly and suggested places to eat and check out. The house is beautiful, clean, and the room had everything we needed including a fridge and microwave. It is a short drive to downtown, and even shorter to beautiful Iroquois park. We had a great time and would definitely stay again!
Drew
2016-10-16T00:00:00Z
Ned and Joan have a comfortable room in a quiet neighborhood. They were accommodating of our later arrival. We enjoyed our stay.
Carol
2017-03-23T00:00:00Z
The neighborhood is very nice and so is the house. The guest area is separate from the rest of the house and is as pictured in the listing.
Josh
2016-12-30T00:00:00Z
Huonetyyppi
Yksityinen huone
---
Majoituspaikan tyyppi
Talo
---
Majoittujien määrä
2
---
Makuuhuoneet
Louisville, Kentucky, Yhdysvallat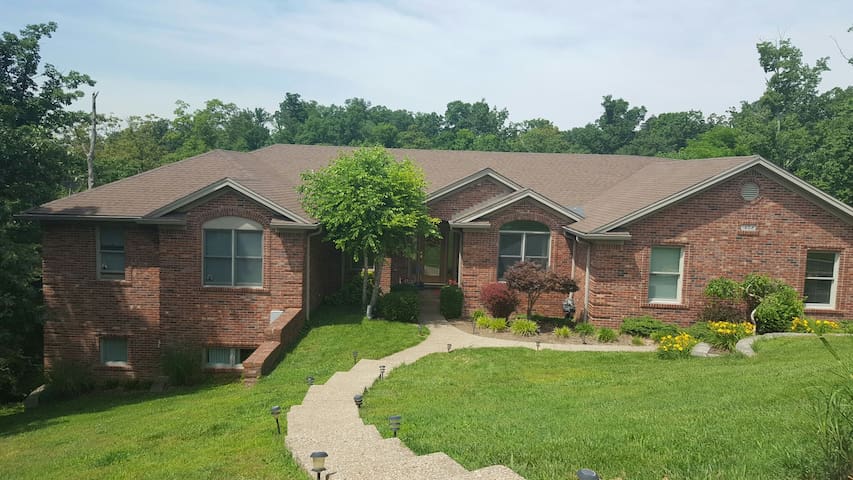 Homey, verstecktes Juwel im Traber Entfernung von weltberühmten Churchill Downs! In zentraler Lage mit guter Anbindung an Autobahnen, die Innenstadt, altes Louisville & the Highlands. Nur die Straße von Kentucky Exposition Center, UofL & Papa Johns Cardinal-Stadion. Gemütlich, mit viel Platz zu bewegen! Open Grundriss mit Küche und Wäscherei.
Das Hotel liegt in einem doof kleine Nachbarschaft genannt Glückliches Hufeisen mit einfachen Zugang zu allen wichtigen Sehenswürdigkeiten, Veranstaltungsorte und Restaurants. OK, so ist es nicht die snazziest Nachbarschaft in der Stadt, aber die Lage ist leicht zugänglich, um überall Sie Lust in Louisville. Während es in einem städtischen Gebiet, unsere kleine Ecke ist erstaunlich ruhig und in der Regel ziemlich ruhig. Kroger Lebensmittelgeschäft am 3. und Central, zusammen mit Starbucks, Planet Fitness & Liquor Welt nur auf der anderen Seite von Churchill Downs in der Nähe von Wagners Diner. Suche nach lokalen schrulligen Sachen? Seien Sie sicher, Tickled Pink bei Calhoun & Taylor zu überprüfen, ob Sie in Antiquitäten und Sammlerstücke sind. Schauen Sie sich die neue amerikanische Pharoah Ausstellung in Churchill Downs aus, und sicher sein, in einem Pferderennen zu nehmen, wenn die Strecke geöffnet ist! Nehmen Sie eine kurze Fahrt zu den Highlands und flanieren Bardstown Straße. Schöne Iroquois Park ist nur auf Taylor Blvd und hat einige schöne Wanderwege und tolle Shows im Amphitheater. Schauen Sie sich ihren Zeitplan auf (URL HIDDEN) Soweit Lebensmittel, Kopf südlich von Churchill Downs für die internationale Vielfalt oder in Richtung Innenstadt, UofL oder den Highlands für mehr einzigartige, gehobene oder traditionelle Gerichte. Ich will nur Barbecue? Schauen Sie sich Jimbos in Kenwood.
Our Host was great. She was willing to share important information for our stay. We spoke on the phone and she was very friendly. The home was very clean and breakfast was provided which was great. This was close to our conference and she left a lot of info. on other things to do while we were there.
James
2016-10-16T00:00:00Z
the place was better than I thought it would be. the only issues were small things that only come up when everything else is so good.Also I blame the weather
Vic
2017-01-10T00:00:00Z
Our stay was very pleasant. The home suited our needs perfectly. Barbara was very helpful and her place was very clean. Seemed like an amazing value to us. She left lots of personal touches around which made us feel very welcome.
Rhonda
2017-01-15T00:00:00Z
Our stay was perfect. We were in close proximity to downtown and Churchill Downs, the neighborhood was quiet at night so our kids could sleep no problem. Barbara provided a wonderful array of breakfast foods. We had everything we needed! We were only there two nights, my husband did the Iron Man in Louisville and the place was just what our family needed for the trip. My only FYI is that the stairs leading to the house are steep so if you have small kids be careful. If you have a physical disability, this might be hard for you. But we would stay again!
Jacquie
2016-10-11T00:00:00Z
Very cute and will be back!!!
Joeley
2017-04-09T00:00:00Z
Our 18 day stay in KY was very pleasant. Barbara was a great host. She provided quick items to fix for breakfast with juice, milk, coffee, etc. There was a minor leak in the bathroom, I called her and she offered to leave work to come get it taken care of. It wasn't an emergency but she did get it taken care of that day after work. It's located in an older area of Louisville and has been well taken care of. The area was quiet and I would recommend it highly.
Betty
2016-11-19T00:00:00Z
This was a fantastic experience for us on our trip to Louisville. We were made to feel very welcome, and Barbara went above and beyond to take care of us. The apartment is very comfortable and inviting, situated in a quiet neighborhood. We thoroughly enjoyed ourselves, and we couldn't believe the value. Thanks again for a great stay!
Brian
2016-05-23T00:00:00Z
We had an awesome stay at Barbara's. Our family includes two adults, a five year old and two two year olds. This was our first Airbnb experience and I'm not sure we'll ever stay at a hotel again :) but I do know we were spoiled at Barbara's. Not only is it a great two bedroom for way less than the price of a tiny hotel, the kitchen is loaded with great breakfast items too. The location is literally adjacent to Churchill Downs! We had the pleasure of getting to meet Barbara as she cut her lawn in 98 degree heat (that's how much she cares about the property) and she was absolutely wonderful! Stay here!!
Jessie
2016-07-26T00:00:00Z
Huonetyyppi
Koko talo/asunto
---
Majoituspaikan tyyppi
Huoneisto
---
Majoittujien määrä
4
---
Makuuhuoneet
Louisville, Kentucky, Yhdysvallat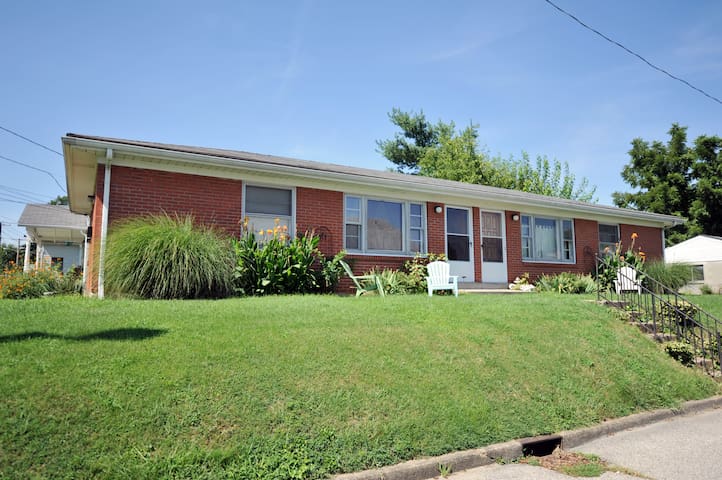 Oh my goodness, I don't know where to begin. I absolutely love and adore Angela and her flat. Her property will always be my very first choice when traveling to Louisville. If you want a lovely and peaceful flat in the most beautiful neighborhood in Louisville, you have to stay at her little slice of heaven. After staying there, I don't just consider her an Airbnb host, I consider her a friend. What a wonderful experience that I will never forget.
Britt
2016-10-02T00:00:00Z
This was our first time staying with airbnb. Do glad it was staying at Angelas place. Such a great place.
TammyJo
2017-02-19T00:00:00Z
We had a quick 1 night stay for a show in Louisville and could not have been more pleased. Beautiful place in a scenic neighborhood, and a wonderful host. $5 Lyft to Fourth St Live Great stay!
Cynthia
2017-04-09T00:00:00Z
Great location and Old Louisville. It was like a little piece of history while staying there. Really cool. Ang was great and communication wast top notch! Would def stay again if my travels send me in that direction and her place is available. 5 stars out of 5!
Dan
2016-10-22T00:00:00Z
Lovely place and neighborhood. I would stay again
Tim W.
2017-03-18T00:00:00Z
Great location and neighborhood!
Andrew
2017-03-25T00:00:00Z
Angela's home is in the most picturesque neighborhood of the city - Belgravia Court - and the area surrounding her place is idyllic. Set in Old Louisville, the neighborhood containing America's largest concentration of Victorian homes, you truly won't find a better space. Angela's home was comfortable, welcoming, and the check-in experience couldn't have been better. I'm only sad we were only able to stay for one night! You won't regret a stay at Angela's - we certainly didn't!
Katy
2017-02-06T00:00:00Z
The apartment is located in a very beautiful area of Louisville. It is old, has charm, is very clean and functional.
Sophie
2017-04-08T00:00:00Z
Huonetyyppi
Koko talo/asunto
---
Majoituspaikan tyyppi
Huoneisto
---
Majoittujien määrä
2
---
Makuuhuoneet
Louisville, Kentucky, Yhdysvallat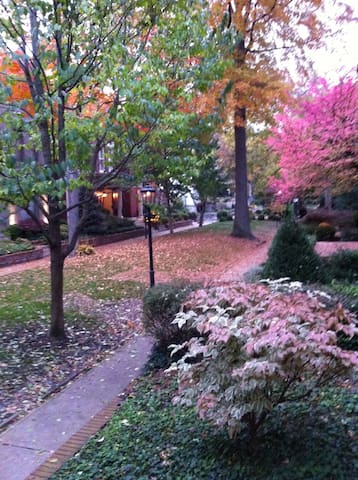 Situat a 2 quadres al nord de l'autopista 264, el recentment renovat casa de dos dormitoris es troba a 5 minuts de l'aeroport, menys d'una milla de Churchill Downs i la volta de la cantonada de la Universitat de Louisville, el recinte firal, Kentucky Unit i més. Benvingut a la ciutat de Derby! Stasia i Howie
Hem renovat una casa històrica de 1920 amb noves catifes, pintura, accessoris de níquel polit i la criatura personalitzat comoditats per als nostres hostes Aire BNB. Ens assegurem incloure una mica de gust de la ciutat de Derby. Vostè té accés a tota la casa.
Situat a l'interior del Watterson Expressway Loop, molt a prop de Churchill Downs, de Louisville Papa John estadi cardinal (futbol) i l'estadi de Patterson (beisbol), el nostre barri és també un Uber fàcil dels bars i restaurants del centre o Bardstown Rd. A més, tenim línies d'autobusos locals a cada extrem del nostre bloc.
I had a great quick trip to Howie and Stasia's house. Stasia met me at the door with a key, and was extremely welcoming. The house was immaculately clean, and the location could not have been more perfect (I was in town to go to the expo center and it was 5 minutes away, so so close). A wonderful and spacious house and great for a trip. Next time I'm in Louisville, I'll stay here.
John
2017-02-03T00:00:00Z
Great home and described accurately. Stasia was an excellent host and responded within seconds of any messages. We had coffee in the coffee maker upon arrival. Nice touch! Great tip for Kentucky Derby fans...you can walk to Derby from this location. Thanks Stasia!
Chuck
2017-02-27T00:00:00Z
Great people
Cindi
2017-02-08T00:00:00Z
Great place for a great price! We were happy with everything, the place was clean, comfortable and close to everything we did. Stasia was very nice and helpful and answered my questions super fast! Overall I would highly recommend this Airbnb if you are going to an event at the expo center or Churchill downs or really anything. The location was great, the neighborhood wasn't loud and yet it was still within minutes of everything we needed. Very happy with how our trip turned out and very happy with this Airbnb!
Madison
2017-03-26T00:00:00Z
We had plenty of space in this family-friendly home. Stasia was very helpful in the check-in and check-out process and we'd highly recommend staying here!
Chris
2017-03-18T00:00:00Z
Wonderful home in a great location with a very gracious and informative host.
Kelly
2017-04-02T00:00:00Z
It's OK for one night. You get what you pay (URL HIDDEN) frills. Short Uber to forth street live. Howie the owner was very nice and helpful. Bathroom was not clean.
Janette
2017-02-10T00:00:00Z
This house was awesome. It was right off the expressway, and was super close to what we needed. The beds were super comfortable, and they had a full kitchen. My fiancé and I did a tour of Churchill downs, and we could pretty much walk there. I'd stay at this house again. We had a great time in Louisville.
Andrew
2017-02-05T00:00:00Z
Huonetyyppi
Koko talo/asunto
---
Majoituspaikan tyyppi
Talo
---
Majoittujien määrä
6
---
Makuuhuoneet
Louisville, Kentucky, Yhdysvallat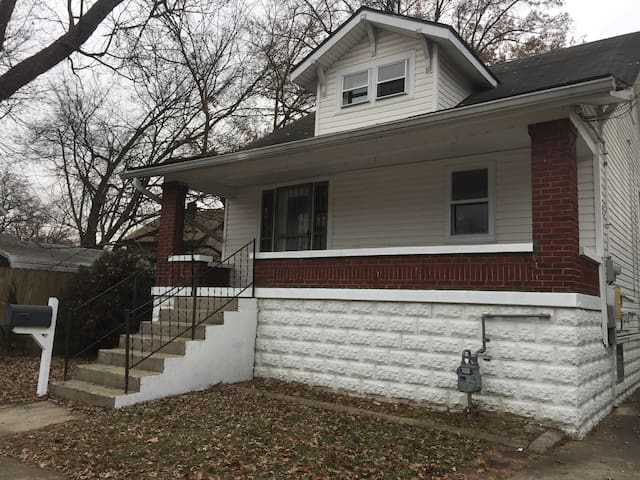 可爱舒适的FULL公寓2-4客人方便,最好的路易斯维尔。短骑自行车到丘吉尔唐斯。宠物欢迎,如果内部培训15 $ /天。带围栏的后院。路边停车。 吸烟只能在外面。 从路易斯维尔机场5分钟。 7分钟后丘吉尔唐斯。 12分钟市中心。
Aprox 366 pies cuadrados. Cocina con nevera 3/4, bandejas de hielo, horno, estufa, microondas, cafetera, fregadero. La sala tiene un cómodo futón, gruesa, mecedora y un banco. El dormitorio tiene cama de matrimonio con colchón suave. Cuarto de baño completo.
Beechmont es conveniente Iroquois Park y el anfiteatro, la autopista, UofL y Churchill Downs. La mejor comida étnica en la ciudad es un paseo o corta distancia.
Exactly as described - an excellent place to stay for a quick weekend in town!
Sarah
2017-03-05T00:00:00Z
This was our first Airbnb experience and it couldn't have been more pleasant! We had sought out a place that was clean and comfortable with 100% privacy and we were very happy here. Joseph was extremely communicative and made me feel at ease with the whole process and also recommended a couple of places to eat and grab coffee that we were beyond happy with! Wonderful night away from home for us!!
Coley
2017-03-12T00:00:00Z
Nice little place! Secluded and secure. Great little place for your Louisville stay!
Martha
2017-03-18T00:00:00Z
We had a great time in Louisville, and our stay here was very comfortable and quiet. The neighborhood was nice with easy access to the freeway. Our hosts were very hospitable and responded quickly to any questions or requests that we had. The apartment is a good value and would definitely stay here again!
Kurt
2017-03-25T00:00:00Z
Great host - clean and comfortable place to stay. Would definitely stay here again if we come into town.
Amanda
2017-03-19T00:00:00Z
Great communication, we really enjoyed our first trip to Louisville.
Katrina
2017-03-30T00:00:00Z
Very cute and cozy with amazing hosts! Will definitely stay here again when I am in Louisville.
Jennifer
2017-03-21T00:00:00Z
Joseph's place was perfect! A small apartment, perfect for the single traveller or a couple. It has everything you could possibly want! And all the decor and even some of the dishes featured Louisville. Awesome place!
Ryan
2017-03-02T00:00:00Z
Huonetyyppi
Koko talo/asunto
---
Majoituspaikan tyyppi
Huoneisto
---
Majoittujien määrä
4
---
Makuuhuoneet
Louisville, Kentucky, Yhdysvallat
Vijf minuten van de Watterson Expressway (264). Thuis weg van home- kabel, wifi, grote achtertuin, en een full size wasmachine en droger! Het huis is huisdier vriendelijk! Ik ga terug en makkelijk gelegd om mee om te gaan op uw reizen!
Super eenvoudig, zonder franjes drie slaapkamers ranch! Als u op zoek bent naar een plek om te ontspannen en tot rust komen na het zijn uit in de stad, is dit de plek! De woonkamer heeft twee grote banken en een love seat. Het huis is een basic ranch-stijl huis met vijf bedden. Alle bedden zijn voorzien van schone lakens en dekbedden voorzien. De keuken is cook-klaar met alle basics aanwezig. De keukentafel biedt plaats aan maximaal vijf personen en er is een extra kaart tafel met vier extra stoelen in de kelder. Er is een grote achtertuin en we zijn huisdier vriendelijk. Dit huis was mijn eerste huis jaar geleden. Het is sindsdien een vaste verhuur en het huis van de mensen geweest over de hele wereld de afgelopen twee jaar! Daarom is dit huis is goed-woonde in. Helaas, niet iedereen behandelt ons huis met zorg en soms zijn er dingen die we missen. We proberen zo snel mogelijk tussen de neiging om onderhoudsproblemen. We willen dat onze gasten ervaring om zo positief mogelijk zijn. We zijn blij om eventuele vragen te beantwoorden!
Ik gebruikte om te wonen en werken in deze buurt. Ik werk nog steeds in de straat van het huis. Je bent veilig om te wandelen en rijden fietsen in de omgeving. Er is nooit enige zekerheid problemen die ik ben me bewust van in deze buurt geweest. Maar, zoals met alles-due diligence is altijd vereist. Ik heb een leraar voor de laatste tien jaar. Ik hou van dit gebied, omdat ik ergens in Louisville in tien tot vijftien minuten kan zijn. Er is kruidenier, restaurants en andere winkels in de buurt.
This was a great place in a great location. We came to come look at some of the distilleries in the area and we're glad to have a nice place to come back to each day over Memorial Day weekend. Thanks!
Tim
2015-05-24T00:00:00Z
Phenomenal!!! Everything my families needed. The location and the neighborhood was peaceful and convenient. Coffee was a big plus. Would check your availability when we come visit again. Thank you for helping us make our dad the happiest dad in the world
Reginald
2015-07-05T00:00:00Z
Our stay was pretty smooth and hassle free. Everything in the house was well arranged and organized. We spent a nice peaceful night. Thanks to the host.
Rashmi
2015-04-03T00:00:00Z
Myself and a group a friends needed an overnight in Louisville and this house was just was we needed. Shannon was very accommodating and quickly answered any questions we had. Thank you for having us!
Mary-Yen
2015-02-21T00:00:00Z
Awesome house for great deal. Super clean
Will
2017-01-29T00:00:00Z
Fantastic; Great Host, Great (& Huge) property
Gareth
2016-02-09T00:00:00Z
Shannon's place is a great deal if you are looking to spend time in the Louisville area and have a pet. She has a spacious fenced-in backyard which was perfect for our dog. Her home welcomed us with little candy treats in each room and coffee in the kitchen. A modest house in a quiet neighborhood, it suited our family needs well. Thank you, Shannon, for opening your home to travelers with pets!
Lesley
2016-12-31T00:00:00Z
Shannon's place was perfect for our group traveling to North Carolina. Everything was clean and quiet.
Jennifer
2015-08-07T00:00:00Z
Huonetyyppi
Koko talo/asunto
---
Majoituspaikan tyyppi
Talo
---
Majoittujien määrä
6
---
Makuuhuoneet
Louisville, Kentucky, Yhdysvallat
Would recommend the room was warm, cozy and very clean the bed and pillows were awesome. We had plenty of privacy and our own entrance we could come and go as we pleased and did not have to worry about bothering our host Megan. The dogs are super friendly and just want some loving and the cat too. A+++++
Sommer
2017-03-25T00:00:00Z
Cozy, comfortable room and bright, clean bathroom with a private entrance and off-street parking. Megan was a friendly and helpful host. It's a basement space, so you can hear some noise from upstairs (people, dogs.) I walked to a restaurant about 3/4 mile away and the neighborhood I passed through was a bit dodgy, so I'd drive elsewhere for food if I was there again. Otherwise location seems central to most everything you could want. Thanks!
Beth
2017-03-19T00:00:00Z
Megan was a fantastic host. We was so flexible and understanding about the check in process, after I had a disaster filled trip to Louisville. The room was clean, I loved the art on the walls, and the bed was very comfortable. I loved having my own bathroom, too. Megan's place will be my go-to from now on!
Kathleen
2017-03-26T00:00:00Z
Very cute home, great space, cozy, overall pleasant experience. The owner is a chef and homemade us freshly baked cookies! So delicious and very thoughtful. Would recommend to friends and family!
Jaclyn
2017-04-09T00:00:00Z
Friendly couple, nice room we stayed in. 100% recommended
Kate
2017-04-11T00:00:00Z
Great location. Great host. Great accommodations. You will be warmly greeted and will no doubt enjoy the cozy living quarters.
Chad
2017-04-01T00:00:00Z
Huonetyyppi
Yksityinen huone
---
Majoituspaikan tyyppi
Talo
---
Majoittujien määrä
2
---
Makuuhuoneet
Louisville, Kentucky, Yhdysvallat
1

–

18

hakutuloksista

300+ vuokrakohdetta
Anna päivämäärät nähdäksesi kokonaishinnoittelun. Lisämaksuja sovelletaan. Veroja saatetaan lisätä.