106 vuokrattavaa huoneistoa
New gehobene Apartment mit einem Schlafzimmer im Herzen von Windhoek. So nah wie Sie zu den wichtigsten Touristenattraktionen zu bleiben. Ideal für Geschäftsbesuche zu Regierungsbüros, zentralen Geschäftsviertel und Gerichtsgebäude. Bequemer Einkauf im Handwerk Märkte, Luxusgeschäften und Lebensmittelgeschäfte Nähe und in der Nacht Theatern und Restaurants vor der Haustür. Alle Möbel ganz neu. Doppelbett, Ledercouch und voll ausgestattete Küche. Sichere Tiefgarage. Ruhig abseits der Straße Wohnung.
Die Wohnung ist super zentral gelegen. Check-In war unkompliziert und alles andere auch! Sehr zu empfehlen!
Frauke
2017-03-11T00:00:00Z
nos encanto el departamento, lo que mas que gusto en el momento de llegar, despues de 10 dias en Etosha y el Desierto Namib fue el lavarropas jajaja, fuimos a pie por toda esa ciudad tan bonita de dia, no de noche, ya que todo el mundo aconseja no salir, la verdad es que de noche no hay nadie en las calles, comimos muy bien cerca, es un pais que funciona muy bien! encantados!
Heidi
2017-04-02T00:00:00Z
This is a wonderful apartment. It is comfortable, modern and centrally located. I can recommend it.
Mattia
2017-02-28T00:00:00Z
JJ's place is simply the best, we loved it ! It's neat and cozy, great location, quiet, close to grn gardens and short walk to Wernhil. We didn't meet JJ because she was sick, but we met her husband who was very kind and friendly... nice chat I highly recommend JJ's place and will definitely come back!
Jose
2017-01-03T00:00:00Z
JJ's apartment is great, we really loved it. The apartment itself is lovely... neat, cozy and safe, and very convenient location if you want to explore the city. Will definitely stay here again!
Jose
2017-01-07T00:00:00Z
I was very warmly received from the lady. The apartment was in excellent condition. Clean and modern. Perfect for two people. The apartment is a perfect starting point to discover the center of Windhoek. Just at the corner there is a nice place for art lovers The National Art Gallery of Namibia. A few minutes walk and you can reach other interesting places. The only very small criticism no air conditioning only a ventilator.
Egon
2017-01-21T00:00:00Z
Super clean, modern, quiet apartment. Great shower and kitchen. Walk is just a couple minutes down to Independence Ave. Would definitely stay again.
Brian
2016-12-23T00:00:00Z
First off: Jj is a superb host! Since the check-in went autonomously and we had a bit of trouble with emails getting through (my phone's fault, wifi went smoothly!), Jj literally drove the extra mile to make sure we had arrived safely. The place is central and brand new, everything was super tidy and I recommend staying at the apartment to my own mother.
Joost
2017-01-16T00:00:00Z
Huonetyyppi
Koko talo/asunto
---
Majoituspaikan tyyppi
Huoneisto
---
Majoittujien määrä
2
---
Makuuhuoneet
Windhoek, Khomas Region, Namibia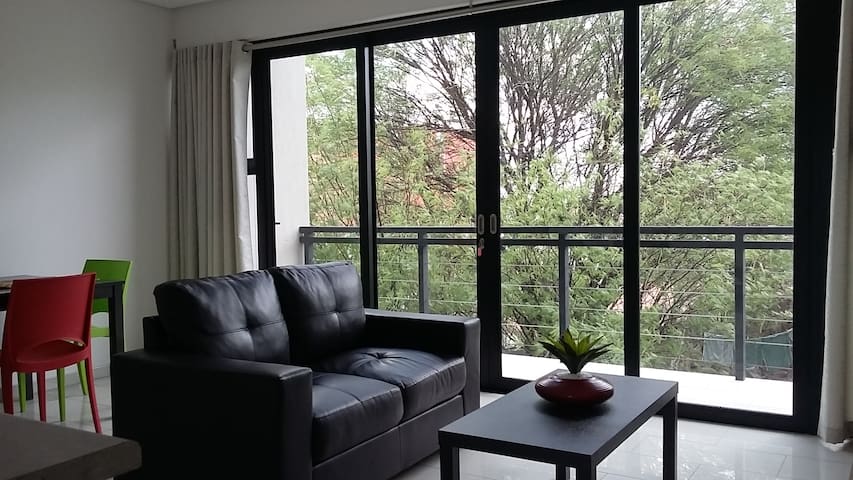 Diese Wohnung befindet sich im Herzen von Windhoek, Entfernung vom historischen Denkmäler zu Fuß, ein Restaurant und ein Einkaufszentrum. Komfortable und sichere Lage mit Parkplatz. Ideal für Paare, die suchen, sowie Geschäftsleute, die zu erkunden, die etwas Ruhe brauchen.
Die Möbel in dieser Wohnung ist so konzipiert und durch Kamnap Design. Leider ist diese Wohnung keine Aussicht bieten, nur einen kleinen geschlossenen Balkon mit einem Kamin. Für die beste Ansicht empfehlen wir eine 5 Minuten zu Fuß zum berühmten Hotel Heinitzburg.
Namibier sind in der Regel freundlich und einnehmend Menschen. Diese Wohnung wurde erst im Jahr 2016 gebaut und ist sehr zentral gelegen.
Just as described. New and modern place in the capital. Adriaan was a very helpful and gracious host. Highly recommended.
Chris
2016-10-18T00:00:00Z
Great place to stay. Quiet, secure and well located. Very modern with everything you will need. Within walking distance of the town centre. Adriaan keeps in touch and this helps a lot when you are new to Windhoek. Very pleasant experience, great shower, very spacious. I recommend and will definitely stay again when I return to Windhoek. Adriaan provides proper filtered coffee, Ouma risks which are very popular amongst South Africans, fresh milk, eggs etc. Very thoughtful! Can't recommend enough.
Ron
2017-04-11T00:00:00Z
Adrian est tres sympathique il est venu nous accueillir à l'extérieur de l'appartement. Il nous a recommandé un tres bon restaurant pour le soir meme. L'appartement est bien situé au centre ville.
romy
2016-11-22T00:00:00Z
Fantastic place ! Adriaan is very responsive and everything went smoothly.
Shravan
2016-10-27T00:00:00Z
Very spacious and up market inside however very close to neighbors (balcony).
Janice
2017-04-06T00:00:00Z
The house is exactly as in the photos! Impeccable and spacious is close to everything that has to be done in Windhoek. The kitchen is super well equipped for those who like to make own meals and having 2 bathrooms was great. Adriann was very attentious to us and very prompt in all communications. The house is super recommended!
Camilla
2017-03-15T00:00:00Z
Nice clean modern Apartment! Adriaan is a well organised guy.
Uli
2016-10-15T00:00:00Z
We were a group of 4 and we had an excellent stay at this apartment. We didn't actually meet Adriaan, but his wife was very helpful and welcoming. The apartment was indeed modern, spacious and tidy. It was also a short walk to the city center and we could park our car inside the gate. Highly recommended by us :)
Vesa
2017-03-05T00:00:00Z
Huonetyyppi
Koko talo/asunto
---
Majoituspaikan tyyppi
Huoneisto
---
Majoittujien määrä
4
---
Makuuhuoneet
Windhoek, Khomas Region, Namibia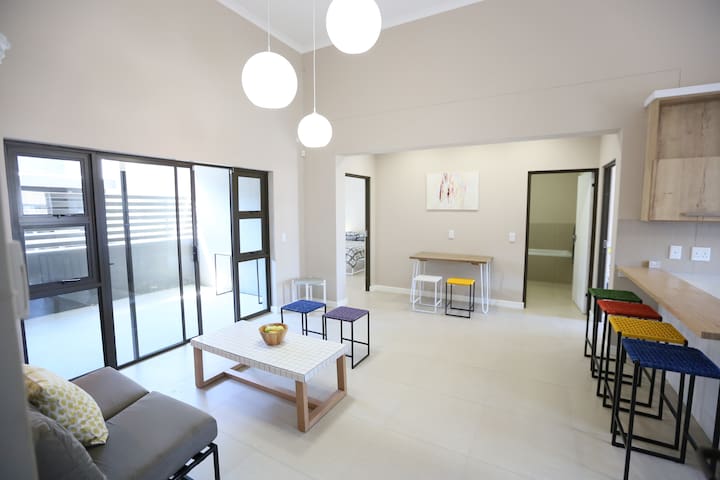 The place is great, clean apartment, wonderful host and relaxing home. Nicely designed apartment which is also walking distance to the mall.
Matshidiso
2017-01-06T00:00:00Z
Nice neighborhood, near to the best shopping mall. Its around 10 minutes by car from downtown Windhoek.
Maurício
2017-03-12T00:00:00Z
Awesome, modern apartment, would definitely go back. Host very accommodating and friendly. Good valve for money. Thanks Pepi
Wendy
2017-03-13T00:00:00Z
The place is to die❤❤ for.. i'd recommended anyone to try it out ... thank you pepi.. I'd surely come stay there again..
Lelicky
2017-01-18T00:00:00Z
What can I say? This was my third stay at this beautiful, convenient, safe property. Please see prior review. Hope to visit again. Oh one thing I many not have mentioned before. Pepi's apartment had the best internet I have had in dozens of venues in Namibia.
Eric
2017-02-23T00:00:00Z
Lovely upmarket apartment, perfect for the traveling business people and close to a major shopping hub.
John
2017-01-19T00:00:00Z
Location was near to good shopping. Easily accessible to central Windhoek. Great communication with host Pepi who sought solutions for any issue.
Spices
2017-03-10T00:00:00Z
Great little place for a quick stay or business trip to Windhoek.
Helmuth
2017-01-11T00:00:00Z
Huonetyyppi
Koko talo/asunto
---
Majoituspaikan tyyppi
Huoneisto
---
Majoittujien määrä
2
---
Makuuhuoneet
Windhoek, Khomas Region, Namibia
Sie werden eine einfache, komfortable Haus mit zwei Balkonen und einer herrlichen Aussicht, in der Nähe der Stadt finden (Dusche wurde gerade renoviert). Seien Sie willkommen - egal ob Sie in Windhoek auf Geschäftsreise sind, beginnen oder einfach nur Ihre Safari endet.
Diese optimistische Apartment mit einem Schlafzimmer befindet sich in unmittelbarer Nähe zu CBD, ideal für touristische Besucher und Fachbesucher (einschließlich medizinische Fachleute mit staatlichen Gesundheitseinrichtungen closeby) zentral gelegen. Völlig in sich geschlossene und eingerichtet im Stil, Simpsons Nr.1 bietet ein Schlafzimmer, Badezimmer mit Dusche (vor kurzem renoviert), Kochnische und offene Wohnbereich, gratis WiFi-Service, DSTV (= Kabel-TV), Parkplatz abseits der Straße. Die großen privaten Balkon bietet Ihnen einen herrlichen Blick über die Khomas Berge! Der Zugang zum Entertainment-Bereich und Schwimmbad nach Vereinbarung. Wöchentliche Reinigung und Wäscherei-Service kann arrangiert werden. Ich freue mich darauf Sie in Simpsons no.1 hosten.
Windhoek West ist eine geschäftige Haube während der Arbeitszeit noch ruhig in den Abendstunden und am Wochenende. Einfach perfekt!
Lovely place, great host.
Rocc
2016-12-26T00:00:00Z
We stayed 5 days in Windhoek and every day we were happy to return to Elines comfortable flat, were we felt like being home. Looking forward to return after our tour around Namibia for another two nights. Kristina and Ralph from Germany
Ralph
2014-04-27T00:00:00Z
Hospitality, comfort and a good location. This is a really homy, clean and well-equipped flat with kind of a lofty feel to it. The two terraces were a real asset, as well as the cute puppy welcoming us ;)
Jeroen
2014-06-05T00:00:00Z
We really liked your place a lot. Very comfortable.
Nick
2016-02-16T00:00:00Z
Eine wunderschöne Wohnung in guter Lage und mit 2 (!) Balkonen. Alles was man braucht ist vorhanden. Eline ist die beste Gastgeberin, die man sich wünschen kann, habe mich wie zuhause gefühlt. Fazit: in jeder Hinsicht sehr empfehlenswert!
Sebastian
2015-08-04T00:00:00Z
Eline's place was great and perfect for our stay in Windhoek... very safe and such a beautiful country. She provided very helpful advices and we went at Fusion restaurant just around the corner which is an awesome African restaurent.... the best place we ate in Namibia. Highly recommended!
Annie
2013-02-26T00:00:00Z
Eline is a warm and welcoming person. We were made to feel at home as soon as we arrived. The space is ideal with generous living area, including the balcony. Eline assisted with tourist and taxi queries, and was always available to assist. The property is 15 minutes walk to the CBD, and WiFi is excellent.
Iian
2015-09-06T00:00:00Z
Eline's apartment is very clean, comfy and provides all the necessities for making a stay in Windhoek easy and uncomplicated. I like that the apartment is very nicely designed with a spacious bed and a huge balcony, which we didn't use, but I'm sure is nice to be used for a braai on a warm summer night. Eline is very friendly and ready to help. Thank you for a good time.
Alice
2016-06-18T00:00:00Z
Huonetyyppi
Koko talo/asunto
---
Majoituspaikan tyyppi
Huoneisto
---
Majoittujien määrä
2
---
Makuuhuoneet
Windhoek, Khomas, Namibia
Situado a los pies de una colina, situada en la bonita zona de Eros, de Windhoek, es un moderno apartamento, elegante y acogedor, que proporciona un entorno tranquilo y tranquilo - perfecto para su hogar lejos de casa. Con magníficas vistas de la ciudad y las montañas se puede ver y oler la hermosa naturaleza que le rodea. La casa está a poca distancia de una serie de fantásticos restaurantes y el mercado nocturno favorito de Windhoek, haciendo de este el lugar perfecto para todas sus necesidades.
Monte Unidad Piana es un apartamento de lujo en el segundo piso sólo se puede acceder por las escaleras. El apartamento está equipado con alta calidad, modernos y electrodomésticos de estilo y decoración.
En las proximidades se encuentran algunas de cadera de Windhoek y restaurantes de lujo, como social, Limonero y la vendimia.
A wonderful, clean apartment in a really nice area, safe and secure. Will definitely stay there again. Monique is great.
Robyn
2017-02-10T00:00:00Z
Our host Monique meet us upon our arrival and showed us around to familiarize ourselves with the apartment and amenities. The apartment is full of light and furnished in a modern setting with everything one needs, centrally situated in Windhoek with a stunning view. Very safe and secure with easy lockup and go. There is even a braai for those who want to enjoy our national pastime.
Helmuth
2016-12-29T00:00:00Z
Monique was an amazing host and probably the best airbnb host we encountered so far. We felt very welcome and safe and she was always there for us if we needed assistance. The appartment is bright and clean with its own garage - it offered everything we needed and was a perfect spot to explore Windhoek and plan our trip through Namibia.
Felix
2017-02-27T00:00:00Z
Neat, modern, very clean. Small but comfortable for short stay. Lovely, friendly host. Close to Joe's Beerhouse :-)
Charlene
2017-04-10T00:00:00Z
The host canceled this reservation 8 days before arrival. This is an automated posting.
Maria
2017-03-14T00:00:00Z
Huonetyyppi
Koko talo/asunto
---
Majoituspaikan tyyppi
Huoneisto
---
Majoittujien määrä
4
---
Makuuhuoneet
Windhoek, Khomas Region, Namibia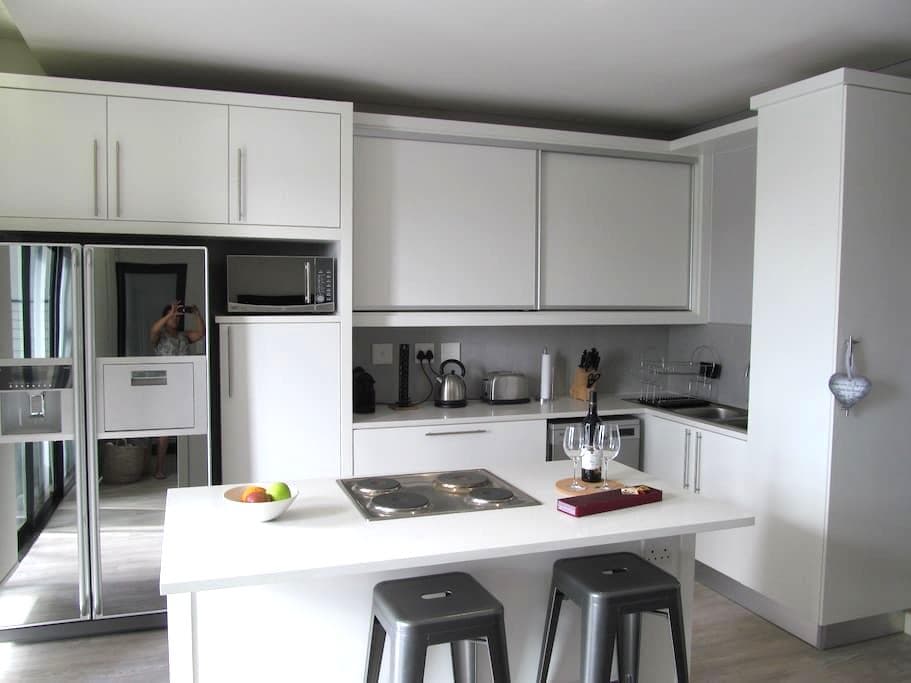 RnB zur Selbstverpflegung Studio Apartment befindet sich in Olympia, ca. 2 Minuten mit dem Auto von Maerua Mall. Das Studio ist getrennt von dem Haupthaus und hat Zugang zum Garten und Poolbereich. Es hat auch eine eigene Terrasse und eine Gartenterrasse. Sichere Parkplätze vor Ort.
Das Studio ist komplett privat und ist eine gute Option für Gruppen bis zu 4 auf einem Selbstversorger-Basis. Das Gästezimmer im Haupthaus kann verwendet werden, Gruppe bis zu 6 Personen Größen bis zu berücksichtigen. Hohe Decken und große Fenster betonen die geräumigen Wohnbereich. Das Studio hat alles, was für längere Zeit zu bleiben, benötigt. Das Studio verfügt über ein eigenes mit VistaFold Schiebetüren, die vollständig öffnen (5.8meters) einen schönen Innen-Wohnraum im Freien bietet. Ein privater Gartenterrasse macht einen schönen Ort, um die Brise am Morgen mit einem heißen Tasse Kaffee oder genießen einen Sundowner nach einem langen Tag zu schießen.
Ziemlich zentrale City und Einkaufszentren, liegt nahe der Hauptstraße nach Windhoek und leicht zu finden. Sichere Parkplätze. Olympia ist eine sichere, gut etablierte Nachbarschaft.
The place is perfect and has everything you need to make a self catering. Extremely clean, new and spacious. We met 2 of the 3 cats of the house. My wife loved Dexter. Very quiet neighborhood and reserved. Richard is a person practical, available and the same time give us our space. Highly recommended!
Flavio
2017-03-22T00:00:00Z
This is a fantastic studio! Very clean, open, and comfortable. Richard really helped us out with recommendations and is extremely responsive. He made us feel at home on our first night in Namibia :)
Tanay
2016-08-13T00:00:00Z
Best host ever. Everything worked perfect!
Mauri
2016-07-07T00:00:00Z
Well there is no difference between this self catering room and 5 stars hotel rooms that are out there. If in doubt, do yourself a favor by going there and check it out yourself. Furthermore, I interact with Richard and Bianca like we did already meet while that was my first time. Incredible . Thanks again Richard and Bianka
Don
2016-06-09T00:00:00Z
I thoroughly enjoyed my 6 day stay in Richard's studio. It is spacious and new with lovely decor and finishes. It has all, (and more) the amenities one requires. He is a wonderful host and makes one feel welcome. I will definitely stay here again for my next business trip.
Noeline
2016-05-07T00:00:00Z
We are the first guest of the new room, it is a very nice one, we can fine everything we need inside and Richard is very nice.
SONGFEI
2016-04-18T00:00:00Z
Great location and lovely flat!
Brent
2016-07-28T00:00:00Z
Large and clean Studio in a safe and quiet neighbourhood. Car can be parked in a secured place. Also we made the reservation very spontaneously in the morning on the same day it wasn' t a problem at all for Richard and Bianka. Both were very lovely and made the last night of our holiday relaxing and comfortable.
Eva
2016-05-29T00:00:00Z
Huonetyyppi
Koko talo/asunto
---
Majoituspaikan tyyppi
Huoneisto
---
Majoittujien määrä
4
---
Makuuhuoneet
Windhoek, Khomas, Namibia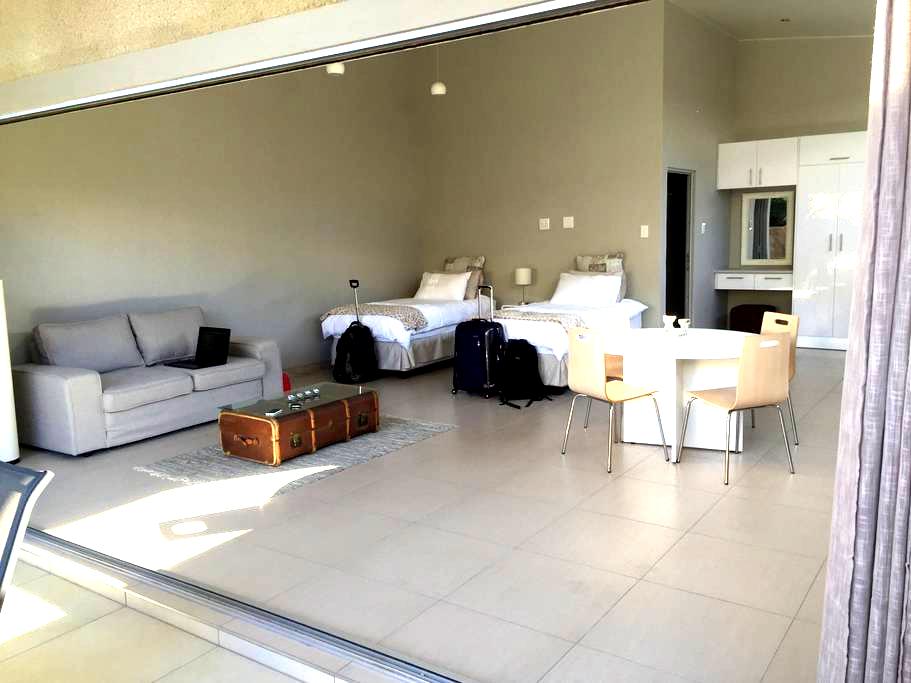 My place is a stone through from The Grove Mall and Lady Puhamba Private hospital . The apartment block is situated in an upmarket well developed area of the capital .There is a gym within walking distance and all emenities are at your doorstep . There is a coin operating laundry on the ground floor . Top of the range linen and towels . The apartment speaks of convenience , comfort and style and is just right for both the business traveler and the holiday maker
My place is modern and comfortable with top of the range linen , furniture and fittings . The place is a stone throw away from the famous Grove Mall and Private hospital .
Upmarket residential area Safe and secure apartment with 24 hour security Close to huge shopping mall with a variety of supermarkets and restaurants Close to fresh produce shop and multinational retailers ....here you can shop your heart out . Close to private hospital Walking distance from gym
Kathy is an amazing host. I loved my stay at her place. Kathy was very accomodating which my trip all the more relaxing. A stone throw from The Grove mall which is an absolute bonus. I would recommend any of Kathy's places for anyone looking for a relaxed, clean and accomodating stay.
Bronvan
2017-04-02T00:00:00Z
What a nice place well situated, Kathy was a great host, can reccommend any day
Steven
2017-04-11T00:00:00Z
Kathy is a highly organized individual and manages this beautiful Wild Olive property well. Across from Grove Mall, it is very convenient. I had a graduate student stay here and it was very important that I could provide reliable, comfortable, safe and convenient place. The upscale nature of the apartment made it all the better.
Eric
2017-02-23T00:00:00Z
Great value for an upmarket stay close to main attractions! Great friendly host! Worth while
Rochelle
2017-03-28T00:00:00Z
Huonetyyppi
Koko talo/asunto
---
Majoituspaikan tyyppi
Huoneisto
---
Majoittujien määrä
2
---
Makuuhuoneet
Windhoek , Khomas region, Namibia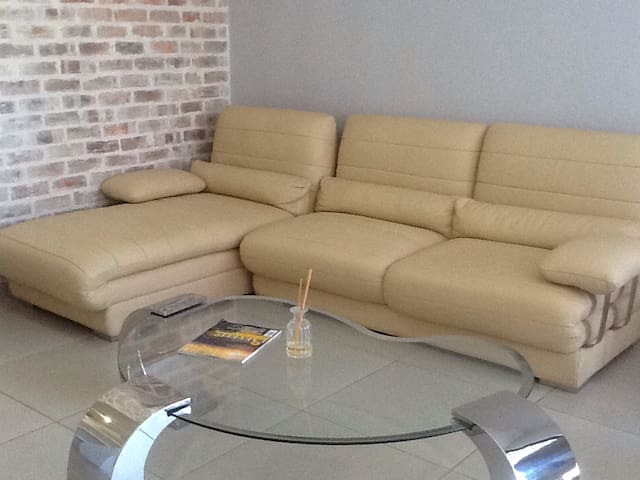 Sikker, sikker fritstående åbent haven lejlighed på første sal. Fuldt udstyret køkken. Rummelig bruser. 500m fra Windhoek Central, tæt på butikker, Post Street Mall, restauranter og turist faciliteter. Ro og plads i byens centrum.
Une famille occupée avec deux jeunes fils et deux amis les chiens vivent dans le bâtiment principal, séparé de l'appartement. L'appartement surélevé donne sur le jardin et les arbres et les oiseaux de jardin peuvent être entendus le matin. Très privé.
5 minutters gang til Windhoek City Centre. Sikker, men tage de sædvanlige forholdsregler. Tæt på Wernhill indkøbscenter. Restaurant NICE rundt om hjørnet.
Very spacious appt, fridge and kitchen equipped with all essentials and everything done within their efforts to keep out the Namibian heat (aircon was available). Very friendly hosts.
Jan Reijer
2016-10-30T00:00:00Z
Loved Eike's place! Nice loft in a quiet area close near the town center. She was very accommodating with our late check-in and offered great local suggestions.
Race
2017-02-18T00:00:00Z
Eike is a great host, his apartment is super clean and comfortable and well located. I recommend this space. Thank you Eike.
guilherme
2017-03-06T00:00:00Z
Very clean and spacious apartment well located in Windhoek. The flat is exactly the same as shown in the pictures. We also had a balcony and we could park our car in a safe area. We had a very warm welcome and Eike and his family gave us all informations we needed. Thanks a lot!
Justine
2016-11-13T00:00:00Z
Lovely comfortable stay in this spacious loft in central Windhoek...peaceful setting, friendly and accomodating hosts and well furnished apartment.
Anke and Berni
2016-11-03T00:00:00Z
The room was quite warm and did not have air conditioning. Aside from that, the room was spacious and conveniently located for our needs.
Sophia
2016-10-25T00:00:00Z
Eike and Gretal were wonderful hosts who respected our privacy yet were there at every turn should we need them. Their kids and 2 dogs also made us very welcome. Eike jnr is a superb violinist whom we had the privilege of hearing him practice on our last evening. I look forward to returning to this cozy flat again next year.
Margot
2016-10-15T00:00:00Z
We stayed with Eike, Gretel, Eike jr and Stefan and their two funny dogs for 5 nights and loved it. The garden flat is perfect - central location in Windhoek, very quiet and in a green garden, spacious and well-equipped - and the family is genuinely friendly, warm and welcoming. Unfortunately we couldn't stay longer; we definitely will come again.
Luuk
2016-09-13T00:00:00Z
Huonetyyppi
Koko talo/asunto
---
Majoituspaikan tyyppi
Huoneisto
---
Majoittujien määrä
4
---
Makuuhuoneet
Windhoek, Khomas, Namibia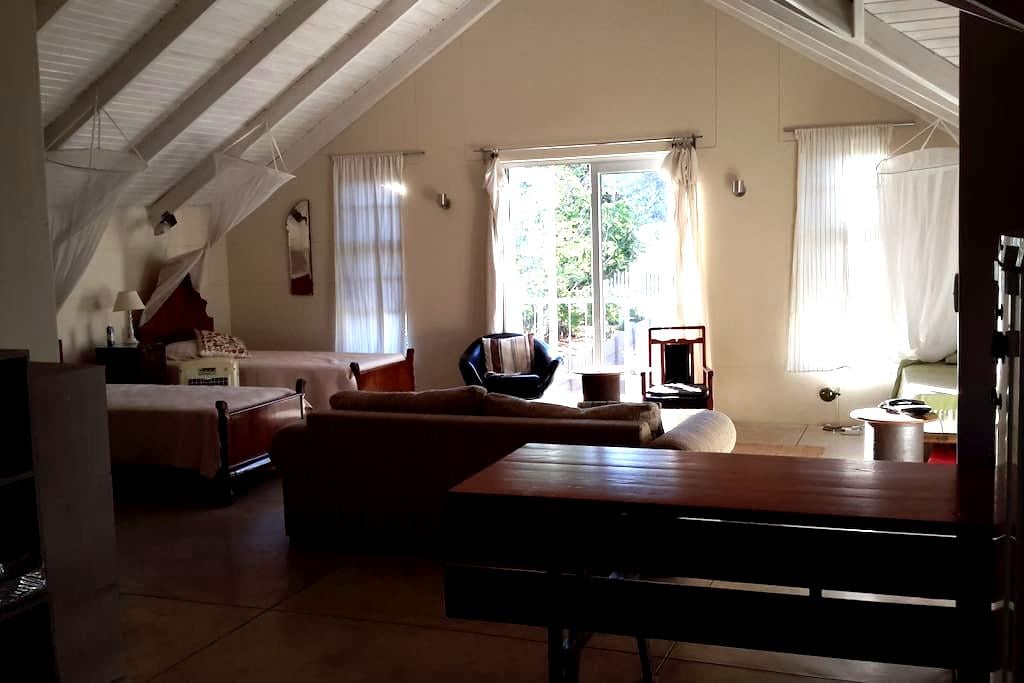 * Beliggenhed, beliggenhed, beliggenhed! * Lejligheden ligger på anden sal i et højhus, med fantastisk udsigt over byen. Det er beliggende i hjertet af Windhoek! Fra denne placering, byen er lige uden for døren.
Das Zimmer ist geräumig und komfortabel mit viel natürliches Licht in den kommenden Es ist ausgestattet mit allen wichtigen Features: a. Betten mit bequemen Matratze, ein großer Schrank mit einer Schiene und reichlich Regale, einen Wasserkocher, wenn Sie Tee oder Kaffee haben möchten ( zur Verfügung gestellt) in der Privatsphäre Ihres Zimmers. Handtuch pro Person und Bettwäsche werden zur Verfügung gestellt. Das Wohn- / Esszimmer hat einen großen Tisch auf und bequemen Sesseln zu essen. Von hier aus können Sie den Balkon mit herrlicher Aussicht über die Stadt hinaustreten in und sitzen und zu lesen, weil das Wetter in Windhoek ist immer schön. Hinzu kommt die Verwendung des Doppelzimmer, gemeinsames WC und Badezimmer können Sie auch sehr schön in der Küche essen genießen. Die Küche ist mit allen Komfort Sie mit Geschirrspüler und Waschmaschine braucht, Kühlschrank und Gefrierschrank, Mikrowelle und einem fantastischen Ofen für diejenigen, die Küche zu genießen! Die Gäste können den Komfort des Wohnzimmers, der Küche und dem Balkon genießen und natürlich das WC und Bad. Wenn Sie in der Wohnung bleiben, werden Sie in der Lage sein, alle unsere Einrichtungen nutzen, darunter: unbegrenzt, Internetzugang in der ganzen Wohnung, DSTV (= Kabel-TV), Parkplatz abseits der Straße, und kleine Buch und Film-Bibliothek.
Gaden er perfekt forbundet til teatre, gallerier, restauranter, håndværk markeder og butikker der er en kort gåtur (2 min) væk. Listen fortsætter! Området huser nogle af de bedste natklubber. Lejligheden er ikke meget trafikeret vej; gated foran gør det føles som et gemmested i en ellers travl område. Bygningen føles meget sikkert og trygt. Dette værelse er ideelt til professionelle eller folk, der ønsker en base for deres Windhoek eventyr.
The location couldn't be better! The flat is artsy and homey, with lots of windows and a breeze coming through. It felt great to chill out on the couch or walk to a nearby restaurant. Beata was very sweet and welcoming. I felt like I was staying with an old friend!
Damaris
2016-11-25T00:00:00Z
Beata picked us up from the airport, right on the agreed time, and I'm glad she did as we would have struggled to find the place on our own (the building has a name, not a number). The flat is centrally located, walking distance to restaurants and shops. The room is spacious and has a high ceiling so feels airy. A fan would be a good idea as it got very hot and stuffy at night with the window shut (for mozzies more than noise).
Joanna
2016-12-18T00:00:00Z
It was the second time that we stayed with Beata, the first time we were sharing the flat with her, the second time we stayed in her other flat. Both of the places are awesome and Beata is such a lovely and kind person/host. Everything is always fine, clean and you are feeling more than welcome. Beata always likes to help and if you like you can sit with her and talk about whatever. We loved it and of course: we will come again!!
Sina
2016-03-27T00:00:00Z
Beata is a wonderful host and such a nice person. She came to pick me up at the airport and gave me lots of information on what to do in Windhoek and also showed around so that I would know where to go. She is also very friendly and easy going and I enjoyed having chats with her. The room and apartment are very spacious and had everything I needed for a great stay. The pictures are very accurate and the location is perfect to explore all the sights of Windhoek. Would definitely recommend.
Ramesh
2016-06-14T00:00:00Z
Very helpful, lots of information, extremly warmhearted, simply a great lady! ..and the location of Beates home: perfect!! For me (and I'm sure, for you too) the best place in Windhoek to stay!!!
wolfgang
2016-01-18T00:00:00Z
Beata is a wonderful host. The location is clean and nead as discribed. It is juast a 5 minute walk to the main shopping street/center. Beata is very helpful, funny and got a good sence of humour. She helps whereever help is needed. Absolutely recommendable. I would definitly go back to that place when I am in Windhoek. Thanks Beata
Thilo
2016-01-30T00:00:00Z
We had a lovely stay with Beata. Her apartment is spacious, clean and centrally located. We were also able to park our car (which was laden with all our camping gear) within the secure parking lot of her apartment block which was a bonus for us. She provided us with useful information on the area and we exchanged stories about our travels while sitting on her amazing balcony that overlooked the city. Well priced accommodation that is accurately presented in the pictures.
Jamie
2016-01-09T00:00:00Z
Great place warm hospitality and value for money I recommend Beata anytime
Raphael
2016-09-22T00:00:00Z
Huonetyyppi
Yksityinen huone
---
Majoituspaikan tyyppi
Huoneisto
---
Majoittujien määrä
2
---
Makuuhuoneet
Windhoek, Khomas, Namibia
Wild Olive 40, neu bauen, modern und gemütlich 2-Zimmer-Wohnung mit unverputzten Ziegel für diesen einzigartigen Look und Balkon. Klimaanlage, Kabel-TV, einen privaten Parkplatz, 24-Stunden-Sicherheit, Münz-Waschmaschinen vor Ort. In der Nähe Einkaufszentrum, Krankenhaus, Fitnessraum.
Setzen Sie bequem Platz für 4 Personen. Neu bauen Wohnungen.
Nur 5 Minuten vom Stadtzentrum entfernt. 3 Minuten zu Fuß zum größten Einkaufszentrum. Zu Fuß von einem Fitness-Studio und ein Krankenhaus. Gholf Platz in der Nähe. Neu sind in der populären Nachbarschaft entwickelt.
The advertised flat was not available due to a hot water geyser issue. Michael put us in another flat, also brand new. The flat is a great little two bed, one bath, base camp for exploring the city and surrounds. Definitely recommended!
John
2016-10-17T00:00:00Z
Central, very modern clean apartment. Close to shops and restaurants. Friendly, welcoming host. Perfect spot to explore Windhoek
Rane
2016-11-27T00:00:00Z
Michaels place is exactly as it is shown, lovely place, clean, and very conveniently located, Simply can not find fault anywhere, will definitely stay here again
Taffmax
2017-02-15T00:00:00Z
Michael accommodated us on very short notice. He was a great host. The unit is PERFECT for either business or family vacation to Windhoek. Walking distance from large mall. Very modern design, fast Internet and premium DSTV.
Sarel
2016-11-04T00:00:00Z
Although we never got to meet Michael, then he managed to make our whole stay really comfortable. We would definitely stay there again - the place is new, clean, modern. There is enough room for the whole family and also a shopping center close by to get the essentials. We would definitely recommend this place for others!
Anneli
2016-11-15T00:00:00Z
Stylish and modern apartment with all the necessary features for a pleasant stay.
Nichol
2016-12-14T00:00:00Z
The accommodation offers all that's offered in the advertisement and a more than comfortable living space close, located close to the Grove Mall and easily accessible. Will be back when i'm back in Windhoek.
Asheen
2016-10-19T00:00:00Z
We were very happy with the unit and the service received from Michael, the unit was clean, the sofa in living area is very comfortable, you can also be assured of a good night's rest, the beds and pillows is of good quality, Wi-Fi, full DSTV, and a washing machine was available. We travelled with babies, and though there is only a shower in the bathroom, Michael provided me with a big enough washbasin to bath my babies, which was very helpful. In the main bedroom, keep the sliding door closed, delivery trucks can be heard early mornings, though there is air-conditioning in this room as well as in the living area. The parking provided is next to the lift, which is accommodating. There is security on the premises and not anyone can enter the premises, the unit is also close to the new hospital, the gym and the new mall. I recommend this unit to anyone wishing to visit Windhoek.
Chantell
2017-03-25T00:00:00Z
Huonetyyppi
Koko talo/asunto
---
Majoituspaikan tyyppi
Huoneisto
---
Majoittujien määrä
4
---
Makuuhuoneet
Windhoek, Khomas, Namibia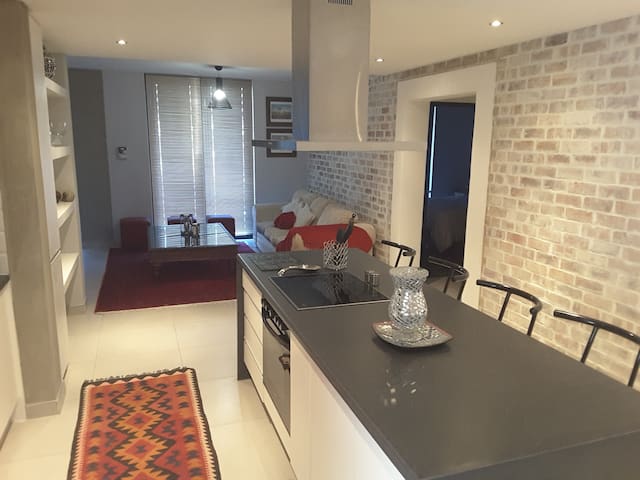 Eine voll modern eingerichtete Wohnung im Herzen von Windhoek. Das Beste vom Besten, voll Satelliten 40inch TV, nicht begrenzten Wi-Fi, 24 Stunden Sicherheit und zu Fuß zu Restaurants und Einkaufszentren. Ruhig, sicheren Bereich - Wohnung verfügt über alle Annehmlichkeiten und Extras
5-Sterne-Apartments im 3-Sterne-Preis
Ruhig und sicher. Zu Fuß zu den Top-Restaurants und Geschäften
Carmen was an excellent host and helped make our stay in Windhoek a wonderful experience. The apartment is conveniently located to plenty of shops and restaurants.
Anthony
2016-06-02T00:00:00Z
I had a great time.:) The apartment was really perfect for what i needed in Windhoek. Carmen was really helpful and had lots of tips on things to do in Windhoek
Stian
2016-08-16T00:00:00Z
Carmen is really nice and was really helpful, giving me a lot of tips of the area. The apartment is beautiful and I felt at home. I had a great time there! Thanks you very much Carmen and see you soon!
Sylvia
2016-05-16T00:00:00Z
My brother and I spent a weekend in this flat and we highly recommend it either for a short or a long stay ! Carmen is a very welcoming person, she immediately makes us feel home and gave us some rich advices about the good places to visit in Windhoek. The flat is very comfortable, fully equipped and well designed. You can enjoy a nice view over the mountains around Windhoek, it's a really pleasant place to live. The flat is close to the city center, it is really convenient for visiting Windhoek from a very safe district ! Thanks for everything Carmen :)
Clement
2015-08-17T00:00:00Z
Great stay and apartment, central location, clean and safe, everything one needs for a pleasant stay. Carmen was very responsive and helpful.
Klemens
2017-04-01T00:00:00Z
Excellent experience clean apartment nice amenities, well organized and tidy. Carmen has been very interactive from the beginning of my reservation... we spoke often prior arrival and during our stay in Windhoek and Swakopmund. She qualifies as a "Superhost" although the status has not yet been awarded to her. Keep up the good job!
Paulo Gilberto
2015-12-30T00:00:00Z
Great Experience, Cool place fully equipped, well designed, nice views and secure. Carmen & Cobus are great persons, very welcoming and they make you feel home. Thanks for everything Carmen & Cobus.
Marco
2015-09-18T00:00:00Z
We had a nice and relaxing time here! After a lot of travel, we needed a base to catch-up on email, laundry and sleeping in a real bed. Carmen's place met all the criteria: a bright, airy space with modern design, comfortable bed and the basics to cook. Carmen was very kind and helpful when checking us in and responsive during the stay. There are a few restaurants and a grocery store in walking distance. The space is very quiet and secure. Weak wifi, totally typical of Namibia and as we expected. Highly recommend staying here for a few days in Windhoek.
Talia
2017-02-17T00:00:00Z
Huonetyyppi
Koko talo/asunto
---
Majoituspaikan tyyppi
Huoneisto
---
Majoittujien määrä
2
---
Makuuhuoneet
Windhoek, Khomas, Namibia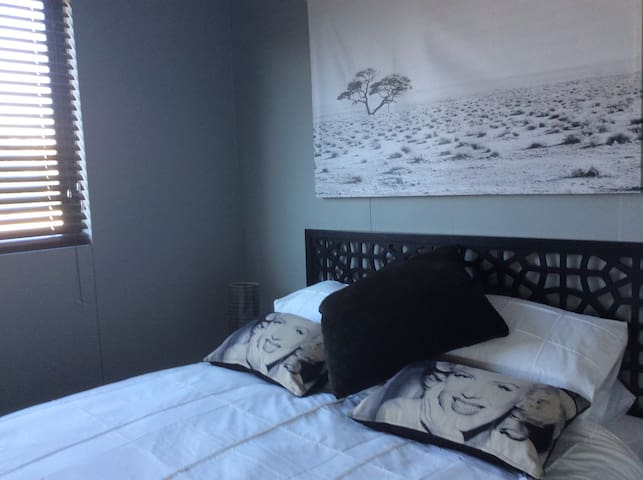 La dirección es calle 57 Fritsche Pioniers Park. Mi lugar está cerca del centro comercial Baines con un gimnasio, una pizza para llevar y tienda general en toda la calle. El fácil acceso al transporte público y cerca del centro de la ciudad. Te encantará mi lugar debido a la gran ubicación segura. Mi lugar es bueno para parejas, aventureros en solitario, y viajeros de negocios - jóvenes y viejos. Dispone de un aparcamiento para su vehículo. Tiene WIFI libre y GOTV plus con más de 30 canales de televisión.
Die Wohnung verfügt über einen Parkplatz es Selbstversorger ist (seine eigene offene Küche hat). Das Frühstück kann auf Anfrage arrangiert werden. Es verfügt über ein eigenes Badezimmer (Dusche Waschbecken und WC). Wir haben auch zwei im Haus Zimmer für größere Gruppen. Das tun wir auch mit gemieteten Motorräder oder 4x4-Fahrzeugen Abenteuerreisen.
Unser Platz ist in einem guten gehobenen Viertel gegenüber einem kleinen Einkaufszentrum in einer sehr ruhigen Gegend, aber nahe dem Stadtzentrum.
The host canceled this reservation 121 days before arrival. This is an automated posting.
Mara
2017-03-02T00:00:00Z
Все просто супер , что больше нечего и писать ! от себя добавлю ,что первый раз вижу настолько дружественного и общительного африканс !!! Wiets, you are just super!!!!!!!!!! Many thanks!!! Best regards Serj !!!!!!!
Serji
2017-01-15T00:00:00Z
Ótimo lugar para ficar. Wiets é extremamente atencioso e nos ajudou em tudo o que precisamos. O local é muto limpo e o espaço é excelente. Recomendo.
Luiz
2017-02-23T00:00:00Z
Notre première nuit chez Wiets fut parfaite, tout le confort nécessaire et la proximité des commerces nous a facilité la tâche pour débuter notre tour de la Namibie. Il en sera de même à la fin de notre périple. Accueil impeccable.
Anne
2016-11-12T00:00:00Z
He personally met us and welcomed us. Very neat private and secure place. Thank you
Norma
2016-06-16T00:00:00Z
Wiets and Dalene are VERY accommodating and helpful. This is truly what you see is what you get, no surprises. The location was perfect for our needs, close enough to all amenities. Value for money and we will most definitely be staying over again. Thank you Wiets and Dalene, very grateful we found you on Airbnb
Estelle
2016-09-24T00:00:00Z
We really enjoyed our stay. Wieds and Dalene are really nice and the apartment is just beautiful. They offer everything you need. We liked it that much that we even came back for one night after our trip to the north of Namibia! Thanks again for everything!
Kathi
2016-10-04T00:00:00Z
We've stayed here twice! (See previous review) Truly nothing negative to say.
Cristina
2016-10-11T00:00:00Z
Huonetyyppi
Koko talo/asunto
---
Majoituspaikan tyyppi
Huoneisto
---
Majoittujien määrä
2
---
Makuuhuoneet
Windhoek, Khomas, Namibia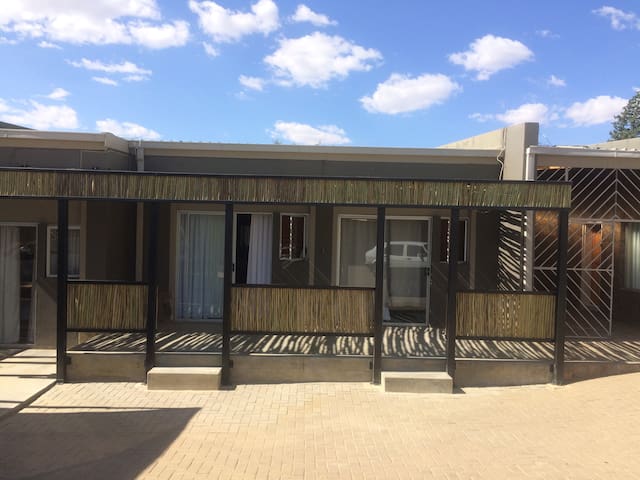 Totalmente equipado, espaçoso unidade de um quarto, moderno, auto-suficiente. Localizado em Windhoek CBD, Namíbia. Muito seguro. Localizado no segundo andar. 600m Maerua Mall. Dstv completo, Wi-Fi, ar-condicionado no quarto, alarme, cercas elétricas e estacionamento coberto. Área agradável e tranquila. aluguer de longa ou curta duração.
estacionamento seguro e seguro disponível no local. Por favor note que há escadas, eo ar condicionado é apenas no quarto. Nós podemos fornecer colchões se você estiver mais de 2 hóspedes a um custo adicional. Há 3 apartamentos ao lado da outra, que também podem ser alugados, se disponível.
The apartment is as described. Nice, clean and well kept. Bed comfy and close to local amenities. Would stay here again and recommend it to friends.
Jon
2017-02-19T00:00:00Z
This listing was great. Though I didn't meet Armanda we were communicating and she was kind and very helpful. Everything was clearly laid out and explained both prior to arrival and upon arrival.
Caillin
2017-04-11T00:00:00Z
The appartement is very clean and neat, all stuff you should possibly need in a kitchen is there and the balcony gave it a open atmosphere. It can become hot inside, but turning on the AC in the bedroom helps and opening all the doors to the backyard as well! It's in a walkable distance from many places and really quiet, a good place to come home to in Windhoek!
Laurie
2017-01-02T00:00:00Z
Very neat and excellent location
Werner
2017-03-01T00:00:00Z
Great stay as always. Armanda is a wonderful hostess!
Bevan
2017-01-25T00:00:00Z
Huonetyyppi
Koko talo/asunto
---
Majoituspaikan tyyppi
Huoneisto
---
Majoittujien määrä
2
---
Makuuhuoneet
Windhoek, Khomas, Namibia
Mein Platz ist dem größten Einkaufszentrum in Namibia, The Grove Mall, Lady Pohamba Private Hospital und Virgin Active Health Club in der Nähe .. Du wirst mein Platz lieben wegen der Nähe alles, was Sie brauchen. . Mein Platz ist gut für Paare, Solo-Abenteurer und Geschäftsreisende.
Sackys' place was not only cozy it has a modern feel to it . we really enjoyed our stay and our host that super amazing . and so well organized. We definitely coming back to our home away from home. Oh and its walking distance to the malls it was a package .
Jo
2017-04-02T00:00:00Z
Sacky place is a home away from home . we enjoyed our stay . will definitely will be booking here .
Jo
2017-04-01T00:00:00Z
Huonetyyppi
Koko talo/asunto
---
Majoituspaikan tyyppi
Huoneisto
---
Majoittujien määrä
2
---
Makuuhuoneet
Windhoek, Khomas Region, Namibia
Le jardin privé 1950 plat vintage et un mobilier contemporain et de l'art namibien dans des intérieurs créatifs tranquilles. jardin sauvage, ciel bleu, à côté du bureau d'architecte, maison de propriétaire et plat. Deux amis les chiens, un chat timide ou deux, les oiseaux sauvages. Orientés vers le nord (du beau soleil d'hiver), ventilation transversale et isolation du toit (étés frais). En face se trouve la nature, la ville et les magasins sont à distance de marche et le samedi bio-marché est sur la route.
L'espace contient une partie de la collection de meubles anciens et œuvres d'art du propriétaire et la plupart des caractéristiques de la 1950 d'origine. Sa position élevée offre de belles vues et faire sentir rempli de lumière, libre et ouvert. La disposition ancienne de chambres séparées offrent calme et intimité, ainsi que la sécurité. (Max, le staffie noir et Cassie, le mélange border-collie, les gens aiment et se fera un plaisir de passer du temps avec vous si vous le souhaitez.)
Klein Windhoek se trouve au nord-est de la CDB et d'autres hôtes à l'est un samedi Bio-marché, restaurant Avant jardin, la maison de notre mère avec de la céramique à vendre, un petit centre d'affaires avec des supermarchés, des banques, des restaurants, une pharmacie, etc. Westwards, sur le chemin de la ville, est la national Art Gallery, le Centre culturel Franco-namibien (CCFN), la Société scientifique, le village avec plusieurs restaurants, et plus encore.
Huonetyyppi
Koko talo/asunto
---
Majoituspaikan tyyppi
Huoneisto
---
Majoittujien määrä
2
---
Makuuhuoneet
Windhoek, Khomas Region, Namibia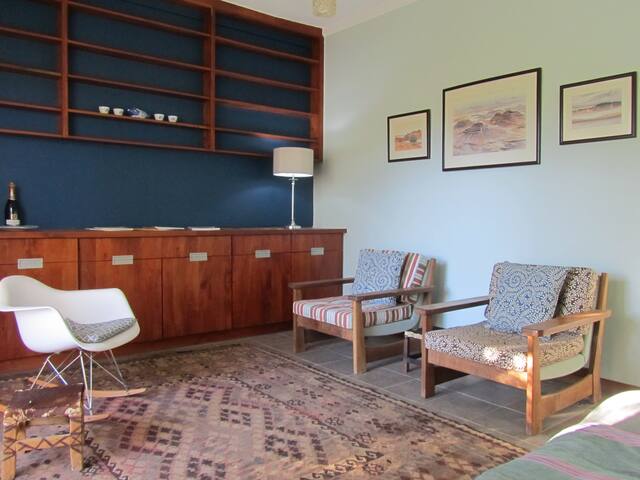 Le petit appartement privé est idéal pour tous ceux qui arrivent à Windhoek et nécessitant hébergement à court terme. Que vous soyez un touriste sur votre chemin sur une grande aventure de safari, à Windhoek pour un court voyage d'affaires ou besoin d'un endroit pour rester sur votre dernier jour en Namibie avant d'aller à l'aéroport! Nous accueillons toute personne. Nous parlons allemand, anglais, afrikaans et peut comprendre hollandais et un peu de français! Les mensonges plats dans un rayon de 5 km entre tous les centres commerciaux, restaurants, piscine publique et du centre ville.
La cuisine du est équipé à plat pour tous les besoins en location (bouilloire, micro-ondes, un petit poêle mobile et four). Le café et le thé est disponible gratuitement.
Es ist eine schöne kleine Wohnung etwas außerhalb von Windhoek, aber ein Einkaufszentrum befindet sich in der Nähe und mit dem Taxi ist man in Kürze im Zentrum. Alida und ihr Mann waren sehr nett und haben mir geholfen wo es nötig war.
Gabriel
2017-04-05T00:00:00Z
We had an excellent time at Alida's. She is very nice, understanding and flexible and made our trip so easy. The private apartment is really comfy, clean and nice, with a double bed and excellent Wifi connexion (which are both not that common in Namibia :)). We could park our SUV in the driveway which was very practical too. Furthermore, 35 minutes away from the airport = perfect. Thanks again Alida and François.
Léa
2017-01-09T00:00:00Z
Has everything you need for a good price in a Windhoek. Alida and her husband were friendly and quick to resolve any issues.
Patrick
2016-11-26T00:00:00Z
I stayed at Alida's place for 10 days. It's a clean, accurate, safe space in a well-located and nice area of Windhoek. Alida and her patents in-law where kind and decent hosts, always there to help with guidance. highly recommended! thanks Alida! :)
Lotte
2017-01-30T00:00:00Z
The flat is really nice and Alida a great host. Stayed here for over a week and had an excellent time. Comfortable bed, clean bathroom, and a kitchen with the most necessary tools (but nothing for people with big cooking-ambitions) are available. Perfect for one to two people who want to stay some time in Windhoek. The flat is located in a quiet neighborhood not too far from the center. Even though we haven't found much time to meet it was a great pleasure to chat with Alida.
Simon
2017-02-24T00:00:00Z
I stayed ar Alida and Francois' place for s few days before heading back home. Their place is a nice, neat and relaxing place in a quiet area but eith restaurants and shops nearby. At my arrival I was received by Alida and she was most helpful. After that i had mostly contact with her parents in law. Two very kind and helpful people who respect your privacy but show genuine interest. Thanks for the hospitality!
Alay
2017-03-01T00:00:00Z
Huonetyyppi
Koko talo/asunto
---
Majoituspaikan tyyppi
Huoneisto
---
Majoittujien määrä
2
---
Makuuhuoneet
Windhoek, Khomas Region, Namibia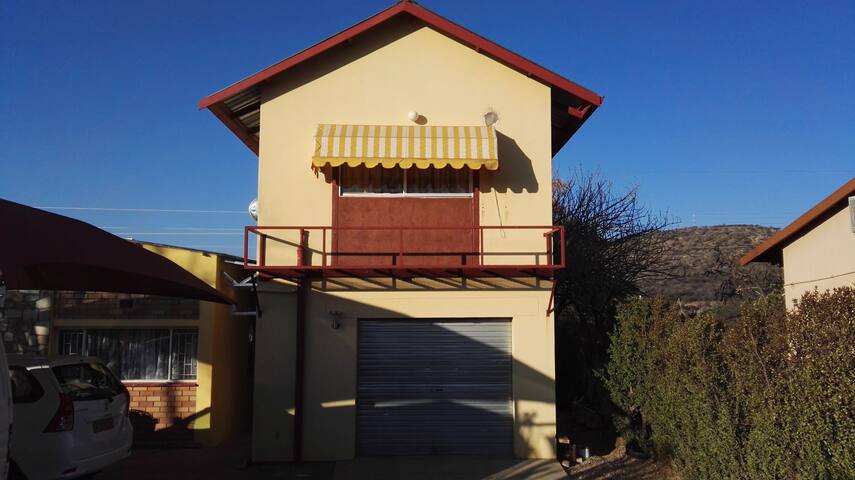 Mein Platz ist eine ruhige, friedliche und es hat eine warme und freundliche Atmosphäre. Es ist zu Fuß zu den öffentlichen Verkehrsmitteln, einem Einkaufszentrum, Restaurants und einem privaten Krankenhaus. Mein Platz ist gut für Paare, Solo-Abenteurer und Geschäftsreisende.
Der Ort liegt in einer ruhigen exklusiven Gegend von Windhoek entfernt und ist mit dem grössten Einkaufszentrum in Namibia Groove-Mall zu Fuß erreichbar. Es liegt ca. 10 bis 15 Minuten ins Zentrum der Stadt und den wichtigsten Sehenswürdigkeiten in Windhoek fahren.
Die Nachbarschaft ist up-Markt, sehr sicher und ruhig
I stayed at Patience's place for only a night at the end of a long trip in Namibia and Botswana. Coordination for arrival/departure was super easy the whole process was super smooth. Her apartment was clean, private, with a nice airy deck and good parking. The apartment complex felt very safe and secure, age is located close to a mall that has lots of shops including several grocery stores. This stay was exactly what I was looking for!
Christopher
2017-03-10T00:00:00Z
Patience is a wonderful host! She is very friendly and went out of her way to make me comfortable during my visit. I was fortunate to meet her mother, who was visiting during my stay, and enjoyed good conversation and discussing our cultures. I stayed at Patience's place for a total of three nights, bookending a trip outside of Windhoek. It is clean, comfortable and will meet your basic needs perfectly - it has a nice shower, comfy bed, etc. The apartment is beautiful and feels very safe; I think it is a great value for the price you pay. Clean bed, fresh towel, etc. Do remember, though, that you should bring your own toiletries, food, etc. Also, there is no air conditioning - I believe - but even in summer, I did not need it. Patience provided me with a fan and that was more than enough to make me feel comfortable - I slept very well. Patience also offered to pick me up/drop me off at the Windhoek airport. If you have not visited Windhoek, the airport is quite a far distance from Windhoek. Additionally, it was a late night pick-up and a very early morning drop-off, and Patience got me to and from the airport safely and at a reasonable price. Patience's home is located near the Grove Mall which is within walking distance of cafes, restaurants, grocery stores, and any other things you may need to pick up. If I were to return to Windhoek, I would be more than happy to stay with Patience again. Thank you, Patience!
Samuel
2017-01-27T00:00:00Z
Nice clean place
Steven
2017-04-04T00:00:00Z
Patience is a great host. She has helped me to locate things in neighborhood, and also within apartment. I really loved the room: cosy, has everything you might need. I especially liked comforter on the bed - nice print. Apartment is located in quiet neighborhood, feels safe walking at night even alone. It is 5 minutes walking to large shopping mall, where I found all things needed: cafes, food stores, banks, currency exchange. Only thing I should have thought about (my mistake: learn from it): Namibia does not have outlets fitting round European plugs. I would love to stay with Patience again when I come back to Windhoek.
Anna
2016-12-17T00:00:00Z
We had an amazing stay at Patience's house! She is a lovely host, trying to make us feel comfortable. We stayed about 10 days and felt like visiting a dear friend! Her house is very nice, clean and well furnished. It is located close to a shopping mall and you'll find everything you need there. It is the ideal place for someone who want to relax after visiting the country. Definitely one of our best Airbnb experience !
Rokaya
2016-11-13T00:00:00Z
Patience was very accommodating and kind. Her room was clean and quaint. The deck area was a nice spot to enjoy a simple dinner purchased nearby and to sip morning coffee. It was easy to get to the airport for our flight out of Windhoek.
Joni
2017-01-13T00:00:00Z
Very nice stay.
Alexander
2017-01-05T00:00:00Z
Her house is well located, in a good and save neighborhood, supermarkets and the grove mall are in walking distance. The room was comfy and clean. Communicating with Patience is always easy due to her flexibility. We had nice talking about several topics during our stay with her, which is very interesting. Thank you to host us and God bless you.
Likke
2016-10-24T00:00:00Z
Huonetyyppi
Yksityinen huone
---
Majoituspaikan tyyppi
Huoneisto
---
Majoittujien määrä
2
---
Makuuhuoneet
Windhoek, Khomas Region, Namibia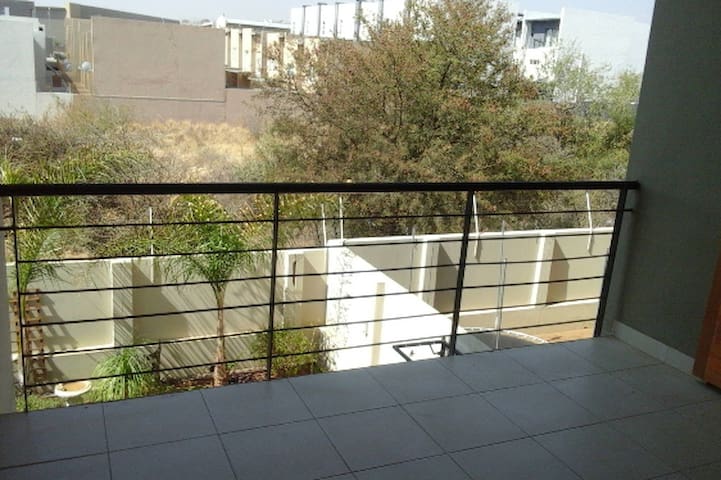 Viel Platz und sehr privat! 2 Schlafzimmer / 2 Badezimmer mit Wohnzimmer, voll ausgestattete Küche und Sat-TV. Strickly Nichtraucher!
Viel Platz mit Sitzecke und Sat-TV. Das 2 Schlafzimmer / 2 Badezimmer-Einheit ist privat, und zu Hause weg von zu Hause aus. Es ist ideal für Familien mit Kindern oder zwei Paare reisen zusammen reisen. Die Zimmer sind an beiden Enden der Einheit von einem Esszimmer getrennt, Wohnzimmer und Küche. Die Küche hat einen Kühlschrank, Geschirrspüler, Waschmaschine, Mikrowelle, Herd, Backofen und Wasserfilter. Das Schlafzimmer verfügt über Terrassentüren auf den Hof und ein eigenes Bad mit separater Wanne und Dusche. Sie haben einen eigenen schattigen Parkplatz an der Vorderseite des Geräts mit Zugang auf der gleichen Ebene ohne Treppen in oder in der Einheit. Obwohl auf Ihr Risiko würde Ihre Kinder lieben es, in der "super cool" Baumhaus spielen. Der Pool steht zur Verfügung - wieder auf eigene Gefahr.
Unsere Nachbarschaft ist in einem ruhigen gut Bereich entwickelt, idealerweise in Richtung Südosten von Windhoek mit einfachem Zugang zu den Hauptstraßen und Einkaufszentren!
Once again our extended stay in Windhoek was very nice. Location is right in the middle of everything so a 5 min drive to anywhere you may need to go.
Brent
2016-10-20T00:00:00Z
We had once again a fantastic stay at John & Rene's place.
Zea
2017-02-26T00:00:00Z
My stay at John's place was fantastic, really looking forward visiting Windhoek again, thank you John and Rene
Winston
2016-07-20T00:00:00Z
A great place to stay and excellent value for money.
Eric
2017-03-08T00:00:00Z
Great place to stay you will not be disappointed
Anton
2017-03-01T00:00:00Z
Absolutely wonderful stay and I decided to prolonged my stay with this wonderful family.
Winston
2016-07-17T00:00:00Z
Another great stay! Very helpful hosts. It was an awesome place to stay for a longer time as we waited for our seconded child. Thanks again for the opportunity to enjoy this flat once again.
Brent
2016-09-28T00:00:00Z
I received a very warm welcome and my expectations were exceeded. The space is really well equipped and is truly great value for money. I would not hesitate to recommend it.
Noeline
2016-12-08T00:00:00Z
Huonetyyppi
Koko talo/asunto
---
Majoituspaikan tyyppi
Huoneisto
---
Majoittujien määrä
4
---
Makuuhuoneet
Windhoek, Khomas, Namibia
1

–

18

hakutuloksista

106 vuokrattavaa huoneistoa
Anna päivämäärät nähdäksesi kokonaishinnoittelun. Lisämaksuja sovelletaan. Veroja saatetaan lisätä.