4 vuokrattavaa huoneistoa
Beautiful garden apartment in the peaceful seaside town of Clevedon. Clevedon is famed for its relaxing sea front walks and Grade I listed pier. Sandy beaches, the city of Bristol, historic attractions and Welsh mountains are a short journey away.
Family home. Make yourself comfortable in our open plan kitchen and living room. The main living space leads out on to a large decking area. BBQ available upon request. Large private garden with plenty of grass to picnic, play, run around on! Large double bedroom and good sized second bedroom with double-sized sofa bed. Bathroom with corner shower and separate bath. Great get away for a couple, but also perfect for a family.
Clevedon is a family friendly town with great views, scenery, walks, pubs, curry houses, shopping and cinema. You can also enjoy the Grade 1 listed pier, pebbly beach and beautiful Victorian parks which are dotted around the town.
Personalised welcome message on fridge! Lots of notes and local information plus contact numbers for host.
Barbara
2016-09-26T00:00:00Z
A really nice apartment just a few minutes walk from the front. Communication with Jim was really easy and fast and he gave good recommendations for places to eat in the town. We were met by Janey who again was friendly, helpful and full of good advice. We would certainly stay again.
Oliver
2016-05-30T00:00:00Z
Had a great stay at Jim and Janey's place. The flat was bright and clean and they have a nice deck and garden. If we needed anything they were quick to respond and will definitely recommend this place to anyone else looking for a place to stay in Clevedon.
Budd
2016-07-14T00:00:00Z
Excellent value for money and beautiful apartment. The whole process could not have been easier.
Elizabeth
2016-12-27T00:00:00Z
We had a lovely trip staying in Jim and Janeys home. The place is clean, spacious, comfortable and bright. Everything was explained well and we had everything that we needed. They even left us with a breakfast pack with tea/coffee/milk etc. It is well placed for the use of Clevedon and suited us perfectly for visiting family nearby. Thankyou!
Rachel
2016-08-22T00:00:00Z
Alles war so, wie es in der Anzeige beschrieben wurde. Jim war sehr freundlich und hat alle Fragen direkt beantwortet. Die Wohnung war sehr sauber. Wir kommen gerne wieder!
Nikolai
2016-05-16T00:00:00Z
Jim's apartment is lovely and just as described. The garden is also amazing and everything was very clean. We stayed there with 3 adults and 2 children and there was plenty of room for us. The apartment is also just a short walk from the seafront and from the shops. We didnt meet Jim in person but he seemsbreally nice was very prompt and clear and in all of his communication.
Jenny
2016-05-08T00:00:00Z
The host canceled this reservation 37 days before arrival. This is an automated posting.
Linda
2016-06-15T00:00:00Z
Huonetyyppi
Koko talo/asunto
---
Majoituspaikan tyyppi
Huoneisto
---
Majoittujien määrä
4
---
Makuuhuoneet
Clevedon, Britannia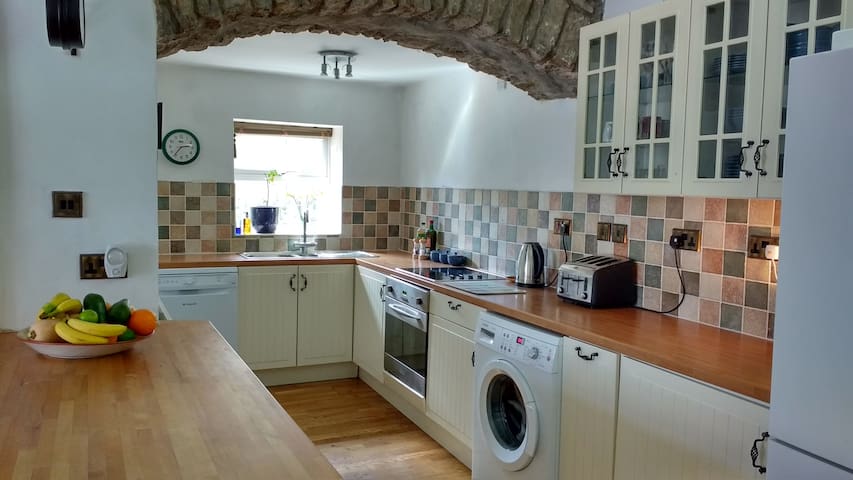 Exclusive use of light and airy top floor accommodation in well presented large Victorian House under one minute walk from the seafront and in sight of the historic pier. Includes double bedroom, own sitting room/shower room and kitchen/dining room.
Light and airy top floor accommodation with sea glimpses. Exclusive use of double bedroom, sitting room, bathroom and kitchen/dining room. Wireless internet and TV. Continental breakfast and other essentials will be left in the guest kitchen.
Great communication from booking to arrival. Lovely couple - very friendly and hospitable. Very welcoming. Great accommodation. Only stayed one night but couldn't have asked for more. Clean, spacious apartment & comfy bed. Nice touches with complimentary continental breakfast. Would highly recommend. A+++. Don't hesitate to book, you won't be disappointed. Thanks Jude & Stephen.
Rehan
2016-09-10T00:00:00Z
We had a lovely weekend in Jude and Stephen's very comfortable flat. The flat was very well equipped and everything we needed for breakfast - and more - was provided. The hosts were very friendly and helpful. Clevedon was a great place to visit too.
Tina
2016-06-20T00:00:00Z
Thankyou for a brilliant stay! Well positioned and would recommend for any age. Very helpful.
Steve
2016-08-28T00:00:00Z
Jude and Stephen were very welcoming and accommodating. The space is beautiful and very spacious in a great location - right by the seafront, restaurants and the pier! Very comfortable and we'd love to come back for a bit longer next time.
Rebecca
2017-03-19T00:00:00Z
I spent 5 very pleasurable days at Stephen & Jude's. Parking was excellent, right outside the house and only a 100 yds or so to the front with its lovely pier. The property itself, a whole floor of this tasteful house, is nicely equipped and ideal for anybody who wants their own independence, I even brought my bicycle. Stephen and Jude are charming and helpful hosts, they pointed me in the direction of a good pub and I finally got to see the famous sunset (a must see at Clevedon). Recommended!!
David
2016-05-14T00:00:00Z
Friendly welcome Excellent apartment Everything possible provided
Brian
2016-10-15T00:00:00Z
Jude and Stephen are great hosts, very welcoming and friendly. The accommodation was perfect for us, it is spacious for a top floor flat, a homely feel and spotlessly clean. Although you walk through the hosts house to get to the accommodation the flat feels private. Jude and Stephen had provided bread, milk, tea, coffee and much more which was very much appreciated. The location is lovely, right beside the seafront we couldn't fault it and we would love to stay again. Thanks very much.
Sally
2016-06-13T00:00:00Z
Excellent accommodation at the top of Jude's house. The one bedroomed flat is self contained with a wonderful, light airy feel with Jude's wonderful artwork. There is more than enough space for a couple. Jude supplied more that just the expected tea/coffee, the fridge full of goodies and boxes with breakfast and all sorts. It was lovely that Jude called up each day just to see if there was anything we needed, not intrusive just friendly. Would defiantly book again to stay with Jude and Stephen. It is in easy walk of the shops and town centre as well as the sea front and peir. 10 of of 10 and better than other self catering properties we've stayed at.
Alison
2017-01-30T00:00:00Z
Huonetyyppi
Koko talo/asunto
---
Majoituspaikan tyyppi
Huoneisto
---
Majoittujien määrä
2
---
Makuuhuoneet
Clevedon, Britannia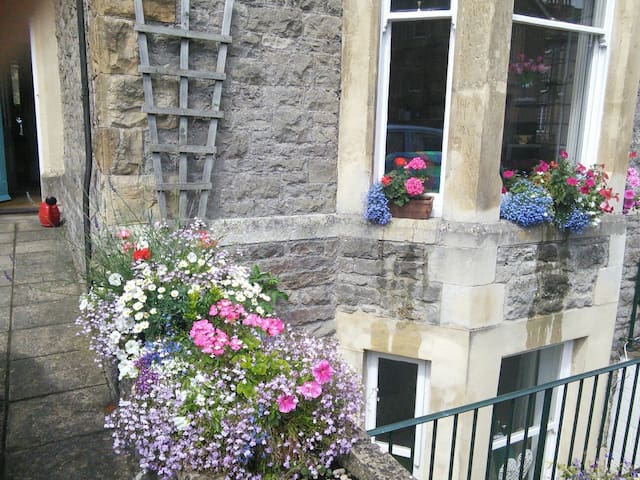 Comfortable Victorian garden flat situated in the quiet charming seaside town of Clevedon, in the South West of England, sleeps 5 people. Situated within easy walking distance to the pebbled seafront. Please send me an enquiry or any special requests before booking.
Flat comprises of two double bedrooms, one single bedroom and double sofa bed in the lounge. Sleeps up to 5 people comfortably.
Clevedon is a pretty small town with a Victorian bandstand and ornamental gardens on the seafront, pebbled beaches and rocky low cliffs with lovely walks, cafes and restaurants all within easy walking distance with easy access to Bristol, Bath, Wales and Devon.
Myself and my fellow travellers had a fabulous and very comfortable stay! Would highly recommend to anyone seeking a relaxing, quaint experience. Sandra was very organized and left an in-depth useful guide with information with regards to the apartment as well as shops, tourist attractions etc in the surrounding area. She was also kind enough to leave food and fresh towels for our convenience. A very unique compared to many Air Bnb experiences. Sandra definitely went the extra mile. Thank you so much Sandra!! Xo
Scarlett
2015-09-08T00:00:00Z
Sandra's flat is so lovely and homely. It's spacious and there's everything you need there! Sandra was very thoughtful and welcoming and left us a bottle of wine and breakfast food which was a lovely surprise. We would most definitely stay there again when we are visiting family. It's s great location, few minutes walk to the beach and some lovely pubs.
Charlotte
2015-12-14T00:00:00Z
From our initial enquiry to our departure Sandra was incredibly attentive and helpful. The flat was absolutely wonderful and all of the little extra touches made it like a home from home. The welcome pack was fantastic and tailored to our family needs - just what we needed after a long journey with 2 small children! Clevedon is a great town and the flat is set in a lovely area with plenty nearby to do. We were visiting family and I hope the flat is always available to rent each time we come back. Thank you Sandra!
Joanna
2016-04-05T00:00:00Z
We had a lovely stay at Sandra's place - a beautiful home! It was easy to organise collecting the key and we had a great time on the coast. Would definitely stay again :)
Grace
2016-01-11T00:00:00Z
We felt at home and loved the welcome That was prepared for us.
Nicole
2016-08-07T00:00:00Z
We had a very enjoyable stay at this excellent property. No problems at all, very easy to find and our lovely host Sandra met us as we arrived to show us around. We were delighted to find that Sandra had left out tea, milk and breakfast etc. We would not hesitate to recommend to our friends and family.
Ben
2015-09-06T00:00:00Z
We had a lovely relaxing break in Sandra's home. We felt very welcomed and were impressed by Sandra's thoughtful breakfast tray and information booklet. The flat was ideal for our toddler and we loved that we were only walking distance from the seafront with the Pier, cafes & restaurants to visit. We'd definitely recommend!
Fiona
2016-07-29T00:00:00Z
A lovely flat and a very comfortable night's stay - thank you Sandra! The flat was very clean and cosy. Sandra was also very thoughful in leaving a tray of breakfast and other goodies for us to enjoy during our stay. She was also prompt to reply to messages and any questions we had. Would definitely recommend to anyone needing somewhere to stay in Clevedon.
Andrew
2016-05-23T00:00:00Z
Huonetyyppi
Koko talo/asunto
---
Majoituspaikan tyyppi
Huoneisto
---
Majoittujien määrä
5
---
Makuuhuoneet
Clevedon, North Somerset, Britannia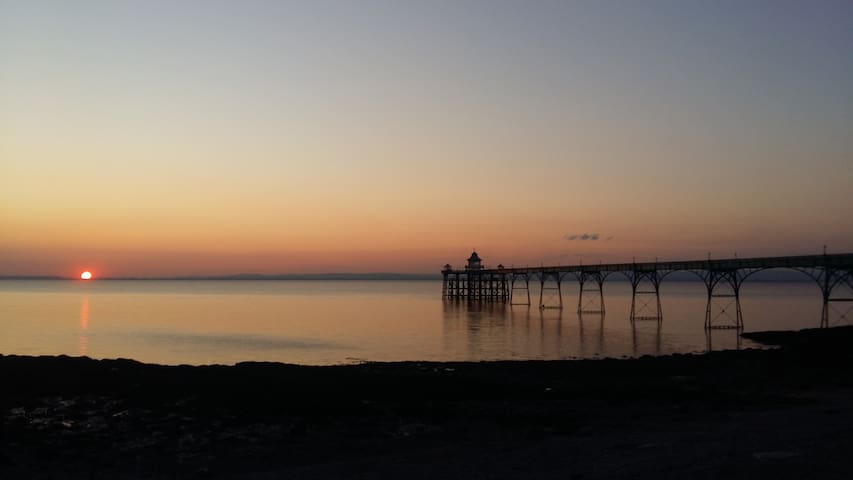 Formerly part of Clevedon Court Estate, Hawkers Cottage dates back to 1850. The accommodation on offer is a purpose built two storey extension to the existing stone cottage. It comprises ground floor hallway leading to the bathroom (shower, basin and wc) and large bedroom with double bed, wardrobe and cupboard space. Upstairs is a large room with two sofas, dining table and chairs and a compact fitted kitchenette. French doors lead onto a balcony with views over Clevedon Court woods.
10 out of 10. Very comfortable, clean and good size for 2. Photos don't do it justice. Kevin was very helpful and provided maps of the local area and information about things to do in the area. Would definitely go back.
Francesca
2017-01-01T00:00:00Z
Huonetyyppi
Koko talo/asunto
---
Majoituspaikan tyyppi
Huoneisto
---
Majoittujien määrä
2
---
Makuuhuoneet
North Somerset, Englanti, Britannia