3 vuokrattavaa huoneistoa
This one bedroom, one bath Cabin allows you to escape from the busy city grind. Conveniently located just 30 minutes from Redmond and Issaquah, Washington. The Cabin is located across the street from Lake Joy. Points of interest include the Moss Lake Preserve and Cherry Creek Falls, both located less than a 10 minute drive from the Cabin. You may also enjoy mountain biking one of the many trails accessed from Tolt-McDonald Park.
Escape from the bustle of daily life in this carriage-style, one bedroom apartment located above the our detached garage. The Cabin in the Woods allows you to experience nature in a comfortable, quiet, and convenient location. You'll enjoy watching deer and rabbits pass through the 2.0 grassy acres. Sit in the garden and enjoy an assortment of blooming flowers. In the evening, BBQ, roast marshmallows in the fire pit, or take a stroll around the lake to see its majestic views.
You are welcome to fresh eggs from our free range chickens. You'll also enjoy a stroll around the lake. You may use the community access point at the lake. The access point consists of a small put-in area for canoes and kayaks. You can also hike around moss lake, a local preserve that gives you that one with nature feeling. It's a beautiful hiking area. You can go down to Duvall and enjoy restaurants, and bar life. The river is great for floating - season dependent.
Great space for our family + extended family for a short stay - 4 adults and 2 young kids. We were in town for Dirtfish Rally School, this is a really good distance (about 25 mins drive along nice roads). Lovely location, nice loop road to walk around the lake. Grandparents took the kids to the railroad museum in Snoqualmie, they had a great time. Our favourite part of the cabin: HUGE record collection! We had fun picking records to play. Appreciated farm fresh eggs and pancake mix / syrup for the morning (actually made it for lunch!).
K
2016-05-02T00:00:00Z
This is a lovely place to stay. It's very well appointed and is private, quiet and cozy. It's very roomy and has great light. The record player and huge collection of vinyl records is fun. The Serta air mattress was very comfortable for our son and the bedroom is completely private. Dianne was very helpful with our last minute change in travel plans. We will stay here again the next time we have a family gathering in Carnation.
Sandra
2016-12-20T00:00:00Z
We showed up to the cabin and everything was lovely. Our hosts were so friendly, the space was just as the pictures showed, everything was tidy and they even had some food items in the fridge and cupboards, including s'mores and fresh eggs from their adorable chickens. They lit the chiminea for us on our last night there and even had a bottle of wine laid out. They had a canoe available for our use but we didn't make it out. This was such a lovely trip and I would highly recommend Cabin in the Woods to anyone looking to get away!
Laticha
2015-09-07T00:00:00Z
I had a very nice stay at cabin in the woods. The cabin is well equipped and was an ideal place for me to stay. Dianne and Adam were excellent hosts and made sure I had everything I needed. Dianne even left fresh fruit and turnovers at my door. Dogs and kids are friendly. I plan on coming back real soon.
Bill
2016-10-03T00:00:00Z
I had a great weekend at the cabin. The area of the cabin is absolutely beautiful. It is also perfect for a weekend getaway. The hosts have made sure everything is taken care of and your stay is comfortable.
Alyssa
2016-03-20T00:00:00Z
We had a lovely time staying at the cabin. Dianne and her lovely family were so welcoming and so quick to help with anything we needed. The cabin is exactly as advertised, very clean and the nice touches of food extras like butter in the fridge, fresh flowers and hot coco were much appreciated. We really appreciated that Dianne brought us over a baby stair gate for our toddler - it made our stay a lot easier and less stressful! The surrounding area is beautiful and the local town has some lovely restaurants.
Miriam
2016-04-06T00:00:00Z
We were so welcomed, it felt like a home away from home, farm fresh eggs, very cozy place, tucked away in the woods yet close to all amenities. Every little thing needed was very tastefully and nicely put in place. A huge collection of records, books, etc. Nice hikes, nature walks, little lake. The whole experience was above our expectations. I can keep writing about it but, Dianne and her family was so nice and welcoming and one should experience.
Raja
2016-03-31T00:00:00Z
Very clean, very comfortable place. we loved it!
Ali
2016-12-04T00:00:00Z
Huonetyyppi
Koko talo/asunto
---
Majoituspaikan tyyppi
Huoneisto
---
Majoittujien määrä
4
---
Makuuhuoneet
Carnation, Washington, Yhdysvallat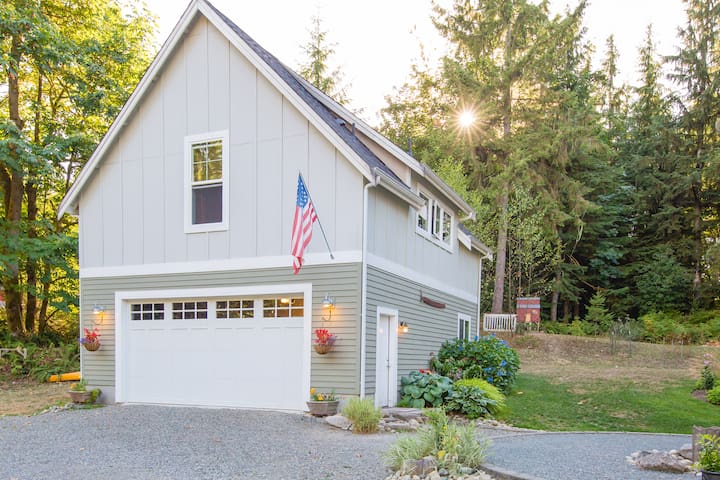 You'll love my place because of the views, and the location, My house is a 30 second drive to hop onto the Snoqualmie Valley Trail for a bike ride, a walk thru nature and just beauty. It is about a 15 minute drive to Redmond, five minutes to Carnation, about eight minutes to Duvall, 20 minutes to Monroe, 35 minutes to Seattle, an hour to Snoqualmie Pass and about an hour and a half to Steven's Pass.. My place is good for couples, solo adventurers, and business travelers.
The deck and the views are the big features..of course..I like the bathroom that I just remodeled! This is a large studio apartment that is located on the lower level of my split level house. It is not a basement. Although it is private and separate, if any type of noise bothers you, then this might not be the right fit. I try very hard to be respectful about noise but I do have to get in and out of my house! Also... all sheets, pillow cases and duvet covers are washed ...before every new guest arrives!!!!!
I love that my place is out in the country but only a fifteen minute drive to Redmond. I love hopping on the trail and taking a bike ride with Jack or heading over to Tolt McDonald for a quick hike! The Valley is really one of those best kept secrets and I love photographing all the beauty!
Just left a romantic getaway for two at Kirsten's place and could not have enjoyed ourselves more. As her first Airbnb guests we didn't have any reviews to go on, but I got a good vibe from her listing so I booked. Very happy that I did… our stay was perfect! It was clear from the moment we arrived that Kirsten has a talent for creating atmosphere. We found this particular space to be a warm, inviting, very comfortable and cozy haven. The pictures don't do it justice. What you don't see until you get there is how well the studio flows with a queen bed, indoor and outdoor dining areas, well appointed kitchenette, and a very comfortable sitting area with leather couch, tv and fireplace. The space is tastefully decorated… we loved the paintings Kirsten chose to display. Everything works together cohesively… very well thought out. The large deck area virtually doubles the living space of the suite and has lots of seating options, two umbrellas providing shade on sunny days, and a view of Mount Ranier through the trees. The listing says half bath but it does contain a shower. Like everything else, the bathroom is tastefully decorated and quite spacious. As for the host, Kirsten is a delight… we really enjoyed our interaction. She was gracious in welcoming us, made sure we had everything we needed, and was very considerate and respectful of our privacy… everything you can hope for from a host. She even left us a plate of freshly baked chocolate chip cookies from her restaurant, and they were delicious!! Host, space and experience all deserving of A+++ rating. Would definitely stay here again, and intend to.
Tony
2016-08-06T00:00:00Z
Kirsten is one of the coolest people me and my girl have ever met! Like we want to Come stay again just to hang out with her. We absolutely loveddddd her and restaurant!! We went two nights in a row! She's welcoming, charming and just a ball of fun! We enjoyed gossiping with her when we could. Xoxo Mama K! - Sam & Coryne
Coryne
2016-09-12T00:00:00Z
Great place. Very clean and we'll decorated. Very accommodating host. Would stay again just for the cookies if not for everything else.
Jason
2016-08-27T00:00:00Z
Kirsten's place was amazing, and she was a great host. The view was spectacular also. We enjoyed her restaurant, and her cowpies are delicious! Highly recommended.
James
2016-10-29T00:00:00Z
Please be aware that this is a studio apartment on the bottom floor of the owner's house. Had this been made clear from the beginning, I would have nothing but good things to say about the property. Unfortunately, we were looking for a quiet getaway and instead were woken up after 11PM when the owner came home from work and let her dog out. So, some slight listing changes should help. Otherwise, communication was great, cleanliness was amazing, the area was beautiful and the personal note and cookies were a nice touch.
Chase
2016-08-06T00:00:00Z
I stayed for one night by myself as I visited the area and Kristen made me feel right at home! The place was neat and clean and only minutes away from downtown Carnation and Tolt-MacDonald park. I would recommend this place to anyone!
Kristina
2016-10-09T00:00:00Z
Welcoming. Very comfortable. Was the perfect place for us. Namaste
Barbara
2016-11-10T00:00:00Z
Kirsten's home was homey and comfortable, and the bars she left for us as a welcome gift were delicious! Her home was secluded and had great views yet was only a short drive into town. She was very welcoming!
Sharon
2016-08-23T00:00:00Z
Huonetyyppi
Koko talo/asunto
---
Majoituspaikan tyyppi
Huoneisto
---
Majoittujien määrä
2
---
Makuuhuoneet
Carnation, Washington, Yhdysvallat
Private upstairs apartment in a quiet setting with easy access and parking. Close to Duvall, Carnation, Redmond, Snoqualmie River, hiking trails, running paths, beautiful scenery. Enjoy the comfortable open floor plan with lots of light. Sit next to our big window and sip a coffee, tea or hot cocoa and enjoy the birds and lots of squirrels outside. We are centrally located in the Snoqualmie Valley, easy access. We love to host couples, solo adventurers, business travelers, and families.
Relax and enjoy our apartment with a big beautiful window and lots of light throughout our place. We have added a Nespresso, coffee pot, tea and hot chocolate to our pantry for your enjoyment. Our kitchen is well stocked with plates, pots, wine glasses and whatever you need to enjoy a meal at a nice cozy table for two or you can add two more chairs for a family. Each morning enjoy our local bakery treats that we supply with juice to start your morning. Casa Nelson also has a small deck to enjoy and walk around our private yard where you can sit with a glass of wine or coffee. We have supplied bird books and binoculars for fun. Raccoons have been visiting our bird feeder lately. So it's never boring! The bathroom is roomy with a shower and we have provided our guests toiletries and blow dryer if needed. There is a big king bed and a trundle bed for our guests in the two bedrooms. We have added games, puzzles, books and DVDs to enjoy. In the master bedroom we have a walk in closet with extra blankets and a air mattress for extra guests. The owners Kathy and Tracy are around if you need anything and you might see a grandchild around because they live close. You can walk around Lake Marcel and occasionally see an eagle while taking in the beautiful views. Trails are not far from our place. You can also drive to Duvall or Carnation within minutes for food or fun.
Casa Nelson is located on Stillwater Hill close to Stillwater Elementary and Lake Marcel. Our neighborhood is rural and secluded but close to both Carnation and Duvall.
We thoroughly enjoyed our stay at Casa Nelson and will be recommending this beautiful place to everyone we know.
Cameo
2017-04-08T00:00:00Z
Overall, this is a great stay, if you enjoy a scenic, comfortable home, this is the place to be. We loved staying here because it had so much to offer, and it was very comfortable.
Paulina
2017-04-09T00:00:00Z
If you want a quiet and comfortable place to relax, Casa Nelson is your place. My sister was in town from Las Vegas for a sisters weekend. It's so nice to sit in the morning or anytime during the day and watch the birds, the squirrels play and the deer nibbling on the grass. We didn't want to go anywhere but to sit or walk around the yard. Casa Nelson is so comfortable and has everything you could possibly need. My favorite was the bathroom. Great shower and plenty of counter room and light. The beds were so comfortable too. We will be back for sure.
Carolyn
2017-04-02T00:00:00Z
Huonetyyppi
Koko talo/asunto
---
Majoituspaikan tyyppi
Huoneisto
---
Majoittujien määrä
4
---
Makuuhuoneet
Duvall, Washington, Yhdysvallat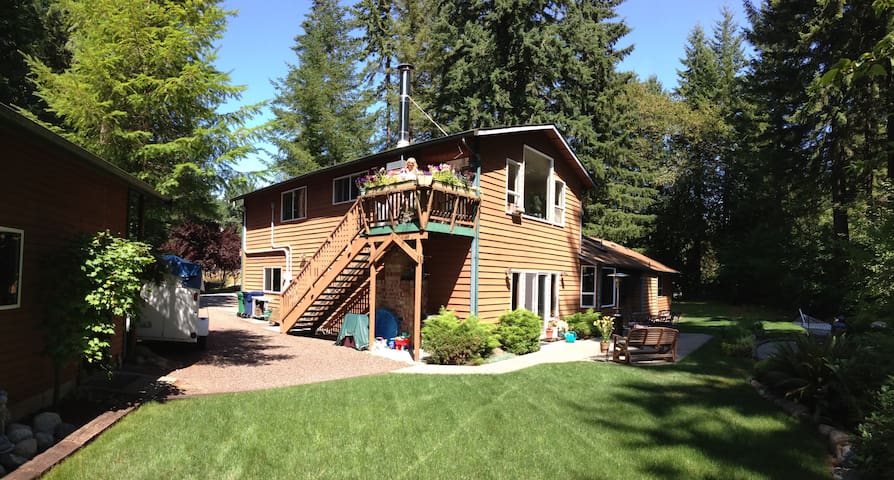 Carnation - Airbnb
:
Keskimäärin

5

tähteä yhteensä

5

90

vierasarvostelusta
1

–

3

hakutuloksista

3 vuokrattavaa huoneistoa
Anna päivämäärät nähdäksesi kokonaishinnoittelun. Lisämaksuja sovelletaan. Veroja saatetaan lisätä.