Ein ruhiger, gemütlicher Schlafzimmer und Bad im Erdgeschoss eines schönen, modernen neuen Zuhause in einem grünen, freundlich Südost-Portland. Begeisterte Begrüßung durch sehr freundlichen Hund & Katze kommt Standard!
BITTE LESEN SIE DIE GESAMTE LISTING VOR DER UNTERKUNFT ERSUCHENDE. Als Serviceleistung für unsere Gäste, unsere Check-In ist ab 15.00 Uhr; aber, wie wir beide Arbeitswochentagen können wir die Zimmer nicht bereit, bis 05.00 Uhr oder so. Das bedeutet, dass unsere Gäste willkommen sind, sich in ihrem Wohnzimmer zu Hause zu machen oder einfach nur aus ihren Taschen fallen und den Kopf aus zu erkunden, aber sie werden ihre müden Köpfe nicht oder die Duschen treffen können, um sich auszuruhen, bis wir je hatten eine Chance, nach Hause zu kommen und aufzuräumen. (Bitte beachten Sie: Dieses Angebot unterstreicht die primären Gästezimmer zur Verfügung, aber für Gruppen von 3 oder 4 Personen, haben wir eine sekundäre Schlafzimmer haben, die auch ein Queen-Size-Bett verfügt über alle Gäste das gleiche Badezimmer teilen, aber das zweite Bett auf gezeigt. das Angebot ist nicht in einem gemeinsamen Raum, es in seinem eigenen privaten Schlafzimmer.) Es gibt fast eine ganze Etage in unserem brandneuen Hause Klatschenkleks im Herzen von Spaß, zugänglich Südost-Portland! Das bedeutet, dass unser Gast (s) erhält nicht nur ihr eigenes ruhiges Schlafzimmer, sondern auch über ein eigenes Bad und eine eigenen gut ausgestattete Wohnzimmer (Bitte beachten: Die erste Etage Wohnzimmer nicht privat ist, da es keine hat und die Decke ist der Weg zwischen der Eingangstür des Hauses und der Treppe in den zweiten Stock). Wir sind nur wenige Schritte entfernt von einem Viel Service Bus, eine tolle Sandwich-Shop, das zum Frühstück, Mittagessen und Abendessen, eine Pizzeria geöffnet ist, ein Starbucks, und, am besten von allen, ein Trader Joes! Das Haus ist etwa zwei Meilen südlich des angesagten Hawthorne Bezirks, eine Meile südlich von national anerkannten Division Street, und etwa vier Meilen östlich der Innenstadt von Portland. Das Haus selbst ist eine schöne, hochfliegend Doug Tannen- und Schierling konstruierten Traumhaus dekoriert mit one-of-Art Glaskunstwerke und Topf Sukkulenten. Unsere Gäste haben Zugang zu unserer fabelhaften Küche zusätzlich zu ihren eigenen ersten Stock Annehmlichkeiten. Wir haben eine sehr freundliche housecat Sie wahrscheinlich während Ihres Aufenthalts treffen, aber die Gästezimmer und Gästebad Türen gehalten werden für den Komfort der Allergenempfindlichen Gäste geschlossen. Wir haben auch zwei freundliche Hunde, die Sie eifrig bei Ihrer Ankunft begrüßen, aber die sonst ihre Zeit damit verbringen, mit uns hängen und nicht viel auf die Gästeetage wandern. Schließlich unsere Gäste während der kälteren Monate: die Gästeetage neigt die kühlsten im Hause zu sein, und wir bieten Raumheizungen und afghanen für Ihren Komfort, aber wir Abbildung, wir sollten Sie vor der Zeit wissen lassen, dass, wenn Sie gefrieren, wir nicht der ideale Ort für Ihren Aufenthalt sein.
Unsere Nachbarschaft ist so groß! Wir sind sehr nah an mehrere kühlen Portland-Hub, aber wir sind auf einer relativ ruhige Wohnstraße so wirklich wir haben das Beste aus allen Welten.
Brad and Becca have put a lot of thought and detail into their guest space and it is a beautiful place to stay. The couple are nice them selves and their home map insured that we found all the excellent places to go. We loved Portland and Brad and Becca's was a great place to stay.
Cara
2015-08-16T00:00:00Z
Becca and Brad's lovely urban treehouse was a wonderful place to stay during our visit to Portland! The first floor is the dedicated AirBnB space, which made it nice when bringing the hefty luggage in. The bedroom and bathroom were both well appointed and we felt very welcome in their home. The location is great... very convenient for both downtown and Division Street outings (we drove our own car, so can't attest to the ease of public transit). Our hosts were very helpful and accommodating when we had questions. There's even a fantastic homemade map with all manner of fun things to do in the area along with a little guidebook in the living area. They also have a dog and cat who were both very sweet and well behaved. We had a great time in Portland and would definitely stay with Brad and Becca again!
Kristen
2015-11-14T00:00:00Z
The space is beautiful, comfortable and clean. Due to my schedule, I was only able to meet Brad for a few minutes when I arrived. I will definitely try to stay here again when I am back next year.
Mike
2015-10-22T00:00:00Z
Very friendly hosts, and beautiful townhouse in a great location with street parking. Only 1.5 km walk to good restaurants, we only stayed one night so we did not get to check out tourist areas or more parts of the city, but we hope to come back! Very clean apartment with friendly pets!
Dylan
2015-09-12T00:00:00Z
Amazing guests and the treehouse is indeed inspiring. There is nothing like wooden floor! :)
Emanuel
2015-03-13T00:00:00Z
I felt at home in Becca and Brad's place. I loved the quaint setting in Portland.
Roger
2015-02-02T00:00:00Z
Brad and Becca were great hosts, very kind, welcoming and gave excellent tips on where to eat and neighborhoods to check out during my stay. Their home is wonderful and a perfect place to come home to after exploring Portland. I would highly recommend staying with Brad and Becca!
Lucy
2015-08-04T00:00:00Z
We very much enjoyed our experience at Brad and Becca's. They were most welcoming and helpful in acquainting us with the neighborhood. They were prepared to share sights to see, places to dine,etc.
James
2015-08-10T00:00:00Z
Huonetyyppi
Yksityinen huone
---
Majoituspaikan tyyppi
Talo
---
Majoittujien määrä
4
---
Makuuhuoneet
Portland, Oregon, Yhdysvallat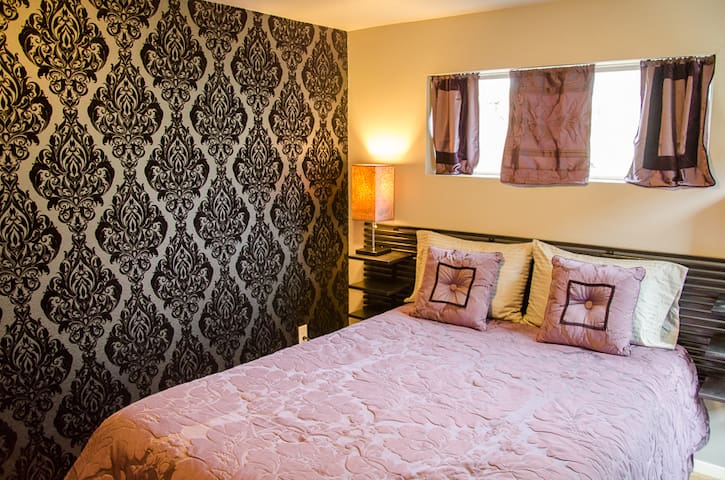 Eingebettet in den privaten Garten von unserer Familie zu Hause, einem Viertel-Hub. Die runden, rustikal, romantisch MudHut versteckt in einem geheimen Garten der St. Johns Brücke mit Blick auf funkelnde Fluss, in der Nähe von Cathedral Park, Forest Park, der Innenstadt von St. Johns, Kanu und Wanderwegen ... Firepit, Permakultur Gärten, Leihgerät Fahrräder, Gemeinschaft Leben, schauen Sie!
Unsere Hütte wurde von Familie, Freunden Handgefertigt und Gemeinschaft mit großer Liebe und dient als Gästehaus, Homeschool Hütte, eine Sauna und ein Heiligtum. Holz erhitzt und bei Kerzenlicht, es ist ein ruhiger, ländlicher Schlafraum. Ich empfehle zwei Nächte für ein einzigartiges Erlebnis in der entspannten Atmosphäre zu bleiben.
Wir sind in St. Johns, Portland nördlichster Nachbarschaft und eine kleine Stadt für sich mit einer starken Gemeinschaft Identität hier. Viele Familien hier ihre Wurzeln zurück zu James John, dem Pionier der Gründer von St. Johns, die in der ganzen Nachbarschaft verewigt ist. Downtown St. Johns ist ein paar Blocks entfernt, mit vielen Restaurants (Thai, vegan, soulfood, chinesisch, Pub-Essen, Pizza, Feinkost, Frühstück, Kaffee & Gelato), ein alter Kino und Shopping (viele vintage). Cathedral Park, drei Blocks entfernt, ist wunderschön und fotogen mit Zugang zum Willamette River und die atemberaubenden Kopf Präsenz der gotischen St. Johns Brücke, die Sie von der Hütte zu sehen. Wir sind auch in der Nähe viele Naturgebiete für die Stadt Wandern und Paddeln. Forest Park, voll von Wanderwegen und alten Wald, befindet sich direkt über die Brücke. Nördlich von hier ist Kelley Point Park, dem Zusammenfluss der Willamette und Columbia Rivers; Smith und Bybee Seen, Feuchtgebiete für Vögel beobachten und Paddeln; und Sauvie Island, mit Stränden, landwirtschaftlichen Betrieben, Kindergärten, Wandern, Angeln, und Vögel beobachten. Wir sind auf dem Pazifik wandernden Fliegen Weg, so viele raptor Aktion hier. Kahle Adler, Wanderfalken und Habichte stürzen, indem sie regelmäßig.
The Mudhut was amazing! My fiance and I did a big road trip of 22 states, and this was easily one of our favourites. We arrived late, only stayed one night and had to leave early; we wish we had booked for much longer!
Megan
2016-08-07T00:00:00Z
The Mud Hut was everything that we expected and more. Very cozy spot altogether and we enjoyed morning coffee overlooking at the bridge and river. Ivy loaned us two bikes for the day and was a great host! We loved the neighborhood and would definitely stay here again!
Sandra
2016-05-02T00:00:00Z
We had a thorough and welcoming tour when we got there. She made sure we knew how to work everything (hot tub and stove, namely), pointed out some perks (towels in case we forgot, delicious home brew) and then gave us our privacy (which was what we were hoping for since it was our anniversary, though we really liked our host).
Liz
2016-11-12T00:00:00Z
The host made me feel welcome. I was out a lot exploring, so I didn't get to chat with the hosts that much. The sleeping area is as described, a mud hut. It was a wonderful experience. The hut was built by hosts and neighbors. I enjoyed looking at the details they put into designing the hut. It's a unique experience. Just keep in mind that there is no electricity and you walk to the basement in the main house for use of the bathroom. It was easy to access. There are candles at night to see while you're in the hut. The hut stayed cool in warm weather which is nice. St. John's neighborhood was very nice. I could walk downtown, to the post office, and library. Great location!
Victoria
2016-07-29T00:00:00Z
Ivy and her family are extremely welcoming and fantastic hosts. The property itself is magical and very unique. It was so much fun to be able to enjoy the outdoors with a view and be able to create fires. The home brew was also very tasty. Then once the hut was lit up with candles it was a beautiful get away. I would stay here again in Portland, and I can not wait.
Brian
2016-08-25T00:00:00Z
We had a wonderful one night stay at the Mud Hut! Ivy and C greeted us when we arrived - they are both super nice - and showed us around. We walked through a lush garden oasis to get to the Mud Hut. You don't feel like you are in the city - it is beautiful and very private. The hut itself is small and snug - it was very comfortable to sleep in, both bed and temperature wise. We would definitely spend the night here again :)
Sally
2016-06-14T00:00:00Z
absolutely loved staying here! beautiful location, comfortable & host was very accommodating. i highly recommend it for anyone looking for a unique portland experience, will definitely be staying again next time i am in town. The location is just 15 mins from the heart of portland & very quiet. Thank you Ivy! :)
Kendra
2015-04-05T00:00:00Z
This was a place with warm and fun energy. I really enjoyed spending time with Ivy and her family. The mud hut was a cool experience.
Kyle and Erica
2014-09-07T00:00:00Z
Huonetyyppi
Yksityinen huone
---
Majoituspaikan tyyppi
Maan sisään rakennettu talo
---
Majoittujien määrä
2
---
Makuuhuoneet
Portland, Oregon, Yhdysvallat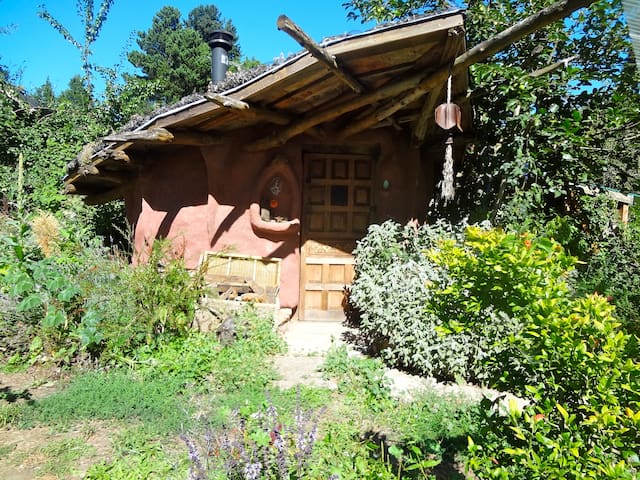 "Dette er officielt den fedeste Treehouse i verden" -Condé Nast Traveler Hele lavere niveau gæst suite med stue, soveværelse, eget bad, mini-dæk, og endeløse udsigt. En søgning på nettet for "Dette er officielt den fedeste Treehouse i verden" fører til en kort video af boligen.
SWの丘に位置し、協議会クレスト近くOHSUから1マイル。ポートランドのダウンタウンから3マイル。 クイーンベッド、プライベートバス付きのベッドルームを含む全体の下位レベルのゲストスイート、快適なロングソファとベンチテーブルミニデッキ、時のものの足やコーヒーを配置するため、共有ランドリールームでくつろぐために設計された部屋に座って。
ハウスは、ハイキングやランニング用トレイルのマイルと175エーカーMarquam自然公園内に存在します。ポートランドのダウンタウンから3マイル。
The place was a gem. It is located on the hills above the city, and you get an unobstructed view all the way to my. Helena and Hood. To be clear to those who rent, the rental is for the entire downstairs area and Lance lives on the second level. Lance was great about communicating and gave us our space to enjoy our stay. He also made coffee for us in the morning and made us feel very welcome! Would definitely recommend.
John
2015-11-28T00:00:00Z
Wow! What an incredible space. The home is truly one of a kind with a beautiful location. Lance was very welcoming and friendly, willing to talk but also seemingly happy to give you your space as well. Great host, would definitely recommend.
Slade
2015-05-14T00:00:00Z
This treehouse is one of the most unique airbnb stays that we've had. The view is absolutely incredible. Lance was easy to communicate with, and everything was as described.
Megan
2015-09-03T00:00:00Z
The Iconic Saul Zaik Treehouse was an eye-opening experience. The views were beautiful. Lance was very accommodating. If you are interested in unique spaces, this is a secret, quiet location.
Philip
2015-05-07T00:00:00Z
This place is truly unique. It is nestled inside a dense forest of moss-covered trees with a stunning view of the city (and the sunrise!). It's like something out of a fairytale. We felt very safe and secure in the neighborhood. Lance is a wonderful host and went above and beyond to make sure we were comfortable. I hope to return here on my next trip to Portland!
Emily
2016-09-05T00:00:00Z
Our two night stay with Lance went well. Communication with Lance re arrival times etc went smoothly. The "treehouse" is as described and provides a magnificent view of Portland and the Columbia and Willamette Rivers. I wish we would have had more time to talk to Lance about the history and architectural features of the homer.
Jerry
2015-04-23T00:00:00Z
Lance was a great host and very accommodating. He was cool enough to show me the ins and outs of this unique and cool house and tell me the story of its creation. The place itself boasts an unbeatable mountaintop view of Portland and the surrounding landscape, in a serene forested setting. The bedding was comfortable, and I had everything I needed. I will most definitely try to stay here again next time I'm in town.
Noah
2015-09-13T00:00:00Z
Lance was super easy to communicate with, was really easy going and incredibly friendly! We only got to stay the one night but it was worth it! The views and company were what made our trip so memorable and amazing. The tree house is still close to the city centre that you feel like you're up and out of the way from the night life but can reach down town in less than 15 minutes if you wanted to. Great location, and great experience. And the french press coffee in the morning was delightful!
Paige
2015-09-06T00:00:00Z
Huonetyyppi
Yksityinen huone
---
Majoituspaikan tyyppi
Talo
---
Majoittujien määrä
2
---
Makuuhuoneet
Portland, Oregon, Yhdysvallat
Nette kleine Tiny House! Es verwendet, um unsere Jungen fort zu sein, als sie jung waren, jetzt ist es ein komfortables Refugium für Abenteurer ist die Erkundung von Portland!
Netter kleiner Hinterhof "Einliegerwohnung" Hütte liegt in der Nähe von Mt Tabor Park in sehr wünschenswert Nachbarschaft! Die Hütte "Portland Style" Konstruktion mit hervorragender Isolierung (R30) ist, neue Fenster, etc .. Great host, kostenlosen Internetzugang, Parkplatz, eingerichteter Wohnraum, der ganz privat ist .. ich absolut liebe meine Eltern zu kochen (aufwachsen Besitz ein Restaurant), und ein heiß gemacht, Frühstück zu bestellen ist im Preis inbegriffen! Die Speisekarte reicht von hausgemachtem Müsli, hausgemachte Kekse, Lisas Geheimnis-Rezept-Bratkartoffeln und vieles mehr! Das Ferienhaus hat ein Schlafzimmer im Obergeschoss und Sitzbereich. Hinweis: Es gibt eine steile Treppe, so nehmen Sie bitte, dass in Betracht, wenn Sie Gelenkschmerzen haben, etc ... Die Matratze Queen-Size ist neu und komfortabel. Im Erdgeschoss gibt es eine kleine Küche mit Herd, Mikrowelle und unter der Theke Kühlschrank. Auch im Erdgeschoss ist ein Vollbad mit Keramikfliesen-Dusche. Kaffeemaschine und frisch gemahlenem Kaffee in der Hütte zur Verfügung gestellt. Gäste sind willkommen, Waschmaschine / Trockner im Haupthaus zu nutzen. Die Gäste haben von den Hinterhof mit Obstbäumen und einige Beeren in der Saison, wenn. Auch das Haus ist nur wenige Gehminuten von der Division Street Läden, Pizzicato Pizza, 52. & Foster Straße Nahrungsmittelkarren und vieles mehr. Die # 4 Bus ist nur einen Block und eine Hälfte weg, die direkt in der City West Passagiere nehmen. Die "(URL HIDDEN) App oder Website ist einfach und zu verwenden, können Sie vom Flughafen überall zu bekommen helfen, in die Innenstadt, zu Powells Books, der Chinesische Garten, und so weiter.
Süd Tabor Stadtviertel ist ein ruhiges eklektischen kleinen Viertel mit vielen eifrigen Gärtner, freundliche Nachbarn und GoBS Hundeliebhaber. Wir haben Gemeinschaft Beisammensein, Work-Partys und Urlaub Feiern! Wenn Sie Nachbarschaften verwendet werden, wo niemand jeden kennt oder spricht sogar miteinander dies ist definitiv nicht der Nachbarschaft für Sie :-D
You will do well to stay here for a trip to Portland! Super place for two!! Close to bus line for visiting downtown (and connecting to MAX light rail). Go for early morning (great!) coffee just a couple blocks away, and still get back in time for an excellent homemade breakfast to start the day. And, the BEST mattress we've slept in for many years! Lisa is a great hostess.
Jim
2015-09-18T00:00:00Z
We liked the cottage though it is quite small with a stairway to the upper level bedroom + living room. The bed was a bit narrow for two. Perhaps not ideal for tall, large people or those who don't like stairs. Lisa was very kind, helpful, and cooked great breakfasts!
lauren
2014-01-29T00:00:00Z
To be frank, South Tabor Cottage was such a wonderful place to stay. It was snuggled into a quiet suburban community with close knit neighbors. Lisa gave us our privacy and prepared some incredible food for us (seriously try the vegan burrito bar or the biscuits & gravy). Our cottage was only a mile or two from Division St, where you can find the renowned Pok Pok restaurant or the unique tastes of Salt & Straw ice cream. There is a Bus 4 stop right down the street which can take you downtown in a mere 15 minutes. Otherwise you can just mosey on over to Rain or Shine coffee to get your morning caffeine fix.
Emily
2015-07-28T00:00:00Z
This was a cute little place! It was perfect for my short visit to Portland to attend a business event. I wish my schedule would have allowed me time to order one of the breakfasts that were offered as they all sounded so good. There is a set of steep stairs going up to the bedroom so those with mobility issues may find them a little difficult to navigate. I would definitely stay there again if travels bring me back to Portland.
Lisa
2015-09-13T00:00:00Z
This little cottage was so comfortable. I absolutely loved it! Lisa was a very nice host and a wonderful cook. I enjoyed the breakfast she delivered on a tray - what a bonus! And I think this neighborhood is so beautiful. If I could live in Portland, I would want to live on this street. I love trees and Mt. Tabor (just a few blocks away) is like a forrest. I had the best time jogging there and seeing all the sweet dogs. I would definitely stay here again!
Lisa
2015-04-25T00:00:00Z
Lisa is super sweet, her cottage is very comfy-cozy, her breakfasts are delicious & filling, & she's sociable (without being invasive). We had a great time staying with her, she's everything you want from an excellent host!
Jason
2014-02-19T00:00:00Z
We had a fabulous time at South Tabor Cottage where we were lucky enough to stay for a whole week. Lisa and Tom were wonderful hosts, happy to give us suggestions for things to do and places to eat and reminders to wear layers in the Portland weather. Lisa's breakfasts are creative and delicious and we suggest that you not miss the rosemary potatoes and her biscuits. The cottage is small and perfect with a little kitchen (fridge, sink, two-burner cooktop and a coffee maker) and bath downstairs and the bedroom upstairs overlooking the backyard and quince tree. We appreciated Lisa's flexibility about check-in time as we arrived very late in the evening. The cottage is situated in a nice neighborhood with plenty of places (restaurants, coffee shops) within a reasonable walking distance. The only caveat we have is that the stairs are a little bit steep for anybody with knee or hip issues, but that's really part of the charm of this cottage. All in all this is a perfect place to stay in Portland!
Gretchen
2014-10-17T00:00:00Z
We enjoyed our stay. We slept better here than any place we have ever stayed! Breakfast was fantastic! Thanks Lisa!
Lisa
2016-06-27T00:00:00Z
Huonetyyppi
Koko talo/asunto
---
Majoituspaikan tyyppi
Aamiaismajoitus
---
Majoittujien määrä
2
---
Makuuhuoneet
Portland, Oregon, Yhdysvallat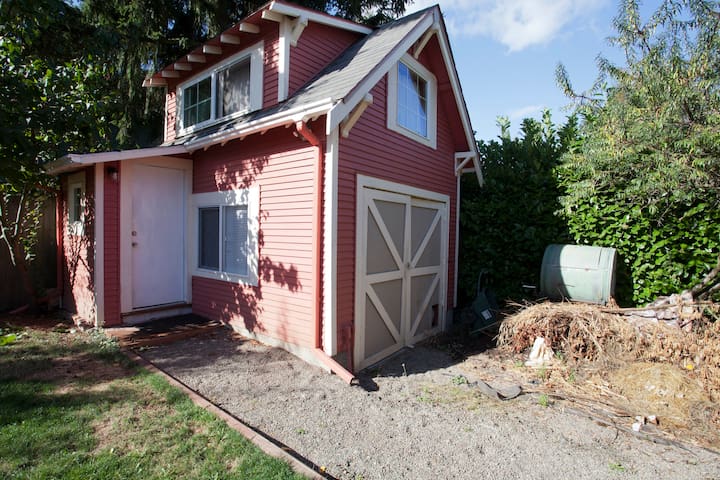 Kirkas, yksityinen studio-sviitti kauniissa Grant Park kotiin. Erinomainen keskeinen sijainti. 650 neliömetrin yksityistä tilaa. Queen-Bed main suite. Parisänky viereisessä Dormer makuuhuoneessa. Lisävarusteena hengen vuode tärkein Suite mahtuu viidesosa vieras. Yksityinen, moderni kylpyhuone, baari, keittiö, ruokailuryhmä ja lukualue.
Funky Pad Suite on kaikki mitä tarvitset mukavuussyistä, yksityisyyttä ja mukavuutta. - Pääkuunteluhuoneen Queen Bed, sohva, sohvapöytä ja 40 "HDTV kaapeli (Digital Preferred / HBO / OnDemand). - Adorning Dormer makuuhuone täysikokoinen vuode. - Keittiönurkkaus pieni jääkaappi, mikroaaltouuni-uuni, perinteinen kahvinkeitin, Ranskan lehdistössä ja teetä potin. - Foldout pöytä ja tuolit mukavat Ruokaa & työtila. - Mukava lukeminen tuoli. Wet bar. - Valoisa, moderni kylpyhuone, jossa kattoikkuna, turhamaisuus ja suihku. - Kohteen laatu pyyhkeet - hiustenkuivaaja - Shampoo & kylpy geeli - Silitysvälineet - Illallinen ja lasiesineet - Portland kohdemedia - Runsaasti ilmainen pysäköinti aivan ovellamme. - Pääkuunteluhuoneen Queen Bed, sohva, sohvapöytä ja 40 "HDTV kaapeli (Digital Preferred / HBO / OnDemand). - Adorning Dormer makuuhuone täysikokoinen vuode. - Keittiönurkkaus pieni jääkaappi, mikroaaltouuni-uuni, perinteinen kahvinkeitin, Ranskan lehdistössä ja teetä potin. - Foldout pöytä ja tuolit mukava ruokailumahdollisuus / työtila. - Mukava lukeminen tuoli. Wet bar. - Valoisa, moderni kylpyhuone, jossa kattoikkuna, turhamaisuus ja suihku. -Hotel Laatu pyyhkeet -Hairdrier -Shampoo & kylpy geeli Rauta ja lauta -Illallinen ja lasiesineet -Portland kohdemedia Ilmainen pysäköinti aivan ovellamme. Olen yleensä täällä, jos vieraat tarvitsevat minua, ja nauttia tutustuminen vieraille. Mutta olen myös tarjota täydellistä yksityisyyttä, kun se on edullista. Sviitissä on näköala kaunis Grant Park, jossa uima-allas, tenniskenttä, leikkipaikka, kävelytiet ja neljäsosa kilometrin radalla. On 24 tunnin QFC Supermarket vain korttelin päässä, ja Whole Foods, Trader Joe n ja New Seasons Market ovat kaikki muutamassa minuutissa. On olemassa monia ravintoloita, bistroja, baareja ja ruokapaikkoja kävelyetäisyydellä, mukaan lukien Shandong (Kiinan), Makea Basil (Thai), Nicholas (Libanonin), Cha Cha Cha (Mexican), Hale Pele (Tiki), ja Kaada Wine Bar & Bistro (pienet annokset). Grant Park sijaitsee keskellä jäljellä NE lähiöissä Irvington, Alameda, Beaumont, Hollywood ja Laurelhurst. Alberta Arts, Oregonin kokouskeskus ja Downtown Portland ovat kaikki vain minuuttien päässä. Grant Park on 98% walkability pisteet. Tarjoamme Airport pick-up 15 $ kumpaankin suuntaan. (Taksimatka kodistamme vaihtelee $ 27- $ 36). Tee lentokenttä pick-up järjestelyt meille etukäteen. Tarjoamme polkupyörävuokraamot kanssa kypärät $ 18 pro- päivä. On pyörätiet joka voi saada sinut mihin tahansa osaan kaupunkia meidän Grant Park sijainti. Meillä on 4 polkupyörää erikokoista, jotka ovat kaikki moitteettomassa kunnossa. Olemme oikeassa TriMet 77 & 70 Bussilinjat ja 15 minuutin kävelymatkan päässä Hollywoodin -pikaraitiotieasema. On yleensä useita Zip autoja koko naapuruston. Klikkaa Opas yläosassa sivun nähdä kaiken voit kävellä naapurustossa. Olemme innolla hosting sinulle!
Sviitissä on näköala kaunis Grant Park, jossa uima-allas, tenniskenttä, leikkipaikka, kävelytiet ja neljäsosa kilometrin radalla. On 24 tunnin QFC Supermarket vain korttelin päässä, ja Whole Foods, Trader Joe n ja New Seasons Market ovat kaikki muutamassa minuutissa. On olemassa monia ravintoloita, bistroja, baareja ja ruokapaikkoja kävelyetäisyydellä, mukaan lukien Shandong (Kiinan), Makea Basil (Thai), Nicholas (Libanonin), Cha Cha Cha (Mexican), Hale Pele (Tiki), ja Kaada Wine Bar & Bistro (pienet annokset). Grant Park sijaitsee keskellä jäljellä NE lähiöissä Irvington, Alameda, Beaumont, Hollywood ja Laurelhurst. Alberta Arts, Oregonin kokouskeskus ja Downtown Portland ovat kaikki vain minuuttien päässä. Grant Park on 98% walkability pisteet.
Paul was kind, communicative, and clear. The studio is beautiful and exactly as advertised in the listing. Wonderful location, easy parking!
Elisabeth
2016-12-20T00:00:00Z
Great weekend stay for four people + dog. The neighborhood is cute and residential with a nice park across the street. Parking is easy right in front of the house, though there is a steady stream of traffic that can make it hard to turn around if you're approaching the house from the wrong direction. A couple things to note: there is no full kitchen or sink if you're wanting to cook (but it's Portland, so there are a ton of food options around) and the entrance to the upstairs suite is through the main house. We never had any problems since we were fairly early to bed, but I think we would've felt bad if we came home after 11pm. Paul was perfectly easy to communicate with and the place was clean and comfortable and quiet. Very little noise from the downstairs area - hopefully we weren't too loud ourselves! The place itself was well provided for with extra blankets, plenty of towels, and filtered or bottled water.
Jen
2017-03-12T00:00:00Z
Such a quaint, stylish, extremely organized little spot in Portland! The host was so gracious and accommodating for my fur babies and I.
Michelle
2017-02-02T00:00:00Z
Clean and quirky place centrally located in Portland. Easy drive to downtown. Paul was very nice and helpful, providing a wonderfully equipped apartment that was everything I could ask for. Thanks Paul!
Emily
2017-03-17T00:00:00Z
Paul was a great host, welcomed us at check-in and made sure we had everything we needed. Perfect location in NE, quiet and close to many great neighborhoods and parks. Would definitely stay again!
Matt
2017-04-01T00:00:00Z
Paul was great at communicating from the get-go. The day of check-in, my mom's flight was delayed and the interstate had closed due to an accident and weather getting us in pretty late. Regardless, Paul was happy to accommodate us which made it stress free getting there. There are some awesome restaurants near by and it is really easy getting to and from PDX from his place. I highly recommend staying here!
Elle
2017-01-13T00:00:00Z
Paul was super friendly and welcoming. The place is cozy and had everything we needed. Our pups enjoyed the park across the street.
Charlotte
2017-02-17T00:00:00Z
Paul was a very great host! We were only there for a night, it was pleasant! Right outside the front door is a off leash dog park! It was perfect our stay!
Julie
2017-02-03T00:00:00Z
Huonetyyppi
Koko talo/asunto
---
Majoituspaikan tyyppi
Huoneisto
---
Majoittujien määrä
5
---
Makuuhuoneet
Portland, Oregon, Yhdysvallat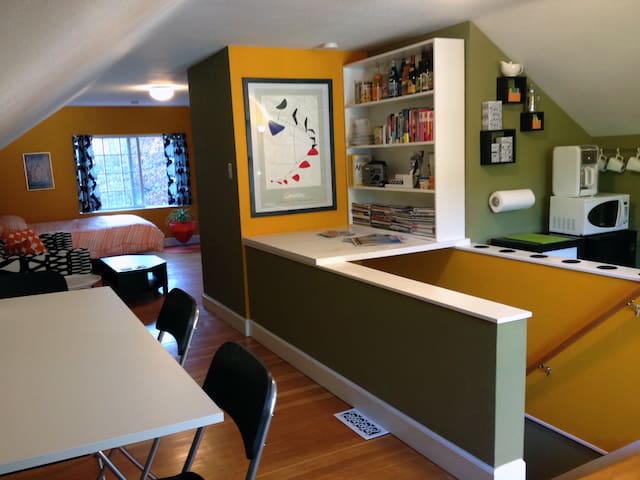 espacio de tranquilidad en un entorno de jardines. Este acogedor hotel dispone de una zona de cocina bien equipada y comedor, un relajante sofá en forma de L que se convierte fácilmente en una cama de tamaño completo. La ventana del baño se abre a su propio patio privado para cenar al aire libre o una tarde de ocio en la hamaca. Otras comodidades incluyen un televisor de pantalla plana con cable y Netflix, Wi-Fi, un doc iPod y equipo de música y una barbacoa de gas, por favor también ver nuestra lista para el estudio en el Garden Oasis. Venga a explorar fresco interior NE Portland, cerca del distrito de artes Alberta y Mississippi Ave, es un corto paseo a algunos de los mejores bares y restaurantes en Portland. 2 cuadras de mercado Whole Foods o Irving Park y una bicicleta o en autobús de 15 minutos al centro. A pesar de que usted tiene su propio patio del jardín es una zona común compartido con nosotros y el estudio. Estamos convenientemente ubicados en 2 líneas de autobús un paseo de 15 minutos al centro. El aeropuerto es accesible por tren o taxi máximo la luz (aproximadamente $ 25) alquiler de bicicletas disponibles unas pocas cuadras de distancia en todo el mundo, s alquiler de bicicletas y hay un montón de seguro aparcamiento en la calle.
Perfectly placed and cozy spot! We had access to many bus lines and were able to walk around easily. Colin was very accommodating and polite. We enjoyed our stay.
Rogelio
2016-02-17T00:00:00Z
The garden guest house is perfect for a short stay in Portland. Although it's on the smaller side, it has everything you need! The pull out sofa bed was surprisingly comfortable; I slept like a baby. The location is key! It's super close to Whole Foods, local cafés and coffee shops, and within walking distance to Alberta street. Colin and Medina were very friendly and accommodating making sure I had everything I needed. They even let me check in a little early in order to make it to my job interview. I would definitely stay here again!
Christopher
2015-01-20T00:00:00Z
I rented this space for my mother to stay in when our family gathered in Portland for my sister's wedding. Here is her review: "This little cabin was perfect for my summer visit to Portland. Sooooo much better than a motel! Enveloped by luxuriant foliage, quiet and private within a courtyard, it was a perfect place to retreat to after visiting friends and family. The owners were available but never intrusive. Perfectly located for walks to organic shopping, library and coffee shops, and yet quiet. I will very likely return next year!"
Maya
2014-08-15T00:00:00Z
My sister and I stayed at the guesthouse for a few days while we were in Portland. We liked the location and thought the size/price was ideal since we are pretty low-maintenance & looking to save some money. Colin ensured that we arrived safely and had all the amenities we needed, which was much appreciated as we had a late flight. That said, we were a bit disappointed about the condition of the guesthouse. The garden out back was overgrown which likely contributed to the number of small bugs that also made the guesthouse their home during our stay. The cobwebs and mold in the bathroom were ,frankly, a bit of a turnoff. I would consider staying at the guesthouse again in another season (less bugs...eek!) since they were well equipped with heat/AC, wifi, tons of tea selections, and seriously *the* most comfortable pull-out couch I have ever slept on.
Lauren
2016-06-28T00:00:00Z
Great place to stay. Close to downtown portland and convenient area. Highly suggested!
Nicolas
2017-02-13T00:00:00Z
We thoroughly enjoyed our stay at Colin and Medina's place. Adorable tiny house. They have everything you will need and in a location that is convenient to restaurants and a quick ride downtown.
Erika
2016-12-28T00:00:00Z
Loved this space! The hosts were super gracious but gave us lots of privacy. The location is perfect! We were able to walk to the great restaurants and shops in Alberta as well as bike to downtown. Public transport was near by as well. The space, while small, served all our needs and was super comfy. We completely recommend this airbnb and will stay again the next time we are in Portland.
Christie
2015-04-12T00:00:00Z
This is place is great for living like a local! It's clean, perfect size for two and within walking distance of public transportation. Colin and Medina give you space to enjoy the city, but also make themselves available as resources. Would stay again.
Hannah
2016-10-25T00:00:00Z
Huonetyyppi
Koko talo/asunto
---
Majoituspaikan tyyppi
Mökki
---
Majoittujien määrä
2
---
Makuuhuoneet
Portland, Oregon, Yhdysvallat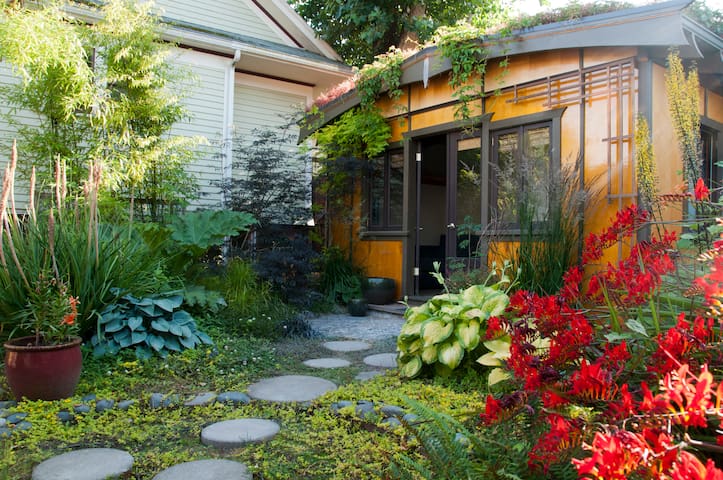 Mein Haus liegt in der Nähe Stadtbahnen und Buslinien in einer ruhigen und sicheren Gegend. Viele Restaurants, Cafés und Bars sind zu Fuß erreichbar und es gibt einen großen Supermarkt in der Nähe, falls Sie Bestimmungen müssen. Es gibt Parks zu Fuß zu erreichen, wie der Adidas Campus ist. Mein Platz ist für Solo-Abenteurer gut und Geschäftsreisende. Es gibt ein weiteres Schlafzimmer, das zwei schlafen kann, und ich habe eine Luftmatratze zur Verfügung.
So convenient and comfortable!
hannah
2017-01-19T00:00:00Z
I didn't actually make it in to Portland due to weather and travel problems. Sheila was really kind and even offered to discount my stay when I rebook in the future. I thought that was a really kind and thoughtful gesture.
Anna
2017-01-13T00:00:00Z
This room provides everything you need for an amazing trip to Portland. I stayed for about 5 days and had the best time. The house is close to small restaurants so it makes dining easy. It is just about a 5 block walk to the yellow line which takes you directly into downtown. I was able to get everywhere I needed to go in Portland from the train near the house. The room is exactly as pictured and is equipped with a private bedroom heater which was nice. There is a separate wing for the guests rooms each with its own semi private entrance, I never even knew when I had guests in the room next to me, it was quiet and comfortable. Sheilah was also great and super nice, I only ran into her a few times but she was such a sweetheart and was really helpful throughout the booking process. I highly recommend staying here if you get the chance, I know I definitely want to come back soon!
Melissa
2017-02-13T00:00:00Z
Sheilah's home is stunning, comfortable and close to downtown. About a 20 minute walk to the heart of downtown, close restaurants and bars but also a very quiet neighborhood. The house was very clean and she supplies everything I would need (shampoo, conditioner, hair dryer etc) and these are things I don't like to travel with. Sheilah was very respectable and polite during my stay. Would recommend to anyone on business or a personal trip. Thank you Sheilah!
Nicolette
2017-01-22T00:00:00Z
Shielah is a very warm hearted lady, who would like to share her experience and advice with me. Also her home is just like Portland: a place full of art. You can feel at home and warm when staying at Shielah's house.
Fangxing
2017-01-06T00:00:00Z
Sheilah was super friendly and accommodating, her house is very cozy, bright and welcoming. Great spot to stay if you're travelling by yourself.
Alex
2017-04-11T00:00:00Z
best choice for trip comfortable and convenient place!
Kyu Taek
2017-01-15T00:00:00Z
Sheilah is a wonderful host! The room is spacious and the home is beautifully decorated. I would definitely stay again :)
Tiffany
2016-11-30T00:00:00Z
Huonetyyppi
Yksityinen huone
---
Majoituspaikan tyyppi
Talo
---
Majoittujien määrä
1
---
Makuuhuoneet
Portland, Oregon, Yhdysvallat
habitación amueblada con una cama cómoda, un pequeño sofá, escritorio, TV y ropa de cama limpia, en un edificio de apartamentos con encanto cerca del centro y en un par de calles de la popular avenida 23.
El alfabeto Distrito NW tiene todo tipo de tiendas y restaurantes. Hay un montón de ajetreo pasando aquí ...
Great place, would stay again!
Dustin
2016-12-23T00:00:00Z
the best airbnb experience I ever had so far Thank you Toney!
Cong
2017-02-09T00:00:00Z
Cute house, and not far from downtown.
Shaunaly
2017-03-21T00:00:00Z
Like staying with old friends in a new town. Super convenient walk to coffee shops and restaurants. Most comfortable bedding ever experienced anywhere.
Kristopher
2017-03-25T00:00:00Z
Really nice location, walking distance to anything you may need or want, 5-10 minute drive to downtown and other gear neighborhoods. Toney has put a nice spread of snacks, coffee, teas, wine, and so on. Beautiful cozy place for an unbeatable price. Wouldn't change a thing.
John
2017-02-08T00:00:00Z
Clean, hip, and quiet! Has essentials and very clear about house instructions. The location is close to a lot of restaurants.
Gayle
2016-12-26T00:00:00Z
This was our first Airbnb experience and it was perfect. Toney and Mimi were both very kind and welcoming. They quickly responded to any questions or concerns we had to make sure we were as comfortable as possible. The place was also incredibly clean. As far as the room, it was very private and the bed was by far the best bed I've ever slept in. The place is close to public transportation as well as only a 10 min walk to lots of restaurants and shops. It was the perfect place to stay in Portland. We hope to be back soon. :)
Natalie
2017-03-29T00:00:00Z
Thanks for a great stay! Toney's and Mimi's place was clean, comfortable and quiet, great for me to recover a bit from my jet lag. Mimi was very welcoming and helpful. It's in a great location for looking round the Pearl district and walkable to downtown. Would definitely stay again.
Andrew
2017-03-01T00:00:00Z
Huonetyyppi
Yksityinen huone
---
Majoituspaikan tyyppi
Huoneisto
---
Majoittujien määrä
2
---
Makuuhuoneet
Portland, Oregon, Yhdysvallat
Jsme v centru města v sousedství Portland historické Portland Heights. Jedinečná klidná lokalita, která se nachází 5 minut od OHSU, Portland státu, Downtown, 23. Avenue a Pearl okres. Máte svůj vlastní vchod a terasu s prostorná apartmá nabízí mnoho vybavení, včetně vlastní koupelnou, krbem, WiFi, prémie TV a kontinentální snídaně. Ne plně vybavenou kuchyň, ale mikrovlnná trouba, toustovač trouba a varná konvice jsou k dispozici. Snadné parkování.
Tento soukromý apartmán je přístupný přes terasu přímo z ulice.
Blízko Oregon Health Sciences University a Park Crest Rady. V parku je nádherný výhled a turistické stezky, které se připojují do centra a Zoo Oregon. Downtown a NW 23. Avenue jsou jen 5 minut jízdy autem.
Elizabeth's place was such a great choice on many different aspects! It was only 5-15 minutes (depending on the time) away from the heart of Portland and in the middle of a quiet, beautiful neighborhood. Beth was kind enough to provide some goodies and a log to light in the fireplace during our stay, which we absolutely loved! Not to mention the bed was extremely comfortable! Thanks again Beth for sharing part of your home with us.
Tiffany
2017-03-17T00:00:00Z
Elizabeth's place was perfect. It was in a beautiful neighborhood a little bit away from downtown. She had little snacks for us, along with toiletries ready just in case we forgot anything. The place was extremely comfortable, quiet, and clean. Loved staying here.
Hana
2017-02-20T00:00:00Z
This was such a wonderful trip. What made it so special was the generous hospitality. This is our first time using Airbnb and we couldn't be happier with our experience. All the little details that were put into our room were perfect, from the fireplace, to the delicious french press coffee, and the helpful brochures we couldn't have asked for a better place to stay. The room was so clean and comfortable and just the right size for us. We were sad to say goodbye to it. When we come back to visit Portland this is the only place we want to stay. Thank you so much for an amazing experience!
Halie
2017-03-13T00:00:00Z
It was great. 10/10
Kenneth
2017-03-29T00:00:00Z
Beth was such a lovely host! The place looks exactly like the photos and she even had snacks and water for us to enjoy during our stay! We had a rental car and the location of her place was close to downtown Portland, maybe 10-15 mins. I would recommend staying at her place if you're planning a trip to Portland!
Alice
2017-02-14T00:00:00Z
Great value for a little get away far from the hustle of downtown. If you're considering this location, know that it is far away from public transit and you will need private transit to commute to food or popular locations around town. I would only recommend bicycle to advanced cyclists as the hills are quite steep with little to no bike lane. We used Uber or Lyft and got around just fine. Beth left us amazing breakfast goodies that got us going in the morning - including fruit, nuts, and banana bread. We brought our own tea to use with the provided kettle. She also left a log for us to use in the fireplace, which made our last night truly special. The private porch was also very special but unfortunately, it rained during our entire visit so we weren't able to us it. If you're considering a stay on the hill to be near the hospital or just want a quiet place to get away, definitely consider this spot.
Jacquelyn
2017-03-01T00:00:00Z
great location and very quiet
joel
2017-04-08T00:00:00Z
Great place and considerate host.
Chou
2016-11-18T00:00:00Z
Huonetyyppi
Koko talo/asunto
---
Majoituspaikan tyyppi
Talo
---
Majoittujien määrä
3
---
Makuuhuoneet
Portland, Oregon, Yhdysvallat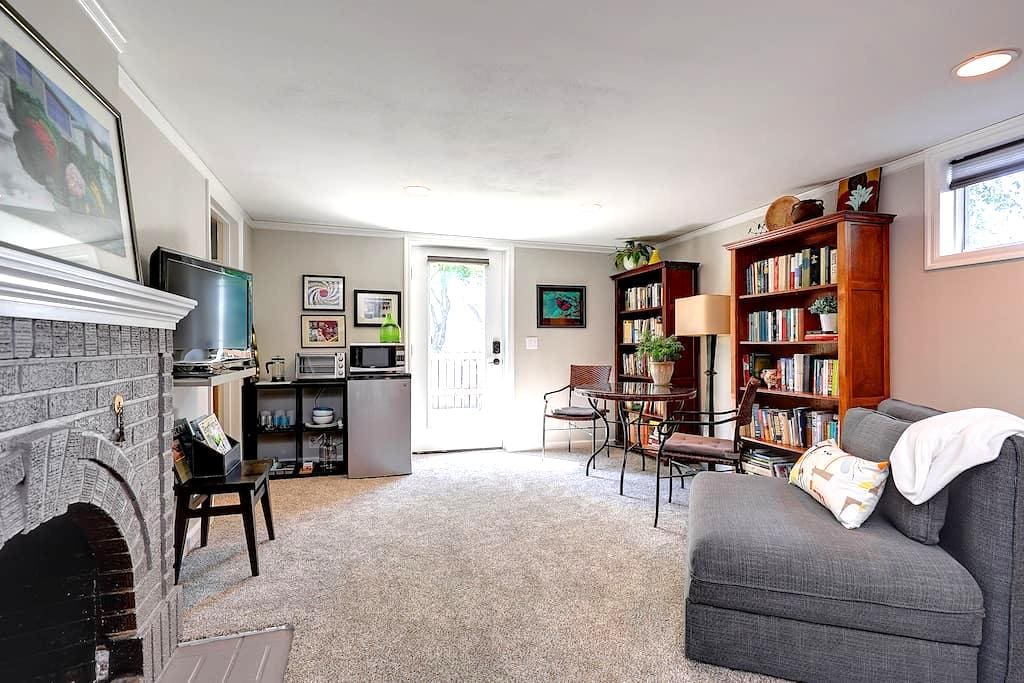 Fate un viaggio indietro nel tempo in hotel una storica 1881 del marinaio! La camera a castello è co-ed, con 8 letti a castello tripli. Costruito su misura, che includono la connessione ad altissima velocità wi-fi, luce di lettura e di uscita, tenda di segretezza di ricarica, e bloccabile immagazzinaggio incorporato.
La camera a castello è stato creato come un cenno alla creazione dell'albergo come un luogo sicuro per i naviganti. Troverete la stessa cosa in questo spazio con 18' accoglienti, forti, e comodi letti a castello tripli ceilings-. Ogni letto ha una vasta, solida scaletta per accedere al castello. All'interno del castello si trova un gavone per riporre gli oggetti di valore (portare un lucchetto con voi), una stazione di ricarica per l'elettronica, e lampada da lettura a portata di mano. tende tela spessa fornire privacy. 3 bagni privati nel soppalco sopra i letti sono disponibili, come è un piccolo angolo cottura con frigo di stoccaggio per gli avanzi, acqua calda e fredda fresca, e un lavandino. C'è uno spazio comune di seguito per incontrare altri viaggiatori, e una banca di armadietti per i bagagli più grandi.
Old Town / Chinatown è il centro storico di Portland. E 'la nostra Ellis Island, dove gli immigrati di ogni colore prima scesi a terra, a pochi isolati di distanza al fiume. Ora troverete festival, Il mercato del Sabato, spettacoli musicali e club, ristoranti, gallerie d'arte e negozi, il tutto a pochi isolati della nostra posizione.
I had a really nice stay at the society hotel. For a hostel style sleeping arrangement it was very comfortable and clean. The location in Portland was convenient and the staff was friendly and helpful. I would definitely stay again!
Mia
2016-01-19T00:00:00Z
I was a late check-in, but someone was waiting to make sure that I was settled. The accommodations were clean and comfortable. I got in late, needed a place to sleep and shower before a meeting, so this hostel-style, easy-on-the-budget find was great. I'd recommend it for sure. Cafe in the lobby had a great breakfast options too.
Megan
2016-03-23T00:00:00Z
Its a perfect hotel!!
小yin
2016-08-31T00:00:00Z
Great location great vibe very safe feeling.
Randall
2016-11-14T00:00:00Z
The hotel was an awesome place to stay. I will 100% be staying there again the future. The bunk room was clean and comfortable and the rooftop deck was an added bonus with the beautiful weather for my stay. Walking distance to downtown and easy access from the airport train.
Julia
2016-02-09T00:00:00Z
Such a lovely welcome after 30 hours of transit from Australia. The bunk room was so comfortable and everyone was so respectful. It honestly didn't even feel like you were sharing with many. ALSO the beds are like sleeping on a cloud. Already booked in again for my return to Portland next week xxx
Kate
2016-05-25T00:00:00Z
This was perhaps the best hostel I've ever stayed in. it was clean, well organised, modern, thoughtfully set out ( free shampoo, shower gel etc) with great staff! Even though the rooms accomodated 10+ people it still felt private due to the well kept bedside areas!
Freya
2016-07-27T00:00:00Z
Enjoyed my stay, nice bed, very clean bathrooms, soft towels. I would recommend it!
Nicholas
2015-11-01T00:00:00Z
Huonetyyppi
Jaettu huone
---
Majoituspaikan tyyppi
Muu
---
Majoittujien määrä
1
---
Makuuhuoneet
Portland, Oregon, Yhdysvallat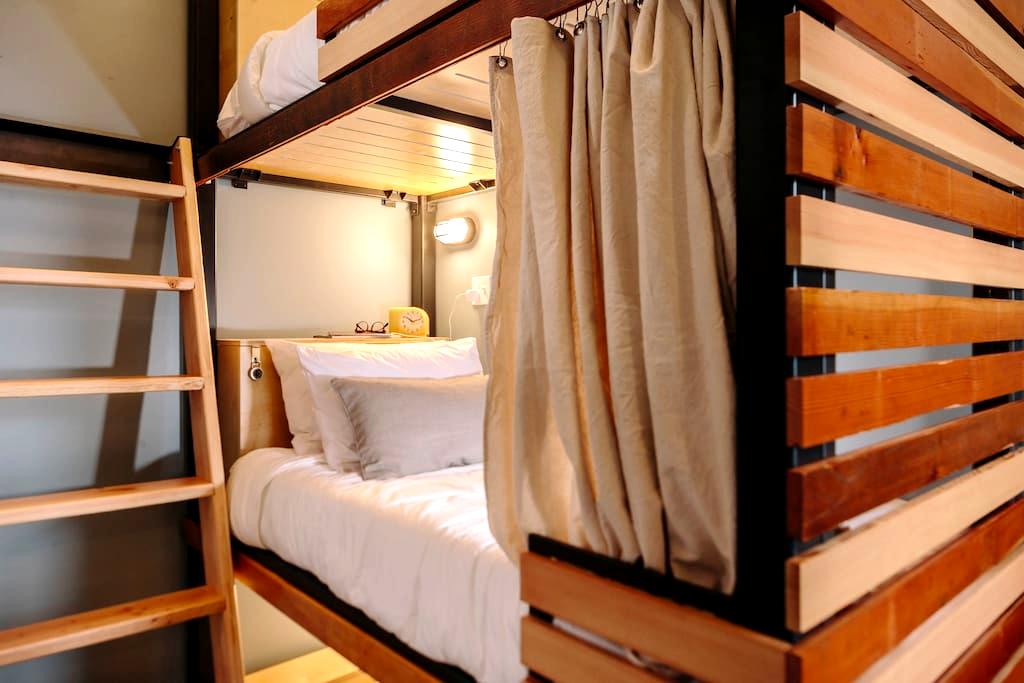 Unsere modernen, hellen Loft befindet sich im 2. Stock eines Stadthauses und verfügt über ein eigenes Bad. Sie werden die einfache, gemütliche Atmosphäre und einen Hauch von skandinavischem Design lieben.
Wir leben in diesem offenen modernen Stadthaus mit unserem Hund und seine kleinen Sohn. Nach der Eingabe werden Sie von einem europäischen, modernen Stil Raum begrüßt werden. Das Loft befindet sich im Obergeschoss auf der 2. Etage und verfügt über ein Kingsize-Bett, ein Cabrio modernes Sofa und einen großen Schreibtisch für Ihre kreativen und geschäftlichen Anforderungen. Wir haben zwei große Schränke und ein eigenes Bad mit Wanne und Dusche, die einen Trockner hat, Shampoo und Conditioner und alle Ihre Badutensilien sich zu erlauben, sich zu entspannen. Sie haben eine Kaffee- und Tee-Kessel in den Tag frisch zu beginnen.
Kenton ist ein süßes kleines Wohngebiet zwischen Parks verschachtelt und nicht weit von der I-5 und dem Stadtzentrum und den pulsierenden Straßen von Northeast Portland. Wir sind 1 Minuten zu Fuß von Kenton Park und 10 Gehminuten von der Columbia Park, wo man schattige Picknickplätze und Spielplätze finden, die Wasser spritzen Bereiche und wegleine Bereiche für Ihre vierbeinigen Freunde haben. Harpers Spielplatz ein Spielplatz, der an Samstagen ist die Hotspots für alle Familien in 15 Minuten zu Fuß entfernt. Sie benötigen Ihren Morgenkaffee kick? Kenton hat ein kleines Geschäftsviertel und zwei erstaunliche cofffee Hot Spots. Prince Coffee PDX (erstaunlich Kaffee und stroopwaffels) Posies (hat die beste Mandel Latte und ein Spielzimmer für Kinder) Wir haben Walgreens, New Seasons, Green Zebra und Fred Meyers nur eine kurze 5 Minuten Autofahrt entfernt. Es ist eine große begehbare Nachbarschaft Sie einen Spaziergang zu Williamette Blvd tun können, und haben sogar eine geheime Überschau der Stadt.
This is a great room and an absolute steal for the price. Annika was very friendly and made sure I had everything I needed.
Lia
2017-04-12T00:00:00Z
Huonetyyppi
Yksityinen huone
---
Majoituspaikan tyyppi
Rivitalo
---
Majoittujien määrä
2
---
Makuuhuoneet
Portland, Oregon, Yhdysvallat
Un rifugio urbano con ingresso indipendente, camera da letto, bagno e cucina. Un sacco di finestre che si affacciano su un patio e un ampio cortile con bellissimi alberi da frutto. Accesso veloce alla I-205. Facile a piedi per gli autobus del centro (30 minuti).
Un raro trovare! Questo accogliente appartamento è dotato di tutti i comfort di casa. Dopo si arriva attraverso il cancello laterale, si noterà la patio coperto darvi il benvenuto alla vostra casa lontano da casa. Un luogo ideale per rilassarsi al di fuori. Potrai accedere al vostro appartamento con un lock-codice chiave (codice dato al momento della registrazione). Camera da letto ha letto matrimoniale (materasso nuovo!), Piena armadio con ripiani per la conservazione. Bagno con doccia con vasca. Forniamo prodotti di cortesia da bagno e asciugacapelli per il vostro uso. La zona pranzo si affaccia sul cortile. accessori da cucina includono frigorifero pieno dimensioni, piano cottura, lavello, forno a microonde, macchina per il caffè, spezzatino, e ripiani in granito. Ci sono un sacco di pentole per la cottura e la tabella di servizio per quattro. Forniamo alcuni prodotti per la colazione per aiutarti a iniziare. Abbiamo avuto amici e la famiglia vive in questa unità per brevi visite e soggiorni lunghi - e in entrambi i casi si sono sentiti a casa e confortevole in questo grande spazio.
A pochi passi dal cortile pochi è Essex Park, un bel posto per una breve passeggiata serale. Viviamo in uno dei viali bicicletta di Portland in modo da poter portare la vostra bicicletta e facilmente aggirare Portland. Se avete bisogno di prendere un paio di servizi che siamo una a quattro isolati a piedi da negozi come Walgreens, Walmart e Fred Meyer (negozio di alimentari, a circa 15 isolati a piedi). Molti ristoranti standard sono in questa stessa area. Un po 'più lontano, ma ancora una facile passeggiata è Portland Mercado con divertenti carrelli di cibo e scelte da pranzo dentro e fuori sotto la tenda. Il quartiere è un grande mix di case famiglia e le convenienze. Amiamo vivere qui. Il quartiere Foster-Powell è un gioiello da scoprire - il che significa che a risparmiare denaro e ottenere la comodità che stai cercando. Pensiamo che godrete il vostro soggiorno qui.
Short but sweet stay! We walked to the Portland mercado and enjoyed some great food
Jose
2016-09-08T00:00:00Z
Arrived late due to flight delays. Once we found the house in the dark and got in, it was a cozy, comfortable little apartment. The place was very cute, with a comfortable bed and a nice shower/bath. Great local coffe, bagels and yogurt were provided to make the stay really special. Elizabeth is a great host and very kind. I would stay again in a heartbeat! Thank you
John
2016-06-25T00:00:00Z
This place was fantastic. They left food in the fridge that was a perfect snack to wake up to. Everything was clean and well put together. I would recommend this Airbnb to everyone!
Michael
2016-09-18T00:00:00Z
For the price, this worked for our situation. There were basic breakfast options provided, which some people would certainly appreciate. We opted to explore the many culinary options in Portland. It is a tight space, but again for the price it did the job.
Samantha
2016-10-15T00:00:00Z
The home was a wonderful little attachment to the main house and contained its own bathroom, kitchen and a double bed. It overlooks the backyard which made a lovely spot to sit and eat breakfast. The place was immaculate when we arrived and towels and other ammenities were provided in the bathroom for our use. The fridge also had a few items stocked for our personal use which was a nice treat after a long flight.
Mathias
2016-12-04T00:00:00Z
The room is awesome and the hosts are very hospitable. If I find myself in Portland again it would be a go-to spot.
Jeffrey
2016-11-26T00:00:00Z
We met Tim who was a very nice. He greeted us and showed us in. The room was exactly as shown. Lovely breakfast items were available for us. We came during the winter time when it was snowing and the heater definitely saved our butts! Our experience in Portland was great with our Airbnb being a factor.
Theresa
2016-12-18T00:00:00Z
Timothy and family have a very simple attached bedroom/small kitchen which you enter from the side of the house. It made a decent one night stop for us. Amenities were great and we appreciated the breakfast food left for guests in the kitchen. The one down side was that it seemed the bedroom was located very close to the stair case and and directly below the homes other bedrooms. We were able to hear conversations and all noise going on in the home until around 2am. Not a problem if you are a heavy sleeper but otherwise would be an issue. Overall a decent stop for the price. Thanks!
Connor
2016-09-06T00:00:00Z
Huonetyyppi
Koko talo/asunto
---
Majoituspaikan tyyppi
Talo
---
Majoittujien määrä
2
---
Makuuhuoneet
Portland, Oregon, Yhdysvallat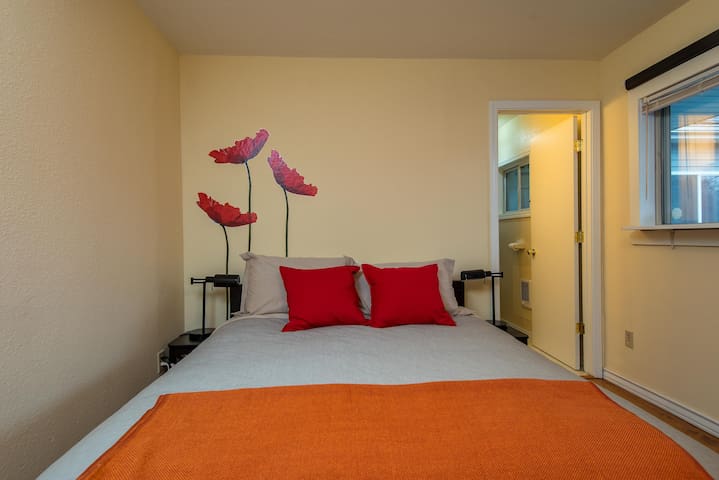 Charme der alten Welt mit modernen Annehmlichkeiten. Voll ausgestattete Küche mit Geschirrspüler und Waschmaschine / Trockner in der Einheit. Kostenloser WiFi für die Gäste. Diese Wohnung befindet sich Totpunkt zwischen The Pearl und Nob Hill. Sehr begehbar, in der Nähe Providence Park Feld (ehemals Jeld-wen Feild, Straßenbahn und Max, Sie sind fünf Minuten zu Fuß von allem, was in der Pearl, Downtown oder NW 21. und 23. Ave. Going to einer Show? Crystal Ballroom in der Nähe ist. sich zu einem Spiel Timber? Das Feld ist nur ein paar Blocks entfernt. Bevorzugen Sie im Spiel bleiben? Whole Foods Market ist Blocks entfernt, und Sie haben eine voll ausgestattete Küche! Es gibt eine Menge in unmittelbarer Nähe zu diesem Ort. Wenn Sie Fragen haben, ermutige ich Sie, mir eine Nachricht zu senden. Wir hoffen, Sie bald zu sehen! Dieser Ort macht die Menschen das Gefühl haben, ein Zuhause weg von Zuhause. BEACHTEN SIE BITTE: Dies sind einige der am häufigsten gestellten Fragen, so nehmen Sie bitte die Zeit, sie zu überprüfen, bevor Sie einen Aufenthalt beantragen. F: Ist es in der Nähe öffentliche Verkehrsmittel? A: Extrem. Wenn Sie fliegen, nehmen Sie die MAX Red Line vom Flughafen zum Jeld-Wen-Feld (nur ein paar Blocks von der Wohnung). Besuchen Sie die Trimet Website für weitere Informationen, haben sie fantastische Reise Planungstools. F: Gibt es Parkplätze? A: Parken an der Straße zur Verfügung. Es ist Genehmigung geregelt, stellen wir die Genehmigung in der Wohnung. zeigen Sie es einfach in der Heckscheibe Ihres Fahrzeugs und Sie können es für ein paar Stunden auf der Straße parken oder die Dauer Ihres Aufenthalts. Sie können jederzeit in der Regel Parkplatz nur ein paar Blocks zu finden, aber bewusst sein, Hydranten, Ladezonen, usw. F: Gibt es begehbare Cafés, Lebensmittelgeschäfte, Restaurants und Bars? A: Diese Wohnung befindet sich im Zentrum einer sehr belebten Gegend. Bitte überprüfen Sie für einige meiner empfohlenen Flecken in der Nachbarschaft der Karte Vorsprung an der Spitze der Liste aus. Es gibt Hunderte mehr aber, so Yelp und Check-out.
Great location!
Thomas
2017-02-10T00:00:00Z
Very central location and quaint apartment. Highly recommended
Sander
2016-05-23T00:00:00Z
Brad was a perfect host and the apartment is in a perfect location. I was able to walk to everywhere I wanted and needed to go. I didn't miss having a car, though if I had my car with me, there was parking and a parking permit. I had a couple of questions and Brad was quick to respond and very kind. Great place to stay!
Erica
2016-04-06T00:00:00Z
Such a lovely apartment and an incredibly comfy bed! I felt right at home here, which is a nice feeling when traveling alone like I was. Brad was prompt and very easy to get along with. The wifi was excellent & location great too. Right near loads of Cafe's and groovy shops & downtown too. I walked everywhere. Thanks Brad :-)
Holly
2014-07-24T00:00:00Z
Great neighborhood and super easy check in process. The place was exactly as advertised and was within in walking distance to all the great places Portland has to offer.
Erik
2015-11-25T00:00:00Z
Perfect location! Didn't get to use washer and dryer but that's a nice perk if your stay is long. No problems parking. Couch is comfy. Host was accommodating and flexible!
Jackie
2017-02-26T00:00:00Z
Very nice place. Only a few blocks from the Rogue Brewhouse!
Patrick
2016-10-05T00:00:00Z
Brad's place is a great place to stay in Portland! The apartment itself is very clean, tidy, and homey. The bed is comfortable and the bathroom is more than adequate. It is easy to see that he takes really good care of his place and his guests. Also, the apartment is in a great location within Portland. You can walk directly through downtown all the way to the Willamette river in a quick 15 minutes. The Pearl District (tons of restaurants, microbrews, sights) is a 5 minute walk or less. Very easy access to the MAX red line to and from the aiport as well. We will definitely stay at Brad's place if we ever return to Portland.
Kelsey
2014-03-13T00:00:00Z
Huonetyyppi
Koko talo/asunto
---
Majoituspaikan tyyppi
Huoneisto
---
Majoittujien määrä
2
---
Makuuhuoneet
Portland, Oregon, Yhdysvallat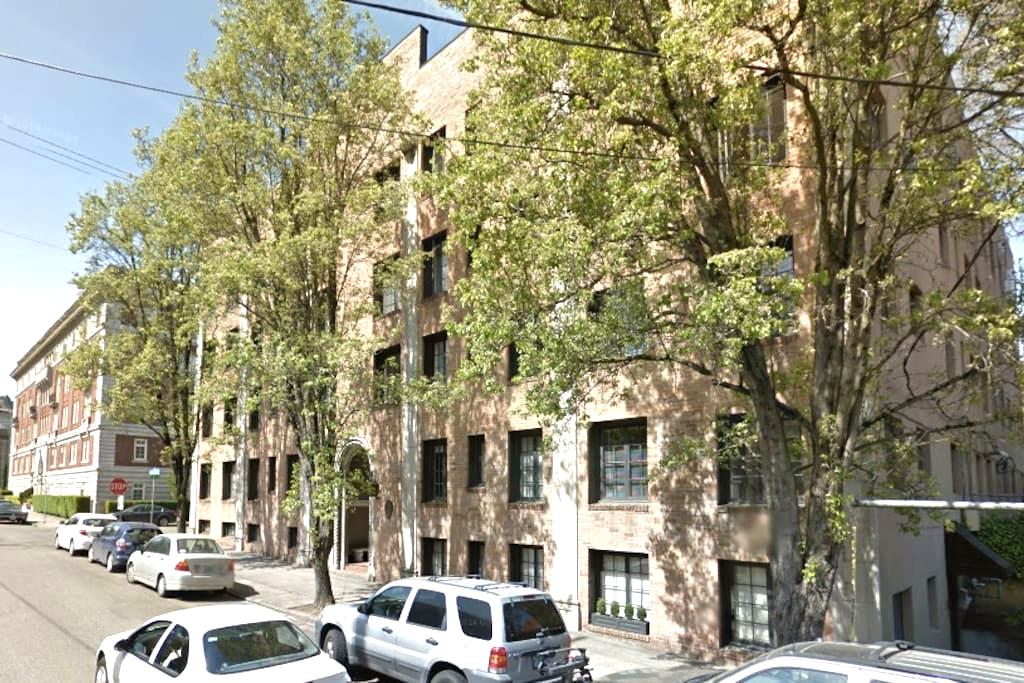 Esta habitación privada es grande, con pisos de madera, un gran ventanal, cama de matrimonio, escritorio y armario. La habitación tiene mucha luz y cuenta con algunos muebles de época y hecho a mano. Hay cortinas hechas a mano y un perchero hecho a mano fabricadas con materiales recuperados. La cama es un superior de almohada con firmeza media y viene con almohadas extra. Soy nuevo en el alojamiento, pero espero ayudar a que su visita a Portland grande.
La casa es una casa de campo 1923 del lil, 3 dormitorios (1 de las cuales está separada) con suelos de madera. La casa tiene techos altos y tiene mucha luz. Cerca del aeropuerto (11 min), Alberta Arts District (8 min) y 20 min del centro. A pie de corredor 42nd Ave Cully para cenar en el Old Salt, Rojo Salsa de Pizza y más. Magdalena, mi hijo de 7 1/2 años Labradoodle, es super dulce y atractiva. Ella definitivamente va a querer decir hola y traer un juguete. Si no quieres que en su empresa se puede decir que se vaya a la cama, o una patada rocas y ella va a desaparecer. Ella es buena con los niños y infantrs. Y ella lamerá que si se lo permite.
Chach was truly amazing. She was very welcoming on arrival and the beauty was in the details, from a pitcher and cups for water in the room to plenty of fresh towels and wash rags, to the convenience of oatmeal and tea for my pleasure. She recommended an amazing little Mexican restaurant around the corner because I was somewhat in a pinch for time and was just an overall delight to speak with!
Josh
2017-03-31T00:00:00Z
Had a wonderful time getting to know the area and really enjoyed cuddling with the cat. The home was very clean and Chach was very friendly and filled with insightful information about Portland.
Camille
2017-03-22T00:00:00Z
Clean place with comfortable bed. Coffee and oatmeal for easy morning
Clark
2017-03-18T00:00:00Z
A great place near downtown Portland. Chach is very friendly and cupcake a week behaved friend.
Oscar
2017-03-12T00:00:00Z
Our stay with Chach was great. We needed a place to spend the next guy for our flight the next morning, and although we got there late, she was happy to accommodate. She has 2 pets, a labradoodle and a cat, both super cute and playful. The room was spacious and the bed was very comfortable. There is no central heat, but the blankets compensate for it and there is a standing heater. The bathroom is shared and clean and has running hot water. It has all the essentials we needed and was a pleasant stay! Chach is a very nice person and friendly. Will book again!
Ada
2017-03-20T00:00:00Z
We stayed with Chach and were delighted by the super comfy bed, charming pets, and Chach is very friendly and accommodating. The house is adjacent to lots of food, shopping and music. A great stay, and we would stay there again. Heather & Chris
Heather
2017-04-01T00:00:00Z
Chach's place was gorgeous! Very cute and the decorations were very unique and intriguing. Her dog is very friendly and the room was clean, simple and comfortable. The blankets were especially great! Wish I could have stayed there longer; will definitely look to book again when back in Portland. Thank you for the stay, Chach!
Rebecca
2017-03-19T00:00:00Z
I loved staying at Chach's place, it's very clean and cosy and she and her adorable animals made me feel at home. It's not in the center but it's very easy to reach downtown with the buses. The neighbourhood is very safe and just a 15-20min walk to Alberta street where a lot of restaurants are located. I definitely recommend this airbnb and I would stay there again. Thank you for everything :)
Lisa
2017-03-29T00:00:00Z
Huonetyyppi
Yksityinen huone
---
Majoituspaikan tyyppi
Talo
---
Majoittujien määrä
2
---
Makuuhuoneet
Portland, Oregon, Yhdysvallat
Das Hühnerhaus ist eine umgebaute Garage, die alles, was Sie brauchen für einen Besuch hat. Ich baute den Ort so viel geborgen Material verwenden, das ich finden konnte. Die Loft-Treppen sind sehr steil, so, wenn Sie nicht sehr agil sind, würde ich die ausziehbares Einzelbett im Erdgeschoss empfehlen. Ich bin zwischen dem Mississippi-Bereich, Williams Flur und Alberta Arts District mit 2 Lebensmittelgeschäfte zu Fuß erreichbar. Es ist privat und es gibt Tiere (Katzen und Schildkröte meistens) mit außen zu hängen. Viele Gärten auch.
Die umgewandelte Garage hat Turnhallenboden geborgen (von Portland Community College), die Farbe hinzufügt und 3 Oberlichter Tageslicht hinzuzufügen. Es ist ein Loft zum Schlafen und eine weitere kleine Couch, die als Einzelbett zieht. Der Dachboden ist sehr steil, so vorsichtig sein, wenn man dort schlafen. Es gibt eine voll ausgestattete Küche, aber der einzige Ofen ist ein Toaster. Das Bad ist groß und hat einen stapelbaren Waschmaschine und Trockner in ihm. Ich werde grundlegenden Notwendigkeiten Kaffee, Obst und Überraschungen draußen lassen. Sie werden von einem Spaziergang durch Parkstreifen betreten (fühlen sich frei zu parken, wenn klar) und Treppen hinauf und Gehweg auf der Rückseite Einheit folgen. Der Eingang ist separat und haben Sie Ihre eigene Seite Garten, aber meine Familie nutzt den Bürgersteig, wenn Sie den Hinterhof verlassen .. Es gibt einen Garten, den Sie willkommen sind, zu essen aus und eine schöne Sitz Stelle. Die Nachbarschaft ist sehr schön und praktisch. Es gibt eine vollständige Nahrungsmittel und New Seasons zu Fuß erreichbar. Ich bin zwischen den Mississippi, Alberta und Williams Nachbarschaften. Ich bin 2 Meilen von der Innenstadt und der Bus ist sehr eng. Es gibt funktionierende Fahrräder, die Sie verwenden können, obwohl sie nicht in einem Topzustand sind. Der Ort ist von meist geborgen Material. Es gibt viele verrückte ordentlich Leuchten und eine gekrümmte Kirchenfenster aus einer Baptistenkirche sie rissen. Es ist ruhig und privat, aber Sie könnten ein Huhn, Katze Kampf oder weit weg Zug hören.
Spaß und ruhigen Nachbarschaft, aber Sie können in eine Bar gehen oder ein wirklich gutes Restaurant innerhalb weniger Minuten.
The Hen House was a great place to stay. I highly recommend it. The unit is charming and very unique. We enjoyed the neighborhood's restaurants/bars/shops and proximity to the event we attended downtown. I look forward to staying again.
Daniel
2016-05-23T00:00:00Z
This cozy little cottage, tucked away in Norah's backyard next to an actual hen house, was so dang charming. and had everything we needed for the week. Every time I had a question or needed something, Norah was very prompt in responding and getting us what we needed. The "farm-fresh eggs" and breakfast items she provided were an excellent added perk.
Scott
2014-12-13T00:00:00Z
Norah and her girls were great hosts and her funky space was perfect for our little family. Our daughter loved the loft and playing in the yard. The neighbourhood is really accessible by bike to lots of Portland's coolest and districts, including downtown, and is walking distance to some great parks, brewpubs, coffee shops, restaurants and grocery stores. It's also easy to get to the zoo and children's museum by car. We wanted to experience a piece of what it's like to live in a real neighbourhood in Portland, and that's what we got - with the added conveniences of a full kitchen and a full laundry. We would definitely be glad to stay again on our next visit to Portland.
Lauren and Sean
2014-07-19T00:00:00Z
Norah is a very kind, and generous person! The place was really cool.
Matthew
2017-02-23T00:00:00Z
My friends and I had a great time at the Hen House! It's very charming, cute, and comfortable. Great location - a wonderful way to see Portland.
Elisa
2016-03-26T00:00:00Z
We loved the Hen House. Nora was very welcoming but gave us our privacy too. Very nice quiet neighborhood. It was so nice having a kitchenette and a washer and dryer in the unit. It was within walkin distance to our kids. We would definitely stay again!
Rose
2015-03-10T00:00:00Z
We loved the Hen House! Cozy little place in a great neighborhood. About a 20 minute bus ride into downtown. Norah was wonderful and she had everything we needed! Even some of things we had forgotten to bring. We loved being able to cook our own breakfast every morning with fresh eggs. Could not recommend this place more! We couldn't have imagined staying anywhere else!
Matt
2015-05-02T00:00:00Z
Loved The Hen House! We used to live in Portland and this place captures why we loved it here so much, a great place to stay. Cute, comfortable, clean, quite, unique, and a super friendly genuine host. Can't say enough good things about this little place. Looking forward to staying here again.
Paula
2015-05-06T00:00:00Z
Huonetyyppi
Koko talo/asunto
---
Majoituspaikan tyyppi
Mökki
---
Majoittujien määrä
3
---
Makuuhuoneet
Portland, Oregon, Yhdysvallat
플러스 아침 식사를 위해 우리의 유명한 수제 과일 샐러드 (등) 매일 아침 - 잠긴 문이 펑키, 숨겨진 빅토리아 이벤트 조용하고 편안하고 중심 도시에 전용 안뜰 뒤에. 크리스탈 볼룸, 트레이더 조, 최대 기차, 선한 사마리아인 병원 부근에 있습니다. 커플, 솔로 모험가 및 비즈니스 여행객을위한 좋은.
큰 방 - 너무 작은 일이있다. 이것은 두 번 매달아 창문, 나무 마루가 깔려합니다 (카펫 침실의 외부), 매우 높은 천장, 놀라운 성형과 1900 년에 지어진 펑키 앤 여왕 특유의 집입니다. 우리는 천천히 회복하고 있지만, 난 당신이 바닥에 페인트와 상처의 일부 칩을 상관하지 않습니다 희망 그래서, 아직 showplace 아니다. 당신은 오래된 집을 소유 한 경우에, 당신은 이해합니다.
노스 웨스트 포틀랜드 포틀랜드에서 가장 오래되고 가장 역동적 인 지역 중 하나입니다. 도시의 최고의 아트 하우스 극장은 키티 코너이며, 레스토랑, 스포츠 바, 모든 23 및 21 번가 귀여운 상점이있다. 진주 지구는 단지 몇 블록 떨어져 있습니다. (포틀랜드 팀 버스 놀이) 약 10 블록 거리에 섭리 공원. 워싱턴 공원과 삼림 공원은 실행 및 하이킹 트레일 그대로 이십마일을 제공합니다. 파이오니어 법원 광장, 시내의 중심, 1.2 마일 떨어진 쾌적한 거리에 있습니다.
Mark is an excellent host, and their house is a hidden gem in downtown Portland. The room is spacious and comfortable, and there are plenty of pillows, towels and so on for all tastes. Mark provides great breakfast (coffee, bagels, fruit salad ..) Bus stop is right outside, MAX rail is a few blocks (5min) away. Will definitely stay again if I visit the area.
Jonas
2016-11-22T00:00:00Z
Incredible location in the northwest district of Portland. Easily accessible to public transportation, a multitude of restaurants, bars, and small boutique shops. Mark was a very warm host and and offered great suggestions.
Muhammad
2017-01-22T00:00:00Z
Great location, great hosts.
Liz
2016-12-18T00:00:00Z
Great location, great host. Mark will make you feel welcome for sure. Access to coffee maker and teas and a big bowl of fruit salad were unexpected bonuses, as was him picking us up in his car from the nearby MAX Red line station nearby because of rain. The neighborhood is fantastic, lots of great food and bar options, plus about ~10 minute walk to the MAX station (light rail, airport access!) and an even shorter walk to the "NS" green streetcar line, so you can come without a car and get around easily. (Quite possibly the only potential downside of staying at Mark's would be the street parking situation) We also walked to the Japanese Garden in Washington Park, takes maybe 20-30 minutes. What else can I say? The room and bathroom were clean, Mark is a great host, and as far as Portland neighborhoods go, you can't go wrong.
Matthew
2016-11-07T00:00:00Z
It's a nice and warm place. We love it!
Winnie
2017-02-10T00:00:00Z
Good for a weekend trip if you are looking for a place to sleep and drop your bags. Mark is a good host and easy to contact via phone and email. Solid place to keep warm and good location to get to hip neighborhoods. Bus stop right around the corner. A little far from the airport, but it's not a complicated journey from point A to B.
Marylee
2016-12-12T00:00:00Z
We had a great time staying with Mark. He went above and beyond -- he truly made us feel at home at his place. We enjoyed the fruit salad he prepared for us and he generously let us borrow his parking pass. He gave us good tips on the neighborhood and we really enjoyed our conversations with him, even though we were only there for a couple of days. Overall a great value in a central location in the city. Highly recommend!
Christopher
2016-10-30T00:00:00Z
Great location, clean, walkable to many good spots to eat and drink. Mark was very quick to respond and very helpful
James
2017-04-10T00:00:00Z
Huonetyyppi
Yksityinen huone
---
Majoituspaikan tyyppi
Talo
---
Majoittujien määrä
3
---
Makuuhuoneet
Portland, Oregon, Yhdysvallat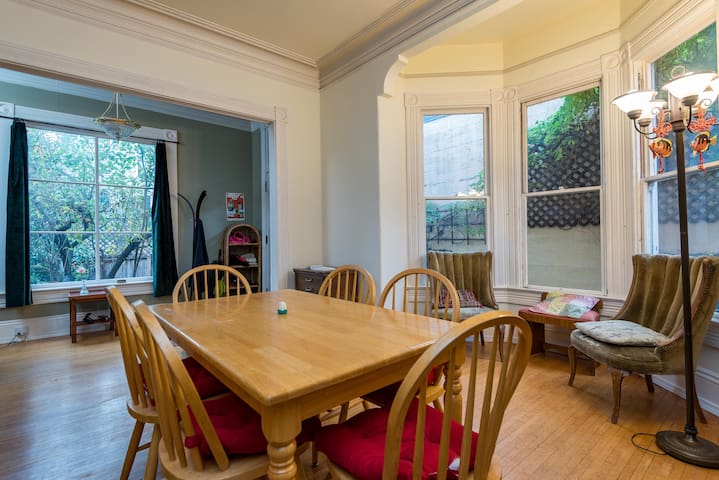 Den Boho Room er en generøs enkeltmandsvirksomhed soveværelse dekoreret med et sandt farveorgie i vores boheme gamle victoriansk hjem blot et par blokke fra Hawthorne, sydøst Portlands mellow hippie paradis. Dette værelse er lige ud foran indgangen, som er meget praktisk, men betyder du vil høre hallway støj. Dit værelse har et køleskab og et lille udvalg af lokalt fremstillet madvarer til morgenmad eller nogen tid, samt nogle af vores personlige cannabis stash, at vi er glade for at dele uden omkostninger for dig. (Du kan også læse den østlige Room: https://www.airbnb.com/rooms/7247104 og Green Room:. Https://www.airbnb.com/rooms/(PHONE NUMBER HIDDEN))
Vores lille del af sydøst Portland er så specielt. Gang til to store parker eller et vilkårligt antal kaffehuse, restauranter eller barer. New Seasons Market er tilgængelig for alle dine Portlandia dagligvarer behov, og vi er endda temmelig tæt på både lufthavnen og downtown. Vi er på flere vigtige buslinjer, så at komme rundt er let. Spørg efter anbefalinger! Vi forsøger at holde dig opdateret om de bedste yoga studios, nyeste kava barer og nyeste veganske behandler.
Hospitable and welcoming hosts. Comfortable space that felt like a home away from home. I thoroughly enjoyed my stay with Katherine and Fortis. The neighborhood is an ideal location, close to both Belmont and Hawthorne, as well as public transportation to downtown. The provided perks were a HUGE plus. ;) THANK YOU BOTH. Namaste.
Alison
2016-03-31T00:00:00Z
Everything was perfect. Thanks.
Simon
2016-10-06T00:00:00Z
Great location. Easy to access public transit. Great hospitality.
Kayla
2016-07-13T00:00:00Z
After a late arrival Fortis greeted me warmly and I felt welcome immediately. The accommodations were cozy and comfortable and the cannabis treats were abundant and delightful. The location could not have been more convenient, and Fortis was full of excellent neighborhood recommendations. This was an amazing first Airbnb experience; would absolutely stay again.
James
2016-07-08T00:00:00Z
Arrived in afternoon and had to leave quickly to conference. Fortis showed me around my room and the house. Easy peasy. Small, comfortable bed. Potato chips and cold drinks were clutch after traveling or late night snack! Easy,quiet area with hustling Hawthorne street just a short walk away! Enjoyed my stay!
Juan
2016-08-23T00:00:00Z
This place was awesome. Exactly as described and better. I don't think they mentioned heated toliet seat. I didn't use the bidet but it's there so you don't even have to wipe your ass if you don't want to.
Colin
2016-11-20T00:00:00Z
Loved my stay at Hawthorne! I was greeted by Fortis, who graciously gave me a quick tour despite my short notice arrival. Everyone was very friendly and the house is beautiful! The room was very clean and the welcome basket was great! I've been to Portland a few times and always loved the place and I can't picture a better location or better hosts. The house is easily within walking distance of the best drinks and food and a short walk to public transit to get downtown as well. I highly recommend making Shabbat cocktails, it's a great way to get to know everyone. There's one shared bathroom but I never had a wait or issue with availability. Loved my stay at this place and loved my hosts!
Jen
2016-07-03T00:00:00Z
Loved staying with Fortis and Katherine, such a safe, comfortable clean home. So welcoming and helpful with explaining the area on arrival! Having a small fridge in the room was super great, and teas and treats were so appreciated! Would definitely come back to stay again.
Molly
2016-07-31T00:00:00Z
Huonetyyppi
Yksityinen huone
---
Majoituspaikan tyyppi
Talo
---
Majoittujien määrä
1
---
Makuuhuoneet
Portland, Oregon, Yhdysvallat
Einzigartige Hand cob Häuschen neben lg gebaut. Teich w Wasser-Funktion. Lg. eingezäunt Hof. Sanfte, geschwungene Raum aus Sand, Stroh, Wasser und Erde. Hervorgehoben in mehreren internationalen Publikationen. Der Boden ist auch irdenen Ton mit zusätzlichen Strahlungswärme. Schöne natürliche Licht. Es ist wirklich ein magischer Ort.
Es ist eine gekrümmte irdenen Struktur Hand von Wasser geformt, Sand, Stroh und Lehm Erde. Es verfügt über eine radiale Dach mit einer zentralen pagodenartigen Dachfenster. Bei der Cob Bau verwendeten wir wiederaufbereiteten und natürlichen Materialien immer dann möglich, wenn. Die Isolierung in der Decke ist aus pulverisierten aufgearbeiteten Blue Jeans hergestellt und der Boden ist aus dem gleichen irdenen Ton. Es hat eine niederländische Tür, so dass Sie den oberen Teil für zusätzliche Belüftung öffnen. Es gibt 33 blaue Flaschen in verschiedenen Teilen der Wände gemeißelt "blauen Fenstern" zu erstellen. Aber wenn Sie versuchen, sie zu zählen, werden Sie nicht, dass viele finden. Einige am Ende immer vertuscht, weil, na ja, es nur ein wenig zu viel blau war. Es hat auch eine Klimaanlage und eine Strahlungswärme Boden. Das Bett ist ein Doppelbett und das Badezimmer und einer zusätzlichen Kitchenette Zugang im Haupthaus außerhalb der cob Hütte entfernt. Das Haupthaus ist etwa 40 Schritte entfernt.
Wir sind in einem sehr schönen Teil von Portland nahe der SE befindet. Die Häuser sind meist um ein Jahrhundert alt, und viele der Bäume entlang der Straße, neigen dazu, zu diesen Unterschied zu entsprechen. Die Nachbarschaft ist sehr begehbar / Fahrrad-fähig, und zwei Blocks entfernt von einer großen Straße mit vielen tollen Restaurants gefüllt, Cafés, Bars, Imbisswagen, Eisdielen, Pizza nehmen Flecken, Einzelhandel, Yoga-Studios und ja, es sogar noch hat einen Hardware-Geschäft in der Nähe.
Very cool space and the hosts are incredibly kind and accommodating. Walkable to nice neighborhood commercial area and an easy drive into the city.
Max
2016-12-16T00:00:00Z
We had a great, short stay here. The house is unique and the heated floors are a perk. Easy access to the restroom and kitchenette were appreciated. We had dinner on the porch with the cute cats and surroundings. Very nice atmosphere for relaxing. Thanks, Jack and Cris!
Tara
2016-06-12T00:00:00Z
Jack and Cris made our trip so easy. Everything was as described in their listing. Very cute place. We had trouble getting into the bathroom our first night as it was detached from the cob but they were very quick with their response. The cats that live on the property were very friendly. If we were to ever come back to Portland we would definitely want to stay here again.
Justine
2016-05-31T00:00:00Z
We enjoyed our stay at Jack and Cris's place. The place was exactly as described, cozy cob cottage then the bathroom was inside the adjacent home. The cats were adorable and friendly. Plenty of street parking. It can get really bright because of the skylight so bring an eye mask if you're sensitive. The heated flooring was great.
Tinna
2017-04-10T00:00:00Z
AMAZING!!!!!
Norm
2017-03-17T00:00:00Z
Jack and Cris were great hosts! The communication was awesome and their place was beautiful!
Ashley
2017-01-30T00:00:00Z
This was a great spot to rest and relax while exploring Portland for a weekend. Jack and Cris's cottage is charming and exactly as described. We loved the local coffee they provided in the sitting area.
Meagan
2017-03-25T00:00:00Z
Such a cute little hut in a great Portland neighborhood! I could not believe how lucky I had gotten to find such a cool place for such a great deal. Loved having my morning tea by the pond right outside. Definitely would recommend!
Caitlan
2017-02-14T00:00:00Z
Huonetyyppi
Koko talo/asunto
---
Majoituspaikan tyyppi
Maan sisään rakennettu talo
---
Majoittujien määrä
2
---
Makuuhuoneet
Portland, Oregon, Yhdysvallat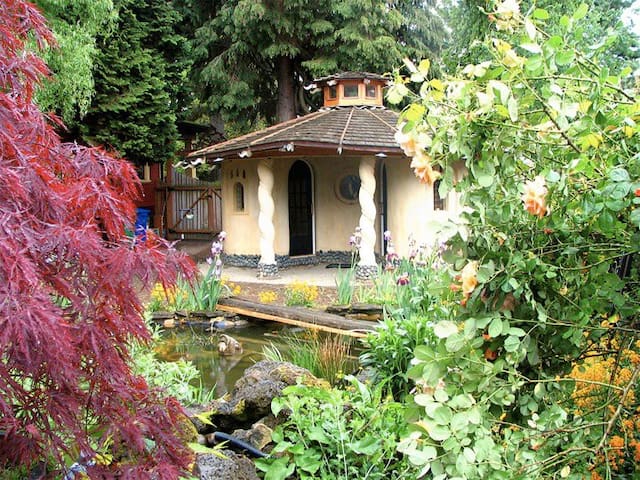 Portland - Airbnb
:
Keskimäärin

5

tähteä yhteensä

5

3361

vierasarvostelusta
1

–

18

hakutuloksista

300+ vuokrakohdetta
Anna päivämäärät nähdäksesi kokonaishinnoittelun. Lisämaksuja sovelletaan. Veroja saatetaan lisätä.